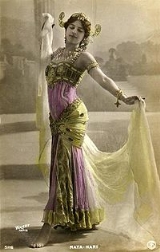 Femme fatale
A
femme fatale
is a mysterious and
seductive
Seduction
In social science, seduction is the process of deliberately enticing a person to engage. The word seduction stems from Latin and means literally "to lead astray". As a result, the term may have a positive or negative connotation...
woman whose charms ensnare her lovers in bonds of irresistible desire, often leading them into compromising, dangerous, and deadly situations. She is an
archetype
Archetype
An archetype is a universally understood symbol or term or pattern of behavior, a prototype upon which others are copied, patterned, or emulated...
of literature and art. Her ability to entrance and hypnotize her victim with a spell was in the earliest stories seen as being literally supernatural; hence, the femme fatale today is still often described as having a power akin to an enchantress, seductress, vampire, witch, or demon.
The phrase is
French
French language
French is a Romance language spoken as a first language in France, the Romandy region in Switzerland, Wallonia and Brussels in Belgium, Monaco, the regions of Quebec and Acadia in Canada, and by various communities elsewhere. Second-language speakers of French are distributed throughout many parts...
for "deadly woman".