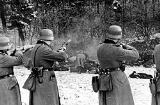 Execution by firing squad
Execution by firing squad
, sometimes called
fusillading
(from the
French
French language
French is a Romance language spoken as a first language in France, the Romandy region in Switzerland, Wallonia and Brussels in Belgium, Monaco, the regions of Quebec and Acadia in Canada, and by various communities elsewhere. Second-language speakers of French are distributed throughout many parts...
fusil
,
rifle
Rifle
A rifle is a firearm designed to be fired from the shoulder, with a barrel that has a helical groove or pattern of grooves cut into the barrel walls. The raised areas of the rifling are called "lands," which make contact with the projectile , imparting spin around an axis corresponding to the...
), is a method of
capital punishment
Capital punishment
Capital punishment, the death penalty, or execution is the sentence of death upon a person by the state as a punishment for an offence. Crimes that can result in a death penalty are known as capital crimes or capital offences. The term capital originates from the Latin capitalis, literally...
, particularly common in the
military
Military
A military is an organization authorized by its greater society to use lethal force, usually including use of weapons, in defending its country by combating actual or perceived threats. The military may have additional functions of use to its greater society, such as advancing a political agenda e.g...
and in times of
war
War
War is a state of organized, armed, and often prolonged conflict carried on between states, nations, or other parties typified by extreme aggression, social disruption, and usually high mortality. War should be understood as an actual, intentional and widespread armed conflict between political...
.
Execution by
shooting
Shooting
Shooting is the act or process of firing rifles, shotguns or other projectile weapons such as bows or crossbows. Even the firing of artillery, rockets and missiles can be called shooting. A person who specializes in shooting is a marksman...
is a fairly old practice. Some reasons for its use are that
firearm
Firearm
A firearm is a weapon that launches one, or many, projectile at high velocity through confined burning of a propellant. This subsonic burning process is technically known as deflagration, as opposed to supersonic combustion known as a detonation. In older firearms, the propellant was typically...
s are usually readily available and a
gunshot
Gunshot
A gunshot is the discharge of a firearm, producing a mechanical sound effect and a chemical gunshot residue. The term can also refer to a gunshot wound caused by such a discharge. Multiple discharges of a firearm or firearms are referred to as gunfire. The word can connotate either the sound of a...
to a vital organ usually kills the subject relatively quickly.
Before the introduction of firearms,
bow
Bow (weapon)
The bow and arrow is a projectile weapon system that predates recorded history and is common to most cultures.-Description:A bow is a flexible arc that shoots aerodynamic projectiles by means of elastic energy. Essentially, the bow is a form of spring powered by a string or cord...
s or
crossbow
Crossbow
A crossbow is a weapon consisting of a bow mounted on a stock that shoots projectiles, often called bolts or quarrels. The medieval crossbow was called by many names, most of which derived from the word ballista, a torsion engine resembling a crossbow in appearance.Historically, crossbows played a...
s were often used — Saint Sebastian is usually depicted as executed by a squad of Roman auxiliary archers in around 288 AD; King
Edmund the Martyr
Edmund the Martyr
St Edmund the Martyr was a king of East Anglia, an Anglo-Saxon kingdom which today includes the English counties of Norfolk, Suffolk and Cambridgeshire.D'Evelyn, Charlotte, and Mill, Anna J., , 1956. Reprinted 1967...
of
East Anglia
East Anglia
East Anglia is a traditional name for a region of eastern England, named after an ancient Anglo-Saxon kingdom, the Kingdom of the East Angles. The Angles took their name from their homeland Angeln, in northern Germany. East Anglia initially consisted of Norfolk and Suffolk, but upon the marriage of...
, by some accounts, was tied to a tree and shot dead by
Viking
Viking
The term Viking is customarily used to refer to the Norse explorers, warriors, merchants, and pirates who raided, traded, explored and settled in wide areas of Europe, Asia and the North Atlantic islands from the late 8th to the mid-11th century.These Norsemen used their famed longships to...
archer
Archery
Archery is the art, practice, or skill of propelling arrows with the use of a bow, from Latin arcus. Archery has historically been used for hunting and combat; in modern times, however, its main use is that of a recreational activity...
s on 20 November 869 or 870 AD.
A firing
squad
Squad
In military terminology, a squad is a small military unit led by a non-commissioned officer that is subordinate to an infantry platoon. In countries following the British Army tradition this organization is referred to as a section...
is normally composed of several
soldier
Soldier
A soldier is a member of the land component of national armed forces; whereas a soldier hired for service in a foreign army would be termed a mercenary...
s or law enforcement officers.