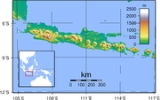 Java
Java
is an
island
Island
An island or isle is any piece of sub-continental land that is surrounded by water. Very small islands such as emergent land features on atolls can be called islets, cays or keys. An island in a river or lake may be called an eyot , or holm...
of
Indonesia
Indonesia
Indonesia , officially the Republic of Indonesia , is a country in Southeast Asia and Oceania. Indonesia is an archipelago comprising approximately 13,000 islands. It has 33 provinces with over 238 million people, and is the world's fourth most populous country. Indonesia is a republic, with an...
. With a population of 135 million (excluding the 3.6 million on
Madura
Madura
Madura is an Indonesian island off the northeastern coast of Java. The island comprises an area of approximately 4,250 km². Madura is administered as part of the East Java province. It is separated from Java by the narrow Strait of Madura.-History:...
which is administered as part of Java), it is the world's most populous island, and one of the most densely populated regions in the world. It is home to 60% of Indonesia's population. The Indonesian capital city,
Jakarta
Jakarta
Jakarta is the capital and largest city of Indonesia. Officially known as the Special Capital Territory of Jakarta, it is located on the northwest coast of Java, has an area of , and a population of 9,580,000. Jakarta is the country's economic, cultural and political centre...
, is in west Java. Much of Indonesian history took place on Java; it was the centre of powerful
Hindu
Hindu
Hindu refers to an identity associated with the philosophical, religious and cultural systems that are indigenous to the Indian subcontinent. As used in the Constitution of India, the word "Hindu" is also attributed to all persons professing any Indian religion...
-
Buddhist
Buddhism
Buddhism is a religion and philosophy encompassing a variety of traditions, beliefs and practices, largely based on teachings attributed to Siddhartha Gautama, commonly known as the Buddha . The Buddha lived and taught in the northeastern Indian subcontinent some time between the 6th and 4th...
empires, Islamic sultanates, the core of the colonial
Dutch East Indies
Dutch East Indies
The Dutch East Indies was a Dutch colony that became modern Indonesia following World War II. It was formed from the nationalised colonies of the Dutch East India Company, which came under the administration of the Netherlands government in 1800....
, and was at the centre of
Indonesia's campaign for independence
Indonesian National Revolution
The Indonesian National Revolution or Indonesian War of Independence was an armed conflict and diplomatic struggle between Indonesia and the Dutch Empire, and an internal social revolution...
.