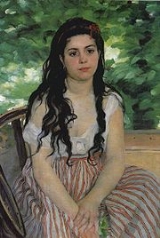 Bohemianism
Bohemianism
is the practice of an unconventional lifestyle, often in the company of like-minded people, with few permanent ties, involving musical, artistic or literary pursuits. In this context, Bohemians can be wanderers, adventurers, or
vagabonds
Vagabond (person)
A vagabond is a drifter and an itinerant wanderer who roams wherever they please, following the whim of the moment. Vagabonds may lack residence, a job, and even citizenship....
.
This use of the word
bohemian
first appeared in the English language in the 19th century to describe the non-traditional lifestyles of marginalized and impoverished
artist
Artist
An artist is a person engaged in one or more of any of a broad spectrum of activities related to creating art, practicing the arts and/or demonstrating an art. The common usage in both everyday speech and academic discourse is a practitioner in the visual arts only...
s,
writer
Writer
A writer is a person who produces literature, such as novels, short stories, plays, screenplays, poetry, or other literary art. Skilled writers are able to use language to portray ideas and images....
s,
journalist
Journalist
A journalist collects and distributes news and other information. A journalist's work is referred to as journalism.A reporter is a type of journalist who researchs, writes, and reports on information to be presented in mass media, including print media , electronic media , and digital media A...
s,
musician
Musician
A musician is an artist who plays a musical instrument. It may or may not be the person's profession. Musicians can be classified by their roles in performing music and writing music.Also....* A person who makes music a profession....
s, and
actor
Actor
An actor is a person who acts in a dramatic production and who works in film, television, theatre, or radio in that capacity...
s in major European cities. Bohemians were associated with unorthodox or anti-establishment political or social viewpoints, which were often expressed through
free love
Free love
The term free love has been used to describe a social movement that rejects marriage, which is seen as a form of social bondage. The Free Love movement's initial goal was to separate the state from sexual matters such as marriage, birth control, and adultery...
, frugality, and
voluntary poverty
Simple living
Simple living encompasses a number of different voluntary practices to simplify one's lifestyle. These may include reducing one's possessions or increasing self-sufficiency, for example. Simple living may be characterized by individuals being satisfied with what they need rather than want...
.
The term
Bohemianism
emerged in
France
France
The French Republic , The French Republic , The French Republic , (commonly known as France , is a unitary semi-presidential republic in Western Europe with several overseas territories and islands located on other continents and in the Indian, Pacific, and Atlantic oceans. Metropolitan France...
in the early 19th century when artists and creators began to concentrate in the lower-rent, lower class gypsy neighborhoods.
Bohémien
was a common term for the Romani people of France, who had reached Western Europe via
Bohemia
Bohemia
Bohemia is a historical region in central Europe, occupying the western two-thirds of the traditional Czech Lands. It is located in the contemporary Czech Republic with its capital in Prague...
.
Origin of Bohemianism
Literary "Bohemians" were associated in the French imagination with roving Romani people (called "bohemians" because they were believed to have arrived from Bohemia), outsiders apart from conventional society and untroubled by its disapproval. The term carries a connotation of arcane enlightenment (the opposite of
Philistines
Philistinism
Philistinism is a derogatory term used to a particular attitude or set of values perceived as despising or undervaluing art, beauty, spirituality, or intellectualism. A person with this attitude is referred to as a Philistine and may also be considered materialistic, favoring conventional social...
), and also carries a less frequently intended, pejorative connotation of carelessness about personal hygiene and marital fidelity. The Spanish Gypsy in the French opera "
Carmen
Carmen
Carmen is a French opéra comique by Georges Bizet. The libretto is by Henri Meilhac and Ludovic Halévy, based on the novella of the same title by Prosper Mérimée, first published in 1845, itself possibly influenced by the narrative poem The Gypsies by Alexander Pushkin...
" set in
Seville
Seville
Seville is the artistic, historic, cultural, and financial capital of southern Spain. It is the capital of the autonomous community of Andalusia and of the province of Seville. It is situated on the plain of the River Guadalquivir, with an average elevation of above sea level...
, is referred to as a "bohémienne" in Meilhac and Halévy's libretto (1875).
Henri Murger
Henri Murger
Louis-Henri Murger, also known as Henri Murger and Henry Murger was a French novelist and poet....
's collection of short stories "
Scènes de la Vie de Bohème
La Vie de Bohème
La Vie de Bohème is a work by Henry Murger, published in 1851. Although it is commonly called a novel, it doesn't follow a standard novel form. Rather, it is a collection of loosely related stories, all set in the Latin Quarter of Paris in the 1840s, romanticizing bohemian life in a playful way...
" ("Scenes of Bohemian Life"), published in 1845, was written to glorify and legitimize Bohemia. Murger's collection formed the basis of
Giacomo Puccini
Giacomo Puccini
Giacomo Antonio Domenico Michele Secondo Maria Puccini was an Italian composer whose operas, including La bohème, Tosca, Madama Butterfly, and Turandot, are among the most frequently performed in the standard repertoire...
's
opera
Opera
Opera is an art form in which singers and musicians perform a dramatic work combining text and musical score, usually in a theatrical setting. Opera incorporates many of the elements of spoken theatre, such as acting, scenery, and costumes and sometimes includes dance...
La bohème
La bohème
La bohème is an opera in four acts,Puccini called the divisions quadro, a tableau or "image", rather than atto . by Giacomo Puccini to an Italian libretto by Luigi Illica and Giuseppe Giacosa, based on Scènes de la vie de bohème by Henri Murger...
(1896). Puccini's work, in turn, became source material for
Jonathan Larson
Jonathan Larson
Jonathan Larson was an American composer and playwright noted for the serious social issues of multiculturalism, addiction, and homophobia explored in his work. Typical examples of his use of these themes are found in his works, Rent and tick, tick... BOOM!...
's
musical
Musical theatre
Musical theatre is a form of theatre combining songs, spoken dialogue, acting, and dance. The emotional content of the piece – humor, pathos, love, anger – as well as the story itself, is communicated through the words, music, movement and technical aspects of the entertainment as an...
Rent
Rent (musical)
Rent is a rock musical with music and lyrics by Jonathan Larson based on Giacomo Puccini's opera La bohème...
and the
feature film of the same name
Rent (film)
Rent is a 2005 American musical drama film directed by Chris Columbus. It is an adaptation of the Broadway musical of the same name, in turn based on Giacomo Puccini's opera La bohème. The film depicts the lives of several Bohemians and their struggles with sexuality, cross-dressing, drugs, life...
. Like Puccini, Larson explores a Bohemian enclave in a dense urban area, in this case,
New York City
New York City
New York is the most populous city in the United States and the center of the New York Metropolitan Area, one of the most populous metropolitan areas in the world. New York exerts a significant impact upon global commerce, finance, media, art, fashion, research, technology, education, and...
at the end of the 20th century. The show features a song, "
La Vie Boheme
La Vie Boheme
"La Vie Bohème" is a song, which is broken into two parts , in the musical Rent. The song is a celebration of bohemianism, especially the type present in the 1980s Alphabet City, Manhattan, and begins with a mocking of the character Benny's statement that "Bohemia is dead"...
", which celebrates postmodern Bohemian culture.)
In English,
Bohemian
in this sense was initially popularized in
William Makepeace Thackeray
William Makepeace Thackeray
William Makepeace Thackeray was an English novelist of the 19th century. He was famous for his satirical works, particularly Vanity Fair, a panoramic portrait of English society.-Biography:...
's novel,
Vanity Fair
, published in 1848. Public perceptions of the alternative lifestyles supposedly led by artists were further molded by
George du Maurier
George du Maurier
George Louis Palmella Busson du Maurier was a French-born British cartoonist and author, known for his cartoons in Punch and also for his novel Trilby. He was the father of actor Gerald du Maurier and grandfather of the writers Angela du Maurier and Dame Daphne du Maurier...
's highly romanticized best-selling novel of Bohemian culture
Trilby
Trilby (novel)
Trilby is a novel by George du Maurier and one of the most popular novels of its time, perhaps the second best selling novel of the Fin de siècle after Bram Stoker's Dracula. Published serially in Harper's Monthly in 1894, it was published in book form in 1895 and sold 200,000 copies in the United...
(1894). The novel outlines the fortunes of three
expatriate
Expatriate
An expatriate is a person temporarily or permanently residing in a country and culture other than that of the person's upbringing...
English artists, their Irish model, and two very colorful Eastern European musicians, in the artists' quarter of Paris.
In Spanish literature, the Bohemian impulse can be seen in
Ramón del Valle-Inclán
Ramón del Valle-Inclán
Ramón María del Valle-Inclán y de la Peña , Spanish dramatist, novelist and member of the Spanish Generation of 98, is considered perhaps the most noteworthy and certainly the most radical dramatist working to subvert the traditionalism of the Spanish...
's play
Luces de Bohemia
(
Bohemian Lights
), published in 1920.
American bohemianism
In 1845, Bohemian nationals began to immigrate to the United States, and from 1848 the wave included some of the radicals and ex-priests who had wanted a constitutional government. In New York City in 1857, a group of some 15–20 young, cultured journalists flourished as self-described "Bohemians" until the
American Civil War
American Civil War
The American Civil War was a civil war fought in the United States of America. In response to the election of Abraham Lincoln as President of the United States, 11 southern slave states declared their secession from the United States and formed the Confederate States of America ; the other 25...
began in 1860. Similar groups in other cities were broken up as well; reporters spread out to report on the conflict. During the war, correspondents began to assume the title "Bohemian", and newspapermen in general took up the moniker.
Bohemian
became synonymous with
newspaper writer
. In 1866, war correspondent
Junius Henri Browne
Junius Henri Browne
Junius Henri Browne was an American journalist.-Biography:He was a graduate of Saint Xavier College, Cincinnati. In 1861, he became war correspondent for the New York Tribune, was wounded at Fort Donelson, and taken prisoner while engaged in an abortive expedition to run the Vicksburg batteries...
, who wrote for the
New York Tribune
New York Tribune
The New York Tribune was an American newspaper, first established by Horace Greeley in 1841, which was long considered one of the leading newspapers in the United States...
and
Harper's Magazine
Harper's Magazine
Harper's Magazine is a monthly magazine of literature, politics, culture, finance, and the arts, with a generally left-wing perspective. It is the second-oldest continuously published monthly magazine in the U.S. . The current editor is Ellen Rosenbush, who replaced Roger Hodge in January 2010...
, described "Bohemian" journalists such as himself as well as the few carefree women and lighthearted men he encountered during the war years.
San Francisco journalist
Bret Harte
Bret Harte
Francis Bret Harte was an American author and poet, best remembered for his accounts of pioneering life in California.- Life and career :...
first wrote as "The Bohemian" in
The Golden Era
in 1861, with this persona taking part in many satirical doings, the lot published in his book
Bohemian Papers
in 1867. Harte wrote, "Bohemia has never been located geographically, but any clear day when the sun is going down, if you mount
Telegraph Hill
Telegraph Hill, San Francisco
Telegraph Hill refers to a neighborhood in San Francisco, California. It is one of San Francisco's 44 hills, and one of its original "Seven Hills."-Location:...
, you shall see its pleasant valleys and cloud-capped hills glittering in the West..."
Mark Twain
Mark Twain
Samuel Langhorne Clemens , better known by his pen name Mark Twain, was an American author and humorist...
included himself and
Charles Warren Stoddard
Charles Warren Stoddard
Charles Warren Stoddard was an American author and editor.-Life and works:Charles Warren Stoddard was born in Rochester, New York on August 7, 1843. He was descended in a direct line from Anthony Stoddard of England, who settled at Boston, Massachusetts, in 1639...
in the Bohemian category in 1867. By 1872, when a group of journalists and artists who gathered regularly for cultural pursuits in San Francisco were casting about for a name, the term
Bohemian
became the main choice, and the
Bohemian Club
Bohemian Club
The Bohemian Club is a private men's club in San Francisco, California, United States.Its clubhouse is located at 624 Taylor Street in San Francisco...
was born. Club members who were established and successful, pillars of their community, respectable family men, redefined their own form of bohemianism to include people like themselves who were bons vivants, sportsmen, and appreciators of the
fine art
Fine art
Fine art or the fine arts encompass art forms developed primarily for aesthetics and/or concept rather than practical application. Art is often a synonym for fine art, as employed in the term "art gallery"....
s. Club member and poet
George Sterling
George Sterling
George Sterling was an American poet based in California who, during his time, was celebrated in Northern California as one of the greatest American poets, although he never gained much fame in the rest of the United States.-Biography:Sterling was born in Sag Harbor, Long Island, New York, the...
responded to this redefinition:
Despite his views, Sterling associated very closely with the Bohemian Club, and caroused with artist and industrialist alike at the
Bohemian Grove
Bohemian Grove
Bohemian Grove is a campground located at 20601 Bohemian Avenue, in Monte Rio, California, belonging to a private San Francisco-based men's art club known as the Bohemian Club...
.
Oscar Ferdinand Telgmann
Oscar Ferdinand Telgmann
Oscar Ferdinand Telgmann was a Canadian composer of operettas, conductor and educator, and violinist best known for his operetta Leo, the Royal Cadet....
and
George Frederick Cameron
George Frederick Cameron
George Frederick Cameron was a Canadian poet, lawyer, and journalist, best known for the libretto for the operetta Leo, the Royal Cadet.-Life:...
wrote the song "The Bohemian" in the 1889 opera
Leo, the Royal Cadet
Leo, the Royal Cadet
Leo, the Royal Cadet is a light opera with music by Oscar Ferdinand Telgmann. The libretto was by George Frederick Cameron. It was composed in Kingston, Ontario, Canada in 1889. The work centres on Nellie's love for Leo, a cadet at the Royal Military College of Canada who becomes a hero serving...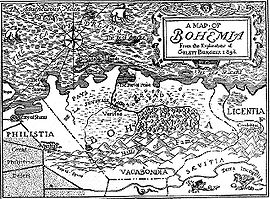 The impish American writer and Bohemian Club member
Gelett Burgess
Gelett Burgess
Frank Gelett Burgess was an artist, art critic, poet, author and humorist. An important figure in the San Francisco Bay Area literary renaissance of the 1890s, particularly through his iconoclastic little magazine, The Lark, he is best known as a writer of nonsense verse...
, who coined the word
blurb
among other things, supplied this description of the amorphous place called Bohemia:
In New York City, an organization of musicians was formed in 1907 by pianist
Rafael Joseffy
Rafael Joseffy
Rafael Joseffy was a Hungarian pianist and composer.-Life:Raael Joseffy was born in Hunfalu in 1852. His youth was spent in Miskolcz , and there, at the age of 8, he began his study of the piano. He studied in Budapest with Friedrich Brauer, the teacher of Stephen Heller...
with friends such as
Rubin Goldmark
Rubin Goldmark
Rubin Goldmark was an American composer, pianist, and educator. Although in his time he was an often performed American nationalist composer, his works are seldom played – instead he is known as the teacher of Aaron Copland and George Gershwin...
, called "The Bohemians (New York Musicians' Club)". Near Times Square
Joel Renaldo
Joel Renaldo
Joel Renaldo was a restaurateur whose two story Bohemian restaurant, Joel Renaldo's Café, at 206 West 41st Street near Times Square in New York City was a Manhattan institution before and after the First World War. Max Weber's, oil painting, "Joel's Cafe," done in 1909 or 1910, portrays the bar...
presided over "Joel's Bohemian Refreshery" where the Bohemian crowd gathered from before the turn of the 20th Century until Prohibition began to bite.
People
The term has become associated with various artistic or academic communities and is used as a generalized adjective describing such people, environs, or situations:
bohemian
(
boho
—informal) is defined in
The American College Dictionary
as "a person with artistic or intellectual tendencies, who lives and acts with no regard for conventional rules of behavior."
Many prominent European and American figures of the last 150 years belonged to the bohemian
subculture
Subculture
In sociology, anthropology and cultural studies, a subculture is a group of people with a culture which differentiates them from the larger culture to which they belong.- Definition :...
, and any comprehensive "list of bohemians" would be tediously long. Bohemianism has been approved of by some
bourgeois
Bourgeoisie
In sociology and political science, bourgeoisie describes a range of groups across history. In the Western world, between the late 18th century and the present day, the bourgeoisie is a social class "characterized by their ownership of capital and their related culture." A member of the...
writers such as
Honoré de Balzac
Honoré de Balzac
Honoré de Balzac was a French novelist and playwright. His magnum opus was a sequence of short stories and novels collectively entitled La Comédie humaine, which presents a panorama of French life in the years after the 1815 fall of Napoleon....
, but most conservative cultural critics do not condone bohemian lifestyles.
Laren Stover, the author of
The Bombshell Manual of Style
, breaks down the Bohemian into five distinct mind-sets/styles in
Bohemian Manifesto

Bohemian Manifesto

The Bohemian Manifesto is a book written in 2004 by Laren Stover and illustrated by IZAK. Subtitled, A Field Guide to Living on the Edge, it details the eccentricities, the peculiarities, and the informalities of being a Bohemian. Full of quotes and letters by famous Bohemian artists, it details...


: a Field Guide to Living on the Edge
. The Bohemian is "not easily classified like species of birds," writes Stover, noting that there are crossovers and hybrids. The five types devised by Stover are:
Nouveau: bohemians with money who attempt to join traditional bohemianism with contemporary culture
Gypsy: drifters, neo-hippies, and others with nostalgia for previous, romanticized eras
Beat: also drifters, but non-materialist and art-focused
Zen: "post-beat," focus on spirituality rather than art
Dandy: no money, but try to appear as if they have it by buying and displaying expensive or rare items – such as brands of alcohol
In the
United States
United States
The United States of America is a federal constitutional republic comprising fifty states and a federal district...
, the bohemian impulse can be seen in the 1960s
hippie
Hippie
The hippie subculture was originally a youth movement that arose in the United States during the mid-1960s and spread to other countries around the world. The etymology of the term 'hippie' is from hipster, and was initially used to describe beatniks who had moved into San Francisco's...
counterculture
Counterculture
Counterculture is a sociological term used to describe the values and norms of behavior of a cultural group, or subculture, that run counter to those of the social mainstream of the day, the cultural equivalent of political opposition. Counterculture can also be described as a group whose behavior...
(which was in turn informed by the
Beat generation
Beat generation
The Beat Generation refers to a group of American post-WWII writers who came to prominence in the 1950s, as well as the cultural phenomena that they both documented and inspired...
by way of writers such as
William S. Burroughs
William S. Burroughs
William Seward Burroughs II was an American novelist, poet, essayist and spoken word performer. A primary figure of the Beat Generation and a major postmodernist author, he is considered to be "one of the most politically trenchant, culturally influential, and innovative artists of the 20th...
,
Allen Ginsberg
Allen Ginsberg
Irwin Allen Ginsberg was an American poet and one of the leading figures of the Beat Generation in the 1950s. He vigorously opposed militarism, materialism and sexual repression...
, and
Jack Kerouac
Jack Kerouac
Jean-Louis "Jack" Lebris de Kerouac was an American novelist and poet. He is considered a literary iconoclast and, alongside William S. Burroughs and Allen Ginsberg, a pioneer of the Beat Generation. Kerouac is recognized for his spontaneous method of writing, covering topics such as Catholic...
).
Rainbow Gathering
Rainbow Gathering
Rainbow Gatherings are temporary intentional communities, typically held in outdoor settings, and espousing and practicing ideals of peace, love, harmony, freedom and community, as a consciously expressed alternative to mainstream popular culture, consumerism, capitalism and mass media.Rainbow...
s may be seen as another contemporary worldwide expression of the bohemian impulse. An American example is
Burning Man
Burning Man
Burning Man is a week-long annual event held in the Black Rock Desert in northern Nevada, in the United States. The event starts on the Monday before the American Labor Day holiday, and ends on the holiday itself. It takes its name from the ritual burning of a large wooden effigy on Saturday evening...
, an annual participatory arts festival held in the Nevada desert.
The New York Times
The New York Times
The New York Times is an American daily newspaper founded and continuously published in New York City since 1851. The New York Times has won 106 Pulitzer Prizes, the most of any news organization...
columnist
Columnist
A columnist is a journalist who writes for publication in a series, creating an article that usually offers commentary and opinions. Columns appear in newspapers, magazines and other publications, including blogs....
David Brooks
David Brooks (journalist)
David Brooks is a Canadian-born political and cultural commentator who considers himself a moderate and writes for the New York Times...
contends that much of the cultural ethos of well-to-do middle-class Americans is Bohemian-derived, coining the paradoxical term "Bourgeois Bohemians" or
"Bobos"
Bobos in Paradise
Bobos in Paradise: The New Upper Class and How They Got There is a book by David Brooks, first published in 2000. The word bobo, Brooks's most famous coinage, is a portmanteau of the words bourgeois and bohemian. The term is used by Brooks to describe the 1990s descendants of the yuppies...
.
Past Bohemian communities
By extension,
Bohemia
meant any place where one could live and work cheaply, and behave unconventionally; a community of free souls beyond the pale of respectable society. Several cities and neighborhoods came to be associated with bohemianism in the nineteenth and early twentieth centuries:
Europe
United States
Greenwich Village

Greenwich Village

Greenwich Village, , , , .in New York often simply called "the Village", is a largely residential neighborhood on the west side of Lower Manhattan in New York City. A large majority of the district is home to upper middle class families...


in New York City

New York City

New York is the most populous city in the United States and the center of the New York Metropolitan Area, one of the most populous metropolitan areas in the world. New York exerts a significant impact upon global commerce, finance, media, art, fashion, research, technology, education, and...



North Beach

North Beach

North Beach may refer to a number of places in the world:United States*North Beach, San Francisco*North Beach, Florida, a census-designated place in Indian River County*North Beach, Miami Beach, the northern section of the city of Miami Beach, Florida...


, San Francisco, California
Venice Beach, California
Topanga, California

Topanga, California

Topanga is a census-designated place in western Los Angeles County, California, USA. It is located in the Santa Monica Mountains. Occupying Topanga Canyon, it is often referred to by that name. Topanga is bounded on three sides by State Park or conservancy lands, and on the south by the Pacific...



Tiburon, California

Tiburon, California

Tiburon is an incorporated town in Marin County, California. It occupies most of the Tiburon Peninsula, which reaches south into the San Francisco Bay. The smaller city of Belvedere occupies the south-east part of the peninsula and is contiguous with Tiburon...



Australia
Australia
Australia , officially the Commonwealth of Australia, is a country in the Southern Hemisphere comprising the mainland of the Australian continent, the island of Tasmania, and numerous smaller islands in the Indian and Pacific Oceans. It is the world's sixth-largest country by total area...
Newtown

Newtown, New South Wales

Newtown, a suburb of Sydney's inner west is located approximately four kilometres south-west of the Sydney central business district, straddling the local government areas of the City of Sydney and Marrickville Council in the state of New South Wales, Australia....



Potts Point

Potts Point, New South Wales

Potts Point is a small, densely-populated suburb of inner-city Sydney, in the state of New South Wales, Australia. Potts Point is located 3 kilometres east of the Sydney central business district and is part of the local government area of the City of Sydney....


, Sydney
Fitzroy

Fitzroy, Victoria

Fitzroy is an inner city suburb of Melbourne, Victoria, Australia, 2 km north-east from Melbourne's central business district. Its Local Government Area is the City of Yarra. Its borders are Alexandra Parade , Victoria Parade , Smith Street and Nicholson Street. Fitzroy is Melbourne's...


in Melbourne.
See also
Related terms
Art colony

Art colony

right|300px|thumb|Artist houses in [[Montsalvat]] near [[Melbourne, Australia]].An art colony or artists' colony is a place where creative practitioners live and interact with one another. Artists are often invited or selected through a formal process, for a residency from a few weeks to over a year...



Avant-garde

Avant-garde

Avant-garde means "advance guard" or "vanguard". The adjective form is used in English to refer to people or works that are experimental or innovative, particularly with respect to art, culture, and politics....



Bohemian style

Bohemian style

In modern usage, the term "Bohemian" is applied to people who live unconventional, usually artistic, lives. The adherents of the "Bloomsbury Group", which formed around the Stephen sisters, Vanessa Bell and Virginia Woolf in the early 20th century, are among the best-known examples...



History of Western subcultures in the 20th Century
Simple living

Simple living

Simple living encompasses a number of different voluntary practices to simplify one's lifestyle. These may include reducing one's possessions or increasing self-sufficiency, for example. Simple living may be characterized by individuals being satisfied with what they need rather than want...



Slumming
Related cultures or movements
Dandy

Dandy

A dandy is a man who places particular importance upon physical appearance, refined language, and leisurely hobbies, pursued with the appearance of nonchalance in a cult of Self...



Diggers
Hipster

Hipster (1940s subculture)

Hipster, as used in the 1940s, referred to aficionados of jazz, in particular bebop, which became popular in the early 1940s. The hipster adopted the lifestyle of the jazz musician, including some or all of the following: dress, slang, use of cannabis and other drugs, relaxed attitude, sarcastic...



Merry Pranksters

Merry Pranksters

The Merry Pranksters were a group of people who formed around American author Ken Kesey in 1964 and sometimes lived communally at his homes in California and Oregon...



Pre-Raphaelite Brotherhood

Pre-Raphaelite Brotherhood

The Pre-Raphaelite Brotherhood was a group of English painters, poets, and critics, founded in 1848 by William Holman Hunt, John Everett Millais and Dante Gabriel Rossetti...



Punk

Punk subculture

The punk subculture includes a diverse array of ideologies, and forms of expression, including fashion, visual art, dance, literature, and film, which grew out of punk rock.-History:...



External links