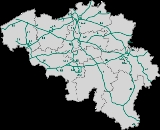 List of motorways in Belgium
In
Belgium
Belgium
Belgium , officially the Kingdom of Belgium, is a federal state in Western Europe. It is a founding member of the European Union and hosts the EU's headquarters, and those of several other major international organisations such as NATO.Belgium is also a member of, or affiliated to, many...
the
Highway
Highway
A highway is any public road. In American English, the term is common and almost always designates major roads. In British English, the term designates any road open to the public. Any interconnected set of highways can be variously referred to as a "highway system", a "highway network", or a...
s (
Autosnelwegen/Autoroutes/Autobahnen
) are indicated by an A and an E(uropean) number. The E numbers are used most.
Road
Road
A road is a thoroughfare, route, or way on land between two places, which typically has been paved or otherwise improved to allow travel by some conveyance, including a horse, cart, or motor vehicle. Roads consist of one, or sometimes two, roadways each with one or more lanes and also any...
s that are (part of) a ring road around a
town
Town
A town is a human settlement larger than a village but smaller than a city. The size a settlement must be in order to be called a "town" varies considerably in different parts of the world, so that, for example, many American "small towns" seem to British people to be no more than villages, while...
or
city
City
A city is a relatively large and permanent settlement. Although there is no agreement on how a city is distinguished from a town within general English language meanings, many cities have a particular administrative, legal, or historical status based on local law.For example, in the U.S...
are mostly indicated by an R number.
Highways (A)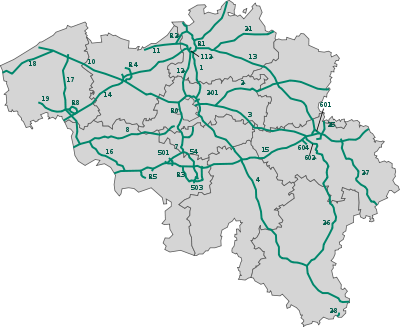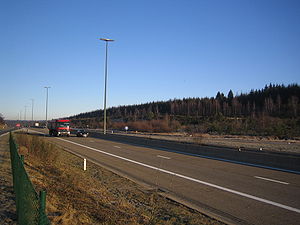 A1 (E19

European route E19

European route E 19 is long European route. Its route begins in the Netherlands, and ends in France, via Belgium. Cities it passes en route include:* Netherlands: Amsterdam - Den Haag - Rijswijk - Rotterdam - Breda...


): Brussels

Brussels

Brussels , officially the Brussels Region or Brussels-Capital Region , is the capital of Belgium and the de facto capital of the European Union...


- Mechelen

Mechelen

Mechelen Footnote: Mechelen became known in English as 'Mechlin' from which the adjective 'Mechlinian' is derived...


- Antwerp - Netherlands

Netherlands

The Netherlands is a constituent country of the Kingdom of the Netherlands, located mainly in North-West Europe and with several islands in the Caribbean. Mainland Netherlands borders the North Sea to the north and west, Belgium to the south, and Germany to the east, and shares maritime borders...


(Breda

Breda

Breda is a municipality and a city in the southern part of the Netherlands. The name Breda derived from brede Aa and refers to the confluence of the rivers Mark and Aa. As a fortified city, the city was of strategic military and political significance...


)
A2

A2 motorway (Belgium)

The A2 is a Belgian motorway that coincides completely with the Belgian part of the European route E314. It starts in Leuven, at the junction with the A3/E40 in the province of Flemish Brabant. Then it goes through the province of Limburg, where it crosses the A13/E313 in Lummen. It ends at the...


(E314

European route E314

The European route E 314 is a road in Europe and a part of the United Nations International E-road network. Approximately long, it connects the Belgian university city of Leuven with Aachen, Charlemagne's capital during the early ninth century, and today a bustling commercial centre in...


): Leuven

Leuven

Leuven is the capital of the province of Flemish Brabant in the Flemish Region, Belgium...


- Diest

Diest

Diest is a city and municipality located in the Belgian province of Flemish Brabant. Situated in the northeast of the Hageland region, Diest neighbours the provinces of Antwerp to its North, and Limburg to the East and is situated around 60km from Brussels. The municipality comprises the city of...


- Genk

Genk

Genk is a city and municipality located in the Belgian province of Limburg near Hasselt. The municipality only comprises the city of Genk itself...


- Netherlands

Netherlands

The Netherlands is a constituent country of the Kingdom of the Netherlands, located mainly in North-West Europe and with several islands in the Caribbean. Mainland Netherlands borders the North Sea to the north and west, Belgium to the south, and Germany to the east, and shares maritime borders...


(Geleen

Geleen

Geleen is a city in the southern part of the province of Limburg in the Netherlands. With 33,960 inhabitants, it is part of the municipality of Sittard-Geleen. Geleen is situated along the river Geleenbeek, a right tributary to the river Meuse. The town centre is situated at about 60 m above sea...


)
A3 (E40

European route E40

European route E 40 is the longest European route, more than long, connecting Calais in France via Belgium, Germany, Poland, Ukraine, Russia, Kazakhstan, Uzbekistan, Turkmenistan, and Kyrgyzstan, with Ridder in Kazakhstan near the border to China....


): Brussels

Brussels

Brussels , officially the Brussels Region or Brussels-Capital Region , is the capital of Belgium and the de facto capital of the European Union...


- Leuven

Leuven

Leuven is the capital of the province of Flemish Brabant in the Flemish Region, Belgium...


- Liège - Germany

Germany

Germany , officially the Federal Republic of Germany , is a federal parliamentary republic in Europe. The country consists of 16 states while the capital and largest city is Berlin. Germany covers an area of 357,021 km2 and has a largely temperate seasonal climate...


(Aachen

Aachen

Aachen has historically been a spa town in North Rhine-Westphalia, Germany. Aachen was a favoured residence of Charlemagne, and the place of coronation of the Kings of Germany. Geographically, Aachen is the westernmost town of Germany, located along its borders with Belgium and the Netherlands, ...


)
A4

A4 motorway (Belgium)

The A4 is a Belgian motorway connecting Brussels and the A6 in Luxembourg. It is also called the E411 throughout Belgium and Luxembourg.-See also:* Transport in Belgium...


(E411): Brussels

Brussels

Brussels , officially the Brussels Region or Brussels-Capital Region , is the capital of Belgium and the de facto capital of the European Union...


- Namur

Namur (city)

Namur is a city and municipality in Wallonia, in southern Belgium. It is both the capital of the province of Namur and of Wallonia....


- Arlon - Luxembourg

Luxembourg

Luxembourg , officially the Grand Duchy of Luxembourg , is a landlocked country in western Europe, bordered by Belgium, France, and Germany. It has two principal regions: the Oesling in the North as part of the Ardennes massif, and the Gutland in the south...


(Luxembourg (city)

Luxembourg (city)

The city of Luxembourg , also known as Luxembourg City , is a commune with city status, and the capital of the Grand Duchy of Luxembourg. It is located at the confluence of the Alzette and Pétrusse Rivers in southern Luxembourg...


)
A7 (E19

European route E19

European route E 19 is long European route. Its route begins in the Netherlands, and ends in France, via Belgium. Cities it passes en route include:* Netherlands: Amsterdam - Den Haag - Rijswijk - Rotterdam - Breda...


): Halle

Halle, Belgium

Halle , is a Belgian city and municipality in the district Halle-Vilvoorde of the province Flemish Brabant. The city is located on the Brussels-Charleroi Canal and on the Flemish side of the language border that separates Flanders and Wallonia...


- Nivelles

Nivelles

Nivelles is a Walloon city and municipality located in the Belgian province of Walloon Brabant. The Nivelles municipality includes the old communes of Baulers, Bornival, Thines, and Monstreux....


- Mons

Mons

Mons is a Walloon city and municipality located in the Belgian province of Hainaut, of which it is the capital. The Mons municipality includes the old communes of Cuesmes, Flénu, Ghlin, Hyon, Nimy, Obourg, Baudour , Jemappes, Ciply, Harmignies, Harveng, Havré, Maisières, Mesvin, Nouvelles,...


- France

France

The French Republic , The French Republic , The French Republic , (commonly known as France , is a unitary semi-presidential republic in Western Europe with several overseas territories and islands located on other continents and in the Indian, Pacific, and Atlantic oceans. Metropolitan France...


(Valenciennes

Valenciennes

Valenciennes is a commune in the Nord department in northern France.It lies on the Scheldt river. Although the city and region had seen a steady decline between 1975 and 1990, it has since rebounded...


)
A8 (E429 and E42): Halle

Halle, Belgium

Halle , is a Belgian city and municipality in the district Halle-Vilvoorde of the province Flemish Brabant. The city is located on the Brussels-Charleroi Canal and on the Flemish side of the language border that separates Flanders and Wallonia...


- Tournai

Tournai

Tournai is a Walloon city and municipality of Belgium located 85 kilometres southwest of Brussels, on the river Scheldt, in the province of Hainaut....


- France

France

The French Republic , The French Republic , The French Republic , (commonly known as France , is a unitary semi-presidential republic in Western Europe with several overseas territories and islands located on other continents and in the Indian, Pacific, and Atlantic oceans. Metropolitan France...


(Rijsel)
A10 (E40

European route E40

European route E 40 is the longest European route, more than long, connecting Calais in France via Belgium, Germany, Poland, Ukraine, Russia, Kazakhstan, Uzbekistan, Turkmenistan, and Kyrgyzstan, with Ridder in Kazakhstan near the border to China....


): Brussels

Brussels

Brussels , officially the Brussels Region or Brussels-Capital Region , is the capital of Belgium and the de facto capital of the European Union...


- Aalst

Aalst, Belgium

Aalst is a city and municipality on the Dender River, 19 miles northwest from Brussels. It is located in the Flemish province of East Flanders in the Denderstreek. The municipality comprises the city of Aalst itself and the villages of Baardegem, Erembodegem, Gijzegem, Herdersem, Hofstade,...


- Ghent

Ghent

Ghent is a city and a municipality located in the Flemish region of Belgium. It is the capital and biggest city of the East Flanders province. The city started as a settlement at the confluence of the Rivers Scheldt and Lys and in the Middle Ages became one of the largest and richest cities of...


- Bruges

Bruges

Bruges is the capital and largest city of the province of West Flanders in the Flemish Region of Belgium. It is located in the northwest of the country....


- Ostend

Ostend

Ostend is a Belgian city and municipality located in the Flemish province of West Flanders. It comprises the boroughs of Mariakerke , Stene and Zandvoorde, and the city of Ostend proper – the largest on the Belgian coast....



A11 (E34): Antwerp - Zelzate

Zelzate

Zelzate is a municipality located in the Belgian province of East Flanders. The municipality only comprises the town of Zelzate proper. On January 1, 2006 Zelzate had a total population of 12,176. The total area is 13.71 km² which gives a population density of 888 inhabitants per km².Zelzate is...



A12: Brussels

Brussels

Brussels , officially the Brussels Region or Brussels-Capital Region , is the capital of Belgium and the de facto capital of the European Union...


- Boom

Boom, Antwerp

Boom is a municipality located in Flanders, one of the three regions of Belgium, and in the Flemish province of Antwerp. The municipality only comprises the town of Boom proper. On January 1, 2006 Boom had a total population of 16,096. The total area is 7.37 km² which gives a population density of...


- Antwerp - Netherlands

Netherlands

The Netherlands is a constituent country of the Kingdom of the Netherlands, located mainly in North-West Europe and with several islands in the Caribbean. Mainland Netherlands borders the North Sea to the north and west, Belgium to the south, and Germany to the east, and shares maritime borders...


(Bergen op Zoom

Bergen op Zoom

Bergen op Zoom is a municipality and a city located in the south of the Netherlands.-History:Bergen op Zoom was granted city status probably in 1266. In 1287 the city and its surroundings became a lordship as it was separated from the lordship of Breda. The lordship was elevated to a margraviate...


)
A13 (E34 and E313): Antwerp - Hasselt

Hasselt

Hasselt is a Belgian city and municipality, and capital of the Flemish province of Limburg...


- Liège
A14 (E17

European route E17

European route E 17 passes through the following cities:** Antwerp → Sint-Niklaas → Ghent → Kortrijk** Tourcoing → Lille** Lille → Arras** Arras → Cambrai → Saint-Quentin → Laon → Reims...


): Antwerp - Sint-Niklaas

Sint-Niklaas

Sint-Niklaas is a Belgian city and municipality located in the Flemish province of East Flanders. The municipality comprises the city of Sint-Niklaas proper and the towns of Belsele, Nieuwkerken-Waas, and Sinaai....


- Ghent

Ghent

Ghent is a city and a municipality located in the Flemish region of Belgium. It is the capital and biggest city of the East Flanders province. The city started as a settlement at the confluence of the Rivers Scheldt and Lys and in the Middle Ages became one of the largest and richest cities of...


- Kortrijk

Kortrijk

Kortrijk ; , ; ) is a Belgian city and municipality located in the Flemish province West Flanders...


- France

France

The French Republic , The French Republic , The French Republic , (commonly known as France , is a unitary semi-presidential republic in Western Europe with several overseas territories and islands located on other continents and in the Indian, Pacific, and Atlantic oceans. Metropolitan France...


(Rijsel)
A15 (E42): La Louvière

La Louvière

La Louvière is a Walloon city and municipality located in the Belgian province of Hainaut. La Louvière's municipality includes the old communes of Haine-Saint-Paul, Haine-Saint-Pierre, Saint-Vaast, Trivières, Boussoit, Houdeng-Aimeries, Houdeng-Gœgnies, Maurage, and Strépy-Bracquegnies...


- Charleroi

Charleroi

Charleroi is a city and a municipality of Wallonia, located in the province of Hainaut, Belgium. , the total population of Charleroi was 201,593. The metropolitan area, including the outer commuter zone, covers an area of and had a total population of 522,522 as of 1 January 2008, ranking it as...


- Namur

Namur (city)

Namur is a city and municipality in Wallonia, in southern Belgium. It is both the capital of the province of Namur and of Wallonia....


- Liège
A16

A16 motorway (Belgium)

The A16 is a relatively short Belgian motorway connecting Mons and Tournai....


(E42): Mons

Mons

Mons is a Walloon city and municipality located in the Belgian province of Hainaut, of which it is the capital. The Mons municipality includes the old communes of Cuesmes, Flénu, Ghlin, Hyon, Nimy, Obourg, Baudour , Jemappes, Ciply, Harmignies, Harveng, Havré, Maisières, Mesvin, Nouvelles,...


- Tournai

Tournai

Tournai is a Walloon city and municipality of Belgium located 85 kilometres southwest of Brussels, on the river Scheldt, in the province of Hainaut....



A17 (E403): Bruges

Bruges

Bruges is the capital and largest city of the province of West Flanders in the Flemish Region of Belgium. It is located in the northwest of the country....


- Kortrijk

Kortrijk

Kortrijk ; , ; ) is a Belgian city and municipality located in the Flemish province West Flanders...


- Tournai

Tournai

Tournai is a Walloon city and municipality of Belgium located 85 kilometres southwest of Brussels, on the river Scheldt, in the province of Hainaut....



A18 (E40

European route E40

European route E 40 is the longest European route, more than long, connecting Calais in France via Belgium, Germany, Poland, Ukraine, Russia, Kazakhstan, Uzbekistan, Turkmenistan, and Kyrgyzstan, with Ridder in Kazakhstan near the border to China....


): Bruges

Bruges

Bruges is the capital and largest city of the province of West Flanders in the Flemish Region of Belgium. It is located in the northwest of the country....


- Veurne

Veurne

Veurne is a city and municipality in the Belgian province of West Flanders. The municipality comprises the town of Veurne proper and the settlements of Avekapelle, Booitshoeke, Bulskamp, De Moeren, Eggewaartskapelle, Houtem, Steenkerke, Vinkem, Wulveringem, and Zoutenaaie.-Origins in the 15th...


- France

France

The French Republic , The French Republic , The French Republic , (commonly known as France , is a unitary semi-presidential republic in Western Europe with several overseas territories and islands located on other continents and in the Indian, Pacific, and Atlantic oceans. Metropolitan France...


(Dunkirk)
A19: Kortrijk

Kortrijk

Kortrijk ; , ; ) is a Belgian city and municipality located in the Flemish province West Flanders...


- Ypres

Ypres

Ypres is a Belgian municipality located in the Flemish province of West Flanders. The municipality comprises the city of Ypres and the villages of Boezinge, Brielen, Dikkebus, Elverdinge, Hollebeke, Sint-Jan, Vlamertinge, Voormezele, Zillebeke, and Zuidschote...



A21 (E34): Antwerp - Turnhout - Netherlands

Netherlands

The Netherlands is a constituent country of the Kingdom of the Netherlands, located mainly in North-West Europe and with several islands in the Caribbean. Mainland Netherlands borders the North Sea to the north and west, Belgium to the south, and Germany to the east, and shares maritime borders...


(Eindhoven)
A25 (E25): Liège - Visé

Visé

Visé is a Walloon municipality and city of Belgium, where it is located on the river Meuse, in the province of Liège.The municipality consists of the former municipalities of Visé, Lanaye, Lixhe, Richelle, Argenteau and Cheratte....


- Netherlands

Netherlands

The Netherlands is a constituent country of the Kingdom of the Netherlands, located mainly in North-West Europe and with several islands in the Caribbean. Mainland Netherlands borders the North Sea to the north and west, Belgium to the south, and Germany to the east, and shares maritime borders...


(Maastricht

Maastricht

Maastricht is situated on both sides of the Meuse river in the south-eastern part of the Netherlands, on the Belgian border and near the German border...


)
A26 (E25): Liège - Bastogne

Bastogne

Bastogne Luxembourgish: Baaschtnech) is a Walloon municipality of Belgium located in the province of Luxembourg in the Ardennes. The municipality of Bastogne includes the old communes of Longvilly, Noville, Villers-la-Bonne-Eau, and Wardin...


- Neufchâteau
A27 (E42): Battice - Verviers

Verviers

Verviers is a Walloon city and municipality located in the Belgian province of Liège. The Verviers municipality includes the old communes of Ensival, Lambermont, Petit-Rechain, Stembert, and Heusy...


- Malmedy

Malmedy

Malmedy is a municipality of Belgium. It lies in the country's Walloon Region, Province of Liège. It belongs to the French Community of Belgium, within which it is French-speaking with facilities for German-speakers. On January 1, 2006 Malmedy had a total population of 11,829...


- Sankt Vith

Sankt Vith

St. Vith is a municipality located in the Belgian province of Liège, and in the German speaking community in Belgium. It was named after Saint Vitus....


- Germany

Germany

Germany , officially the Federal Republic of Germany , is a federal parliamentary republic in Europe. The country consists of 16 states while the capital and largest city is Berlin. Germany covers an area of 357,021 km2 and has a largely temperate seasonal climate...


(Bitburg

Bitburg

Bitburg It is situated approx. 25 km north-west of Trier, and 50 km north-east of Luxembourg . One American airbase, Spangdahlem Air Base, is located nearby.-History:...


)
A28 (E411): Aubange

Aubange

Aubange is a Walloon municipality of Belgium located in the province of Luxembourg....


- France

France

The French Republic , The French Republic , The French Republic , (commonly known as France , is a unitary semi-presidential republic in Western Europe with several overseas territories and islands located on other continents and in the Indian, Pacific, and Atlantic oceans. Metropolitan France...


(Longwy

Longwy

Longwy is a commune in the Meurthe-et-Moselle department in north-eastern France.The inhabitants are known as Longoviciens.-Economy:Longwy has historically been an industrial center of the Lorraine iron mining district. The town is known for its artistic glazed pottery.-History:Longwy initially...


)
A54: Nivelles

Nivelles

Nivelles is a Walloon city and municipality located in the Belgian province of Walloon Brabant. The Nivelles municipality includes the old communes of Baulers, Bornival, Thines, and Monstreux....


- Charleroi

Charleroi

Charleroi is a city and a municipality of Wallonia, located in the province of Hainaut, Belgium. , the total population of Charleroi was 201,593. The metropolitan area, including the outer commuter zone, covers an area of and had a total population of 522,522 as of 1 January 2008, ranking it as...



A112: Wilrijk

Wilrijk

Wilrijk is a district of the municipality and city of Antwerp in the Flemish Region of Belgium. Wilrijk had been a separate municipality before January 1, 1983; the enlarged municipality of Antwerp was decentralized in 2000 and Wilrijk became one the city's nine districts.This suburb is also known...


- A12
A201: Brussels Airport

Brussels Airport

Brussels Airport is an international airport northeast of Brussels, Belgium. The airport is partially in Zaventem and partially in the Diegem area of Machelen, both located in the Flemish Region of Belgium.Brussels Airport currently consists of 54 contact gates, and a total of 109 gates...


- Brussels

Brussels

Brussels , officially the Brussels Region or Brussels-Capital Region , is the capital of Belgium and the de facto capital of the European Union...



A501: La Louvière

La Louvière

La Louvière is a Walloon city and municipality located in the Belgian province of Hainaut. La Louvière's municipality includes the old communes of Haine-Saint-Paul, Haine-Saint-Pierre, Saint-Vaast, Trivières, Boussoit, Houdeng-Aimeries, Houdeng-Gœgnies, Maurage, and Strépy-Bracquegnies...


- A7
A503: Charleroi

Charleroi

Charleroi is a city and a municipality of Wallonia, located in the province of Hainaut, Belgium. , the total population of Charleroi was 201,593. The metropolitan area, including the outer commuter zone, covers an area of and had a total population of 522,522 as of 1 January 2008, ranking it as...


- Mont-sur-Marchienne

Mont-sur-Marchienne

Mont-sur-Marchienne is a section of the Belgian town of Charleroi within the Walloon region in the Province of Hainaut. It was a commune of its own before the merger of the communes in 1977....



A601: A3 - A13 (near Liège)
A602 (E25): A3 - A26 (near Liège)
A604: Seraing

Seraing

Seraing is a Walloon municipality of Belgium in Province of Liege. The municipality of Seraing includes the old communes of Boncelles, Jemeppe-sur-Meuse, and Ougrée. With Liège, Herstal, Saint-Nicolas, Ans, and Flémalle it forms the greater Liège agglomeration...


- A15
Aborted
A5: Brussels

Brussels

Brussels , officially the Brussels Region or Brussels-Capital Region , is the capital of Belgium and the de facto capital of the European Union...


- Charleroi

Charleroi

Charleroi is a city and a municipality of Wallonia, located in the province of Hainaut, Belgium. , the total population of Charleroi was 201,593. The metropolitan area, including the outer commuter zone, covers an area of and had a total population of 522,522 as of 1 January 2008, ranking it as...


- Philippeville

Philippeville

Philippeville is a Walloon municipality located in Belgium in the province of Namur. The Philippeville municipality includes the old communes of Fagnolle, Franchimont, Jamagne, Jamiolle, Merlemont, Neuville, Omezée, Roly, Romedenne, Samart, Sart-en-Fagne, Sautour, Surice , Villers-en-Fagne,...


- Couvin

Couvin

Couvin is a Walloon municipality and town located in Belgium in the province of Namur.On 1 January 2006 the municipality had 13,476 inhabitants. Couvin is the second largest municipality of Belgium by surface area, after Tournai...


- France

France

The French Republic , The French Republic , The French Republic , (commonly known as France , is a unitary semi-presidential republic in Western Europe with several overseas territories and islands located on other continents and in the Indian, Pacific, and Atlantic oceans. Metropolitan France...



A6: junction A7-A54 - junction A15-R3 (west)
A9: Anderlecht

Anderlecht

Anderlecht is one of the nineteen municipalities located in the Brussels-Capital Region.There are several historically and architecturally distinct districts within the Anderlecht municipality.-Pronunciation:* Dutch: * French:...


- Geraardsbergen

Geraardsbergen

Geraardsbergen is a city and municipality located in the Denderstreek and in the Flemish Ardennes, the hilly southern part of the Belgian province of East Flanders. The municipality comprises the city of Geraardsbergen proper and the following towns:...


? - Kortrijk

Kortrijk

Kortrijk ; , ; ) is a Belgian city and municipality located in the Flemish province West Flanders...



A24: Hasselt

Hasselt

Hasselt is a Belgian city and municipality, and capital of the Flemish province of Limburg...


- Lommel

Lommel

Lommel is a municipality located in the Belgian province of Limburg. On January 1, 2006 Lommel had a total population of 31,898. The total area is 102.37 km² which gives a population density of 312 inhabitants per km².-Lutlommel:...


- Netherlands

Netherlands

The Netherlands is a constituent country of the Kingdom of the Netherlands, located mainly in North-West Europe and with several islands in the Caribbean. Mainland Netherlands borders the North Sea to the north and west, Belgium to the south, and Germany to the east, and shares maritime borders...


(Eindhoven) (The road is a national road (N74), although the section between Helchteren and the Dutch

Netherlands

The Netherlands is a constituent country of the Kingdom of the Netherlands, located mainly in North-West Europe and with several islands in the Caribbean. Mainland Netherlands borders the North Sea to the north and west, Belgium to the south, and Germany to the east, and shares maritime borders...


border has motorway signs)
Ring roads (R)
R0

Brussels Ring

The Brussels Ring numbered R0, is a ring road surrounding the city of Brussels as well as other smaller towns south of Brussels. The road is a circular highway road of about 75 km with 2 to 3 lanes in each direction...


- Brussels

Brussels

Brussels , officially the Brussels Region or Brussels-Capital Region , is the capital of Belgium and the de facto capital of the European Union...


(outer ring)
R1 - Antwerp (inner ring)
R2 - Antwerp (outer ring)
R3 - Charleroi

Charleroi

Charleroi is a city and a municipality of Wallonia, located in the province of Hainaut, Belgium. , the total population of Charleroi was 201,593. The metropolitan area, including the outer commuter zone, covers an area of and had a total population of 522,522 as of 1 January 2008, ranking it as...


(outer ring)
R4 - Ghent

Ghent

Ghent is a city and a municipality located in the Flemish region of Belgium. It is the capital and biggest city of the East Flanders province. The city started as a settlement at the confluence of the Rivers Scheldt and Lys and in the Middle Ages became one of the largest and richest cities of...



R5 - Mons

Mons

Mons is a Walloon city and municipality located in the Belgian province of Hainaut, of which it is the capital. The Mons municipality includes the old communes of Cuesmes, Flénu, Ghlin, Hyon, Nimy, Obourg, Baudour , Jemappes, Ciply, Harmignies, Harveng, Havré, Maisières, Mesvin, Nouvelles,...



R6 - Mechelen

Mechelen

Mechelen Footnote: Mechelen became known in English as 'Mechlin' from which the adjective 'Mechlinian' is derived...



R7 - Liège
R8 - Kortrijk

Kortrijk

Kortrijk ; , ; ) is a Belgian city and municipality located in the Flemish province West Flanders...



R9 - Charleroi

Charleroi

Charleroi is a city and a municipality of Wallonia, located in the province of Hainaut, Belgium. , the total population of Charleroi was 201,593. The metropolitan area, including the outer commuter zone, covers an area of and had a total population of 522,522 as of 1 January 2008, ranking it as...


(inner ring)