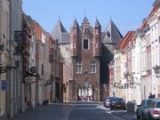 Bergen op Zoom
Bergen op Zoom
is a
municipality
Municipality
A municipality is essentially an urban administrative division having corporate status and usually powers of self-government. It can also be used to mean the governing body of a municipality. A municipality is a general-purpose administrative subdivision, as opposed to a special-purpose district...
and a city located in the south of the
Netherlands
Netherlands
The Netherlands is a constituent country of the Kingdom of the Netherlands, located mainly in North-West Europe and with several islands in the Caribbean. Mainland Netherlands borders the North Sea to the north and west, Belgium to the south, and Germany to the east, and shares maritime borders...
.
History
Bergen op Zoom was granted
city status
City rights in the Netherlands
City rights are a medieval phenomenon in the history of the Low Countries. A liegelord, usually a count, duke or similar member of high nobility, granted a settlement he owned certain town privileges that settlements without city rights did not have....
probably in 1266. In 1287 the city and its surroundings became a lordship as it was separated from the lordship of
Breda
Breda
Breda is a municipality and a city in the southern part of the Netherlands. The name Breda derived from brede Aa and refers to the confluence of the rivers Mark and Aa. As a fortified city, the city was of strategic military and political significance...
. The lordship was elevated to a
margraviate
Lords and margraves of Bergen op Zoom
The following is a list of lords and later on margraves of Bergen op Zoom. Bergen op Zoom became separated from the lordship of Breda in 1287 under the nominal overlordship of the duchy of Brabant. In 1559 the lordship was elevated to the rank of margraviate...
in 1559. Several families ruled Bergen op Zoom in succession until 1795, although the title was only nominal since at least the seventeenth century.
During the
early modern period
Early modern Europe
Early modern Europe is the term used by historians to refer to a period in the history of Europe which spanned the centuries between the end of the Middle Ages and the beginning of the Industrial Revolution, roughly the late 15th century to the late 18th century...
, Bergen op Zoom was a very strong fortress and one of the main
armories
Armory (military)
An armory or armoury is a place where arms and ammunition are made, maintained and repaired, stored, issued to authorized users, or any combination of those...
and
arsenal
Arsenal
An arsenal is a place where arms and ammunition are made, maintained and repaired, stored, issued to authorized users, or any combination of those...
s of the
United Provinces
Dutch Republic
The Dutch Republic — officially known as the Republic of the Seven United Netherlands , the Republic of the United Netherlands, or the Republic of the Seven United Provinces — was a republic in Europe existing from 1581 to 1795, preceding the Batavian Republic and ultimately...
. It had a remarkable natural defensive site, surrounded as it was by marshes and easily-floodable
polder
Polder
A polder is a low-lying tract of land enclosed by embankments known as dikes, that forms an artificial hydrological entity, meaning it has no connection with outside water other than through manually-operated devices...
s. Furthermore, it could receive reinforcements and supplies by sea, if the
besieging
Siege
A siege is a military blockade of a city or fortress with the intent of conquering by attrition or assault. The term derives from sedere, Latin for "to sit". Generally speaking, siege warfare is a form of constant, low intensity conflict characterized by one party holding a strong, static...
army did not have a fleet to blockade its port.
Due to these features, the city was one of the strategic points held by the Dutch during their revolt in the Eighty Years War. It was at that time besieged by Alessandro Farnese first in 1587, and by
Ambrosio Spinola
Ambrosio Spinola, marqués de los Balbases
Don Ambrogio Spinola Doria, 1st Marquis of the Balbases was an Italian aristocrat, who, as a General in Spanish service, won a number of important battles for the Spanish crown...
a second time in 1622. Both sieges were unsuccessful and Bergen op Zoom got the nickname
La Pucelle
or
The Virgin
as it was never sieged successfully.
In 1747, during the
War of the Austrian Succession
War of the Austrian Succession
The War of the Austrian Succession – including King George's War in North America, the Anglo-Spanish War of Jenkins' Ear, and two of the three Silesian wars – involved most of the powers of Europe over the question of Maria Theresa's succession to the realms of the House of Habsburg.The...
, the
French army
French Army
The French Army, officially the Armée de Terre , is the land-based and largest component of the French Armed Forces.As of 2010, the army employs 123,100 regulars, 18,350 part-time reservists and 7,700 Legionnaires. All soldiers are professionals, following the suspension of conscription, voted in...
laid siege
Siege of Bergen op Zoom (1747)
The Siege of Bergen op Zoom took place during the Austrian War of Succession, when a French army, under the command of Lowendal and the overall direction of Marshal Maurice de Saxe, laid siege and captured the strategic Dutch border fortress of Bergen op Zoom on the border of Brabant and Zealand...
to it again. At that time, Bergen op Zoom had fortifications built in the beginning of the 17th Century by
Menno van Coehoorn
Menno van Coehoorn
Menno, Baron van Coehoorn was a Dutch soldier and military engineer of Swedish extraction. He made a number of influential weaponry innovations in siege warfare and fortification techniques...
, with three forts surrounding the city and a canalized diversion of the
Scheldt
Scheldt
The Scheldt is a 350 km long river in northern France, western Belgium and the southwestern part of the Netherlands...
acting as a ditch around its walls. However, it had no second line of fortifications, nor any
fortress
Fortification
Fortifications are military constructions and buildings designed for defence in warfare and military bases. Humans have constructed defensive works for many thousands of years, in a variety of increasingly complex designs...
. After seventy days of siege, the city was taken and thoroughly
sacked
Looting
Looting —also referred to as sacking, plundering, despoiling, despoliation, and pillaging—is the indiscriminate taking of goods by force as part of a military or political victory, or during a catastrophe, such as during war, natural disaster, or rioting...
; the garrison was slaughtered.
Population centres
Bergen op Zoom (population: 65,691, July 2006)

Heimolen
Halsteren

Halsteren

Halsteren is a village in the Dutch province of North Brabant. It is located in the municipality of Bergen op Zoom, about 1 km north of that city. Halsteren has an old church from 1457 and a new church, built in 1919...


(11,410)
Lepelstraat

Lepelstraat

Lepelstraat is a small Dutch community six kilometres north of the city of Bergen op Zoom, and part of the municipality with that name.It has 2,342 inhabitants and 30 percent of the municipality consists of farmland...


(2,070)
Kladde
The city of Bergen op Zoom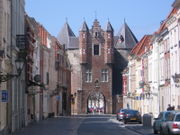 The Markiezenhof Palace, built in the fifteenth and sixteenth centuries, houses a
cultural centre
Cultural center
A cultural center or cultural centre is an organization, building or complex that promotes culture and arts. Cultural centers can be neighborhood community arts organizations, private facilities, government-sponsored, or activist-run...
and a museum with a picturesque courtyard, paintings, period rooms, and temporary exhibitions.
SABIC
SABIC
SABIC is a diversified manufacturing company, active in chemicals and intermediates, industrial polymers, fertilizers and metals. It is the largest public company in Saudi Arabia as listed in Tadawul, but the Saudi government still owns 70% of its shares...
Innovative Plastics operates a major manufacturing facility in Bergen op Zoom.
Another major plant/employer in the city is
Philip Morris
Philip Morris International
Philip Morris International is an international tobacco company, with products sold in over 160 countries. In 2007, it held a 15.6% share of the international cigarette market outside of the USA and reported revenues net of excise taxes of $22.8 billion and operating income of $8.9 billion.Until...
.
Artists in Bergen op Zoom
Bergen op Zoom has always housed many artists. Some of them are, in chronological order:
Jacob Obrecht

Jacob Obrecht

Jacob Obrecht was a Flemish composer of the Renaissance. He was the most famous composer of masses in Europe in the late 15th century, being eclipsed by only Josquin des Prez after his death.-Life:...


(1457–1505, composer),
Desiderius Erasmus

Desiderius Erasmus

Desiderius Erasmus Roterodamus , known as Erasmus of Rotterdam, was a Dutch Renaissance humanist, Catholic priest, and a theologian....


(1466–1536, humanist, philosopher, author),
Lowijs Porquin (1511–1573, author),
Abel Grimmer

Abel Grimmer

Abel Grimmer , was a Flemish Baroque painter.-Biography:He learned to paint from his father, the painter Jacob Grimmer. According to the RKD his earliest dated work is from 1586 and his latest dated work reads "162", so after 1620...


(1570–1619, artist),
Samuel de Swaef (1597–1636, printer, writer),
Gerrit Houckgeest (1600–1661, painter),
Marcus Zuerius Boxhorn (1612–1653, historian, author),
Bernardus Bosch (1746–1803, politician, publisher, author),
Lodewijk van Deijssel (1864–1952, critic, novelist),
Margo Scharten-Antink

Margo Scharten-Antink

Margo Sybranda Everdina Scharten-Antink was a Dutch poet.She was born in Zutphen and died in Florence, Italy....


(1868–1957, novelist),
Willem van Dort (1875–1922, painter),
A. M. de Jong (1888–1943, politician, novelist),
Anton van Duinkerken (1903–1968, poet, critic)
Twin towns — sister cities
Bergen op Zoom is
twinned
Town twinning
Twin towns and sister cities are two of many terms used to describe the cooperative agreements between towns, cities, and even counties in geographically and politically distinct areas to promote cultural and commercial ties.- Terminology :...
with:
Szczecinek
Szczecinek
Szczecinek [] is a city in Middle Pomerania, northwestern Poland with some 39,777 inhabitants . Previously in Koszalin Voivodeship , it has been the capital of Szczecinek County in the West Pomeranian Voivodeship since 1999...
,
Poland
Poland
Poland , officially the Republic of Poland , is a country in Central Europe bordered by Germany to the west; the Czech Republic and Slovakia to the south; Ukraine, Belarus and Lithuania to the east; and the Baltic Sea and Kaliningrad Oblast, a Russian exclave, to the north...
External links