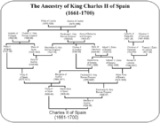 Inbreeding
Inbreeding
is the reproduction from the
mating
Mating
In biology, mating is the pairing of opposite-sex or hermaphroditic organisms for copulation. In social animals, it also includes the raising of their offspring. Copulation is the union of the sex organs of two sexually reproducing animals for insemination and subsequent internal fertilization...
of two
genetically related
Genetic distance
Genetic distance refers to the genetic divergence between species or between populations within a species. It is measured by a variety of parameters. Smaller genetic distances indicate a close genetic relationship whereas large genetic distances indicate a more distant genetic relationship...
parents. Inbreeding results in increased homozygosity, which can increase the chances of offspring being affected by recessive or deleterious traits. This generally leads to a decreased
fitness
Fitness (biology)
Fitness is a central idea in evolutionary theory. It can be defined either with respect to a genotype or to a phenotype in a given environment...
of a
population
Population
A population is all the organisms that both belong to the same group or species and live in the same geographical area. The area that is used to define a sexual population is such that inter-breeding is possible between any pair within the area and more probable than cross-breeding with individuals...
, which is called
inbreeding depression
Inbreeding depression
Inbreeding depression is the reduced fitness in a given population as a result of breeding of related individuals. It is often the result of a population bottleneck...
. Deleterious
allele
Allele
An allele is one of two or more forms of a gene or a genetic locus . "Allel" is an abbreviation of allelomorph. Sometimes, different alleles can result in different observable phenotypic traits, such as different pigmentation...
s causing inbreeding depression can subsequently be removed through
culling
Culling
Culling is the process of removing animals from a group based on specific criteria. This is done either to reinforce certain desirable characteristics or to remove certain undesirable characteristics from the group...
, which is also known as genetic purging.
Livestock
Livestock
Livestock refers to one or more domesticated animals raised in an agricultural setting to produce commodities such as food, fiber and labor. The term "livestock" as used in this article does not include poultry or farmed fish; however the inclusion of these, especially poultry, within the meaning...
breeders often practice controlled breeding to eliminate undesirable characteristics within a population, which is also coupled with
culling
Culling
Culling is the process of removing animals from a group based on specific criteria. This is done either to reinforce certain desirable characteristics or to remove certain undesirable characteristics from the group...
of what is considered unfit offspring, especially when trying to establish a new and desirable trait in the stock.
In
plant breeding
Plant breeding
Plant breeding is the art and science of changing the genetics of plants in order to produce desired characteristics. Plant breeding can be accomplished through many different techniques ranging from simply selecting plants with desirable characteristics for propagation, to more complex molecular...
, inbred lines are used as stocks for the creation of hybrid lines to make use of the effects of
heterosis
Heterosis
Heterosis, or hybrid vigor, or outbreeding enhancement, is the improved or increased function of any biological quality in a hybrid offspring. The adjective derived from heterosis is heterotic....
. Inbreeding in
plant
Plant
Plants are living organisms belonging to the kingdom Plantae. Precise definitions of the kingdom vary, but as the term is used here, plants include familiar organisms such as trees, flowers, herbs, bushes, grasses, vines, ferns, mosses, and green algae. The group is also called green plants or...
s also occurs naturally in the form of
self-pollination
Self-pollination
Self-pollination is a form of pollination that can occur when a flower has both stamen and a carpel in which the cultivar or species is self fertile and the stamens and the sticky stigma of the carpel contact each other in order to accomplish pollination...
.
Results
Inbreeding may result in a far higher phenotypic expression of deleterious
recessive genes
Dominance relationship
Dominance in genetics is a relationship between two variant forms of a single gene, in which one allele masks the effect of the other in influencing some trait. In the simplest case, if a gene exists in two allelic forms , three combinations of alleles are possible: AA, AB, and BB...
within a population than would normally be expected. As a result, first-generation inbred individuals are more likely to show physical and health defects, including:
Reduced fertility

Fertility

Fertility is the natural capability of producing offsprings. As a measure, "fertility rate" is the number of children born per couple, person or population. Fertility differs from fecundity, which is defined as the potential for reproduction...


both in litter size and sperm

Spermatozoon

A spermatozoon is a motile sperm cell, or moving form of the haploid cell that is the male gamete. A spermatozoon joins an ovum to form a zygote...


viability
Increased genetic disorder

Genetic disorder

A genetic disorder is an illness caused by abnormalities in genes or chromosomes, especially a condition that is present from before birth. Most genetic disorders are quite rare and affect one person in every several thousands or millions....


s
Fluctuating facial asymmetry
Lower birth rate

Birth rate

Crude birth rate is the nativity or childbirths per 1,000 people per year . Another word used interchangeably with "birth rate" is "natality". When the crude birth rate is subtracted from the crude death rate, it reveals the rate of natural increase...



Higher infant mortality

Infant mortality

Infant mortality is defined as the number of infant deaths per 1000 live births. Traditionally, the most common cause worldwide was dehydration from diarrhea. However, the spreading information about Oral Re-hydration Solution to mothers around the world has decreased the rate of children dying...



Slower growth rate
Smaller adult

Adult

An adult is a human being or living organism that is of relatively mature age, typically associated with sexual maturity and the attainment of reproductive age....


size
Loss of immune system

Immune system

An immune system is a system of biological structures and processes within an organism that protects against disease by identifying and killing pathogens and tumor cells. It detects a wide variety of agents, from viruses to parasitic worms, and needs to distinguish them from the organism's own...


function
Natural selection
Natural selection
Natural selection is the nonrandom process by which biologic traits become either more or less common in a population as a function of differential reproduction of their bearers. It is a key mechanism of evolution....
works to remove individuals with the above types of traits from the gene pool. Therefore, many more individuals in the first generation of inbreeding will never live to reproduce. Over time, with isolation such as a
population bottleneck
Population bottleneck
A population bottleneck is an evolutionary event in which a significant percentage of a population or species is killed or otherwise prevented from reproducing....
caused by purposeful (assortative) breeding or natural environmental
stress
Stress (medicine)
Stress is a term in psychology and biology, borrowed from physics and engineering and first used in the biological context in the 1930s, which has in more recent decades become commonly used in popular parlance...
es, the deleterious inherited traits are culled.
Island species are often very inbred, as their isolation from the larger group on a mainland allows for natural selection to work upon their population. This type of isolation may result in the formation of race or even speciation, as the inbreeding first removes many deleterious genes, and allows expression of genes that allow a population to adapt to an ecosystem. As the adaptation becomes more pronounced the new species or race radiates from its entrance into the new space, or dies out if it cannot adapt and, most importantly, reproduce.
The reduced genetic diversity that results from inbreeding may mean a
species
Species
In biology, a species is one of the basic units of biological classification and a taxonomic rank. A species is often defined as a group of organisms capable of interbreeding and producing fertile offspring. While in many cases this definition is adequate, more precise or differing measures are...
may not be able to adapt to changes in environmental conditions. Each individual will have similar immune systems, as immune systems are genetically based. Where a species becomes
endangered
Endangered species
An endangered species is a population of organisms which is at risk of becoming extinct because it is either few in numbers, or threatened by changing environmental or predation parameters...
, the population may fall below a minimum whereby the forced interbreeding between the remaining animals will result in
extinction
Extinction
In biology and ecology, extinction is the end of an organism or of a group of organisms , normally a species. The moment of extinction is generally considered to be the death of the last individual of the species, although the capacity to breed and recover may have been lost before this point...
.
Natural breedings include inbreeding by necessity, and most animals only migrate when necessary. In many cases, the closest available mate is a mother, sister, grandmother, father, grandfather... In all cases the environment presents stresses to remove those individuals who cannot survive because of illness from the population.
There was an assumption that wild populations do not inbreed; this is not what is observed in some cases in the wild. However, in species such as
horse
Horse
The horse is one of two extant subspecies of Equus ferus, or the wild horse. It is a single-hooved mammal belonging to the taxonomic family Equidae. The horse has evolved over the past 45 to 55 million years from a small multi-toed creature into the large, single-toed animal of today...
s, animals in
wild
Wild Horse
The wild horse is a species of the genus Equus, which includes as subspecies the domesticated horse as well as the undomesticated Tarpan and Przewalski's Horse. The Tarpan became extinct in the 19th century, and Przewalski's Horse was saved from the brink of extinction and reintroduced...
or
feral
Feral
A feral organism is one that has changed from being domesticated to being wild or untamed. In the case of plants it is a movement from cultivated to uncultivated or controlled to volunteer. The introduction of feral animals or plants to their non-native regions, like any introduced species, may...
conditions often drive off the young of both genders, thought to be a mechanism by which the species instinctively avoids some of the genetic consequences of inbreeding. In general, many mammal species including humanity's closest
primate
Primate
A primate is a mammal of the order Primates , which contains prosimians and simians. Primates arose from ancestors that lived in the trees of tropical forests; many primate characteristics represent adaptations to life in this challenging three-dimensional environment...
relatives avoid close inbreeding possibly due to the deleterious effects.
Examples
The
cheetah
Cheetah
The cheetah is a large-sized feline inhabiting most of Africa and parts of the Middle East. The cheetah is the only extant member of the genus Acinonyx, most notable for modifications in the species' paws...
was once reduced by disease, habitat restriction, overhunting of prey, competition from other predators (primarily
lion
Lion
The lion is one of the four big cats in the genus Panthera, and a member of the family Felidae. With some males exceeding 250 kg in weight, it is the second-largest living cat after the tiger...
s, competition from human land use, etc.) to a very small number of individuals. All cheetahs now come from this very small gene pool. Should a
virus
Virus
A virus is a small infectious agent that can replicate only inside the living cells of organisms. Viruses infect all types of organisms, from animals and plants to bacteria and archaea...
appear that none of the cheetahs have resistance to,
extinction
Extinction
In biology and ecology, extinction is the end of an organism or of a group of organisms , normally a species. The moment of extinction is generally considered to be the death of the last individual of the species, although the capacity to breed and recover may have been lost before this point...
is always a possibility. Currently, the threatening virus is
feline infectious peritonitis
Feline infectious peritonitis
Feline infectious peritonitis is a fatal incurable disease that affects cats. It is believed by some to be caused by Feline Infectious Peritonitis Virus , which is a mutation of Feline Enteric Coronavirus - . Although there appears to be a connection between FIP and feline coronavirus, no clear...
, which has a disease rate in domestic cats from 1%–5%; in the cheetah population it is ranging between 50% to 60%. The cheetah is also known, in spite of its small gene pool, for few genetic illnesses.
In the
South America
South America
South America is a continent situated in the Western Hemisphere, mostly in the Southern Hemisphere, with a relatively small portion in the Northern Hemisphere. The continent is also considered a subcontinent of the Americas. It is bordered on the west by the Pacific Ocean and on the north and east...
n
sea lion
Sea Lion
Sea lions are pinnipeds characterized by external ear-flaps, long fore-flippers, the ability to walk on all fours, and short thick hair. Together with the fur seal, they comprise the family Otariidae, or eared seals. There are six extant and one extinct species in five genera...
, there was concern that recent population crashes would reduce genetic diversity. Historical analysis indicated that a population expansion from just two matrilineal lines were responsible for most individuals within the population. Even so, the diversity within the lines allowed for great variation in the gene pool that may help to protect the South American sea lion from extinction.
In lions, prides are often followed by related males in bachelor groups. When the dominant male is killed or driven off by one of these bachelors, a father may be replaced with his son. There is no mechanism for preventing inbreeding or to ensure outcrossing. In the prides, most lionesses are related to one another. If there is more than one dominant male, the group of alpha males are usually related. Two lines are then being "line bred". Also, in some populations such as the Crater lions, it is known that a population bottleneck has occurred. Researchers found far greater genetic heterozygosity than expected. In fact, predators are known for low genetic variance, along with most of the top portion of the tropic levels of an
ecosystem
Ecosystem
An ecosystem is a biological environment consisting of all the organisms living in a particular area, as well as all the nonliving , physical components of the environment with which the organisms interact, such as air, soil, water and sunlight....
. Additionally, the alpha males of two neighboring prides can potentially be from the same litter; one brother may come to acquire leadership over another's pride, and subsequently mate with his 'nieces' or cousins. However, killing another male's cubs, upon the takeover, allows for the new selected gene complement of the incoming alpha male to prevail over the previous male. There are genetic
assay
Assay
An assay is a procedure in molecular biology for testing or measuring the activity of a drug or biochemical in an organism or organic sample. A quantitative assay may also measure the amount of a substance in a sample. Bioassays and immunoassays are among the many varieties of specialized...
s being scheduled for lions to determine their genetic diversity. The preliminary studies show results inconsistent with the outcrossing paradigm based on individual environments of the studied groups.
Calculation
The inbreeding is computed as a percentage of chances for two alleles to be identical by descent. This percentage is called "inbreeding coefficient". There are several methods to compute this percentage, the two main ways are the path method and the tabular method.
Typical inbreeding percentages are as follows, assuming no previous inbreeding between any parents:
Father/daughter, mother/son or brother/sister → 25%
Grandfather/granddaughter or grandmother/grandson → 12.5%
Half-brother/half-sister → 12.5%
Uncle/niece or aunt/nephew → 12.5%
Great-grandfather/great-granddaughter or great-grandmother/great-grandson → 6.25%
Half-uncle/niece or half-aunt/nephew → 6.25%
First cousins → 6.25%
First cousins once removed or half-first cousins → 3.125%
Second cousins or first cousins twice removed → 1.5625%
Second cousins once removed or half-second cousins → 0.78125%
An inbreeding calculation may be used to determine the general genetic distance among relatives by multiplying by two, because any progeny would have a 1 in 2 risk of actually inheriting the identical alleles from both parents.
For instance, the parent/child or sibling/sibling relationships have 50% identical genetics.
NOTE: For siblings, the degree of genetic relationship is not an automatic 50% as it is with parents and their children, but a range from 100% at one extreme, as in the case of identical twins (who obviously cannot mate as they are the same sex), to an exceedingly unlikely 0%. In other words, siblings share an average of 50% of their genes, but unlike the 50% ratio between parents and children, the actual ratio between siblings in any given case can vary.
Domestic animals
Breeding in domestic animals is
assortative
Assortative mating
Assortative mating , and the related concept Disassortative mating, is the phenomenon where a sexually reproducing organism chooses to mate with individuals that are similar or dissimilar to itself in some specific manner...
breeding primarily (see
selective breeding
Selective breeding
Selective breeding is the process of breeding plants and animals for particular genetic traits. Typically, strains that are selectively bred are domesticated, and the breeding is sometimes done by a professional breeder. Bred animals are known as breeds, while bred plants are known as varieties,...
). Without the sorting of individuals by trait, a breed could not be established, nor could poor genetic material be removed.
Homozygosity is the case where similar or identical alleles combine to express a trait that is not otherwise expressed (recessiveness). Inbreeding, through homozygosity, exposes recessive alleles. Inbreeding is used to reveal deleterious recessive alleles, which can then be eliminated through assortative breeding or through culling.
Inbreeding is used by breeders of domestic animals to fix desirable genetic traits within a population or to attempt to remove deleterious traits by allowing them to manifest phenotypically from the genotypes. Inbreeding is defined as the use of close relations for breeding such as mother to son, father to daughter, brother to sister.
Breeders must cull unfit breeding suppressed individuals and/or individuals who demonstrate either homozygosity or heterozygosity for genetic based diseases. The issue of casual breeders who inbreed irresponsibly is discussed in the following quotation on cattle:

Meanwhile, milk production per cow per lactation increased from 17,444 lbs to 25,013 lbs from 1978 to 1998 for the Holstein breed. Mean breeding values for milk of Holstein cows increased by 4,829 lbs during this period. High producing cows are increasingly difficult to breed and are subject to higher health costs than cows of lower genetic merit for production (Cassell, 2001).

Intensive selection for higher yield has increased relationships among animals within breed and increased the rate of casual inbreeding.
Many of the traits that affect profitability in crosses of modern dairy breeds have not been studied in designed experiments. Indeed, all crossbreeding research involving North American breeds and strains is very dated (McAllister, 2001) if it exists at all.
Linebreeding
is a form of inbreeding. There is no clear distinction between the two terms, but linebreeding may encompass crosses between individuals and their descendants or two cousins. This method can be used to increase a particular animal's contribution to the population. While linebreeding is less likely to cause problems in the first generation than does inbreeding, over time, linebreeding can reduce the genetic diversity of a population and cause problems related to a too-small genepool that may include an increased prevalence of genetic disorders and inbreeding depression.
Outcrossing
Outcrossing
Outcrossing is the practice of introducing unrelated genetic material into a breeding line. It increases genetic diversity, thus reducing the probability of all individuals being subject to disease or reducing genetic abnormalities...
is where two unrelated individuals have been crossed to produce progeny. In outcrossing, unless there is verifiable genetic information, one may find that all individuals are distantly related to an ancient progenitor. If the trait carries throughout a population, all individuals can have this trait. This is called the founder's effect. In the well established breeds, that are commonly bred,a large gene pool is present. For example, in 2004, over 18,000 Persian cats were registered. A possibility exists for a complete outcross, if no barriers exist between the individuals to breed. However it is not always the case, and a form of distant linebreeding occurs. Again it is up to the assortative breeder to know what sort of traits both positive and negative exist within the diversity of one breeding. This diversity of genetic expression, within even close relatives, increases the variability and diversity of viable stock.
The two dog sites above also point out that in the registered dog population, the onset of large numbers of casual breeders has corresponded with an increase in the number of genetic illnesses of dogs by not understanding how, why and which traits are inherited. The dog sites indicate that the largest percentage of dog breeders in the US are
casual breeders
Backyard breeder
Backyard Breeder is a general term, often considered derogatory, used in USA to describe people who breed animals, often without registration. In some cases the animals are inbred narrowly for looks with little regard to health. The term most often is used to describe certain types of breeders of...
. Therefore the investment in a papered animal,with an expected short term profit, motivates some to ignore the practice of culling. Casual breeders in companion animals often ignore breeding restrictions within their contracts with source companion animal breeders. The casual breeders breed the very culls that a genetics based breeder has released as a pet. The casual breeder was also cited in the quotes above on cattle raising.
Laboratory animals
Systematic inbreeding and maintenance of inbred strains of laboratory mice and rats is of great importance for biomedical research. The inbreeding guarantees a consistent and uniform
animal model
Animal model
An animal model is a living, non-human animal used during the research and investigation of human disease, for the purpose of better understanding the disease without the added risk of causing harm to an actual human being during the process...
for experimental purposes and enables genetic studies in
congenic
Congenic
In genetics, two organisms that differ in one locus are defined as congenic or coisogenic.-Generating congenic strains:Congenic strains are generated in the laboratory by mating two inbred strains , and backcrossing the descendants 5-10 generations with one of the original strains, known as the...
and knock-out animals. The use of inbred strains is also important for genetic studies in animal models, for example to distinguish genetic from environmental effects.
Genetic disorders
In a review of 48 studies on the children had between cousins, most of the babies born to cousins were healthy contrary to the popular perception, with birth defects being 4% of births for consanguineous couples as opposed to 2% for the general population. Inbreeding over many generations does increase risks however. The offspring of
consanguineous relationship
Consanguinity
Consanguinity refers to the property of being from the same kinship as another person. In that respect, consanguinity is the quality of being descended from the same ancestor as another person...
s are at greater risk of certain genetic disorders. Autosomal recessive disorders occur in individuals who are homozygous for a particular recessive gene
mutation
Mutation
In molecular biology and genetics, mutations are changes in a genomic sequence: the DNA sequence of a cell's genome or the DNA or RNA sequence of a virus. They can be defined as sudden and spontaneous changes in the cell. Mutations are caused by radiation, viruses, transposons and mutagenic...
. This means that they carry two copies of the same gene (
allele
Allele
An allele is one of two or more forms of a gene or a genetic locus . "Allel" is an abbreviation of allelomorph. Sometimes, different alleles can result in different observable phenotypic traits, such as different pigmentation...
). Except in certain rare circumstances (new mutations or
uniparental disomy
Uniparental disomy
Uniparental disomy occurs when a person receives two copies of a chromosome, or part of a chromosome, from one parent and no copies from the other parent.. UPD could involve isodisomy or heterodisomy ....
) both parents of an individual with such a disorder will be carriers of the gene. Such carriers are not affected and will not display any signs that they are carriers, and so may be unaware that they carry the mutated gene. As relatives share a proportion of their genes, it is much more likely that related parents will be carriers of the same autosomal recessive gene, and therefore their children are at a higher risk of an autosomal recessive disorder. The extent to which the risk increases depends on the degree of genetic relationship between the parents; so the risk is greater in mating relationships where the parents are close relatives, but for relationships between more distant relatives, such as second cousins, the risk is lower (although still greater than the general population). A 1994 study found the progeny of first cousins, in Pakistan, indicate morbidity levels to be some
1% to 4% higher than in the offspring of unrelated couples. They went on to report, however, that this number was significantly inflated by sociodemographic variables.
Prohibitions to inbreeding
The taboo of
incest
Incest
Incest is sexual intercourse between close relatives that is usually illegal in the jurisdiction where it takes place and/or is conventionally considered a taboo. The term may apply to sexual activities between: individuals of close "blood relationship"; members of the same household; step...
has been discussed by many social scientists. As
anthropologists
Anthropology
Anthropology is the study of humanity. It has origins in the humanities, the natural sciences, and the social sciences. The term "anthropology" is from the Greek anthrōpos , "man", understood to mean mankind or humanity, and -logia , "discourse" or "study", and was first used in 1501 by German...
attest, this taboo exists in most cultures. As inbreeding within the first generation often produces expression of recessive traits, the prohibition has been discussed as a possible functional response to the requirement of culling those born deformed, or with undesirable traits. Some biologists like
Charles Davenport
Charles Davenport
Charles Benedict Davenport was a prominent American eugenicist and biologist. He was one of the leaders of the American eugenics movement, which was directly involved in the sterilization of around 60,000 "unfit" Americans and strongly influenced the Holocaust in Europe.- Biography :Davenport was...
advocated traditional forms of assortative breeding,
i.e.
,
eugenics
Eugenics
Eugenics is the "applied science or the bio-social movement which advocates the use of practices aimed at improving the genetic composition of a population", usually referring to human populations. The origins of the concept of eugenics began with certain interpretations of Mendelian inheritance,...
, to form better "human stock".
Some Hindus follow the
Gotra
Gotra
In the Hindu society, the term Gotra broadly refers to people who are descendants in an unbroken male line from a common male ancestor. Panini defines gotra for grammatical purposes as apatyam pautraprabhrti gotram , which means "the word gotra denotes the progeny beginning with the son's son"...
system, which prescribes prohibition of marriages among relatives based on a name attached to paternal relatives, to prevent inbreeding. Direct inbreeding is also prohibited in Islam, as described in the Quran (chapter 4, verse 23).
Royalty and nobility
The family relationships of royalty are usually very well known, leading observers to view royalty as highly
inbred
, but they are often comparable to many ethnic groups where the relationships are not publicized as well.
Royal intermarriage
Royal intermarriage
Royal intermarriage is the practice of members of ruling dynasties marrying into other reigning families. It was more commonly done in the past as part of strategic diplomacy for reasons of state...
was often practised to protect property, wealth, and position.
In ancient Egypt

Ancient Egypt

Ancient Egypt was an ancient civilization of Northeastern Africa, concentrated along the lower reaches of the Nile River in what is now the modern country of Egypt. Egyptian civilization coalesced around 3150 BC with the political unification of Upper and Lower Egypt under the first pharaoh...


, royal women carried the bloodlines and so it was advantageous for a pharaoh

Pharaoh

Pharaoh is a title used in many modern discussions of the ancient Egyptian rulers of all periods. The title originates in the term "pr-aa" which means "great house" and describes the royal palace...


to marry his sister or half-sister; in such cases a special combination between endogamy

Endogamy

Endogamy is the practice of marrying within a specific ethnic group, class, or social group, rejecting others on such basis as being unsuitable for marriage or other close personal relationships. A Greek Orthodox Christian endogamist, for example, would require that a marriage be only with another...


and polygamy

Polygamy

Polygamy is a marriage which includes more than two partners...


is found. Normally the old ruler's eldest son and daughter (who could be either siblings or half-siblings) became the new rulers. All rulers of the Ptolemaic dynasty

Ptolemaic dynasty

The Ptolemaic dynasty, was a Macedonian Greek royal family which ruled the Ptolemaic Empire in Egypt during the Hellenistic period. Their rule lasted for 275 years, from 305 BC to 30 BC...


from Ptolemy II were married to their brothers and sisters, so as to keep the Ptolemaic blood "pure" and to strengthen the line of succession. Cleopatra VII (also called Cleopatra VI) and Ptolemy XIII, who married and became co-rulers of ancient Egypt

Ancient Egypt

Ancient Egypt was an ancient civilization of Northeastern Africa, concentrated along the lower reaches of the Nile River in what is now the modern country of Egypt. Egyptian civilization coalesced around 3150 BC with the political unification of Upper and Lower Egypt under the first pharaoh...


following their father's death, are the most widely known example.
Among European monarchies Jean V of Armagnac

Jean V of Armagnac

John V of Armagnac , the next-to-last Count of Armagnac of the older branch, was the controversial son of John IV of Armagnac and Isabella of Navarre, an emblem of 15th century aristocratic violence, treachery and indiscipline, a wildman from one of the most powerful virtually independent...


formed a rare brother-sister relationship. Also other royal houses, such as the Wittelsbach

Wittelsbach

The Wittelsbach family is a European royal family and a German dynasty from Bavaria.Members of the family served as Dukes, Electors and Kings of Bavaria , Counts Palatine of the Rhine , Margraves of Brandenburg , Counts of Holland, Hainaut and Zeeland , Elector-Archbishops of Cologne , Dukes of...


s had marriages among aunts, uncles, nieces, and nephews. The British

United Kingdom

The United Kingdom of Great Britain and Northern IrelandIn the United Kingdom and Dependencies, other languages have been officially recognised as legitimate autochthonous languages under the European Charter for Regional or Minority Languages...


royal family had several marriages as close as the first cousin, but none closer.
One of the most famous example of a genetic disorder aggravated by royal family intermarriage was the House of Habsburg

Habsburg

The House of Habsburg , also found as Hapsburg, and also known as House of Austria is one of the most important royal houses of Europe and is best known for being an origin of all of the formally elected Holy Roman Emperors between 1438 and 1740, as well as rulers of the Austrian Empire and...


, which inmarried particularly often. Famous in this case is the Habsburger (Unter) Lippe (Habsburg jaw/Habsburg lip/"Austrian lip") (mandibular prognathism

Prognathism

Prognathism is a term used to describe the positional relationship of the mandible and/or maxilla to the skeletal base where either of the jaws protrudes beyond a predetermined imaginary line in the coronal plane of the skull. In general dentistry, oral and maxillofacial surgery and orthodontics...


), typical for many Habsburg relatives over a period of six centuries. The condition progressed through the generations to the point that the last of the Spanish Habsburgs, Charles II of Spain

Charles II of Spain

Charles II was the last Habsburg King of Spain and the ruler of large parts of Italy, the Spanish territories in the Southern Low Countries, and Spain's overseas Empire, stretching from the Americas to the Spanish East Indies...


, could not properly chew his food.
Besides the jaw deformity, Charles II also had a huge number of other genetic physical, intellectual, sexual, and emotional problems. It is speculated that the simultaneous occurrence in Charles II of two different genetic disorders: combined pituitary hormone deficiency and distal renal tubular acidosis could explain most of the complex clinical profile of this king, including his impotence/infertility which in the last instance led to the extinction of the dynasty.
An other famous genetic disease that circulated among European royalty was hemophilia. Because the progenitor, Queen Victoria, was in a first cousin marriage, it is often mistakenly believed that the cause was consanguinity. However, this disease is generally not aggravated by cousin marriages, although rare cases of hemophilia in girls (though not including Victoria) are thought to result from the union of hemophilic men and their cousins.
Intermarriage within European royal families has declined in relation to the past. Inter-nobility marriage

Marriage

Marriage is a social union or legal contract between people that creates kinship. It is an institution in which interpersonal relationships, usually intimate and sexual, are acknowledged in a variety of ways, depending on the culture or subculture in which it is found...


was used as a method of forming political alliances among elite power-brokers. These ties were often sealed only upon the birth of progeny within the arranged marriage

Arranged marriage

An arranged marriage is a practice in which someone other than the couple getting married makes the selection of the persons to be wed, meanwhile curtailing or avoiding the process of courtship. Such marriages had deep roots in royal and aristocratic families around the world...


. Thus marriage was seen as a union of lines of nobility, not of a contract between individuals as it is seen today.
Some Peruvian Sapa Incas married their sisters; in such cases a special combination between endogamy

Endogamy

Endogamy is the practice of marrying within a specific ethnic group, class, or social group, rejecting others on such basis as being unsuitable for marriage or other close personal relationships. A Greek Orthodox Christian endogamist, for example, would require that a marriage be only with another...


and polygamy

Polygamy

Polygamy is a marriage which includes more than two partners...


is found. Normally the son of the old ruler and the ruler's oldest (half-)sister became the new ruler. The Inca had an unwritten rule that the new ruler must be a son of the Inca and his wife and sister. He then had to marry his sister (not half-sister), which ultimately led to the catastrophic Huáscar

Huáscar

Huáscar Inca was Sapa Inca of the Inca empire from 1527 to 1532 AD, succeeding his father Huayna Capac and brother Ninan Cuyochi, both of whom died of smallpox while campaigning near Quito.After the conquest, the Spanish put forth the idea that Huayna Capac may have...


's reign, culminating in a civil war

Civil war

A civil war is a war between organized groups within the same nation state or republic, or, less commonly, between two countries created from a formerly-united nation state....


and then fall of the empire.
The Chakri Dynasty of Thailand

Thailand

Thailand , officially the Kingdom of Thailand , formerly known as Siam , is a country located at the centre of the Indochina peninsula and Southeast Asia. It is bordered to the north by Burma and Laos, to the east by Laos and Cambodia, to the south by the Gulf of Thailand and Malaysia, and to the...


has included marriages between cousins as well as more close relatives. The current king, Bhumibol Adulyadej

Bhumibol Adulyadej

Bhumibol Adulyadej is the current King of Thailand. He is known as Rama IX...


is a first-cousin once removed of his wife, Sirikit

Sirikit

Somdet Phra Nang Chao Sirikit Phra Borommarachininat , is the queen consort of Bhumibol Adulyadej, King of Thailand. She is the second Queen Regent of Thailand...


, the two being respectively a grandson and a great-granddaughter of Chulalongkorn

Chulalongkorn

Phra Bat Somdet Phra Poramintharamaha Chulalongkorn Phra Chunla Chom Klao Chao Yu Hua , or Rama V was the fifth monarch of Siam under the House of Chakri. He was known to the Siamese of his time as Phra Phuttha Chao Luang . He is considered one of the greatest kings of Siam...


. The parents of the king's father, Mahidol Adulyadej

Mahidol Adulyadej

Mahitaladhibes Adulyadejvikrom, the Prince Father , or officially styled Mahidol Adulyadej, Prince of Songkla was the father of King Ananda Mahidol and King Bhumibol Adulyadej of Thailand. He was also regarded as the father of modern medicine and public health of Thailand...


, were half-siblings, both being children of Mongkut

Mongkut

Phra Bat Somdet Phra Poramenthramaha Mongkut Phra Chom Klao Chao Yu Hua , or Rama IV, known in foreign countries as King Mongkut , was the fourth monarch of Siam under the House of Chakri, ruling from 1851-1868...


by different mothers.
Isolated groups
Among genetic populations that are isolated, opportunities for
exogamy
Exogamy
Exogamy is a social arrangement where marriage is allowed only outside of a social group. The social groups define the scope and extent of exogamy, and the rules and enforcement mechanisms that ensure its continuity. In social studies, exogamy is viewed as a combination of two related aspects:...
are reduced. Isolation may be geographical, leading to inbreeding among people in remote mountain valleys. Or isolation may be social, induced by the lack of appropriate partners, such as Protestant princesses for Protestant royal heirs, in which case inbreeding is desired. Since the late
Middle Ages
Middle Ages
The Middle Ages is a periodization of European history from the 5th century to the 15th century. The Middle Ages follows the fall of the Western Roman Empire in 476 and precedes the Early Modern Era. It is the middle period of a three-period division of Western history: Classic, Medieval and Modern...
, it is the urban
middle class
Middle class
The middle class is any class of people in the middle of a societal hierarchy. In Weberian socio-economic terms, the middle class is the broad group of people in contemporary society who fall socio-economically between the working class and upper class....
that has had the widest opportunity for
outbreeding
Heterosis
Heterosis, or hybrid vigor, or outbreeding enhancement, is the improved or increased function of any biological quality in a hybrid offspring. The adjective derived from heterosis is heterotic....
and the least desire to inbreed.
Some inbreeding may enhance fertility rate
A recent study in
Iceland
Iceland
Iceland , described as the Republic of Iceland, is a Nordic and European island country in the North Atlantic Ocean, on the Mid-Atlantic Ridge. Iceland also refers to the main island of the country, which contains almost all the population and almost all the land area. The country has a population...
by the deCODE genetics company, published by the journal Science, found that third cousins produced more children and grandchildren, suggesting that "in spite of the fact that bringing together two alleles of a recessive trait may be bad, there is clearly some biological wisdom in the union of relatively closely related people.". For hundreds of years, inbreeding was historically unavoidable in Iceland due to its then tiny and isolated population.
See also
Genetic diversity

Genetic diversity

Genetic diversity, the level of biodiversity, refers to the total number of genetic characteristics in the genetic makeup of a species. It is distinguished from genetic variability, which describes the tendency of genetic characteristics to vary....



Coefficient of relationship

Coefficient of relationship

In population genetics, Sewall Wright's coefficient of relationship or coefficient of relatedness or relatedness or r is defined as 2 times the Coefficient of Inbreeding...



Consanguinity

Consanguinity

Consanguinity refers to the property of being from the same kinship as another person. In that respect, consanguinity is the quality of being descended from the same ancestor as another person...



Cousin marriage

Cousin marriage

Cousin marriage is marriage between two cousins. In various jurisdictions and cultures, such marriages range from being considered ideal and actively encouraged, to being uncommon but still legal, to being seen as incest and legally prohibited....



Exogamy

Exogamy

Exogamy is a social arrangement where marriage is allowed only outside of a social group. The social groups define the scope and extent of exogamy, and the rules and enforcement mechanisms that ensure its continuity. In social studies, exogamy is viewed as a combination of two related aspects:...



F-statistics

F-statistics

In population genetics, F-statistics describe the level of heterozygosity in a population; more specifically the degree of a reduction in heterozygosity when compared to Hardy–Weinberg expectation...



Genetic sexual attraction

Genetic sexual attraction

Genetic sexual attraction is a term that describes the phenomenon of sexual attraction between close relatives, such as siblings, first and second cousins or a parent and offspring, who first meet as adults.- History and definition :...



Heterozygote advantage

Heterozygote advantage

A heterozygote advantage describes the case in which the heterozygote genotype has a higher relative fitness than either the homozygote dominant or homozygote recessive genotype. The specific case of heterozygote advantage is due to a single locus known as overdominance...



Identical ancestors point

Identical ancestors point

In genetic genealogy, the identical ancestors point is that point in a given population's past where each individual then alive turned out to be either the ancestor of every individual alive now, or to have no living descendants at all...



Inbreeding depression

Inbreeding depression

Inbreeding depression is the reduced fitness in a given population as a result of breeding of related individuals. It is often the result of a population bottleneck...



Incest

Incest

Incest is sexual intercourse between close relatives that is usually illegal in the jurisdiction where it takes place and/or is conventionally considered a taboo. The term may apply to sexual activities between: individuals of close "blood relationship"; members of the same household; step...



Insular dwarfism

Insular dwarfism

Insular dwarfism, a form of phyletic dwarfism, is the process and condition of the reduction in size of large animals – typically mammals – when their population's range is limited to a small environment, primarily islands. This natural process is distinct from the intentional creation of dwarf...



Intellectual inbreeding

Intellectual inbreeding

Intellectual inbreeding or academic inbreeding refers to the practice in academia of a university's hiring its own graduates to be professors...



Linebreeding
Outbreeding depression

Outbreeding depression

A concept in selective breeding and zoology, outbreeding depression refers to cases when offspring from crosses between individuals from different populations have lower fitness than progeny from crosses between individuals from the same population....



Outcrossing

Outcrossing

Outcrossing is the practice of introducing unrelated genetic material into a breeding line. It increases genetic diversity, thus reducing the probability of all individuals being subject to disease or reducing genetic abnormalities...



Prohibited degree of kinship

Prohibited degree of kinship

In law, a prohibited degree of kinship refers to a degree of consanguinity between persons that results in certain actions between them becoming illegal. Two major examples of prohibited degrees are found in incest and nepotism. Incest is a taboo across all cultures worldwide, but which specific...



Selective breeding

Selective breeding

Selective breeding is the process of breeding plants and animals for particular genetic traits. Typically, strains that are selectively bred are domesticated, and the breeding is sometimes done by a professional breeder. Bred animals are known as breeds, while bred plants are known as varieties,...



Self-incompatibility in plants

Self-incompatibility in plants

Self-incompatibility is a general name for several genetic mechanisms in angiosperms, which prevent self-fertilization and thus encourage outcrossing...


(how some plants avoid inbreeding)
External links