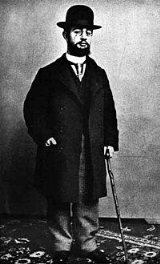 Henri de Toulouse-Lautrec
Henri Marie Raymond de Toulouse-Lautrec-Monfa
or simply
Henri de Toulouse-Lautrec
(ɑ̃ʁi də tuluz loˈtʁɛk) (24 November 1864 – 9 September 1901) was a French painter,
printmaker
Printmaking
Printmaking is the process of making artworks by printing, normally on paper. Printmaking normally covers only the process of creating prints with an element of originality, rather than just being a photographic reproduction of a painting. Except in the case of monotyping, the process is capable...
,
draughtsman
Drawing
Drawing is a form of visual art that makes use of any number of drawing instruments to mark a two-dimensional medium. Common instruments include graphite pencils, pen and ink, inked brushes, wax color pencils, crayons, charcoal, chalk, pastels, markers, styluses, and various metals .An artist who...
, and
illustrator
Illustrator
An Illustrator is a narrative artist who specializes in enhancing writing by providing a visual representation that corresponds to the content of the associated text...
, whose immersion in the colourful and theatrical life of
fin de siècle
Fin de siècle
Fin de siècle is French for "end of the century". The term sometimes encompasses both the closing and onset of an era, as it was felt to be a period of degeneration, but at the same time a period of hope for a new beginning...
Paris yielded an
œuvre
of exciting, elegant and provocative images of the modern and sometimes decadent life of those times. Toulouse-Lautrec is known along with
Cézanne
Paul Cézanne
Paul Cézanne was a French artist and Post-Impressionist painter whose work laid the foundations of the transition from the 19th century conception of artistic endeavour to a new and radically different world of art in the 20th century. Cézanne can be said to form the bridge between late 19th...
,
Van Gogh
Vincent van Gogh
Vincent Willem van Gogh , and used Brabant dialect in his writing; it is therefore likely that he himself pronounced his name with a Brabant accent: , with a voiced V and palatalized G and gh. In France, where much of his work was produced, it is...
, and
Gauguin
Paul Gauguin
Eugène Henri Paul Gauguin was a leading French Post-Impressionist artist. He was an important figure in the Symbolist movement as a painter, sculptor, print-maker, ceramist, and writer...
as one of the greatest painters of the
Post-Impressionist
Post-Impressionism
Post-Impressionism is the term coined by the British artist and art critic Roger Fry in 1910 to describe the development of French art since Manet. Fry used the term when he organized the 1910 exhibition Manet and Post-Impressionism...
period. In a 2005 auction at
Christie's
Christie's
Christie's is an art business and a fine arts auction house.- History :The official company literature states that founder James Christie conducted the first sale in London, England, on 5 December 1766, and the earliest auction catalogue the company retains is from December 1766...
auction house a new record was set when "La blanchisseuse", an early painting of a young laundress, sold for $22.4 million U.S.
Early life
Henri Marie Raymond de Toulouse-Lautrec-Monfa was born at the chateau de Malromé near
Albi
, Tarn in the
Midi-Pyrénées
Midi-Pyrénées
Midi-Pyrénées is the largest region of metropolitan France by area, larger than the Netherlands or Denmark.Midi-Pyrénées has no historical or geographical unity...
région of France, the firstborn child of
Comte
Count
A count or countess is an aristocratic nobleman in European countries. The word count came into English from the French comte, itself from Latin comes—in its accusative comitem—meaning "companion", and later "companion of the emperor, delegate of the emperor". The adjective form of the word is...
Alphonse de Toulouse-Lautrec-Monfa and Adèle Tapié de Celeyran. He was therefore a member of an
aristocratic
Aristocracy
Aristocracy , is a form of government in which a few elite citizens rule. The term derives from the Greek aristokratia, meaning "rule of the best". In origin in Ancient Greece, it was conceived of as rule by the best qualified citizens, and contrasted with monarchy...
family (descendants of the Counts of
Toulouse
Toulouse
Toulouse is a city in the Haute-Garonne department in southwestern FranceIt lies on the banks of the River Garonne, 590 km away from Paris and half-way between the Atlantic Ocean and the Mediterranean Sea...
and
Lautrec
Lautrec
Lautrec is a commune in the Tarn department in southern France.- Demography :-Remarkable sites:Lautrec is listed among "The Most Beautiful Villages of France" as well as a "Remarkable Site for Taste" thanks to its renowned pink garlic...
and the Viscounts of
Montfa
Montfa, Tarn
Montfa is a commune in the Tarn department in southern France....
, a village and commune of the Tarn department of southern France). A younger brother was also born to the family on 28 August 1867, but died the following year.
After the death of his brother his parents separated and a nanny took care of Henri through this time. At the age of 8, Henri left to live with his mother in Paris. Here he started to draw his first sketches and caricatures on his exercise workbooks. The family quickly came to realise that Henri's talent lay with drawing and painting, and a friend of his father named Rene Princeteau visited sometimes to give informal lessons. Some of Henri's early paintings are of horses, a speciality of Princeteau, and something that he would later visit with his 'Circus Paintings'.
In 1875 Henri returned to Albi because his mother recognised his health problems. He took thermal baths at Amélie-les-Bains and his mother consulted doctors in the hope of finding a way to improve her son's growth and development.
Disability and health problems
The Comte and Comtesse themselves were first cousins (Henri's two grandmothers being sisters) and Henri suffered from a number of congenital health conditions attributed to this tradition of
inbreeding
Inbreeding
Inbreeding is the reproduction from the mating of two genetically related parents. Inbreeding results in increased homozygosity, which can increase the chances of offspring being affected by recessive or deleterious traits. This generally leads to a decreased fitness of a population, which is...
.
At the age of 13, Henri fractured his right
thigh bone
Femur
The femur , or thigh bone, is the most proximal bone of the leg in tetrapod vertebrates capable of walking or jumping, such as most land mammals, birds, many reptiles such as lizards, and amphibians such as frogs. In vertebrates with four legs such as dogs and horses, the femur is found only in...
, and at 14, the left. The breaks did not heal properly. Modern physicians attribute this to an unknown
genetic disorder
Genetic disorder
A genetic disorder is an illness caused by abnormalities in genes or chromosomes, especially a condition that is present from before birth. Most genetic disorders are quite rare and affect one person in every several thousands or millions....
, possibly
pycnodysostosis
Pycnodysostosis
Pycnodysostosis from , dys , and ostosis , is a lysosomal storage disease of the bone caused by a mutation in the gene that codes the enzyme cathepsin K.-Genetics:...
(also sometimes known as Toulouse-Lautrec Syndrome), or a variant disorder along the lines of
osteopetrosis
Osteopetrosis
Osteopetrosis, literally "stone bone", also known as marble bone disease and Albers-Schonberg disease is an extremely rare inherited disorder whereby the bones harden, becoming denser, in contrast to more prevalent conditions like osteoporosis, in which the bones become less dense and more brittle,...
,
achondroplasia
Achondroplasia
Achondroplasia dwarfism occurs as a sporadic mutation in approximately 85% of cases or may be inherited in an autosomal dominant genetic disorder that is a common cause of dwarfism...
, or
osteogenesis imperfecta
Osteogenesis imperfecta
Osteogenesis imperfecta is a genetic bone disorder. People with OI are born with defective connective tissue, or without the ability to make it, usually because of a deficiency of Type-I collagen...
.
Rickets
Rickets
Rickets is a softening of bones in children due to deficiency or impaired metabolism of vitamin D, magnesium , phosphorus or calcium, potentially leading to fractures and deformity. Rickets is among the most frequent childhood diseases in many developing countries...
aggravated with praecox virilism has also been suggested. His legs ceased to grow, so that as an adult he was only 1.54 m (5.1 ft) tall, having developed an adult-sized torso, while retaining his child-sized legs, which were 0.70 m (27.5 in) long. He is also reported to have had hypertrophied genitals.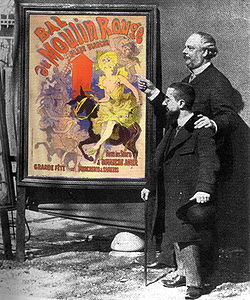 Physically unable to participate in most of the activities typically enjoyed by men of his age, Toulouse-Lautrec immersed himself in his art. He became an important
Post-Impressionist
Post-Impressionism
Post-Impressionism is the term coined by the British artist and art critic Roger Fry in 1910 to describe the development of French art since Manet. Fry used the term when he organized the 1910 exhibition Manet and Post-Impressionism...
painter,
art nouveau
Art Nouveau
Art Nouveau is an international philosophy and style of art, architecture and applied art—especially the decorative arts—that were most popular during 1890–1910. The name "Art Nouveau" is French for "new art"...
illustrator, and lithographer; and recorded in his works many details of the late-19th-century
bohemian
Bohemianism
Bohemianism is the practice of an unconventional lifestyle, often in the company of like-minded people, with few permanent ties, involving musical, artistic or literary pursuits...
lifestyle in Paris. Toulouse-Lautrec also contributed a number of illustrations to the magazine
Le Rire
Le Rire
Le Rire, or "Laughter," was a successful humor magazine published from October 1894 through the 1950s. Founded in Paris during the Belle Époque by Felix Juven, Le Rire appeared as typical Parisians began to achieve more education, income and leisure time. Interest in the arts, culture and politics...
during the mid-1890s.
After initially failing his college entrance exams, Henri passed upon his second attempt and completed his studies. During his stay in
Nice
Nice
Nice is the fifth most populous city in France, after Paris, Marseille, Lyon and Toulouse, with a population of 348,721 within its administrative limits on a land area of . The urban area of Nice extends beyond the administrative city limits with a population of more than 955,000 on an area of...
, his progress in painting and drawing impressed Princeteau, who persuaded Henri's parents to let him return to Paris and study under the acclaimed portrait painter
Léon Bonnat
Léon Bonnat
Léon Joseph Florentin Bonnat was a French painter.He was born in Bayonne, but from 1846 to 1853 he lived in Madrid, where his father owned a bookshop. While tending his father's shop, he copied engravings of works by the Old Masters, developing a passion for drawing...
. Henri's mother had high ambitions and, with aims of Henri becoming a fashionable and respected painter, she used the family influence to get Henri into Bonnat's studio.
Paris
Toulouse-Lautrec was drawn to
Montmartre
Montmartre
Montmartre is a hill which is 130 metres high, giving its name to the surrounding district, in the north of Paris in the 18th arrondissement, a part of the Right Bank. Montmartre is primarily known for the white-domed Basilica of the Sacré Cœur on its summit and as a nightclub district...
, an area of Paris famous for its bohemian lifestyle and for being the haunt of artists, writers, and philosophers. Studying with Bonnat placed Henri in the heart of Montmartre, an area that he would rarely leave over the next 20 years. After Bonnat took a new job, Henri moved to the studio of
Fernand Cormon
Fernand Cormon
Fernand Cormon was a French painter born in Paris. He became a pupil of Alexandre Cabanel, Eugène Fromentin, and Jean-François Portaels, and one of the leading historical painters of modern France....
in 1882 and studied for a further five years, here making the group of friends he would keep for the rest of his life. It was at this period in his life he first met
Émile Bernard
Émile Bernard
Émile Henri Bernard is known as a Post-Impressionist painter who had artistic friendships with Van Gogh, Gauguin and Eugene Boch, and at a later time, Cézanne. Most of his notable work was accomplished at a young age, in the years 1886 through 1897. He is also associated with Cloisonnism and...
and Van Gogh. Cormon, whose instruction was more relaxed than Bonnat's, allowed his pupils to roam Paris, looking for subjects to paint.
In this period Toulouse-Lautrec had his first encounter with a prostitute, reputedly sponsored by his friends, and this led him to paint his first painting of the prostitutes of Montmartre, a woman rumoured to be called Marie-Charlotte.
With his studies finished, in 1887 he participated in an exposition in Toulouse under the pseudonym "Tréclau", an anagram of the family name 'Lautrec'. He later exhibited in Paris with Van Gogh and
Louis Anquetin
Louis Anquetin
Louis Anquetin was a French painter.Anquetin was born in Étrépagny, France and educated at the Lycée Pierre Corneille in Rouen....
. The Belgian critic
Octave Maus
Octave Maus
Octave Maus was a Belgian art critic, writer, and lawyer.Maus worked with fellow writer/lawyer Edmond Picard, and they together with Victor Arnould and Eugène Robert founded the weekly L'Art moderne in 1881....
invited him to present eleven pieces at the Vingt (the Twenties) exhibition in Brussels in February. The brother of
Vincent van Gogh
Vincent van Gogh
Vincent Willem van Gogh , and used Brabant dialect in his writing; it is therefore likely that he himself pronounced his name with a Brabant accent: , with a voiced V and palatalized G and gh. In France, where much of his work was produced, it is...
,
Theo van Gogh
Theo van Gogh (art dealer)
Theodorus "Theo" van Gogh was a Dutch art dealer. He was the younger brother of Vincent van Gogh, and Theo's unfailing financial and emotional support allowed his brother to devote himself entirely to painting...
bought 'Poudre de Riz' (Rice Powder) at the price of 150 francs for the
Goupil & Cie
Goupil & Cie
Goupil & Cie was a leading art dealership in 19th century France, with headquarters in Paris. Step by step, Goupil established a worldwide trade with reproductions of paintings and sculptures, with a network of branches in London, Brussels, The Hague, Berlin and Vienna, as well as in New York and...
gallery.
From 1889 until 1894, Henri took part in the "
Independent Artists' Salon
Société des Artistes Indépendants
—The Société des Artistes Indépendants formed in Paris in summer 1884 choosing the device "No jury nor awards" . Albert Dubois-Pillet, Odilon Redon, Georges Seurat and Paul Signac were among its founders...
" on a regular basis. He made several landscapes of Montmartre. It was in this era that the 'Moulin Rouge' opened. Tucked deep into Montmartre was the garden of Monsieur Pere Foret, where Toulouse-Lautrec executed a series of pleasant plein-air paintings of Carmen Gaudin, the same red-head model who appears in
The Laundress
(1888). When the nearby
Moulin Rouge
Moulin Rouge
Moulin Rouge is a cabaret built in 1889 by Joseph Oller, who also owned the Paris Olympia. Close to Montmartre in the Paris district of Pigalle on Boulevard de Clichy in the 18th arrondissement, it is marked by the red windmill on its roof. The closest métro station is Blanche.The Moulin Rouge is...
cabaret opened its doors, Toulouse-Lautrec was commissioned to produce a series of posters. His mother had left Paris and while Henri still had a regular income from his family, making posters offered him a living of his own. Other artists looked down on the work, but Henri was so aristocratic he did not care. Thereafter, the cabaret reserved a seat for him, and displayed his paintings. Among the well known works that he painted for the Moulin Rouge and other Parisian nightclubs are depictions of the singer
Yvette Guilbert
Yvette Guilbert
Yvette Guilbert was a French cabaret singer and actress of the Belle Époque.-Biography:...
; the dancer Louise Weber, known as the outrageous
La Goulue
La Goulue
Louise Weber was a French can-can dancer who performed under the stage name of La Goulue...
("The Glutton"), who created the "
French Can-Can
Can-can
The can-can is a high-energy and physically demanding music hall dance, traditionally performed by a chorus line of female dancers who wear costumes with long skirts, petticoats, and black stockings...
"; and the much more subtle dancer
Jane Avril
Jane Avril
Jane Avril was a French can-can dancer made famous by Henri de Toulouse-Lautrec through his paintings. Extremely thin, 'given to jerky movements and sudden contortions', she was nicknamed La Mélinite, after an explosive. -Biography:...
.
London
Henri de Toulouse-Lautrec came from a family of Anglophiles, and while he wasn't as fluent as he pretended to be, he spoke English well enough to travel to London. The business of making posters led Henri to London, gaining him work that led to the making of the 'Confetti' poster, and the bicycle advert 'La Chaîne Simpson'.
It was during his time in London that he met and befriended
Oscar Wilde
Oscar Wilde
Oscar Fingal O'Flahertie Wills Wilde was an Irish writer and poet. After writing in different forms throughout the 1880s, he became one of London's most popular playwrights in the early 1890s...
, and when Wilde faced imprisonment in Britain, Henri was a very vocal supporter. Toulouse-Lautrec's portrait of Wilde was done the same year as Wilde's trial.
Alcoholism
Lautrec was often mocked for his short stature and physical appearance, and this led him to drown his sorrows in alcohol. At first this was just beer and wine, but his tastes quickly expanded. He was one of the notable Parisians who enjoyed American style cocktails, France being a nation of wine purists. He would have parties at his house on a Friday night and force his guests to try them. The invention of the cocktail "Earthquake" or
Tremblement de Terre
Earthquake (cocktail)
The Tremblement de Terre Cocktail has been attributed to the French Post-Impressionist painter Henri de Toulouse-Lautrec. The name is derived from its effects, which tend to "shake up" the drinker.In a wine goblet mix:...
is attributed to Toulouse-Lautrec; a potent mixture containing half
absinthe
Absinthe
Absinthe is historically described as a distilled, highly alcoholic beverage. It is an anise-flavoured spirit derived from herbs, including the flowers and leaves of the herb Artemisia absinthium, commonly referred to as "grande wormwood", together with green anise and sweet fennel...
and half
cognac
Cognac (drink)
Cognac , named after the town of Cognac in France, is a variety of brandy. It is produced in the wine-growing region surrounding the town from which it takes its name, in the French Departements of Charente and Charente-Maritime....
(in a wine goblet, 3 parts
Absinthe
Absinthe
Absinthe is historically described as a distilled, highly alcoholic beverage. It is an anise-flavoured spirit derived from herbs, including the flowers and leaves of the herb Artemisia absinthium, commonly referred to as "grande wormwood", together with green anise and sweet fennel...
and 3 parts
Cognac
Cognac
Cognac is a commune in the Charente department in southwestern France. It is a sub-prefecture of the department.-Geography:Cognac is situated on the river Charente between the towns of Angoulême and Saintes. The majority of the town has been built on the river's left bank, with the smaller right...
, sometimes served with ice cubes or shaken in a cocktail shaker filled with ice).
1893 saw Lautrec's alcoholism begin to take its toll, and as those around him began to realise the seriousness of his condition there were rumours of a syphilis infection. Finally, in 1899, his mother and a group of concerned friends had him briefly institutionalised. He had even gone to the length of having a cane that he could hide alcohol in so he could have a drink on him at all times.
Death
An alcoholic for most of his adult life, Toulouse-Lautrec was placed in a
sanatorium
Sanatorium
A sanatorium is a medical facility for long-term illness, most typically associated with treatment of tuberculosis before antibiotics...
shortly before his death. He died from complications due to alcoholism and syphilis at the family estate in Malromé at the age of 36. He is buried in
Verdelais
Verdelais
Verdelais is a commune in the Gironde department in Aquitaine in southwestern France.-Population:...
, Gironde, a few kilometres from the
Château Malromé
Château Malromé
The Château Malromé is found in the commune Saint-André-du-Bois, in the French department of Gironde. It was the family seat of the painter Henri de Toulouse-Lautrec.-Vineyard:...
, where he died.
Toulouse-Lautrec's last words reportedly were: "Le vieux con!" ("The old fool!", although the word "con" can be meant in both simple and vulgar terms). This was his goodbye to his father. Although another version has him saying, using the word "hallali" which is used by huntsmen for the moment the hounds kill their prey, "I knew, papa, that you wouldn't miss the death." ("Je savais, papa, que vous ne manqueriez pas l'hallali").
After Toulouse-Lautrec's death, his mother, the Comtesse Adèle Toulouse-Lautrec, and Maurice Joyant, his art dealer, promoted his art. His mother contributed funds for a museum to be created in
Albi
, his birthplace, to house his works. The Toulouse-Lautrec Museum now owns the world's largest collection of works by the painter.
Art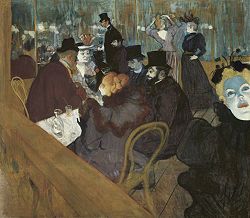 Throughout his career, which spanned fewer than 20 years, Toulouse-Lautrec created 737 canvases, 275 watercolours, 363 prints and posters, 5,084 drawings, some ceramic and stained glass work, and an unknown number of lost works. His debt to the
Impressionists
Impressionism
Impressionism was a 19th-century art movement that originated with a group of Paris-based artists whose independent exhibitions brought them to prominence during the 1870s and 1880s...
, in particular the more figurative painters
Manet
Édouard Manet
Édouard Manet was a French painter. One of the first 19th-century artists to approach modern-life subjects, he was a pivotal figure in the transition from Realism to Impressionism....
and
Degas
Edgar Degas
Edgar Degas[p] , born Hilaire-Germain-Edgar De Gas, was a French artist famous for his work in painting, sculpture, printmaking and drawing. He is regarded as one of the founders of Impressionism although he rejected the term, and preferred to be called a realist...
, is apparent. His style was also influenced by the classical
Japanese woodprints
Ukiyo-e
' is a genre of Japanese woodblock prints and paintings produced between the 17th and the 20th centuries, featuring motifs of landscapes, tales from history, the theatre, and pleasure quarters...
which became popular in art circles in Paris. In the works of Toulouse-Lautrec can be seen many parallels to Manet's detached barmaid at
A Bar at the Folies-Bergère
A Bar at the Folies-Bergère
A Bar at the Folies-Bergère , painted and exhibited at the Paris Salon in 1882, was the last major work by French painter Édouard Manet. It depicts a scene in the Folies Bergère nightclub in Paris...
and the behind-the-scenes ballet dancers of Degas. He excelled at capturing people in their working environment, with the colour and the movement of the gaudy night-life present but the glamour stripped away. He was masterly at capturing crowd scenes in which the figures are highly individualized. At the time that they were painted, the individual figures in his larger paintings could be identified by silhouette alone, and the names of many of these characters have been recorded. His treatment of his subject matter, whether as portraits, scenes of Parisian night-life, or intimate studies, has been described as both sympathetic and dispassionate.
Toulouse-Lautrec's skilled depiction of people relied on his painterly style which is highly linear and gives great emphasis to contour. He often applied the paint in long, thin brushstrokes which would often leave much of the board on which they are painted showing through. Many of his works may best be described as drawings in coloured paint.
Movies
Toulouse-Lautrec has been the subject of a few biographical films and has been portrayed briefly in others:
External links