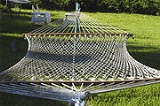 Hammock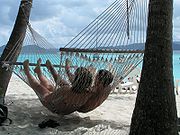 A
hammock
is a sling made of fabric, rope, or netting, suspended between two points, used for
swinging
Swing (seat)
A swing is a hanging seat, usually found at playgrounds for children, a circus for acrobats, or on a porch for relaxing. The seat of a swing may be suspended from chains or ropes. Once a swing is in motion it continues to oscillate like a pendulum until external interference or drag brings it to a...
,
sleep
Sleep
Sleep is a naturally recurring state characterized by reduced or absent consciousness, relatively suspended sensory activity, and inactivity of nearly all voluntary muscles. It is distinguished from quiet wakefulness by a decreased ability to react to stimuli, and is more easily reversible than...
ing, or
rest
Rest
Rest may refer to:* Leisure* Human relaxation* SleepRest may also refer to:* Rest , a pause in a piece of music* Rest , the relation between two observers* Rest , a 2008 album by Gregor Samsa...
ing. It normally consists of one or more cloth panels, or a woven network of twine or thin
rope
Rope
A rope is a length of fibres, twisted or braided together to improve strength for pulling and connecting. It has tensile strength but is too flexible to provide compressive strength...
stretched with ropes between two firm anchor points such as trees or posts. Hammocks were developed by native inhabitants of Mexico for sleeping. Later, they were used aboard ships by sailors to enable comfort and maximize available space, and by explorers or soldiers traveling in wooded regions. Today they are popular around the world for relaxation; they are also used as a lightweight
bed
Bed
A bed is a large piece of furniture used as a place to sleep, relax, or engage in sexual relations.Most modern beds consist of a mattress on a bed frame, with the mattress resting either on a solid base, often wooden slats, or a sprung base...
on camping trips. The hammock is often seen as symbol of
summer
Summer
Summer is the warmest of the four temperate seasons, between spring and autumn. At the summer solstice, the days are longest and the nights are shortest, with day-length decreasing as the season progresses after the solstice...
,
leisure
Leisure
Leisure, or free time, is time spent away from business, work, and domestic chores. It is also the periods of time before or after necessary activities such as eating, sleeping and, where it is compulsory, education....
,
relaxation
Recreation
Recreation is an activity of leisure, leisure being discretionary time. The "need to do something for recreation" is an essential element of human biology and psychology. Recreational activities are often done for enjoyment, amusement, or pleasure and are considered to be "fun"...
and
simple, easy living
Simple living
Simple living encompasses a number of different voluntary practices to simplify one's lifestyle. These may include reducing one's possessions or increasing self-sufficiency, for example. Simple living may be characterized by individuals being satisfied with what they need rather than want...
.
History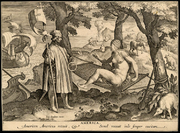 Spanish colonists noted the use of the hammock by
Native Americans
Indigenous peoples of the Americas
The indigenous peoples of the Americas are the pre-Columbian inhabitants of North and South America, their descendants and other ethnic groups who are identified with those peoples. Indigenous peoples are known in Canada as Aboriginal peoples, and in the United States as Native Americans...
, particularly in the West Indies, at the time of the Spanish conquest. The word comes from a
Taíno
Taíno people
The Taínos were pre-Columbian inhabitants of the Bahamas, Greater Antilles, and the northern Lesser Antilles. It is thought that the seafaring Taínos are relatives of the Arawak people of South America...
culture Arawakan word (
Haiti
Haiti
Haiti , officially the Republic of Haiti , is a Caribbean country. It occupies the western, smaller portion of the island of Hispaniola, in the Greater Antillean archipelago, which it shares with the Dominican Republic. Ayiti was the indigenous Taíno or Amerindian name for the island...
) meaning "fish net".
Early hammocks were woven out of bark from a hamack tree, and later this material was replaced by
sisal
Sisal
Sisal is an agave that yields a stiff fibre traditionally used in making twine, rope and also dartboards. The term may refer either to the plant or the fibre, depending on context...
fibers because it was more abundant. One of the reasons that hammocks became popular in Central and South America was their ability to provide safety from disease transmission, insect stings, or animal bites. By suspending their beds above ground, inhabitants were better protected from snakes, biting ants, and other harmful creatures. Hammocks were introduced to
Europe
Europe
Europe is, by convention, one of the world's seven continents. Comprising the westernmost peninsula of Eurasia, Europe is generally 'divided' from Asia to its east by the watershed divides of the Ural and Caucasus Mountains, the Ural River, the Caspian and Black Seas, and the waterways connecting...
by
Christopher Columbus
Christopher Columbus
Christopher Columbus was an explorer, colonizer, and navigator, born in the Republic of Genoa, in northwestern Italy. Under the auspices of the Catholic Monarchs of Spain, he completed four voyages across the Atlantic Ocean that led to general European awareness of the American continents in the...
when he brought several of them back to Spain from islands in the present day Bahamas.
The Native American origin of the modern hammock and its name is often obscured in English-language sources from the late 18th century onward.
Samuel Johnson
Samuel Johnson
Samuel Johnson , often referred to as Dr. Johnson, was an English author who made lasting contributions to English literature as a poet, essayist, moralist, literary critic, biographer, editor and lexicographer...
claimed that the word was of
Saxon
Saxony
The Free State of Saxony is a landlocked state of Germany, contingent with Brandenburg, Saxony Anhalt, Thuringia, Bavaria, the Czech Republic and Poland. It is the tenth-largest German state in area, with of Germany's sixteen states....
origin. This etymology was soon debunked, and later 19th-century sources attributed the invention to the Athenian politician
Alcibiades
Alcibiades
Alcibiades, son of Clinias, from the deme of Scambonidae , was a prominent Athenian statesman, orator, and general. He was the last famous member of his mother's aristocratic family, the Alcmaeonidae, which fell from prominence after the Peloponnesian War...
. This was inferred from Plutarch, who wrote that Alcibiades had his galley bed hung from ropes, but did not specifically describe it as a net or sling. A few European sources mention the historical use of cloth slings as carriage seats, but not as regular beds.
Naval hammocks
Around 1590, hammocks were adopted for use in sailing ships; the
Royal Navy
Royal Navy
The Royal Navy is the naval warfare service branch of the British Armed Forces. Founded in the 16th century, it is the oldest service branch and is known as the Senior Service...
formally adopted the
canvas
Canvas
Canvas is an extremely heavy-duty plain-woven fabric used for making sails, tents, marquees, backpacks, and other items for which sturdiness is required. It is also popularly used by artists as a painting surface, typically stretched across a wooden frame...
sling hammock in 1597. Aboard ship, hammocks were regularly employed for sailors sleeping on the gun decks of warships, where limited space prevented the installation of permanent
bunks
Bunk bed
A bunk bed is a type of bed in which one bed frame is stacked on top of another. The nature of bunk beds allows two people to sleep in the same room while maximizing available floor space...
. Since a slung hammock moves in concert with the motion of the vessel, the occupant is not at a risk of being thrown onto the deck (which may be 5 or 6 feet below) during swells or rough seas. Likewise, a hammock provides more comfortable sleep than a bunk or a berth while at sea since the sleeper always stays well
balance
Balance
- Equipment :* Balance beam, a piece of gymnastics apparatus.* Balance board, a piece of training equipment.* Balancing machine, a machine that balances mechanical rotating parts to lessen vibration.* Balance wheel, a watch component....
d, irrespective on the motion of the vessel. Prior to the adoption of naval hammocks, sailors would often be injured or even killed as they fell off their
berth
Berth (sleeping)
The word berth was originally used to describe beds and sleeping accommodation on boats and ships and has now been extended to refer to similar facilities on trains, aircraft and buses.-Beds in boats or ships:...
s or rolled on the
deck
Deck (ship)
A deck is a permanent covering over a compartment or a hull of a ship. On a boat or ship, the primary deck is the horizontal structure which forms the 'roof' for the hull, which both strengthens the hull and serves as the primary working surface...
s on heavy seas. The sides of traditional canvas naval hammocks wrap around the sleeper like a cocoon, making an inadvertent fall virtually impossible. Many sailors in the Royal Navy, during the 1950s at least, used a spreader - a length of wood with a V cut in each end to engage the second hammock string on each side. The first string was set up more tightly than the others so that it raised a protective lip along each side to keep out drafts and prevent the sleeper being thrown out. A narrow mattress was also issued which protected the user from cold from below. Without this, the use of a hammock in a cold climate would be most uncomfortable. In addition naval hammocks could be rolled tightly and stowed in an out of the way place or in nets along the gunwale as additional protection during battle (as was the case during the
age of sail
Age of Sail
The Age of Sail was the period in which international trade and naval warfare were dominated by sailing ships, lasting from the 16th to the mid 19th century...
). Many sailors became so accustomed to this way of sleeping that they brought their hammocks ashore with them on leave. The naval use of hammocks continued into the 20th century. During
World War II
World War II
World War II, or the Second World War , was a global conflict lasting from 1939 to 1945, involving most of the world's nations—including all of the great powers—eventually forming two opposing military alliances: the Allies and the Axis...
, troopships sometimes employed hammocks for both
naval rating
Naval rating
A Naval Rating is an enlisted member of a country's Navy, subordinate to Warrant Officers and Officers hence not conferred by commission or warrant...
s and private soldiers in order to increase available space and troop carrying capacity. Many leisure sailors even today prefer hammocks over bunks because of better comfort in sleep while at high seas.
Hammocks have also been employed on spacecraft in order to utilize available space when not sleeping or resting. During the Apollo program, the Lunar Module was equipped with hammocks for the commander and lunar module pilot to sleep in between moonwalks.
Mexican and Mayan hammocks
In
Mexico
Mexico
The United Mexican States , commonly known as Mexico , is a federal constitutional republic in North America. It is bordered on the north by the United States; on the south and west by the Pacific Ocean; on the southeast by Guatemala, Belize, and the Caribbean Sea; and on the east by the Gulf of...
, hammocks are made in villages surrounding the capital city of the Yucatán,
Mérida
Mérida, Yucatán
Mérida is the capital and largest city of the Mexican state of Yucatán and the Yucatán Peninsula. It is located in the northwest part of the state, about from the Gulf of Mexico coast...
, and are sold throughout the world as well as locally. They were not part of Classic era
Maya civilization
Maya civilization
The Maya is a Mesoamerican civilization, noted for the only known fully developed written language of the pre-Columbian Americas, as well as for its art, architecture, and mathematical and astronomical systems. Initially established during the Pre-Classic period The Maya is a Mesoamerican...
; they were said to have arrived in the Yucatán from the Caribbean fewer than two centuries before the
Spanish conquest
Spanish conquest of Yucatán
The Spanish conquest of Yucatán was the campaign undertaken by the Spanish conquistadores against the Late Postclassic Maya states and polities, particularly in the northern and central Yucatán Peninsula but also involving the Maya polities of the Guatemalan highlands region...
. In addition to bark and
sisal
Sisal
Sisal is an agave that yields a stiff fibre traditionally used in making twine, rope and also dartboards. The term may refer either to the plant or the fibre, depending on context...
, hammocks were constructed from various materials, including
palm
Arecaceae
Arecaceae or Palmae , are a family of flowering plants, the only family in the monocot order Arecales. There are roughly 202 currently known genera with around 2600 species, most of which are restricted to tropical, subtropical, and warm temperate climates...
fronds in western
Amazonia
Amazon Rainforest
The Amazon Rainforest , also known in English as Amazonia or the Amazon Jungle, is a moist broadleaf forest that covers most of the Amazon Basin of South America...
. Quality of native and modern hammocks depends greatly on the quality of the material, thread, and the number of threads used. Mayan hammocks are made on a
loom
Loom
A loom is a device used to weave cloth. The basic purpose of any loom is to hold the warp threads under tension to facilitate the interweaving of the weft threads...
and are hand woven by men, women and children. Hammocks are so symbolically and culturally important for the Yucatecans that even the most humble of homes have hammock hooks in the walls; in rural
El Salvador
El Salvador
El Salvador or simply Salvador is the smallest and the most densely populated country in Central America. The country's capital city and largest city is San Salvador; Santa Ana and San Miguel are also important cultural and commercial centers in the country and in all of Central America...
, a family home may have multiple hammocks strung across the main room, for use as seating, as beds, or as sleep-swings for infants.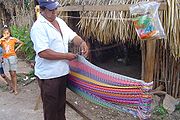 Venezuelan or jungle hammock
In Venezuela entire villages raised their families in hammocks. During the first part of the 20th century, many scientists, adventurers, geologists and other non-native visitors to Central and South American jungles soon adopted the Venezuelan hammock design, which gave protection against scorpions and venomous snakes such as the
fer de lance
Bothrops asper
Bothrops asper is a venomous pit viper species ranging from southern Mexico to northern South America. Sometimes referred to as the "ultimate pit viper," these snakes are found in a wide range of lowland habitats, often near human habitations. This species is the main cause of snakebite incidents...
. The difficult jungle environments of South America encountered by Western explorers soon stimulated further development of the Venezuelan hammock for use in other tropical environments.
The Venezuelan hammock's panels were always made of breathable material, necessary to prevent the onset of
fungal infections
Mycosis
A mycosis is a fungal infection of animals, including humans. Mycoses are common, and a variety of environmental and physiological conditions can contribute to the development of fungal diseases...
caused by constant rain and high humidity. Fine-woven
sandfly netting
Mosquito net
A mosquito net offers protection against mosquitos, flies, and other insects, and thus against diseases such as malaria, dengue fever, yellow fever, and various forms of encephalitis, including the West Nile virus, if used properly and especially if treated with an insecticide, which can double...
was eventually added to provide more complete protection from mosquitoes, flies, and crawling insects, especially in regions notorious for
malaria
Malaria
Malaria is a mosquito-borne infectious disease of humans and other animals caused by eukaryotic protists of the genus Plasmodium. The disease results from the multiplication of Plasmodium parasites within red blood cells, causing symptoms that typically include fever and headache, in severe cases...
or screwworm infestations. A waterproof top sheet or rainfly could be added to protect the occupant from drenching by heavy nighttime rains, along with
drip strings
- short pieces of string tied to suspension lines — to prevent rainwater running from the tree trunk down the hammock cords to the hammock itself. A breathable false cotton (later
nylon
Nylon
Nylon is a generic designation for a family of synthetic polymers known generically as polyamides, first produced on February 28, 1935, by Wallace Carothers at DuPont's research facility at the DuPont Experimental Station...
) bottom panel was frequently added to these jungle hammocks, allowing air to pass through while still preventing mosquito stings to the occupant. The Venezuelan hammock, as modified, eventually became known as a
jungle hammock
. Simply by wetting the hammock suspension ropes with
insecticide
Insecticide
An insecticide is a pesticide used against insects. They include ovicides and larvicides used against the eggs and larvae of insects respectively. Insecticides are used in agriculture, medicine, industry and the household. The use of insecticides is believed to be one of the major factors behind...
s or
insect repellent
Insect repellent
An insect repellent is a substance applied to skin, clothing, or other surfaces which discourages insects from landing or climbing on that surface. There are also insect repellent products available based on sound production, particularly ultrasound...
, the jungle hammock even gave protection against crawling insects with mandibles that could bite holes through the insect netting.
The
United States Army
United States Army
The United States Army is the main branch of the United States Armed Forces responsible for land-based military operations. It is the largest and oldest established branch of the U.S. military, and is one of seven U.S. uniformed services...
eventually adopted their own version of the jungle hammock, complete with rain proof fly and sandfly netting for use by U.S. and Allied forces in tropical jungle regions such as
Burma
China Burma India Theater of World War II
China Burma India Theater was the name used by the United States Army for its forces operating in conjunction with British and Chinese Allied air and land forces in China, Burma, and India during World War II...
during
World War II
World War II
World War II, or the Second World War , was a global conflict lasting from 1939 to 1945, involving most of the world's nations—including all of the great powers—eventually forming two opposing military alliances: the Allies and the Axis...
. While at first reluctant to accept the idea of its men sleeping in hammocks, the
United States Marine Corps
United States Marine Corps
The United States Marine Corps is a branch of the United States Armed Forces responsible for providing power projection from the sea, using the mobility of the United States Navy to deliver combined-arms task forces rapidly. It is one of seven uniformed services of the United States...
later employed jungle hammocks in
New Britain
New Britain
New Britain, or Niu Briten, is the largest island in the Bismarck Archipelago of Papua New Guinea. It is separated from the island of New Guinea by the Dampier and Vitiaz Straits and from New Ireland by St. George's Channel...
and later
Pacific island campaigns
Pacific War
The Pacific War, also sometimes called the Asia-Pacific War refers broadly to the parts of World War II that took place in the Pacific Ocean, its islands, and in East Asia, then called the Far East...
where heavy rain and insects were prevalent; concerns over injuries from
machine gun
Machine gun
A machine gun is a fully automatic mounted or portable firearm, usually designed to fire rounds in quick succession from an ammunition belt or large-capacity magazine, typically at a rate of several hundred rounds per minute....
and
artillery
Artillery
Originally applied to any group of infantry primarily armed with projectile weapons, artillery has over time become limited in meaning to refer only to those engines of war that operate by projection of munitions far beyond the range of effect of personal weapons...
fire were overcome by first digging a
slit trench
Defensive fighting position
A defensive fighting position is a type of earthwork constructed in a military context, generally large enough to accommodate at least one person.- Terminology :...
, then staking the hammock's support lines to suspend the hammock beneath ground level.
Later U.S. Army hammocks issued during the
Vietnam War
Vietnam War
The Vietnam War was a Cold War-era military conflict that occurred in Vietnam, Laos, and Cambodia from 1 November 1955 to the fall of Saigon on 30 April 1975. This war followed the First Indochina War and was fought between North Vietnam, supported by its communist allies, and the government of...
, such as the M1966 Jungle Hammock, were mistakenly fitted with waterproof bottom panels, which often became filled with water overnight. On the other side, North Vietnamese Army (NVA) and Viet Cong (VC) forces regularly employed jungle hammocks fabricated from scavenged or captured US
parachute
Parachute
A parachute is a device used to slow the motion of an object through an atmosphere by creating drag, or in the case of ram-air parachutes, aerodynamic lift. Parachutes are usually made out of light, strong cloth, originally silk, now most commonly nylon...
cloth and shroud lines. Hung well off jungle trails, the hammocks kept down the incidence of disease and illness, which NVA commanders generally regarded as a greater threat than shrapnel injuries caused by sleeping above ground.
Current use
There are currently a wide variety of hammocks available. There are hammocks that are designed specifically for
backpacking
Backpacking (wilderness)
Backpacking combines the activities of hiking and camping for an overnight stay in backcountry wilderness...
and include
mosquito
Mosquito
Mosquitoes are members of a family of nematocerid flies: the Culicidae . The word Mosquito is from the Spanish and Portuguese for little fly...
netting along with pockets for nighttime storage. There are hammocks made out of thin and lightweight material which makes them ideal for taking on daytrips. Other hammocks include self-standing
metal
Metal
A metal , is an element, compound, or alloy that is a good conductor of both electricity and heat. Metals are usually malleable and shiny, that is they reflect most of incident light...
or
wood
Wood
Wood is a hard, fibrous tissue found in many trees. It has been used for hundreds of thousands of years for both fuel and as a construction material. It is an organic material, a natural composite of cellulose fibers embedded in a matrix of lignin which resists compression...
structures that support the hammock. Although they are usually bought premade, it is also possible to make your own hammock.
Hammocks are very popular in the
Brazilian northeast region
Northeast Region, Brazil
The Northeast Region of Brazil is composed of the following states: Maranhão, Piauí, Ceará, Rio Grande do Norte, Paraíba, Pernambuco, Alagoas, Sergipe and Bahia, and it represents 18.26% of the Brazilian territory....
, but not only as sleeping devices: in the poorest areas of the
sertão
Sertão
In Portuguese, the word sertão first referred to the vast hinterlands of Asia that Lusitanian explorers encountered. In Brazil, the geographical term referred to backlands away from the Atlantic coastal regions where the Portuguese first settled in South America in the early sixteenth century...
, if there is not a
cemetery
Cemetery
A cemetery is a place in which dead bodies and cremated remains are buried. The term "cemetery" implies that the land is specifically designated as a burying ground. Cemeteries in the Western world are where the final ceremonies of death are observed...
in a settlement, hammocks may be used to carry the dead to a locale where there is one; also, they frequently serve as a low-cost alternative to
coffin
Coffin
A coffin is a funerary box used in the display and containment of dead people – either for burial or cremation.Contemporary North American English makes a distinction between "coffin", which is generally understood to denote a funerary box having six sides in plan view, and "casket", which...
s. This custom inspired
Candido Portinari
Cândido Portinari
Candido Portinari was one of the most important Brazilian painters and also a prominent and influential practitioner of the neo-realism style in painting....
's 1944 painting
Enterro na Rede
("burial in the hammock"). Traditionally the
sailor
Sailor
A sailor, mariner, or seaman is a person who navigates water-borne vessels or assists in their operation, maintenance, or service. The term can apply to professional mariners, military personnel, and recreational sailors as well as a plethora of other uses...
s who have died at sea were
buried at sea
Burial at sea
Burial at sea describes the procedure of disposing of human remains in the ocean, normally from a ship or boat. It is regularly performed by navies, but also can be done by private citizens in many countries.-By religion:...
in their hammocks.
Styles
Current popular hammock styles include the Spreader-bar, Mayan, Brazilian, naval, Nicaraguan, Venezuelan (Jungle), and travel hammocks. Each styles is distinctive and has its own set of advantages and disadvantages. Many hammocks come in a variety of colors, patterns, and sizes ranging from a one person (250 - 350 lbs / 110 – 160 kg) to two or three person (400 lbs - 600 lbs / 180 – 270 kg). Common dimensions for unslung hammocks fall in a range between 3'/0.9m to 14'/4.2m across and 6'/1.8m to 11'/3.3m long.
The spreader-bar hammock is easily recognized by wooden or metal bars at the head and foot of the hammock, spreading its width and allowing for easy access for casual use, such as in a backyard. Unfortunately, the spreader bars also make the hammock unsteady since the metacenter of the hammock when sleeping is very high. This style is generally considered less stable and less comfortable for sleeping than other styles.
While the various styles of hammocks available today are similar in form, they differ significantly in materials, purpose, and construction.
Mayan and Nicaraguan hammocks are made from either cotton or nylon string that are woven to form a supportive net. Mayan Hammocks have a looser weave than Nicaraguan hammocks, and the supportiveness of the hammock "bed" depends on the number of strings and quality of the weave.
Brazilian hammocks are made from cotton fabric and usually more durable than the string varieties. While Mayan and Nicaraguan hammocks are considered by some to have the potential to be more comfortable, the Brazilian hammock's comfort is less dependent on its construction and therefore less likely to vary as highly from manufacturer to manufacturer.
Naval hammocks are usually made from canvas or strong cotton. They are intended to be durable and stand well the hardships of the shipboard use. They usually are simple and undecorated but robust.
Venezuelan or Jungle hammocks made today are generally of breathable nylon or polyester, and use dacron or similar non-stretch suspension lines. They are 'inline' hammocks; like the canvas naval hammocks of old, the occupant sleeps along the length of the hammock, rather than across it. With their breathable false bottoms, drip strings, sandfly netting, and optional rainfly, they are one of the most secure hammocks against not only water entry, but also insect stings or bites.
Travel or
camping hammocks
Hammock camping
Hammock camping is a form of camping in which a camper sleeps in a suspended hammock rather than a conventional tent on the ground. While hammocks have been around for several centuries, modern camping hammocks differ in many ways. They can be set up on the ground when supports are unavailable. In...
are popular among
Leave No Trace
Leave No Trace
Leave No Trace is both a set of principles, and an organization that promotes those principles. The principles are designed to assist outdoor enthusiasts with their decisions about how to reduce their impacts when they hike, camp, picnic, snowshoe, run, bike, hunt, paddle, ride horses, fish, ski or...
and Ultra Light campers, hikers, and sailing enthusiasts for their reduced impact on the environment and their lightness and lack of bulk compared to tents. They are made of sturdy nylon fabric, some feature a mosquito net and storage pockets. Some types offer a ridgeline to make set up easier, and may also include a slit for entry through the bottom of the hammock. Special webbing straps (called "treehuggers") are used to loop around trees in order to create attachment points for the hammock.
Set-up and use
For non spreader-bar styles, the way in which they are hung is critical for comfort. Generally, a higher attachment point is preferred as well as sufficient length between points, though these two dimensions can be adjusted to compensate for a lack in one or the other. The optimal angle of the attaching lines to the post / wall / tree is usually about 30 degrees.
Though one can lie in a hammock lengthwise or across its width, most hammocks are best used with a diagonal position, as it provides the most room and support. Users with back and joint pains often report some relief from these problems when sleeping in a hammock in this manner.
See also
Swing

Swing (seat)

A swing is a hanging seat, usually found at playgrounds for children, a circus for acrobats, or on a porch for relaxing. The seat of a swing may be suspended from chains or ropes. Once a swing is in motion it continues to oscillate like a pendulum until external interference or drag brings it to a...



Hammock camping

Hammock camping

Hammock camping is a form of camping in which a camper sleeps in a suspended hammock rather than a conventional tent on the ground. While hammocks have been around for several centuries, modern camping hammocks differ in many ways. They can be set up on the ground when supports are unavailable. In...



Cresson Kearny

Cresson Kearny

Cresson Henry Kearny wrote several survival related books based primarily on research performed at Oak Ridge National Laboratory.-Career:Kearny attended Texas Military Institute in the 1930s, where he became the commanding officer of the cadet corps, a champion runner and rifle shot, and...



Banana Hammock