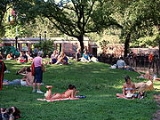 Leisure
Leisure
, or
free time
, is
time
Time
Time is a part of the measuring system used to sequence events, to compare the durations of events and the intervals between them, and to quantify rates of change such as the motions of objects....
spent away from
business
Business
A business is an organization engaged in the trade of goods, services, or both to consumers. Businesses are predominant in capitalist economies, where most of them are privately owned and administered to earn profit to increase the wealth of their owners. Businesses may also be not-for-profit...
,
work
Employment
Employment is a contract between two parties, one being the employer and the other being the employee. An employee may be defined as:- Employee :...
, and
domestic chores
Housekeeping
Housekeeping is the act of cleaning the rooms and furnishings of a home. It is one of the many chores included in the term housework. Housecleaning includes activities such as disposing of rubbish, cleaning dirty surfaces, dusting and vacuuming. It may also involve some outdoor chores, such as...
. It is also the periods of time before or after necessary activities such as
eating
Eating
Eating is the ingestion of food to provide for all organisms their nutritional needs, particularly for energy and growth. Animals and other heterotrophs must eat in order to survive: carnivores eat other animals, herbivores eat plants, omnivores consume a mixture of both plant and animal matter,...
,
sleeping
Sleep
Sleep is a naturally recurring state characterized by reduced or absent consciousness, relatively suspended sensory activity, and inactivity of nearly all voluntary muscles. It is distinguished from quiet wakefulness by a decreased ability to react to stimuli, and is more easily reversible than...
and, where it is compulsory,
education
Education
Education in its broadest, general sense is the means through which the aims and habits of a group of people lives on from one generation to the next. Generally, it occurs through any experience that has a formative effect on the way one thinks, feels, or acts...
.
The distinction between leisure and unavoidable activities is loosely applied, i.e. people sometimes do work-oriented tasks for
pleasure
Pleasure
Pleasure describes the broad class of mental states that humans and other animals experience as positive, enjoyable, or worth seeking. It includes more specific mental states such as happiness, entertainment, enjoyment, ecstasy, and euphoria...
as well as for long-term utility. A distinction may also be drawn between free time and leisure.