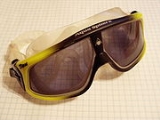 Goggles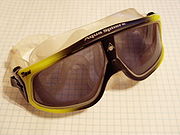 Goggles
or
safety glasses
are forms of
protective eyewear
Eye protection
Eye protection is protective gear for the eyes, which comes in many types depending upon the threat that is to be reduced. The threats can be particles, light, wind blast, heat, sea spray or some type of ball or puck used in sports...
that usually enclose or protect the area surrounding the eye in order to prevent particulates, water or chemicals from striking the
eye
Human eye
The human eye is an organ which reacts to light for several purposes. As a conscious sense organ, the eye allows vision. Rod and cone cells in the retina allow conscious light perception and vision including color differentiation and the perception of depth...
s. They are used in
chemistry
Chemistry
Chemistry is the science of matter, especially its chemical reactions, but also its composition, structure and properties. Chemistry is concerned with atoms and their interactions with other atoms, and particularly with the properties of chemical bonds....
laboratories and in
woodworking
Woodworking
Woodworking is the process of building, making or carving something using wood.-History:Along with stone, mud, and animal parts, wood was one of the first materials worked by early humans. Microwear analysis of the Mousterian stone tools used by the Neanderthals show that many were used to work wood...
. They are often used in snow sports as well, and in
swimming
Swimming (sport)
Swimming is a sport governed by the Fédération Internationale de Natation .-History: Competitive swimming in Europe began around 1800 BCE, mostly in the form of the freestyle. In 1873 Steve Bowyer introduced the trudgen to Western swimming competitions, after copying the front crawl used by Native...
. Goggles are often worn when using
power tool
Power tool
A power tool is a tool that is actuated by an additional power source and mechanism other than the solely manual labour used with hand tools. The most common types of power tools use electric motors. Internal combustion engines and compressed air are also commonly used...
s such as
drill
Drill
A drill or drill motor is a tool fitted with a cutting tool attachment or driving tool attachment, usually a drill bit or driver bit, used for drilling holes in various materials or fastening various materials together with the use of fasteners. The attachment is gripped by a chuck at one end of...
s or
chainsaw
Chainsaw
A chainsaw is a portable mechanical saw, powered by electricity, compressed air, hydraulic power, or most commonly a two-stroke engine...
s to prevent flying particles from damaging the eyes. Many types of goggles are available as prescription goggles for those with vision problems.
History
The
Eskimo
Eskimo
Eskimos or Inuit–Yupik peoples are indigenous peoples who have traditionally inhabited the circumpolar region from eastern Siberia , across Alaska , Canada, and Greenland....
s carved
Inuit snow goggles
Inuit snow goggles
Snow goggles are a type of eyewear traditionally used by the Inuit people of the Arctic to prevent snow blindness...
from
caribou
Reindeer
The reindeer , also known as the caribou in North America, is a deer from the Arctic and Subarctic, including both resident and migratory populations. While overall widespread and numerous, some of its subspecies are rare and one has already gone extinct.Reindeer vary considerably in color and size...
antler
Antler
Antlers are the usually large, branching bony appendages on the heads of most deer species.-Etymology:Antler originally meant the lowest tine, the "brow tine"...
, and wood and shell, to help prevent
snow blindness
Snow blindness
Photokeratitis or ultraviolet keratitis is a painful eye condition caused by exposure of insufficiently protected eyes to the ultraviolet rays from either natural or artificial sources. Photokeratitis is akin to a sunburn of the cornea and conjunctiva, and is not usually noticed until several...
. The goggles were curved to fit the user's face and had a large groove cut in the back to allow for the nose. A long thin slit was cut through the goggles to allow in a small amount of light, diminishing subsequent
ultraviolet
Ultraviolet
Ultraviolet light is electromagnetic radiation with a wavelength shorter than that of visible light, but longer than X-rays, in the range 10 nm to 400 nm, and energies from 3 eV to 124 eV...
rays. The goggles were held to the head by a cord made of caribou
sinew
Tendon
A tendon is a tough band of fibrous connective tissue that usually connects muscle to bone and is capable of withstanding tension. Tendons are similar to ligaments and fasciae as they are all made of collagen except that ligaments join one bone to another bone, and fasciae connect muscles to other...
.
In the early 20th century, goggles were worn by drivers of uncovered cars to prevent irritation of the eyes by dust or wind. Likewise in the first ten years after the invention of the airplane in 1903 goggles became a necessity as wind blow became more severe as aircraft speeds increased and as protection against bugstrikes at high altitudes. The first pilot to wear goggles was probably Charles Manly in his failed attempt to fly Samuel Langley's aerodrome in 1903.
Types
The requirements for goggles varies depending on the use. Some examples:
Fashion
Goggles are often worn as a fashion statement in certain subcultures, most often as part of the
cybergoth
Cybergoth
Cybergoth is a subculture that derives from elements of cyberpunk, goth, raver, and rivethead fashion. Unlike traditional goths, Cybergoths follow electronic dance music more often than rock.-History:...
subculture. They are usually worn over the eyes or up on the forehead to secure 'falls': a type of long, often brightly-coloured, synthetic hairpiece. Fans of the
steampunk
Steampunk
Steampunk is a sub-genre of science fiction, fantasy, alternate history, and speculative fiction that came into prominence during the 1980s and early 1990s. Steampunk involves a setting where steam power is still widely used—usually Victorian era Britain or "Wild West"-era United...
genre or subculture also frequently wear steampunk-styled goggles, particularly when performing in a
live action role-playing game
Live action role-playing game
A live action role-playing game is a form of role-playing game where the participants physically act out their characters' actions. The players pursue goals within a fictional setting represented by the real world, while interacting with each other in character. The outcome of player actions may...
.
Goggles are also frequently used by
anime
Anime
is the Japanese abbreviated pronunciation of "animation". The definition sometimes changes depending on the context. In English-speaking countries, the term most commonly refers to Japanese animated cartoons....
and
manga
Manga
Manga is the Japanese word for "comics" and consists of comics and print cartoons . In the West, the term "manga" has been appropriated to refer specifically to comics created in Japan, or by Japanese authors, in the Japanese language and conforming to the style developed in Japan in the late 19th...
characters as a fashion statement. For example, it is an idiosyncrasy of team leader characters in the
Digimon
Digimon
, short for , is a Japanese media franchise encompassing digital toys, anime, manga and video games. The franchise's eponymous creatures are monsters of various forms living in a "Digital World", a parallel universe that originated from Earth's various communication networks.-Conception and...
anime to wear goggles. Other notable characters who wear goggles are the young
Naruto Uzumaki
Naruto Uzumaki
is a fictional character in the anime and manga franchise Naruto created by Masashi Kishimoto. The main protagonist and titular character of the series, he is a ninja affiliated with the fictional village of Konohagakure. The villagers ostracize Naruto because the Nine-Tailed Demon Fox, a...
and Konohamaru from
Naruto
Naruto
is an ongoing Japanese manga series written and illustrated by Masashi Kishimoto. The plot tells the story of Naruto Uzumaki, an adolescent ninja who constantly searches for recognition and aspires to become the Hokage, the ninja in his village who is acknowledged as the leader and the strongest of...
, Matt from
Death Note
Death Note
is a manga created by writer Tsugumi Ohba and manga artist Takeshi Obata. The main character is Light Yagami, a high school student who discovers a supernatural notebook, the "Death Note", dropped on Earth by a god of death, or a shinigami, named Ryuk...
and Usopp from
One Piece
One Piece
is a Japanese shōnen manga series written and illustrated by Eiichiro Oda. It has been serialized in Weekly Shōnen Jump since August 4, 1997; the individual chapters are being published in tankōbon volumes by Shueisha, with the first released on December 24, 1997, and the 64th volume released as...
.
Non-human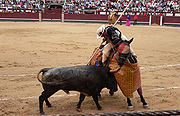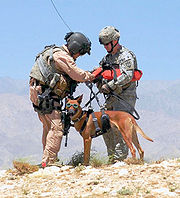 Goggles are available for
horse
Horse
The horse is one of two extant subspecies of Equus ferus, or the wild horse. It is a single-hooved mammal belonging to the taxonomic family Equidae. The horse has evolved over the past 45 to 55 million years from a small multi-toed creature into the large, single-toed animal of today...
s used in speed sports such as
horse racing
Horse racing
Horse racing is an equestrian sport that has a long history. Archaeological records indicate that horse racing occurred in ancient Babylon, Syria, and Egypt. Both chariot and mounted horse racing were events in the ancient Greek Olympics by 648 BC...
. In some traditions of horse mounted
bullfighting
Bullfighting
Bullfighting is a traditional spectacle of Spain, Portugal, southern France and some Latin American countries , in which one or more bulls are baited in a bullring for sport and entertainment...
, the horse may wear a protective cloth over its eyes.
Goggles have been used on military working dogs, for protection in harsh conditions, such as sandstorms and rotorwash from helicopters. One of the brands of these types of goggles are
Doggles
Doggles
Doggles are a commercial brand of sunglasses for dogs in the form of tinted goggles designed to fit the shape of a dog's head.While marketed as a fashion item, several practical and medical uses have been reported, and prescription lenses for dogs with restricted eyesight are available.-Invention...
.
See also
Ballistic Eye Wear

Ballistic Eye Wear

Ballistic eyewear is a form of glasses or goggles that protect from small projectiles and fragments. Ballistic eyewear is commercially available for anyone who wishes to buy it. For the U.S. military, choices are listed on the Authorized Protective Eyewear List .). The history of protective...



Beer goggles
Google Goggles

Google Goggles

Google Goggles is a downloadable image recognition application created by Google Inc. which can be currently found on the Mobile Apps page of Google Mobile. It is used for searches based on pictures taken by handheld devices...



Night vision device
Personal protective equipment

Personal protective equipment

Personal protective equipment refers to protective clothing, helmets, goggles, or other garment or equipment designed to protect the wearer's body from injury by blunt impacts, electrical hazards, heat, chemicals, and infection, for job-related occupational safety and health purposes, and in...



Safety engineering

Safety engineering

Safety engineering is an applied science strongly related to systems engineering / industrial engineering and the subset System Safety Engineering...



Visor

Visor

A visor is a surface that protects the eyes, such as shading them from the sun or other bright light or protecting them from objects....