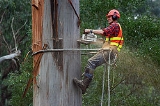 Chainsaw
A
chainsaw
is a portable mechanical
saw
Saw
A saw is a tool that uses a hard blade or wire with an abrasive edge to cut through softer materials. The cutting edge of a saw is either a serrated blade or an abrasive...
, powered by
electricity
Electricity
Electricity is a general term encompassing a variety of phenomena resulting from the presence and flow of electric charge. These include many easily recognizable phenomena, such as lightning, static electricity, and the flow of electrical current in an electrical wire...
,
compressed air
Compressed air
Compressed air is air which is kept under a certain pressure, usually greater than that of the atmosphere. In Europe, 10 percent of all electricity used by industry is used to produce compressed air, amounting to 80 terawatt hours consumption per year....
,
hydraulic power
Hydraulic machinery
Hydraulic machines are machinery and tools that use liquid fluid power to do simple work. Heavy equipment is a common example.In this type of machine, hydraulic fluid is transmitted throughout the machine to various hydraulic motors and hydraulic cylinders and which becomes pressurised according to...
, or most commonly a two-stroke engine.
Electric saw
It is used in activities such as tree
felling
Felling
Felling is the name given to an area of land in eastern Gateshead, England. Originally an independent settlement in the historic county of Durham it became incorporated into the Metropolitan Borough of Gateshead in 1974....
, limbing,
bucking
Log bucking
thumb|right|Bucker measuring and swamping or knot bumpingthumb|right|Bucker - Making the CutBucking is the process of cutting a felled and delimbed tree into logs...
,
pruning
Pruning
Pruning is a horticultural practice involving the selective removal of parts of a plant, such as branches, buds, or roots. Reasons to prune plants include deadwood removal, shaping , improving or maintaining health, reducing risk from falling branches, preparing nursery specimens for...
, by tree surgeons to fell trees and remove branches and foliage, to fell snags and assist in cutting
firebreak
Firebreak
A firebreak is a gap in vegetation or other combustible material that acts as a barrier to slow or stop the progress of a bushfire or wildfire. A firebreak may occur naturally where there is a lack of vegetation or "fuel", such as a river, lake or canyon...
s in
wildland fire suppression
Wildland fire suppression
Wildfire suppression refers to the firefighting tactics used to suppress wildfires. Firefighting efforts in wildland areas requires different techniques, equipment, and training from the more familiar structure fire fighting found in populated areas...
, and to harvest firewood. Chainsaws with specially designed bar and chain combinations have been developed as tools for use in
chainsaw art
Chainsaw Carving
The art of chainsaw carving is a fast-growing form of art that combines the modern technology of the chainsaw with the ancient art of woodcarving.- The beginning of the art form :...
.