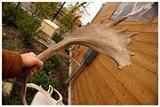 Antler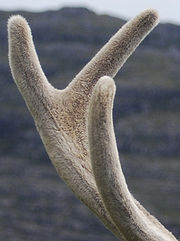 Antlers
are the usually large, branching bony appendages on the heads of most
deer
Deer
Deer are the ruminant mammals forming the family Cervidae. Species in the Cervidae family include white-tailed deer, elk, moose, red deer, reindeer, fallow deer, roe deer and chital. Male deer of all species and female reindeer grow and shed new antlers each year...
species.
Etymology
Antler
originally meant the lowest tine, the "brow tine". It comes from the
Old French
Old French
Old French was the Romance dialect continuum spoken in territories that span roughly the northern half of modern France and parts of modern Belgium and Switzerland from the 9th century to the 14th century...
antoillier
, of uncertain origin, possibly from some form of an unattested Latin word
*anteocularis
, "before the eye" (and applied to the word for "branch" or "horn").
Occurrence and function
Antlers are unique to cervids and found mostly on males: only
caribou and reindeer
Reindeer
The reindeer , also known as the caribou in North America, is a deer from the Arctic and Subarctic, including both resident and migratory populations. While overall widespread and numerous, some of its subspecies are rare and one has already gone extinct.Reindeer vary considerably in color and size...
have antlers on the females, and these are normally smaller than those of the males. Nevertheless, fertile does from other species of deer have the capacity to produce antlers on occasion, usually due to increased testosterone levels.
Each antler grows from an attachment point on the skull called a
pedicle
Pedicle
Pedicle or pedicel may refer to:*Pedicle of vertebral arch, the segment between the transverse process and the vertebral body, and is often used as a radiographic marker and entry point in vertebroplasty and kyphoplasty procedures...
. While an antler is growing, it is covered with highly
vascular
Blood vessel
The blood vessels are the part of the circulatory system that transports blood throughout the body. There are three major types of blood vessels: the arteries, which carry the blood away from the heart; the capillaries, which enable the actual exchange of water and chemicals between the blood and...
skin
Skin
-Dermis:The dermis is the layer of skin beneath the epidermis that consists of connective tissue and cushions the body from stress and strain. The dermis is tightly connected to the epidermis by a basement membrane. It also harbors many Mechanoreceptors that provide the sense of touch and heat...
called velvet, which supplies oxygen and nutrients to the growing bone. Antlers are considered one of the most exaggerated cases of male secondary sexual traits in the animal kingdom, and grow faster than any other mammal bones. Growth occurs at the tip, and is initially
cartilage
Cartilage
Cartilage is a flexible connective tissue found in many areas in the bodies of humans and other animals, including the joints between bones, the rib cage, the ear, the nose, the elbow, the knee, the ankle, the bronchial tubes and the intervertebral discs...
, which is mineralized to become bone. Once the antler has achieved its full size, the velvet is lost and the antler's bone dies. This dead bone structure is the mature antler. In most cases, the bone at the base is destroyed by
osteoclast
Osteoclast
An osteoclast is a type of bone cell that removes bone tissue by removing its mineralized matrix and breaking up the organic bone . This process is known as bone resorption. Osteoclasts were discovered by Kolliker in 1873...
s and the antlers fall off at some point. As a result of their fast growth rate, antlers are considered a handicap since there is an incredible nutritional demand on deer to re-grow antlers annually, and thus can be honest signals of metabolic efficiency and food gathering capability.
In most arctic and temperate-zone species, antler growth and shedding is seasonal and controlled by the length of daylight. In tropical species, antlers may be shed at any time of year, and in some species such as the sambar, antlers last several years. Some equatorial deer never shed their antlers.
Antlers function as weapons in combats between males, which sometimes cause serious wounds, and as dominance and sexual displays.
The ancestors of deer had
tusk
Tusk
Tusks are elongated, continuously growing front teeth, usually but not always in pairs, that protrude well beyond the mouth of certain mammal species. They are most commonly canines, as with warthogs, wild boar, and walruses, or, in the case of elephants and narwhals, elongated incisors...
s (long upper
canine teeth
Canine tooth
In mammalian oral anatomy, the canine teeth, also called cuspids, dogteeth, fangs, or eye teeth, are relatively long, pointed teeth...
). Antlers appear to replace tusks; two modern species, the
musk deer
Musk deer
Musk deer are artiodactyls of the genus Moschus, the only genus of family Moschidae. They are more primitive than the cervids, or true deer, in not having antlers or facial glands, in having only a single pair of teats, and in possessing a gall bladder, a caudal gland, a pair of tusk-like teeth...
and the
water deer
Water Deer
The Water Deer is a small deer superficially more similar to a musk deer than a true deer but it is classified as a cervid despite having tusks instead of antlers and other anatomical anomalies. These unique characteristics have caused it to be classified in its own genus...
, have tusks and no antlers, the
muntjac
Muntjac
Muntjac, also known as Barking Deer and Mastreani Deer, are small deer of the genus Muntiacus. Muntjac are the oldest known deer, appearing 15–35 million years ago, with remains found in Miocene deposits in France, Germany and Poland....
has small tusks and small antlers, and other deer have full-sized antlers and no tusks. The diversification of antlers, body size and tusks has been strongly influenced by changes in habitat and behavior (fighting and mating).
Caribou and reindeer
Reindeer
The reindeer , also known as the caribou in North America, is a deer from the Arctic and Subarctic, including both resident and migratory populations. While overall widespread and numerous, some of its subspecies are rare and one has already gone extinct.Reindeer vary considerably in color and size...
use their antlers to clear away snow so they can eat the vegetation underneath. This is one possible reason that females of this species evolved antlers. Another possible reason is for female competition during winter foraging.
In
moose
Moose
The moose or Eurasian elk is the largest extant species in the deer family. Moose are distinguished by the palmate antlers of the males; other members of the family have antlers with a dendritic configuration...
, antlers appear to act as large hearing aids. Moose with antlers have far more sensitive hearing than moose without, and a study of trophy antlers with an artificial ear confirmed that the antler behaves like a parabolic reflector.
Sexual selection
The principle means of evolution of antlers is sexual selection, which operates via two mechanisms: Male-male competition (behaviorally, physiologically) and female mate choice. Male-male competition can take place in two forms. First, they can compete behaviorally where males use their antlers as weapons to compete for access to mates; second, they can compete physiologically where males present their antlers to display their strength and fertility competitiveness to compete for access to mates. Males with the largest antlers are more likely to obtain mates and achieve the highest fertilization success due to their competitiveness, dominance and high phenotypic quality. Whether this is a result of male-male fighting or display, or of female choosiness differs depending on the species as the shape, size, and function of antlers vary between species.
Heritability and Reproductive Advantage
There is evidence to support that antler size influences mate selection in the red deer, and has a heritable component. Despite this, a 30 year study showed no shift in the median size of antlers in a population of red deer. The lack of response could be explained by environmental covariance, meaning that lifetime breeding success is determined by an unmeasured trait which is phenotypically correlated with antler size but for which there is no genetic correlation of antler growth. Alternatively, the lack of response could be explained by the relationship between heterozygosity and antler size, which states that males heterozygous at multiple loci, including MHC loci, have larger antlers. The evolutionary response of traits that depend on heterozygosity is slower than traits that are dependent on additive genetic components and thus the evolutionary change is slower than expected. A third possibility is that the costs of having larger antlers (resource use, and mobility detriments, for instance) exert enough selective pressure to offset the benefit of attracting mates; thereby stabilizing antler size in the population.
Hunting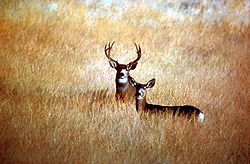 Antlered heads are prized as
trophies
Trophy hunting
Trophy hunting is the selective hunting of wild game animals. Although parts of the slain animal may be kept as a hunting trophy or memorial , the carcass itself is sometimes used as food....
—the bigger, the better. The first organization to keep records of sizes was
Rowland Ward
Rowland Ward
Rowland Ward was a British taxidermist and founder of the taxidermy firm Rowland Ward Ltd. of Piccadilly. The company specialized in, and was renowned for, their work on big game trophies, but their output covered all aspects of taxidermy...
Ltd., a London
taxidermy
Taxidermy
Taxidermy is the act of mounting or reproducing dead animals for display or for other sources of study. Taxidermy can be done on all vertebrate species of animals, including mammals, birds, fish, reptiles, and amphibians...
firm, in the early 20th century. For a time only total length or spread was recorded. In the middle of the century, the
Boone and Crockett Club
Boone and Crockett Club
The Boone and Crockett Club conservationist organization, founded in the United States in 1887 by Theodore Roosevelt. The club was named in honor of Daniel Boone and Davy Crockett, whom the club's founders viewed as ethical hunters and honest men who loved the outdoors and earthly pursuits...
and the
Safari Club International
Safari Club International
Safari Club International is an international organization composed of hunters. SCI has more than 50,000 members and 180 local chapters. SCI's website displays the bannertext "Safari Club International is the Leader in Protecting the Freedom to Hunt and Promoting Wildlife Conservation...
developed complex scoring systems based on various dimensions and the number of tines or points, and they keep extensive records of high-scoring antlers.
Hunters have developed terms for antler parts: beam, palm, brow, bez or bay, trez or tray, royal, and surroyal. These are the main shaft, flattened center, first
tine
Tine
Tine may have one of the following meanings:*Tine – a 'prong' on a fork or similar implement, or any similar structure*Tine – the biggest dairy producer in Norway...
, second tine, third tine, fourth tine, and fifth or higher tines, respectively. The second branch is also called an advancer.
Shed antler hunting
Gathering shed antlers or "sheds" attracts dedicated practitioners who refer to it colloquially as
shed hunting
,
bone picking
or sometimes
clinting
(a term that originated in
Cascade
Cascade, Idaho
Cascade is a rural city in and the county seat of Valley County, Idaho, United States, in the west central part of the state. It sits at an elevation of , along the North Fork of the Payette River...
,
Idaho
Idaho
Idaho is a state in the Rocky Mountain area of the United States. The state's largest city and capital is Boise. Residents are called "Idahoans". Idaho was admitted to the Union on July 3, 1890, as the 43rd state....
, but is now more widely used). In the United States, the middle of December to the middle of February is considered shed hunting season, when deer,
elk
Elk
The Elk is the large deer, also called Cervus canadensis or wapiti, of North America and eastern Asia.Elk may also refer to:Other antlered mammals:...
, and moose begin to shed. Heavy snowfall during this time can make clinting very difficult. In Canada shed hunting usually occurs after the snow melts. Sheds often accumulate in one area, and these areas are often kept secret by those who hunt there.
In the
United States
United States
The United States of America is a federal constitutional republic comprising fifty states and a federal district...
sheds fetch $1–$100.
Human usage
Shed antlers have been used by craftspeople since ancient times to make tools, weapons, ornaments, and toys. They are worn in traditional dances such as Yaqui deer dances and carried in the
Abbots Bromley Horn Dance
Abbots Bromley Horn Dance
The Abbots Bromley Horn Dance is an English folk dance involving reindeer antlers and a hobby horse that takes place each year in Abbots Bromley, a small village in Staffordshire, England.-Origins:...
.
In the velvet stage, antlers of elk and deer have been used in Asia as a
dietary supplement
Dietary supplement
A dietary supplement, also known as food supplement or nutritional supplement, is a preparation intended to supplement the diet and provide nutrients, such as vitamins, minerals, fiber, fatty acids, or amino acids, that may be missing or may not be consumed in sufficient quantities in a person's diet...
or alternative medicinal substance for more than 2,000 years.
In prehistoric times a large shed deer antler from a suitable species (e.g.
red deer
Red Deer
The red deer is one of the largest deer species. Depending on taxonomy, the red deer inhabits most of Europe, the Caucasus Mountains region, Asia Minor, parts of western Asia, and central Asia. It also inhabits the Atlas Mountains region between Morocco and Tunisia in northwestern Africa, being...
) was often cut down to its shaft and its lowest
tine
Tine
Tine may have one of the following meanings:*Tine – a 'prong' on a fork or similar implement, or any similar structure*Tine – the biggest dairy producer in Norway...
and used as a one-pointed pickax.
http://www.ingenious.org.uk/See/Tradeandindustry/Handandmachinetools/?target=SeeMedium&ObjectID=%7BB316DA4B-0B90-D31E-C28F-94EC504B8D04%7D&viewby=images
http://www.dkimages.com/discover/previews/847/970747.JPG
External links