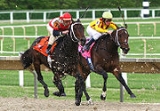 Horse racing
Horse racing
is an
equestrian
Equestrianism
Equestrianism more often known as riding, horseback riding or horse riding refers to the skill of riding, driving, or vaulting with horses...
sport
Sport
A Sport is all forms of physical activity which, through casual or organised participation, aim to use, maintain or improve physical fitness and provide entertainment to participants. Sport may be competitive, where a winner or winners can be identified by objective means, and may require a degree...
that has a long history. Archaeological records indicate that horse racing occurred in ancient Babylon, Syria, and Egypt. Both chariot and mounted horse racing were events in the ancient Greek Olympics by 648 BC. In the Roman Empire, chariot and mounted horse racing were major industries.
Thoroughbred
Thoroughbred
The Thoroughbred is a horse breed best known for its use in horse racing. Although the word thoroughbred is sometimes used to refer to any breed of purebred horse, it technically refers only to the Thoroughbred breed...
racing was popular with the aristocrats and royalty of British society, earning it the title "Sport of Kings."
The style of racing, the distances and the type of events vary significantly by the country in which the race is occurring, and many countries offer different types of horse races.