 European cuisine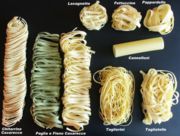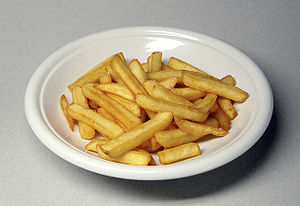 European cuisine
, or alternatively
Western cuisine
, is a generalised term collectively referring to the
cuisine
Cuisine
Cuisine is a characteristic style of cooking practices and traditions, often associated with a specific culture. Cuisines are often named after the geographic areas or regions that they originate from...
s of
Europe
Europe
Europe is, by convention, one of the world's seven continents. Comprising the westernmost peninsula of Eurasia, Europe is generally 'divided' from Asia to its east by the watershed divides of the Ural and Caucasus Mountains, the Ural River, the Caspian and Black Seas, and the waterways connecting...
and other
Western countries
Western world
The Western world, also known as the West and the Occident , is a term referring to the countries of Western Europe , the countries of the Americas, as well all countries of Northern and Central Europe, Australia and New Zealand...
. European cuisine or Western cuisine includes that of
Europe
Europe
Europe is, by convention, one of the world's seven continents. Comprising the westernmost peninsula of Eurasia, Europe is generally 'divided' from Asia to its east by the watershed divides of the Ural and Caucasus Mountains, the Ural River, the Caspian and Black Seas, and the waterways connecting...
including (depending on the definition) that of
Russia
Russia
Russia or , officially known as both Russia and the Russian Federation , is a country in northern Eurasia. It is a federal semi-presidential republic, comprising 83 federal subjects...
, as well as non-indigenous cuisines of
North America
North America
North America is a continent wholly within the Northern Hemisphere and almost wholly within the Western Hemisphere. It is also considered a northern subcontinent of the Americas...
,
Australasia
Australasia
Australasia is a region of Oceania comprising Australia, New Zealand, the island of New Guinea, and neighbouring islands in the Pacific Ocean. The term was coined by Charles de Brosses in Histoire des navigations aux terres australes...
,
Oceania
Oceania
Oceania is a region centered on the islands of the tropical Pacific Ocean. Conceptions of what constitutes Oceania range from the coral atolls and volcanic islands of the South Pacific to the entire insular region between Asia and the Americas, including Australasia and the Malay Archipelago...
, and
Latin America
Latin America
Latin America is a region of the Americas where Romance languages – particularly Spanish and Portuguese, and variably French – are primarily spoken. Latin America has an area of approximately 21,069,500 km² , almost 3.9% of the Earth's surface or 14.1% of its land surface area...
, which derive substantial influence from European settlers in those regions. The term is used by
East Asia
East Asia
East Asia or Eastern Asia is a subregion of Asia that can be defined in either geographical or cultural terms...
ns to contrast with Asian styles of cooking. (This is analogous to Westerners referring collectively to the cuisines of East Asian countries as
Asian cuisine
Asian cuisine
Asian cuisine styles can be broken down into several tiny regional styles that have roots in the peoples and cultures of those regions. The major types can be roughly defined as East Asian with its origins in Imperial China and now encompassing modern Japan and the Korean peninsula; Southeast Asian...
.) When used by Westerners, the term may sometimes refer more specifically to cuisine
in
Europe or continental; in this context, a synonym is
Continental

Continental Europe

Continental Europe, also referred to as mainland Europe or simply the Continent, is the continent of Europe, explicitly excluding European islands....


cuisine
, especially in
British English
British English
British English, or English , is the broad term used to distinguish the forms of the English language used in the United Kingdom from forms used elsewhere...
.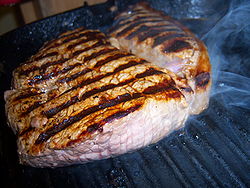 The cuisines of Western countries are diverse by themselves, although there are common characteristics that distinguishes Western cooking from cuisines of Asian countries and others. Compared with traditional cooking of Asian countries, for example, meat is more prominent and substantial in serving-size.
Steak
Steak
A steak is a cut of meat . Most are cut perpendicular to the muscle fibers, improving the perceived tenderness of the meat. In North America, steaks are typically served grilled, pan-fried, or broiled. The more tender cuts from the loin and rib are cooked quickly, using dry heat, and served whole...
in particular is a common dish across the West. Similarly to some Asian cuisines, Western cuisines also put substantial emphasis on sauces as condiments, seasonings, or accompaniments (in part due to the difficulty of seasonings penetrating the often larger pieces of meat used in Western cooking). Many dairy products are utilised in the cooking process, except in
nouvelle cuisine
Nouvelle Cuisine
Nouvelle cuisine is an approach to cooking and food presentation used in French cuisine. By contrast with cuisine classique, an older form of French haute cuisine, nouvelle cuisine is characterized by lighter, more delicate dishes and an increased emphasis on presentation.-History:The term...
.
Wheat
Wheat
Wheat is a cereal grain, originally from the Levant region of the Near East, but now cultivated worldwide. In 2007 world production of wheat was 607 million tons, making it the third most-produced cereal after maize and rice...
-flour bread has long been the most common sources of
starch
Starch
Starch or amylum is a carbohydrate consisting of a large number of glucose units joined together by glycosidic bonds. This polysaccharide is produced by all green plants as an energy store...
in this cuisine, along with
pasta
Pasta
Pasta is a staple food of traditional Italian cuisine, now of worldwide renown. It takes the form of unleavened dough, made in Italy, mostly of durum wheat , water and sometimes eggs. Pasta comes in a variety of different shapes that serve for both decoration and to act as a carrier for the...
,
dumpling
Dumpling
Dumplings are cooked balls of dough. They are based on flour, potatoes or bread, and may include meat, fish, vegetables, or sweets. They may be cooked by boiling, steaming, simmering, frying, or baking. They may have a filling, or there may be other ingredients mixed into the dough. Dumplings may...
s and
pastries
Pastry
Pastry is the name given to various kinds of baked products made from ingredients such as flour, sugar, milk, butter, shortening, baking powder and/or eggs. Small cakes, tarts and other sweet baked products are called "pastries."...
, although the
potato
Potato
The potato is a starchy, tuberous crop from the perennial Solanum tuberosum of the Solanaceae family . The word potato may refer to the plant itself as well as the edible tuber. In the region of the Andes, there are some other closely related cultivated potato species...
has become a major starch plant in the diet of Europeans and their diaspora since the European colonisation of the Americas.
Maize
Maize
Maize known in many English-speaking countries as corn or mielie/mealie, is a grain domesticated by indigenous peoples in Mesoamerica in prehistoric times. The leafy stalk produces ears which contain seeds called kernels. Though technically a grain, maize kernels are used in cooking as a vegetable...
is much less common in most European diets than it is in the
Americas
Americas
The Americas, or America , are lands in the Western hemisphere, also known as the New World. In English, the plural form the Americas is often used to refer to the landmasses of North America and South America with their associated islands and regions, while the singular form America is primarily...
; however corn meal, or
polenta
Polenta
Polenta is a dish made from boiled cornmeal. The word "polenta" is borrowed from Italian.-Description:Polenta is made with ground yellow or white cornmeal , which can be ground coarsely or finely depending on the region and the texture desired.As it is known today, polenta derives from earlier...
, is a major part of the cuisine of
Italy
Italy
Italy , officially the Italian Republic languages]] under the European Charter for Regional or Minority Languages. In each of these, Italy's official name is as follows:;;;;;;;;), is a unitary parliamentary republic in South-Central Europe. To the north it borders France, Switzerland, Austria and...
and the
Balkans
Balkans
The Balkans is a geopolitical and cultural region of southeastern Europe...
.
Eastern European cuisines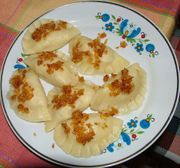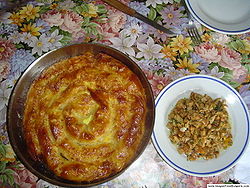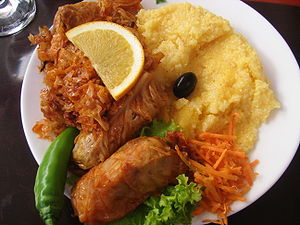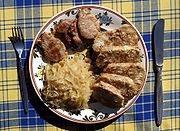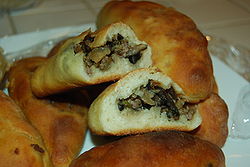 Armenian cuisine
Armenian cuisine
Armenian cuisine includes the foods and cooking techniques of the Armenian people, the Armenian diaspora and traditional Armenian foods and dishes. The cuisine reflects the history and geography where Armenians have lived as well as incorporating outside influences...
Azerbaijani cuisine
Belarusian cuisine
Belarusian cuisine
Belarusian cuisine shares the same roots with cuisines of other Eastern and Northern European countries, basing predominantly on meat and various vegetables typical for the region.-History:...
Bulgarian cuisine
Bulgarian cuisine
Bulgarian cuisine is a representative of the cuisine of Southeastern Europe. Essentially South Slavic, it shares characteristics with other Balkans cuisines...
Czech cuisine
Czech cuisine
Czech cuisine has both influenced and been influenced by the cuisines of surrounding countries. Many of the fine cakes and pastries that are popular in Central Europe originated in the Czech lands. Czech cuisine is marked by a strong emphasis on meat dishes. Pork is quite common, and beef and...
Georgian cuisine Hungarian cuisine Moldovan cuisine
Polish cuisine
Polish cuisine
Polish cuisine is a style of cooking and food preparation originating from Poland. It has evolved over the centuries due to historical circumstances. Polish national cuisine shares some similarities with other Central European and Eastern European traditions as well as French and Italian...
Romanian cuisine
Romanian cuisine
Romanian cuisine is a diverse blend of different dishes from several traditions with which it has come into contact, but it also maintains its own character...
Russian cuisine
Russian cuisine
Russian cuisine is diverse, as Russia is the largest country in the world. Russian cuisine derives its varied character from the vast and multi-cultural expanse of Russia. Its foundations were laid by the peasant food of the rural population in an often harsh climate, with a combination of...
Northern European cuisines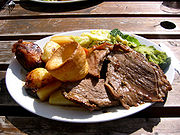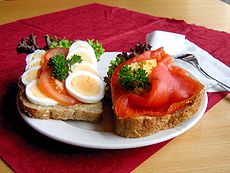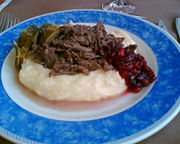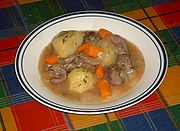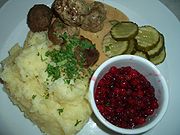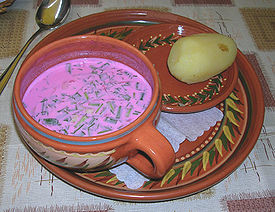 British cuisine
British cuisine
English cuisine encompasses the cooking styles, traditions and recipes associated with England. It has distinctive attributes of its own, but also shares much with wider British cuisine, largely due to the importation of ingredients and ideas from places such as North America, China, and India...
Southern European cuisines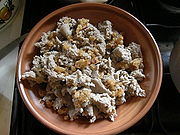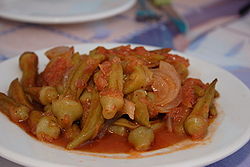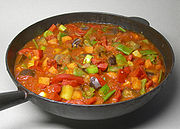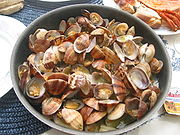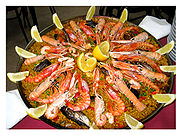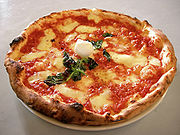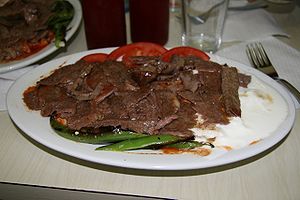 Albanian cuisine
Bosnian cuisine
Bosnian cuisine
Bosnian cuisine is balanced between Western and Eastern influences. The food is closely related to Turkish, Middle Eastern and other Mediterranean cuisines. However, due to years of Austrian rule, there are also many culinary influences from Central Europe....
Croatian cuisine
Croatian cuisine
Croatian cuisine is heterogeneous and is known as the cuisine of regions, since every region has its own distinct culinary traditions. Its modern roots date back to ancient periods and the differences in the selection of foodstuffs and forms of cooking are most notable between those on the mainland...
Cypriot cuisine
Cypriot cuisine
Cypriot cuisine is the cuisine of Cyprus and can be described as a blend of Greek cuisines. Greek Cypriot cuisine is another regional Greek cuisine along with Cretan, Ionian, or Attic....
Gibraltarian cuisine
Gibraltarian cuisine
Gibraltarian cuisine is the result of a long relationship between the Andalucian Spaniards and the British, as well as the many foreigners who made Gibraltar their home over the past three centuries. The culinary influences include those from Malta, Genoa, Portugal, Andalusia and Britain...
Greek cuisine
Western European cuisines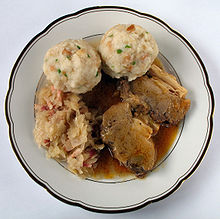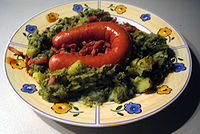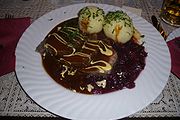 Austrian cuisine
Belgian cuisine
Belgian cuisine
Belgium has been called a nation of gourmands rather than gourmets: a country, in other words, where "big cuisine" comes before "fine cuisine". It has been said that Belgium serves food of French quality in German quantities.-Frieten or frites:...
Dutch cuisine
Dutch cuisine
Dutch cuisine is shaped by the practice of fishing and farming, including the cultivation of the soil for raising crops and the raising of domesticated animals, and the history of the Netherlands.-History:...
French cuisine
French cuisine
French cuisine is a style of food preparation originating from France that has developed from centuries of social change. In the Middle Ages, Guillaume Tirel , a court chef, authored Le Viandier, one of the earliest recipe collections of Medieval France...