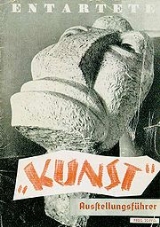 Ernst Krenek
Ernst Krenek
was an
Austria
Austria
Austria , officially the Republic of Austria , is a landlocked country of roughly 8.4 million people in Central Europe. It is bordered by the Czech Republic and Germany to the north, Slovakia and Hungary to the east, Slovenia and Italy to the south, and Switzerland and Liechtenstein to the...
n of Czech origin and, from 1945, American
composer
Composer
A composer is a person who creates music, either by musical notation or oral tradition, for interpretation and performance, or through direct manipulation of sonic material through electronic media...
. He explored
atonality
Atonality
Atonality in its broadest sense describes music that lacks a tonal center, or key. Atonality in this sense usually describes compositions written from about 1908 to the present day where a hierarchy of pitches focusing on a single, central tone is not used, and the notes of the chromatic scale...
and other
modern
Contemporary classical music
Contemporary classical music can be understood as belonging to the period that started in the mid-1970s with the retreat of modernism. However, the term may also be employed in a broader sense to refer to all post-1945 modern musical forms.-Categorization:...
styles and wrote a number of books, including
Music Here and Now
(1939), a study of
Johannes Ockeghem
Johannes Ockeghem
Johannes Ockeghem was the most famous composer of the Franco-Flemish School in the last half of the 15th century, and is often considered the most...
(1953), and
Horizons Circled: Reflections on my Music
(1974). Krenek wrote two pieces using the pseudonym Thornton Winsloe.
Life
Krenek was born in
Vienna
Vienna
Vienna is the capital and largest city of the Republic of Austria and one of the nine states of Austria. Vienna is Austria's primary city, with a population of about 1.723 million , and is by far the largest city in Austria, as well as its cultural, economic, and political centre...
as the son of a Czech soldier in the Austro-Hungarian army. Throughout his life, however, he insisted that his name be written
Krenek
rather than his father's
Křenek
, and that it should be pronounced as a German word. He studied there and in
Berlin
Berlin
Berlin is the capital city of Germany and is one of the 16 states of Germany. With a population of 3.45 million people, Berlin is Germany's largest city. It is the second most populous city proper and the seventh most populous urban area in the European Union...
with
Franz Schreker
Franz Schreker
Franz Schreker was an Austrian composer, conductor, teacher and administrator. Primarily a composer of operas, his style is characterized by aesthetic plurality , timbral experimentation, strategies of extended tonality and...
before working in a number of German opera houses as
conductor
Conducting
Conducting is the art of directing a musical performance by way of visible gestures. The primary duties of the conductor are to unify performers, set the tempo, execute clear preparations and beats, and to listen critically and shape the sound of the ensemble...
. During
World War I
World War I
World War I , which was predominantly called the World War or the Great War from its occurrence until 1939, and the First World War or World War I thereafter, was a major war centred in Europe that began on 28 July 1914 and lasted until 11 November 1918...
, Krenek was drafted into the Austrian army, but he was stationed in Vienna, allowing him to go on with his musical studies. In 1922 he met
Alma Mahler
Alma Mahler
Alma Maria Mahler Gropius Werfel was a Viennese-born socialite well known in her youth for her beauty and vivacity. She became the wife, successively, of composer Gustav Mahler, architect Walter Gropius, and novelist Franz Werfel, as well as the consort of several other prominent men...
, wife of the late
Gustav Mahler
Gustav Mahler
Gustav Mahler was a late-Romantic Austrian composer and one of the leading conductors of his generation. He was born in the village of Kalischt, Bohemia, in what was then Austria-Hungary, now Kaliště in the Czech Republic...
, and her daughter,
Anna
Anna Mahler
Anna Justine Mahler was an Austrian sculptor.-Early Life:Born in Vienna, she was the daughter of the composer Gustav Mahler and his wife Alma Schindler. They nicknamed her 'Gucki' on account of her big blue eyes...
, whom he married in March 1924. That marriage ended in divorce before its first anniversary.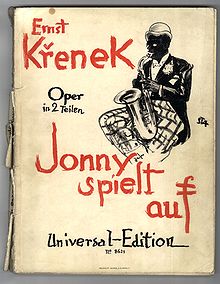 At the time of his marriage to Anna Mahler, Krenek was completing his Violin Concerto No. 1, Op. 29. The
Australia
Australia
Australia , officially the Commonwealth of Australia, is a country in the Southern Hemisphere comprising the mainland of the Australian continent, the island of Tasmania, and numerous smaller islands in the Indian and Pacific Oceans. It is the world's sixth-largest country by total area...
n violinist
Alma Moodie
Alma Moodie
Alma Templeton Moodie was an Australian violinist who established an excellent reputation in Germany in the 1920s and 1930s. She was regarded as the foremost female violinist during the inter-war years, and she premiered violin concertos by Kurt Atterberg, Hans Pfitzner and Ernst Krenek...
assisted Krenek, not with the scoring of the violin part, but with getting financial assistance from her Swiss patron
Werner Reinhart
Werner Reinhart
Werner Reinhart was a Swiss industrialist, philanthropist, amateur clarinetist, and patron of composers and writers, particularly Igor Stravinsky and Rainer Maria Rilke...
at a time when there was hyper-inflation in Germany. In gratitude, Krenek dedicated the concerto to Moodie, and she premiered it on 5 January 1925, in
Dessau
Dessau
Dessau is a town in Germany on the junction of the rivers Mulde and Elbe, in the Bundesland of Saxony-Anhalt. Since 1 July 2007, it is part of the merged town Dessau-Roßlau. Population of Dessau proper: 77,973 .-Geography:...
. Krenek's divorce from Anna Mahler became final a few days after the premiere. Krenek did not attend the premiere, but he did have an affair with Moodie, which has been described as "short-lived and complicated". He never managed to hear her play the concerto, but he did "immortalize some aspects of her personality in the character of Anita in his opera
Jonny spielt auf
Jonny spielt auf
Jonny spielt auf is an opera with words and music by Ernst Krenek about a jazz violinist. The work typified the cultural freedom of the 'golden era' of the Weimar Republic.-Performance history:...
". In 1924, Krenek also dedicated his Sonata for Solo Violin, Op. 33 to Alma Moodie, and his
Kleine Suite
, Op. 28 (1924) to Reinhart.
His journalism was banned and his music was targeted in Germany by the Nazi Party beginning in 1933. On March 6, one day after
elections
German election, 1933
The German federal election, March 1933 to the Reichstag of the Weimar Republic was held on 5 March 1933. The Nazis registered a large increase in votes again emerging as the largest party by far, nevertheless they failed to obtain absolute majority...
in which the Nazis gained control of the Reichstag, Krenek's incidental music to Goethe's
Triumph der Empfindsamkeit
was withdrawn in
Mannheim
Mannheim
Mannheim is a city in southwestern Germany. With about 315,000 inhabitants, Mannheim is the second-largest city in the Bundesland of Baden-Württemberg, following the capital city of Stuttgart....
, and eventually pressure was brought to bear on the
Vienna State Opera
Vienna State Opera
The Vienna State Opera is an opera house – and opera company – with a history dating back to the mid-19th century. It is located in the centre of Vienna, Austria. It was originally called the Vienna Court Opera . In 1920, with the replacement of the Habsburg Monarchy by the First Austrian...
, which cancelled the
commissioned
Commission (art)
In art, a commission is the hiring and payment for the creation of a piece, often on behalf of another.In classical music, ensembles often commission pieces from composers, where the ensemble secures the composer's payment from private or public organizations or donors.- Commissions for public art...
premiere of
Karl V
Karl V
Karl V is an opera, described as a Bühnenwerk mit Musik by Ernst Krenek, his opus 73. The German libretto is by the composer....
. The jazz imitations of
Jonny spielt auf
were included in the 1938
Degenerate art
Degenerate art
Degenerate art is the English translation of the German entartete Kunst, a term adopted by the Nazi regime in Germany to describe virtually all modern art. Such art was banned on the grounds that it was un-German or Jewish Bolshevist in nature, and those identified as degenerate artists were...
exhibition in
Munich
Munich
Munich The city's motto is "" . Before 2006, it was "Weltstadt mit Herz" . Its native name, , is derived from the Old High German Munichen, meaning "by the monks' place". The city's name derives from the monks of the Benedictine order who founded the city; hence the monk depicted on the city's coat...
. Nonetheless, despite protests by conservatives and the fledgling Nazi party, that work was a great success in Krenek's lifetime, playing all over Europe and becoming so popular that even a brand of cigarettes, still on the market today in Austria, was named "Jonny".
In 1938 Krenek moved to the United States of America, where he taught music at various universities, the first being
Vassar College
Vassar College
Vassar College is a private, coeducational liberal arts college in the town of Poughkeepsie, New York, in the United States. The Vassar campus comprises over and more than 100 buildings, including four National Historic Landmarks, ranging in style from Collegiate Gothic to International,...
. He later taught at other institutions including
Hamline University
Hamline University
-Red Wing location :Hamline was named in honor of Leonidas Lent Hamline, a bishop of the Methodist Church whose interest in the frontier led him to donate $25,000 toward the building of an institution of higher learning in what was then the territory of Minnesota. Today, a statue of Bishop Hamline...
in
Saint Paul
Saint Paul, Minnesota
Saint Paul is the capital and second-most populous city of the U.S. state of Minnesota. The city lies mostly on the east bank of the Mississippi River in the area surrounding its point of confluence with the Minnesota River, and adjoins Minneapolis, the state's largest city...
,
Minnesota
Minnesota
Minnesota is a U.S. state located in the Midwestern United States. The twelfth largest state of the U.S., it is the twenty-first most populous, with 5.3 million residents. Minnesota was carved out of the eastern half of the Minnesota Territory and admitted to the Union as the thirty-second state...
from 1942-1947. There he met and married his third wife, his student and composer
Gladys Nordenstrom
Gladys Nordenstrom
-Life:Gladys Nordenstrom was born in Mora, Minnesota. She studied music at the Institute of Fine Arts at Hamline University in Saint Paul, Minnesota, where she received Bachelors and Masters degrees. She studied under and then married Austrian composer Ernst Krenek there in 1950...
. He became an American citizen in 1945. He later moved to Toronto, Canada where he taught at The Royal Conservatory of Music during the 1950s. His students included
Milton Barnes
Milton Barnes (composer)
Milton Barnes was a Canadian composer, conductor, and jazz drummer. An associate of the Canadian Music Centre, his music is noted for its frequent use of Jewish themes, its rejection of the avant garde in favor of tonality, and its blend of classical, jazz, and pop elements. His music has been...
,
Lorne Betts
Lorne Betts
Lorne Matheson Betts was a Canadian composer, conductor, organist, and music critic. A member of the Canadian League of Composers and an associate of the Canadian Music Centre, many of his original scores and writings are part of the collection at the National Library of Canada...
,
Samuel Dolin
Samuel Dolin
Samuel Joseph Dolin was a Canadian composer, music educator, and arts administrator. An associate of the Canadian Music Centre and a founding member of the Canadian League of Composers , he served as the CLC's vice president in 1967-1968 and president from 1969-1973...
,
Robert Erickson
Robert Erickson
Robert Erickson was an American composer.He studied with Ernst Krenek from 1936-1947: "I had already studied—and abandoned—the twelve tone system before most other Americans had taken it up." He influenced notable students Morton Subotnick, Pauline Oliveros, Terry Riley, and Paul Dresher...
,
Halim El-Dabh
Halim El-Dabh
Halim Abdul Messieh El-Dabh is an Egyptian-born American composer, performer, ethnomusicologist, and educator, who has had a career spanning six decades...
,
Richard Maxfield
Richard Maxfield
Richard Maxfield was a composer of instrumental, electro-acoustic, and electronic music.Born in Seattle, he most likely taught the first University-level course in electronic music in America at the New School for Social Research...
,
Will Ogdon
Will Ogdon
Will Ogdon is an American composer. He taught at the University of California, San Diego beginning in 1966, and retiring in 1991.He was originally from Redlands, California...
, and
George Perle
George Perle
George Perle was a composer and music theorist. He was born in Bayonne, New Jersey. Perle was an alumnus of DePaul University...
. He died in
Palm Springs, California
Palm Springs, California
Palm Springs is a desert city in Riverside County, California, within the Coachella Valley. It is located approximately 37 miles east of San Bernardino, 111 miles east of Los Angeles and 136 miles northeast of San Diego...
. In 1998 Gladys Nordenstrom founded the Ernst Krenek Institute and in 2004 the private foundation Krems die Ernst Krenek in Vienna, Austria
Completions of other composers' unfinished works
After meeting Krenek in 1922, Alma Mahler asked him to complete her late husband's
Symphony No. 10
Symphony No. 10 (Mahler)
The Symphony No. 10 by Gustav Mahler was written in the summer of 1910, and was his final composition. At the time of Mahler's death the composition was substantially complete in the form of a continuous draft; but not being fully elaborated at every point, and mostly not orchestrated, it was not...
. Krenek assisted in editing the first and third movements but went no further. More fruitful was Krenek's response to an approximately contemporary request from his
pianist
Pianist
A pianist is a musician who plays the piano. A professional pianist can perform solo pieces, play with an ensemble or orchestra, or accompany one or more singers, solo instrumentalists, or other performers.-Choice of genres:...
and
composer
Composer
A composer is a person who creates music, either by musical notation or oral tradition, for interpretation and performance, or through direct manipulation of sonic material through electronic media...
friend
Eduard Erdmann
Eduard Erdmann
Eduard Erdmann was a Baltic German pianist and composer.Erdmann was born in Wenden in Livonia. He was the great-nephew of the philosopher Johann Eduard Erdmann. His first musical studies were in Riga, where his teachers were Bror Möllersten and Jean du Chastain and Harald Creutzburg...
, who wished to add Schubert's
Reliquie piano sonata
Piano Sonata in C major, D. 840 (Schubert)
Franz Schubert's Piano Sonata No. 15 in C major, D. 840, nicknamed Reliquie upon its first publication in 1861 in the mistaken belief that it had been Schubert's last work, was written in April 1825, whilst the composer was also working on the A minor sonata, D. 845 in tandem...
to his repertoire, for completions of that work's fragmentary third and fourth movements. Krenek's completion, dated to 1921 in some sources but to 1922 in his own memory, later found other champions in Webster Aitkin in the concert hall and
Ray Lev
Ray Lev
Ray Lev was an American classical pianist. One year after her birth in Rostov na Donau, Russia, her father, a synagogue cantor, and mother, a concert singer, brought her to the United States.-Life:...
and
Friedrich Wührer
Friedrich Wührer
Friedrich Wührer was an Austrian-German pianist and piano pedagogue. He was a close associate and advocate of composer Franz Schmidt, whose music he edited and, in the case of the works for left hand alone, revised for performance with two hands; he was also a champion of the Second Viennese...
on records.
In his notes to the Lev recording, dated July 1947, Krenek offered insights into the challenges of completing another composer's works in general and the Schubert sonata in particular.
Completing the unfinished work of a great master is a very delicate task. In my opinion it can honestly be undertaken only if the original fragment contains all of the main ideas of the unfinished work. In such a case a respectful craftsman may attempt, after an absorbing study of the master's style, to elaborate on those ideas in a way which to the best of his knowledge might have been the way of the master himself. The work in question will probably have analogies among other, completed works of the master, and careful investigation of his methods in similar situations will indicate possible solutions of the problems posed by the unfinished work. Even then the artist who goes about the ticklish task will feel slightly uneasy, knowing from his own experience as a composer that the creative mind does not always follow its own precedents. He is more conscious of the fact that unpredictability is one of the most jealously guarded prerogatives of genius. … However, scruples of this kind may be set aside once we are certain that the author of the fragment has put forth the essential thematic material that was expected to go into the work. If this is not the case, I feel that no one, not even the greatest genius, should dare to complete the fragments left by another genius."
As an example, Krenek explains that a careful student of Rembrandt's style might be able to complete a painting lacking one or two corners but could never supply two entirely missing paintings from a four-painting series; such an attempt would result only in "more or less successful fakes." Turning to a musical example, Krenek, evidently unaware of the surviving sketch of a third movement, avers that Schubert's own
"Unfinished" Symphony
Symphony No. 8 (Schubert)
Franz Schubert's Symphony No. 8 in B minor , commonly known as the "Unfinished Symphony" , D.759, was started in 1822 but left with only two movements known to be complete, even though Schubert would live for another six years. A scherzo, nearly completed in piano score but with only two pages...
"was left by its creator with only two of its four movements written; of the other two there is no trace. It would be possible to write two or more movements to the symphony in the manner of Schubert, but it would not be Schubert."
Musical style
Krenek's music encompassed a variety of styles and reflects many of the principal musical influences of the 20th century.
His early work is in a late-Romantic

Romantic music

Romantic music or music in the Romantic Period is a musicological and artistic term referring to a particular period, theory, compositional practice, and canon in Western music history, from 1810 to 1900....


idiom, showing the influence of his teacher Franz Schreker.
Around 1920 he turned to atonality

Atonality

Atonality in its broadest sense describes music that lacks a tonal center, or key. Atonality in this sense usually describes compositions written from about 1908 to the present day where a hierarchy of pitches focusing on a single, central tone is not used, and the notes of the chromatic scale...


, under the influence of Ernst Kurth's textbook, Lineare Kontrapunkt, and the tenets of Busoni, Schnabel, Erdmann, and Scherchen, amongst others.
A visit to Paris

Paris

Paris is the capital and largest city in France, situated on the river Seine, in northern France, at the heart of the Île-de-France region...


, during which he became familiar with the work of Igor Stravinsky

Igor Stravinsky

Igor Fyodorovich Stravinsky ; 6 April 1971) was a Russian, later naturalized French, and then naturalized American composer, pianist, and conductor....


(Pulcinella was especially influential) and Les Six

Les Six

Les six is a name, inspired by The Five, given in 1920 by critic Henri Collet in an article titled "" to a group of six composers working in Montparnasse whose music is often seen as a reaction against the musical style of Richard Wagner and impressionist music.-Members:Formally, the Groupe des...


, led him to adopt a neo-classical style around 1924.
Shortly afterward, he turned to neoromanticism and incorporated jazz

Jazz

Jazz is a musical style that originated at the beginning of the 20th century in African American communities in the Southern United States. It was born out of a mix of African and European music traditions. From its early development until the present, jazz has incorporated music from 19th and 20th...


influences into his opera

Opera

Opera is an art form in which singers and musicians perform a dramatic work combining text and musical score, usually in a theatrical setting. Opera incorporates many of the elements of spoken theatre, such as acting, scenery, and costumes and sometimes includes dance...


Jonny spielt auf (Jonny Strikes Up, 1926) and one-act opera Schwergewicht

Schwergewicht

Schwergewicht, oder Die Ehre der Nation is a burleske Operette with text and music by Ernst Krenek, his opus 55 and the third of his 1928 one-acters...


(1928). Other neoromantic works of this period were modeled on music of Franz Schubert

Franz Schubert

Franz Peter Schubert was an Austrian composer.Although he died at an early age, Schubert was tremendously prolific. He wrote some 600 Lieder, nine symphonies , liturgical music, operas, some incidental music, and a large body of chamber and solo piano music...


, a prime example being Reisebuch aus den österreichischen Alpen (1929).
Krenek abandoned the neoromantic style in the late 1920s to embrace Arnold Schoenberg

Arnold Schoenberg

Arnold Schoenberg was an Austrian composer, associated with the expressionist movement in German poetry and art, and leader of the Second Viennese School...


's twelve-tone technique

Twelve-tone technique

Twelve-tone technique is a method of musical composition devised by Arnold Schoenberg...


, the method exclusively employed in Krenek's opera Karl V

Karl V

Karl V is an opera, described as a Bühnenwerk mit Musik by Ernst Krenek, his opus 73. The German libretto is by the composer....


(1931–33) and most of his later pieces. His most uncompromising use of the twelve-tone technique was in his Sixth String Quartet (1936) and his Piano Variations (1937). In the Lamentatio Jeremiae prophetae (1941–42) Krenek combined twelve-tone writing with techniques of modal

Musical mode

In the theory of Western music since the ninth century, mode generally refers to a type of scale. This usage, still the most common in recent years, reflects a tradition dating to the middle ages, itself inspired by the theory of ancient Greek music.The word encompasses several additional...


counterpoint

Counterpoint

In music, counterpoint is the relationship between two or more voices that are independent in contour and rhythm and are harmonically interdependent . It has been most commonly identified in classical music, developing strongly during the Renaissance and in much of the common practice period,...


of the Middle Ages

Middle Ages

The Middle Ages is a periodization of European history from the 5th century to the 15th century. The Middle Ages follows the fall of the Western Roman Empire in 476 and precedes the Early Modern Era. It is the middle period of a three-period division of Western history: Classic, Medieval and Modern...


.
In 1955 he was invited to work in the electronic music

Electronic music

Electronic music is music that employs electronic musical instruments and electronic music technology in its production. In general a distinction can be made between sound produced using electromechanical means and that produced using electronic technology. Examples of electromechanical sound...


studio at WDR in Cologne

Cologne

Cologne is Germany's fourth-largest city , and is the largest city both in the Germany Federal State of North Rhine-Westphalia and within the Rhine-Ruhr Metropolitan Area, one of the major European metropolitan areas with more than ten million inhabitants.Cologne is located on both sides of the...


, and this experience motivated him to develop a serial

Serialism

In music, serialism is a method or technique of composition that uses a series of values to manipulate different musical elements. Serialism began primarily with Arnold Schoenberg's twelve-tone technique, though his contemporaries were also working to establish serialism as one example of...


idiom.
Beginning around 1960 he added to his serial vocabulary some principles of aleatoric music

Aleatoric music

Aleatoric music is music in which some element of the composition is left to chance, and/or some primary element of a composed work's realization is left to the determination of its performer...


, in works such as Horizon Circled (1967), From Three Make Seven (1960–61), and Fibonacci-Mobile (1964).
In his later years his compositional style became more relaxed, though he continued to use elements of both twelve-tone and serial techniques.
Works
See
List of compositions by Ernst Krenek
and
List of operas by Krenek
.
External links