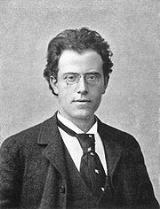 Gustav Mahler
Gustav Mahler
(ˈɡʊstaf ˈmaːlɐ; 1860 – 1911) was a late-
Romantic
Romantic music
Romantic music or music in the Romantic Period is a musicological and artistic term referring to a particular period, theory, compositional practice, and canon in Western music history, from 1810 to 1900....
Austrian composer and one of the leading conductors of his generation. He was born in the village of Kalischt,
Bohemia
Bohemia
Bohemia is a historical region in central Europe, occupying the western two-thirds of the traditional Czech Lands. It is located in the contemporary Czech Republic with its capital in Prague...
, in what was then Austria-Hungary, now
Kaliště
Kalište (Pelhrimov District)
Kaliště is a village and municipality of the Pelhřimov District in the Vysočina Region, Czech Republic. It is located at the watershed of the Želivka and Sázava rivers, about northwest of Humpolec. The population is about 330....
in the Czech Republic. Then his family moved to nearby Iglau (now
Jihlava
Jihlava
Jihlava is a city in the Czech Republic. Jihlava is a centre of the Vysočina Region, situated on the Jihlava river on the ancient frontier between Moravia and Bohemia, and is the oldest mining town in the Czech Republic, ca. 50 years older than Kutná Hora.Among the principal buildings are the...
) where Mahler grew up.
As a composer, he acted as a bridge between the 19th century Austro-German tradition and the
modernism
Modernism (music)
Modernism in music is characterized by a desire for or belief in progress and science, surrealism, anti-romanticism, political advocacy, general intellectualism, and/or a breaking with the past or common practice.- Defining musical modernism :...
of the early 20th century.