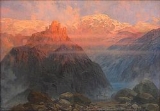 Romantic music
Romantic music
or music in the Romantic Period is a musicological and artistic term referring to a particular
period
Era
An era is a commonly used word for long period of time. When used in science, for example geology, eras denote clearly defined periods of time of arbitrary but well defined length, such as for example the Mesozoic era from 252 Ma–66 Ma, delimited by a start event and an end event. When used in...
,
theory
Music theory
Music theory is the study of how music works. It examines the language and notation of music. It seeks to identify patterns and structures in composers' techniques across or within genres, styles, or historical periods...
,
compositional
Musical composition
Musical composition can refer to an original piece of music, the structure of a musical piece, or the process of creating a new piece of music. People who practice composition are called composers.- Musical compositions :...
practice, and
canon
Western canon
The term Western canon denotes a canon of books and, more broadly, music and art that have been the most important and influential in shaping Western culture. As such, it includes the "greatest works of artistic merit." Such a canon is important to the theory of educational perennialism and the...
in Western
music history
Music history
Music history, sometimes called historical musicology, is the highly diverse subfield of the broader discipline of musicology that studies the composition, performance, reception, and criticism of music over time...
, from 1810 to 1900.
Romantic music as a movement evolved from the formats, genres and musical ideas established in earlier periods, such as the classical period, and went further in the name of expression and syncretism of different art-forms with music.