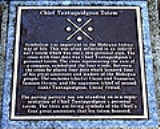 Totem
A
totem
is a stipulated ancestor of a group of
people
People
People is a plurality of human beings or other beings possessing enough qualities constituting personhood. It has two usages:* as the plural of person or a group of people People is a plurality of human beings or other beings possessing enough qualities constituting personhood. It has two usages:*...
, such as a
family
Family
In human context, a family is a group of people affiliated by consanguinity, affinity, or co-residence. In most societies it is the principal institution for the socialization of children...
,
clan
Clan
A clan is a group of people united by actual or perceived kinship and descent. Even if lineage details are unknown, clan members may be organized around a founding member or apical ancestor. The kinship-based bonds may be symbolical, whereby the clan shares a "stipulated" common ancestor that is a...
, group, lineage, or
tribe
Tribe
A tribe, viewed historically or developmentally, consists of a social group existing before the development of, or outside of, states.Many anthropologists use the term tribal society to refer to societies organized largely on the basis of kinship, especially corporate descent groups .Some theorists...
.
Totems support larger groups than the individual person. In kinship and descent, if the apical ancestor of a clan is nonhuman, it is called a totem. Normally this belief is accompanied by a totemic myth.
Although the term is of Ojibwe origin in
North America
North America
North America is a continent wholly within the Northern Hemisphere and almost wholly within the Western Hemisphere. It is also considered a northern subcontinent of the Americas...
, totemistic beliefs are not limited to
Native Americans
Indigenous peoples of the Americas
The indigenous peoples of the Americas are the pre-Columbian inhabitants of North and South America, their descendants and other ethnic groups who are identified with those peoples. Indigenous peoples are known in Canada as Aboriginal peoples, and in the United States as Native Americans...
. Similar totem-like beliefs have been historically present in societies throughout much of the world, including Africa, Asia, Australia, Eastern Europe, Western Europe, and the Arctic polar region.
In modern times, some single individuals, not otherwise involved in the practice of a tribal religion, have chosen to adopt a personal spirit animal helper, which has special meaning to them, and may refer to this as a totem. This non-traditional usage of the term is prevalent in the
New Age
New Age
The New Age movement is a Western spiritual movement that developed in the second half of the 20th century. Its central precepts have been described as "drawing on both Eastern and Western spiritual and metaphysical traditions and then infusing them with influences from self-help and motivational...
movement, and the mythopoetic men's movement.
Totemism

Totemism
(derived from the root
-oode-
in the
Ojibwe language
Ojibwe language
Ojibwe , also called Anishinaabemowin, is an indigenous language of the Algonquian language family. Ojibwe is characterized by a series of dialects that have local names and frequently local writing systems...
, which referred to something kinship-related, c.f.
odoodem
, "his totem") is a
religious
Religion
Religion is a collection of cultural systems, belief systems, and worldviews that establishes symbols that relate humanity to spirituality and, sometimes, to moral values. Many religions have narratives, symbols, traditions and sacred histories that are intended to give meaning to life or to...
belief
Belief
Belief is the psychological state in which an individual holds a proposition or premise to be true.-Belief, knowledge and epistemology:The terms belief and knowledge are used differently in philosophy....
that is frequently associated with
shamanistic
Shamanism
Shamanism is an anthropological term referencing a range of beliefs and practices regarding communication with the spiritual world. To quote Eliade: "A first definition of this complex phenomenon, and perhaps the least hazardous, will be: shamanism = technique of ecstasy." Shamanism encompasses the...
religions. The totem is usually an animal or other natural figure that spiritually represents a group of related people such as a clan.
Totemism was a key element of study in the development of 19th and early 20th century theories of religion, especially for thinkers such as
Émile Durkheim
Émile Durkheim
David Émile Durkheim was a French sociologist. He formally established the academic discipline and, with Karl Marx and Max Weber, is commonly cited as the principal architect of modern social science and father of sociology.Much of Durkheim's work was concerned with how societies could maintain...
, who concentrated their study on primitive societies. Drawing on the identification of social group with spiritual totem in Australian aboriginal tribes, Durkheim theorized that all human religious expression was intrinsically founded in the relationship to a group.
In his essay "Le Totemisme aujourdhui" (Totemism Today), the anthropologist
Claude Lévi-Strauss
Claude Lévi-Strauss
Claude Lévi-Strauss was a French anthropologist and ethnologist, and has been called, along with James George Frazer, the "father of modern anthropology"....
argued that human cognition, which is based on analogical thought, is independent of social context. From this, he excludes mathematical thought, which operates primarily through
logic
Logic
In philosophy, Logic is the formal systematic study of the principles of valid inference and correct reasoning. Logic is used in most intellectual activities, but is studied primarily in the disciplines of philosophy, mathematics, semantics, and computer science...
. Totems are chosen arbitrarily for the sole purpose of making the physical world a comprehensive and coherent classificatory system. Lévi-Strauss argues that the use of physical
analogies
Analogy
Analogy is a cognitive process of transferring information or meaning from a particular subject to another particular subject , and a linguistic expression corresponding to such a process...
is not an indication of a more primitive mental capacity. It is rather, a more efficient way to cope with this particular no mode of life in which
abstraction
Abstraction
Abstraction is a process by which higher concepts are derived from the usage and classification of literal concepts, first principles, or other methods....
s are rare, and in which the physical environment is in direct friction with the
society
Society
A society, or a human society, is a group of people related to each other through persistent relations, or a large social grouping sharing the same geographical or virtual territory, subject to the same political authority and dominant cultural expectations...
. He also holds that scientific explanation entails the discovery of an "arrangement"; moreover, since "the science of the concrete" is a classificatory system enabling individuals to classify the world in a rational fashion, it is neither more nor less a
science
Science
Science is a systematic enterprise that builds and organizes knowledge in the form of testable explanations and predictions about the universe...
than any other in the
western world
Western world
The Western world, also known as the West and the Occident , is a term referring to the countries of Western Europe , the countries of the Americas, as well all countries of Northern and Central Europe, Australia and New Zealand...
. It is important to recognise that in this text, Lévi-Strauss manifests the egalitarian nature of his work. Lévi-Strauss diverts the theme of anthropology toward the understanding of human
cognition
Cognition
In science, cognition refers to mental processes. These processes include attention, remembering, producing and understanding language, solving problems, and making decisions. Cognition is studied in various disciplines such as psychology, philosophy, linguistics, and computer science...
.
Lévi-Strauss looked at the ideas of Firth and Fortes, Durkheim, Malinowski, and Evans-Pritchard to reach his conclusions. Firth and Fortes argued that totemism was based on physical or psychological similarities between the clan and the totemic animal. Malinowski proposed that it was based on empirical interest or that the totem was 'good to eat.' In other words, there was rational interest in preserving the species. Finally Evans-Pritchard argued that the reason for totems was metaphoric. His work with the
Nuer
led him to believe that totems are a symbolic representation of the group. Lévi-Strauss considered Evan-Pritchard's work the correct explanation.
Native North American Totems
Not including the totem pole, many Native North American tribes had or have traditions providing every person with nine different animals that will accompany them throughout life. These animals act as guides, surfacing in our lives depending on where we head and what we need at a given moment. One of those animals in particular is said to be your "totem animal;" it is the animal that is with you for life, both in the physical and spiritual world. Many people have a variety of different animal spirits but their "totem animal" is their main guide through life.
North American totem poles

The mis-named
totem pole
Totem pole
Totem poles are monumental sculptures carved from large trees, mostly Western Red Cedar, by cultures of the indigenous peoples of the Pacific Northwest Coast of North America...
s of the
Pacific Northwest
Pacific Northwest
The Pacific Northwest is a region in northwestern North America, bounded by the Pacific Ocean to the west and, loosely, by the Rocky Mountains on the east. Definitions of the region vary and there is no commonly agreed upon boundary, even among Pacific Northwesterners. A common concept of the...
of
North America
North America
North America is a continent wholly within the Northern Hemisphere and almost wholly within the Western Hemisphere. It is also considered a northern subcontinent of the Americas...
are, in fact, not totemic in nature. Rather, they are
heraldic
Heraldry
Heraldry is the profession, study, or art of creating, granting, and blazoning arms and ruling on questions of rank or protocol, as exercised by an officer of arms. Heraldry comes from Anglo-Norman herald, from the Germanic compound harja-waldaz, "army commander"...
. They feature many different designs (bears, birds, frogs, people, and various supernatural beings and aquatic creatures) that function as crests of families or chiefs. They recount stories owned by those families or chiefs, and/or commemorate special occasions.
Possibly totemic culture in ancient China
The
Sanxingdui
Sanxingdui
Sanxingdui is the name of an archaeological site and its deduced culture in China, now believed to be the site of an ancient Chinese city. The previously unknown Bronze Age culture was re-discovered in 1987 when archaeologists excavated remarkable artifacts, that radiocarbon dating dated as being...
Culture in southern
China
China
Chinese civilization may refer to:* China for more general discussion of the country.* Chinese culture* Greater China, the transnational community of ethnic Chinese.* History of China* Sinosphere, the area historically affected by Chinese culture...
, dating back more than 5000 years, possibly placed bronze and gold heads on totems. Chinese transliterates
totem
as
tuteng
(圖騰). Sanxingdui bronze masks and heads (radiocarbon dated circa 1200BCE) appear to have been mounted on wooden poles. Some scholars have suggested that totemic culture spread from ancient
Asian
Asian people
Asian people or Asiatic people is a term with multiple meanings that refers to people who descend from a portion of Asia's population.- Central Asia :...
populations to the rest of the world. Others conclude that totemism arose separately in numerous cultures; totemic cultures in North America are estimated to have been more than 10,000 years old.
Korean JangSeung
A
Jangseung
Jangseung
A jangseung or village guardian is a Korean totem pole usually made of wood. Jangseungs were traditionally placed at the edges of villages to mark for village boundaries and frighten away demons...
or village guardian is a Korean totem pole usually made of wood. Jangseungs were traditionally placed at the edges of villages to mark for village boundaries and frighten away demons or welcome people in. They were also worshipped as village tutelary deities. JangSeungs were usually carved in the images of Janguns (equivalent to Admirals or Generals) and their wives. Many JangSeungs are also depicted laughing but in a frightening way. Many of the villages felt that the frightening laughter of the JangSeungs would frighten away the demons because the JangSeungs have no fear.
Totem beads in the Himalayan region
In the Himalayan region as well as on the whole Tibetan plateau area and adjacent areas, certain beaded jewelry is believed to have totemistic capabilities. Tibetans in particular give much importance to heirloom beads such as
dzi bead
Dzi bead
Dzi bead is a bead stone of mysterious origin worn as part of a necklace and sometimes as a bracelet. In several Asian cultures, including that of Tibet, the bead is considered to provide positive spiritual benefit...
s. Though dzi beads were not produced in ancient Tibet, but by an unknown culture, most ancient dzi beads are owned by Tibetans. Different protective qualities depend on design, number of eyes, damage, color, shine, etc.
The ancient Polish rodnidze
The
rodnidze
known among the pre-Christian ancestors of the
Poles
Poles
thumb|right|180px|The state flag of [[Poland]] as used by Polish government and diplomatic authoritiesThe Polish people, or Poles , are a nation indigenous to Poland. They are united by the Polish language, which belongs to the historical Lechitic subgroup of West Slavic languages of Central Europe...
is considered to have been roughly similar to the totem as mentioned above. In historical times, scholars considered that the animals and birds represented on the coats-of-arms of various Polish aristocratic clans may have been remnants of such totems (see Ślepowron coat of arms, Korwin coat of arms, possible remnants of a raven-rodnidze).
See also
Animal worship

Animal worship

Animal worship refers to religious rituals involving animals, especially in pre-modern societies, such as the glorification of animal deities, or animal sacrifice....



Animism

Animism

Animism refers to the belief that non-human entities are spiritual beings, or at least embody some kind of life-principle....



Anishinaabe clan system

Anishinaabe clan system

The Anishinaabe, like most Algonquian-speaking groups in North America, base their system of kinship on patrilineal clans or totems. The Anishinaabe word for clan was borrowed into English as totem. The clans, based mainly on animals, were instrumental in traditional occupations, inter-tribal...



Aumakua

Aumakua

In Hawaiian mythology, an aumakua is a family god, often a deified ancestor. The Hawaiian plural of aumakua is nā aumākua , although in English the plural is usually aumakuas. Nā aumākua frequently manifested as animals such as sharks or owls. Nā aumākua were worshipped at localities where they...



Axis Mundi

Axis mundi

The axis mundi , in religion or mythology, is the world center and/or the connection between heaven and Earth. As the celestial pole and geographic pole, it expresses a point of connection between sky and earth where the four compass directions meet...



Charge (heraldry)

Charge (heraldry)

In heraldry, a charge is any emblem or device occupying the field of an escutcheon . This may be a geometric design or a symbolic representation of a person, animal, plant, object or other device...



Devak

Devak

A devak, in Marathi culture, is a family guardian or totem in the form of a physical object, such as a tree. Some sources define devak as being distinct from the more generic word totem....


, a type of family totem in Maratha culture
Fylgja

Fylgja

In Norse mythology, a fylgja is a supernatural being or creature which accompanies a person in connection to their fate or fortune...



Jangseung

Jangseung

A jangseung or village guardian is a Korean totem pole usually made of wood. Jangseungs were traditionally placed at the edges of villages to mark for village boundaries and frighten away demons...



Moiety
Nature worship

Nature worship

Nature worship describes a variety of religious, spiritual and devotional practices that focus on natural phenomenon. A nature deity can be in charge of nature, the biosphere, the cosmos or the universe. Nature worship can be found in panentheism, pantheism, deism, polytheism, animism, totemism,...



Tamga, an abstract seal or device used by Eurasian nomadic peoples
Totem and Taboo

Totem and Taboo

Totem and Taboo: Resemblances Between the Mental Lives of Savages and Neurotics is a book by Sigmund Freud published in German in 1913 under the title Totem und Tabu: Einige Übereinstimmungen im Seelenleben der Wilden und der Neurotiker...


by Sigmund Freud

Sigmund Freud

Sigmund Freud , born Sigismund Schlomo Freud , was an Austrian neurologist who founded the discipline of psychoanalysis...



Vahana

Vahana

Vāhana denotes the being, typically an animal or mythical entity, a particular deva is said to use as a vehicle. In this capacity, the vāhana is often called the deity's mount. Upon the partnership between the deva and his vāhana is woven much iconography and mythology...



Wildlife totemization

Wildlife Totemization

Wildlife Totemization is defined as having a system of beliefs in which humans have mystical, emotional, reverential, or genealogical relationships with a totem, that being a natural object such as a plant or animal.-Purpose:...



External links