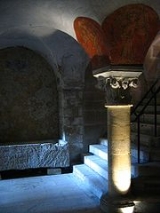 Crypt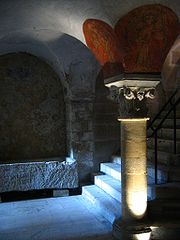 In
architecture
Architecture
Architecture is both the process and product of planning, designing and construction. Architectural works, in the material form of buildings, are often perceived as cultural and political symbols and as works of art...
, a
crypt
(from the
Latin
Latin
Latin is an Italic language originally spoken in Latium and Ancient Rome. It, along with most European languages, is a descendant of the ancient Proto-Indo-European language. Although it is considered a dead language, a number of scholars and members of the Christian clergy speak it fluently, and...
crypta
and the
Greek
Greek language
Greek is an independent branch of the Indo-European family of languages. Native to the southern Balkans, it has the longest documented history of any Indo-European language, spanning 34 centuries of written records. Its writing system has been the Greek alphabet for the majority of its history;...
κρύπτη
,
kryptē
; meaning concealed, private) is a stone chamber or vault beneath the floor of a burial vault possibly containing
sarcophagi
Sarcophagus
A sarcophagus is a funeral receptacle for a corpse, most commonly carved or cut from stone. The word "sarcophagus" comes from the Greek σαρξ sarx meaning "flesh", and φαγειν phagein meaning "to eat", hence sarkophagus means "flesh-eating"; from the phrase lithos sarkophagos...
,
coffin
Coffin
A coffin is a funerary box used in the display and containment of dead people – either for burial or cremation.Contemporary North American English makes a distinction between "coffin", which is generally understood to denote a funerary box having six sides in plan view, and "casket", which...
s or
relic
Relic
In religion, a relic is a part of the body of a saint or a venerated person, or else another type of ancient religious object, carefully preserved for purposes of veneration or as a tangible memorial...
s.
Originally crypts were typically found below the main
apse
Apse
In architecture, the apse is a semicircular recess covered with a hemispherical vault or semi-dome...
of a church, such as at the
Abbey of Saint-Germain en Auxerre
Abbey of Saint-Germain en Auxerre
The Abbey of Saint-Germain d'Auxerre was a Benedictine monastery in southern France, dedicated to its founder Saint Germain of Auxerre, the bishop of Auxerre, who died in 478...
, but were later located beneath
nave
Nave
In Romanesque and Gothic Christian abbey, cathedral basilica and church architecture, the nave is the central approach to the high altar, the main body of the church. "Nave" was probably suggested by the keel shape of its vaulting...
s and
transept
Transept
For the periodical go to The Transept.A transept is a transverse section, of any building, which lies across the main body of the building. In Christian churches, a transept is an area set crosswise to the nave in a cruciform building in Romanesque and Gothic Christian church architecture...
s as well. Occasionally churches were raised high to accommodate a crypt at the ground level, such as
St Michael's Church
St. Michael's Church, Hildesheim
The Church of St. Michael in Hildesheim, Germany, is an early-Romanesque church. It has been on the UNESCO World Cultural Heritage list since 1985.-History:...
in
Hildesheim
Hildesheim
Hildesheim is a city in Lower Saxony, Germany. It is located in the district of Hildesheim, about 30 km southeast of Hanover on the banks of the Innerste river, which is a small tributary of the Leine river...
,
Germany
Germany
Germany , officially the Federal Republic of Germany , is a federal parliamentary republic in Europe. The country consists of 16 states while the capital and largest city is Berlin. Germany covers an area of 357,021 km2 and has a largely temperate seasonal climate...
.
Development
First known in the early Christian period, in particular North Africa at
Chlef
Chlef
Chlef is the capital of Chlef Province, Algeria. It is home to the soccer club ASO Chlef, the Hassiba Ben Bouali university, and the basilica of Saint Reparatus, which is home to the oldest Christian labyrinth in the world....
and
Djemila
Djemila
Djémila is a mountain village in Algeria, near the northern coast east of Algiers, where some of the best preserved Berbero-Roman ruins in North Africa are found...
in
Algeria
Algeria
Algeria , officially the People's Democratic Republic of Algeria , also formally referred to as the Democratic and Popular Republic of Algeria, is a country in the Maghreb region of Northwest Africa with Algiers as its capital.In terms of land area, it is the largest country in Africa and the Arab...
, and
Byzantium
Byzantium
Byzantium was an ancient Greek city, founded by Greek colonists from Megara in 667 BC and named after their king Byzas . The name Byzantium is a Latinization of the original name Byzantion...
at Saint John Studio in
Constantinople
Constantinople
Constantinople was the capital of the Roman, Eastern Roman, Byzantine, Latin, and Ottoman Empires. Throughout most of the Middle Ages, Constantinople was Europe's largest and wealthiest city.-Names:...
. Where Christian churches have been built over
mithraea
Mithraeum
A Mithraeum is a place of worship for the followers of the mystery religion of Mithraism.The Mithraeum was either an adapted natural cave or cavern or an artificial building imitating a cavern. Mithraea were dark and windowless, even if they were not actually in a subterranean space or in a natural...
, the mithraeum has often been adapted to serve as a crypt.
The famous crypt at Old St. Peter's Basilica, Rome, developed about the year 600, as a means of affording
pilgrim
Pilgrim
A pilgrim is a traveler who is on a journey to a holy place. Typically, this is a physical journeying to some place of special significance to the adherent of a particular religious belief system...
s a view of
Saint Peter
Saint Peter
Saint Peter or Simon Peter was an early Christian leader, who is featured prominently in the New Testament Gospels and the Acts of the Apostles. The son of John or of Jonah and from the village of Bethsaida in the province of Galilee, his brother Andrew was also an apostle...
's tomb, which lay, according to the Roman fashion, directly below the high altar. The tomb was made accessible through an underground passageway beneath the
sanctuary
Sanctuary
A sanctuary is any place of safety. They may be categorized into human and non-human .- Religious sanctuary :A religious sanctuary can be a sacred place , or a consecrated area of a church or temple around its tabernacle or altar.- Sanctuary as a sacred place :#Sanctuary as a sacred place:#:In...
, where pilgrims could enter at one stair, pass by the tomb and exit, without interrupting the clerical community's service at the altar directly above.
Crypts were introduced into
Frankish
Franks
The Franks were a confederation of Germanic tribes first attested in the third century AD as living north and east of the Lower Rhine River. From the third to fifth centuries some Franks raided Roman territory while other Franks joined the Roman troops in Gaul. Only the Salian Franks formed a...
church building in the mid-eighth century, as a feature of its Romanization. Their popularity then spread more widely in western Europe under
Charlemagne
Charlemagne
Charlemagne was King of the Franks from 768 and Emperor of the Romans from 800 to his death in 814. He expanded the Frankish kingdom into an empire that incorporated much of Western and Central Europe. During his reign, he conquered Italy and was crowned by Pope Leo III on 25 December 800...
. Examples from this period are most common in the early medieval West, for example in Burgundy at
Dijon
Dijon
Dijon is a city in eastern France, the capital of the Côte-d'Or département and of the Burgundy region.Dijon is the historical capital of the region of Burgundy. Population : 151,576 within the city limits; 250,516 for the greater Dijon area....
and
Tournus
Tournus
Tournus is a commune in the Saône-et-Loire department in the region of Bourgogne in eastern France.-Geography:Tournus is located on the right bank of the Saône, 20 km. northeast of Mâcon on the Paris-Lyon railway.-Sights:...
.
After the 10th century the early medieval requirements of a crypt faded, as church officials permitted relics to be held in the main level of the church. By the
Gothic
Gothic architecture
Gothic architecture is a style of architecture that flourished during the high and late medieval period. It evolved from Romanesque architecture and was succeeded by Renaissance architecture....
period crypts were rarely built, however
burial vaults
Burial vault (tomb)
A burial vault is a structural underground tomb.It is a stone or brick-lined underground space or 'burial' chamber for the interment of a dead body or bodies. They were originally and are still often vaulted and usually have stone slab entrances...
continued to be constructed beneath churches and referred to as crypts.
Burial vaults
In more modern terms, a crypt is most often a stone chambered
burial vault
Burial vault (tomb)
A burial vault is a structural underground tomb.It is a stone or brick-lined underground space or 'burial' chamber for the interment of a dead body or bodies. They were originally and are still often vaulted and usually have stone slab entrances...
used to store the deceased. Crypts are usually found in
cemeteries
Cemetery
A cemetery is a place in which dead bodies and cremated remains are buried. The term "cemetery" implies that the land is specifically designated as a burying ground. Cemeteries in the Western world are where the final ceremonies of death are observed...
and under public religious buildings, such as churches or
cathedral
Cathedral
A cathedral is a Christian church that contains the seat of a bishop...
s, but are also occasionally found beneath
mausolea
Mausoleum
A mausoleum is an external free-standing building constructed as a monument enclosing the interment space or burial chamber of a deceased person or persons. A monument without the interment is a cenotaph. A mausoleum may be considered a type of tomb or the tomb may be considered to be within the...
or
chapel
Chapel
A chapel is a building used by Christians as a place of fellowship and worship. It may be part of a larger structure or complex, such as a church, college, hospital, palace, prison or funeral home, located on board a military or commercial ship, or it may be an entirely free-standing building,...
s on personal estates. Wealthy or prestigious families will often have a 'family crypt' or 'vault' in which all members of the family are interred. Many
royal families
Royal family
A royal family is the extended family of a king or queen regnant. The term imperial family appropriately describes the extended family of an emperor or empress, while the terms "ducal family", "grand ducal family" or "princely family" are more appropriate to describe the relatives of a reigning...
, for example, have vast crypts containing the bodies of dozens of former royals. In some localities an above ground crypt is more commonly called a
mausoleum
Mausoleum
A mausoleum is an external free-standing building constructed as a monument enclosing the interment space or burial chamber of a deceased person or persons. A monument without the interment is a cenotaph. A mausoleum may be considered a type of tomb or the tomb may be considered to be within the...
, which also refers to any elaborate building intended as a burial place, for one or any number of people.
There was a trend in the 1800s of building crypts on medium to large size family estates, usually subtly placed on the edge of the grounds or more commonly incorporated into the cellar. After a change of owner these are often blocked up and the house deeds will not allow this area to be re-developed.