 Costume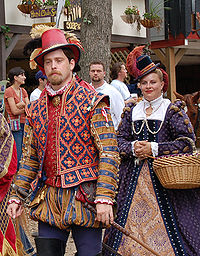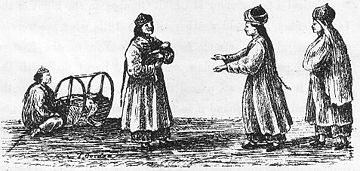 The term
costume
can refer to
wardrobe
Wardrobe (clothing)
A wardrobe usually refers to a complete set of clothing consisting of multiple items. Generally referring to the male's clothing needs. A wardrobe will usually consist of suits, slacks, shirts and shoes both casual and formal...
and dress in general, or to the distinctive style of dress of a particular people, class, or period. Costume may also refer to the artistic arrangement of accessories in a picture,
statue
Statue
A statue is a sculpture in the round representing a person or persons, an animal, an idea or an event, normally full-length, as opposed to a bust, and at least close to life-size, or larger...
, poem, or
play
Play (theatre)
A play is a form of literature written by a playwright, usually consisting of scripted dialogue between characters, intended for theatrical performance rather than just reading. There are rare dramatists, notably George Bernard Shaw, who have had little preference whether their plays were performed...
, appropriate to the time, place, or other circumstances represented or described, or to a particular style of
clothing
Clothing
Clothing refers to any covering for the human body that is worn. The wearing of clothing is exclusively a human characteristic and is a feature of nearly all human societies...
worn to portray the wearer as a
character
Character (arts)
A character is the representation of a person in a narrative work of art . Derived from the ancient Greek word kharaktêr , the earliest use in English, in this sense, dates from the Restoration, although it became widely used after its appearance in Tom Jones in 1749. From this, the sense of...
or type of character other than their regular persona at a social event such as a
masquerade
Masquerade ball
A masquerade ball is an event which the participants attend in costume wearing a mask. - History :...
, a
fancy dress party
Fancy Dress Party
The Fancy Dress Party is a political party in England. They were formed in 1979 as a frivolous alternative to the mainstream electoral parties, and can be seen as a forerunner of the more prominent Official Monster Raving Loony Party...
or in an artistic
theatrical
Theatre
Theatre is a collaborative form of fine art that uses live performers to present the experience of a real or imagined event before a live audience in a specific place. The performers may communicate this experience to the audience through combinations of gesture, speech, song, music or dance...
performance
Performance
A performance, in performing arts, generally comprises an event in which a performer or group of performers behave in a particular way for another group of people, the audience. Choral music and ballet are examples. Usually the performers participate in rehearsals beforehand. Afterwards audience...
.
Theatrical costume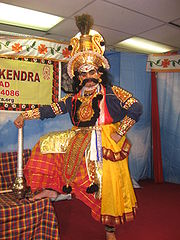 One of the more prominent places people see costumes is in theatre, film and on television. In combination with other aspects, theatrical costumes can help actors portray characters' age, gender role, profession, social class, personality, ethnicity, and even information about the historical period/era, geographic location and time of day, as well as the season or weather of the theatrical performance. Often, stylized theatrical costumes can exaggerate some aspect of a character; for example Harlequin and Pantaloon in the Commedia dell'arte.
National costume
National costume
National costume
Folk costume expresses an identity through costume which usually to a geographic area or a period of time in history, but can also indicate social, marital and/or religious status...
or regional costume expresses local (or
exile
Exile
Exile means to be away from one's home , while either being explicitly refused permission to return and/or being threatened with imprisonment or death upon return...
d)
identity
Identity (social science)
Identity is a term used to describe a person's conception and expression of their individuality or group affiliations . The term is used more specifically in psychology and sociology, and is given a great deal of attention in social psychology...
and emphasises a culture's unique attributes. It is often a source of national pride. Examples of such are a
Scotsman
Scotland
Scotland is a country that is part of the United Kingdom. Occupying the northern third of the island of Great Britain, it shares a border with England to the south and is bounded by the North Sea to the east, the Atlantic Ocean to the north and west, and the North Channel and Irish Sea to the...
in a
kilt
Kilt
The kilt is a knee-length garment with pleats at the rear, originating in the traditional dress of men and boys in the Scottish Highlands of the 16th century. Since the 19th century it has become associated with the wider culture of Scotland in general, or with Celtic heritage even more broadly...
or a
Japan
Japan
Japan is an island nation in East Asia. Located in the Pacific Ocean, it lies to the east of the Sea of Japan, China, North Korea, South Korea and Russia, stretching from the Sea of Okhotsk in the north to the East China Sea and Taiwan in the south...
ese person in a
kimono
Kimono
The is a Japanese traditional garment worn by men, women and children. The word "kimono", which literally means a "thing to wear" , has come to denote these full-length robes...
.
Holidays and festivals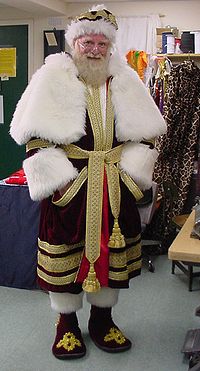 The wearing of costumes has become an important part of such holidays and festivals as
Mardi Gras
Mardi Gras
The terms "Mardi Gras" , "Mardi Gras season", and "Carnival season", in English, refer to events of the Carnival celebrations, beginning on or after Epiphany and culminating on the day before Ash Wednesday...
and
Halloween
Halloween
Hallowe'en , also known as Halloween or All Hallows' Eve, is a yearly holiday observed around the world on October 31, the night before All Saints' Day...
(see
Halloween costume
Halloween costume
Halloween costumes are costumes worn on or around Halloween, a festival which falls on October 31. The Halloween costume has a fairly short history. Wearing costumes has long been associated with other holidays around the time of Halloween, even Christmas...
for more information), and (to a lesser extent) people may also wear costumes in conjunction with other holidays, such as
Christmas
Christmas
Christmas or Christmas Day is an annual holiday generally celebrated on December 25 by billions of people around the world. It is a Christian feast that commemorates the birth of Jesus Christ, liturgically closing the Advent season and initiating the season of Christmastide, which lasts twelve days...
and
Easter
Easter
Easter is the central feast in the Christian liturgical year. According to the Canonical gospels, Jesus rose from the dead on the third day after his crucifixion. His resurrection is celebrated on Easter Day or Easter Sunday...
. Mardi Gras costumes usually take the form of jesters and other fantasy characters, while Halloween costumes traditionally take the form of
supernatural
Supernatural
The supernatural or is that which is not subject to the laws of nature, or more figuratively, that which is said to exist above and beyond nature...
creatures such as ghosts, vampires, pop culture icons and angels. Christmas and Easter costumes typically portray mythical characters such as
Santa Claus
Santa Claus
Santa Claus is a folklore figure in various cultures who distributes gifts to children, normally on Christmas Eve. Each name is a variation of Saint Nicholas, but refers to Santa Claus...
(by donning a
santa suit
Santa suit
A Santa suit is a costume worn by a person portraying Santa Claus. The modern American version of the suit can be attributed to the work of Thomas Nast for Harper's Weekly magazine, although it is often incorrectly thought that Haddon Sundblom designed the suit in his advertising work for the...
and
beard
Beard
A beard is the collection of hair that grows on the chin, cheeks and neck of human beings. Usually, only pubescent or adult males are able to grow beards. However, women with hirsutism may develop a beard...
) or the
Easter Bunny
Easter Bunny
The Easter Bunny or Easter Rabbit is a character depicted as a rabbit bringing Easter eggs, who sometimes is depicted with clothes...
by putting on an animal costume. Costumes may serve to portray various other characters during secular holidays, such as an
Uncle Sam
Uncle Sam
Uncle Sam is a common national personification of the American government originally used during the War of 1812. He is depicted as a stern elderly man with white hair and a goatee beard...
costume worn on the Independence day for example.
In
Judaism
Judaism
Judaism ) is the "religion, philosophy, and way of life" of the Jewish people...
, a common practice is to dress up on
Purim
Purim
Purim is a Jewish holiday that commemorates the deliverance of the Jewish people in the ancient Persian Empire from destruction in the wake of a plot by Haman, a story recorded in the Biblical Book of Esther .Purim is celebrated annually according to the Hebrew calendar on the 14th...
. The Jews celebrate the change of their destiny. They were delivered from being the victims of an evil decree against them and were instead allowed by the King to destroy their enemies. A quote from the
Book of Esther
Book of Esther
The Book of Esther is a book in the Ketuvim , the third section of the Jewish Tanakh and is part of the Christian Old Testament. The Book of Esther or the Megillah is the basis for the Jewish celebration of Purim...
, which says: "On the contrary" (hebrew: ונהפוך הוא ) is the reason that wearing a costume has become so popular among the Jews on this holiday.
Children
Costumes also serve as an avenue for children to explore and roleplay. Children can dress up in various forms; for example characters from history or fiction like pirates, princesses or cowboys, common jobs like nurses or police officers, or animals such as those seen in zoos or farms.
Children's Costumes Photo Gallery
Mascots
Another very popular situation where costumes are employed are for sporting events, where people dressed as their team's representative
mascot
Mascot
The term mascot – defined as a term for any person, animal, or object thought to bring luck – colloquially includes anything used to represent a group with a common public identity, such as a school, professional sports team, society, military unit, or brand name...
help the club or team rally round their team's cause. Animal costumes which are visually very similar to mascot costumes are also popular among the members of the
furry fandom
Furry fandom
Furry fandom is a fandom for fictional anthropomorphic animal characters with human personalities and characteristics. Examples of anthropomorphic attributes include exhibiting human intelligence and facial expressions, the ability to speak, walk on two legs, and wear clothes...
where they are referred to as
fursuit
Fursuit
Fursuits are animal costumes made from various materials. They range from simple tails and ears to full costumes cooled by battery-powered fans. Fursuits can be worn for personal enjoyment, work or charity....
s.