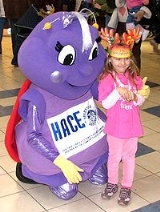 Mascot
The term
mascot
– defined as a term for any person, animal, or object thought to bring
luck
Luck
Luck or fortuity is good fortune which occurs beyond one's control, without regard to one's will, intention, or desired result. There are at least two senses people usually mean when they use the term, the prescriptive sense and the descriptive sense...
– colloquially (informally) includes anything used to represent a group with a common public identity, such as a
school
School
A school is an institution designed for the teaching of students under the direction of teachers. Most countries have systems of formal education, which is commonly compulsory. In these systems, students progress through a series of schools...
,
professional sports
Professional sports
Professional sports, as opposed to amateur sports, are sports in which athletes receive payment for their performance. Professional athleticism has come to the fore through a combination of developments. Mass media and increased leisure have brought larger audiences, so that sports organizations...
team
Team
A team comprises a group of people or animals linked in a common purpose. Teams are especially appropriate for conducting tasks that are high in complexity and have many interdependent subtasks.A group in itself does not necessarily constitute a team...
,
society
University society
In colleges and universities, societies are organizations founded and ran by students to practice and propagate a certain professional hobby or cause, or to promote professional development....
, military unit, or
brand name
Brand
The American Marketing Association defines a brand as a "Name, term, design, symbol, or any other feature that identifies one seller's good or service as distinct from those of other sellers."...
. Mascots are also used as fictional, representative spokespeople for consumer products, such as the rabbit used in
advertising
Advertising
Advertising is a form of communication used to persuade an audience to take some action with respect to products, ideas, or services. Most commonly, the desired result is to drive consumer behavior with respect to a commercial offering, although political and ideological advertising is also common...
and
marketing
Marketing
Marketing is the process used to determine what products or services may be of interest to customers, and the strategy to use in sales, communications and business development. It generates the strategy that underlies sales techniques, business communication, and business developments...
for the
General Mills
General Mills
General Mills, Inc. is an American Fortune 500 corporation, primarily concerned with food products, which is headquartered in Golden Valley, Minnesota, a suburb of Minneapolis. The company markets many well-known brands, such as Betty Crocker, Yoplait, Colombo, Totinos, Jeno's, Pillsbury, Green...
brand of
breakfast cereal
Breakfast cereal
A breakfast cereal is a food made from processed grains that is often, but not always, eaten with the first meal of the day. It is often eaten cold, usually mixed with milk , water, or yogurt, and sometimes fruit but sometimes eaten dry. Some cereals, such as oatmeal, may be served hot as porridge...
,
Trix
Trix (cereal)
Trix is a brand of breakfast cereal made by General Mills for the North American and by Nestlé for the European, South American and Asian markets. The cereal consists of fruit-flavored, sweetened, ground-corn pieces. They started out as round cereal pieces, but in 1992, they were changed to puffed...
.
In the world of sports, mascots are also used for merchandising.