 Play (theatre)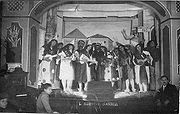 A
play
is a form of
literature
Literature
Literature is the art of written works, and is not bound to published sources...
written by a
playwright
Playwright
A playwright, also called a dramatist, is a person who writes plays.The term is not a variant spelling of "playwrite", but something quite distinct: the word wright is an archaic English term for a craftsman or builder...
, usually consisting of scripted
dialogue
Dialogue
Dialogue is a literary and theatrical form consisting of a written or spoken conversational exchange between two or more people....
between
characters
Character (arts)
A character is the representation of a person in a narrative work of art . Derived from the ancient Greek word kharaktêr , the earliest use in English, in this sense, dates from the Restoration, although it became widely used after its appearance in Tom Jones in 1749. From this, the sense of...
, intended for
theatrical
Theatre
Theatre is a collaborative form of fine art that uses live performers to present the experience of a real or imagined event before a live audience in a specific place. The performers may communicate this experience to the audience through combinations of gesture, speech, song, music or dance...
performance
Performance
A performance, in performing arts, generally comprises an event in which a performer or group of performers behave in a particular way for another group of people, the audience. Choral music and ballet are examples. Usually the performers participate in rehearsals beforehand. Afterwards audience...
rather than just
reading
Reading (process)
Reading is a complex cognitive process of decoding symbols for the intention of constructing or deriving meaning . It is a means of language acquisition, of communication, and of sharing information and ideas...
. There are rare dramatists, notably
George Bernard Shaw
George Bernard Shaw
George Bernard Shaw was an Irish playwright and a co-founder of the London School of Economics. Although his first profitable writing was music and literary criticism, in which capacity he wrote many highly articulate pieces of journalism, his main talent was for drama, and he wrote more than 60...
, who have had little preference whether their plays were performed or read. The term "play" can refer to both the written works of playwrights and to their complete theatrical performance.
Comedy
Comedies are plays which are designed to be
humorous
Humour
Humour or humor is the tendency of particular cognitive experiences to provoke laughter and provide amusement...
. Comedies are often filled with witty remarks, unusual characters, and strange circumstances. Certain comedies are geared toward different age groups.
Comedies
Comedy
Comedy , as a popular meaning, is any humorous discourse or work generally intended to amuse by creating laughter, especially in television, film, and stand-up comedy. This must be carefully distinguished from its academic definition, namely the comic theatre, whose Western origins are found in...
were one of the two original play types of
Ancient Greece
Ancient Greece
Ancient Greece is a civilization belonging to a period of Greek history that lasted from the Archaic period of the 8th to 6th centuries BC to the end of antiquity. Immediately following this period was the beginning of the Early Middle Ages and the Byzantine era. Included in Ancient Greece is the...
, along with tragedies. An examples of a comedy would be William Shakespeare's play "A Midsummer Night Dream," or for a more modern example the skits from "Saturday Night Live".
Farce
A generally nonsensical genre of play,
farce
Farce
In theatre, a farce is a comedy which aims at entertaining the audience by means of unlikely, extravagant, and improbable situations, disguise and mistaken identity, verbal humour of varying degrees of sophistication, which may include word play, and a fast-paced plot whose speed usually increases,...
s are often overacted and often involve
slapstick
Slapstick
Slapstick is a type of comedy involving exaggerated violence and activities which may exceed the boundaries of common sense.- Origins :The phrase comes from the batacchio or bataccio — called the 'slap stick' in English — a club-like object composed of two wooden slats used in Commedia dell'arte...
humour. An example of a farce includes William Shakespeare's play "The Comedy of Errors," or Mark Twain's play "Is He Dead?"
Satirical
A
satire
Satire
Satire is primarily a literary genre or form, although in practice it can also be found in the graphic and performing arts. In satire, vices, follies, abuses, and shortcomings are held up to ridicule, ideally with the intent of shaming individuals, and society itself, into improvement...
is a play which takes a comic look at current events and famous people while at the same time attempting to make a political or social statement, for example pointing out governmental corruption. An example of a satire would be George Orwell novel "Animal Farm," or Jonathan Swift's book "Gulliver's Travels."
Tragedy
These plays often involve death and are designed to cause the reader or viewer to feel
sadness
Sadness
Sadness is emotional pain associated with, or characterized by feelings of disadvantage, loss, despair, helplessness, sorrow, and rage. When sad, people often become outspoken, less energetic, and emotional...
. Tragic plays convey all emotions, and have extremely dramatic conflicts.
Tragedy
Tragedy
Tragedy is a form of art based on human suffering that offers its audience pleasure. While most cultures have developed forms that provoke this paradoxical response, tragedy refers to a specific tradition of drama that has played a unique and important role historically in the self-definition of...
was one of the two original play types of Ancient Greece. Some examples of tragedies include William Shakespeare's play "Romeo and Juliet," and also John Webster's play "The Duchess of Malfi."
Historical
These plays focus on actual historical events. They can be tragedies or comedies, but are often neither of these.
History
History
History is the discovery, collection, organization, and presentation of information about past events. History can also mean the period of time after writing was invented. Scholars who write about history are called historians...
as a separate genre was popularised by
William Shakespeare
William Shakespeare
William Shakespeare was an English poet and playwright, widely regarded as the greatest writer in the English language and the world's pre-eminent dramatist. He is often called England's national poet and the "Bard of Avon"...
. Examples of historicals include Leo Tolstoy's novel "War and Peace," and William Shakespeare's play "King John."
Terminology
The term "play" can be either a general term, or more specifically refer to a non-musical play. Sometimes the term "straight play" is used in contrast to "
musical
Musical theatre
Musical theatre is a form of theatre combining songs, spoken dialogue, acting, and dance. The emotional content of the piece – humor, pathos, love, anger – as well as the story itself, is communicated through the words, music, movement and technical aspects of the entertainment as an...
", which refers to a play based on music,
dance
Dance
Dance is an art form that generally refers to movement of the body, usually rhythmic and to music, used as a form of expression, social interaction or presented in a spiritual or performance setting....
, and songs sung by the play's characters. For a short play, the term "playlet" is sometimes used.
Lists
Related topics