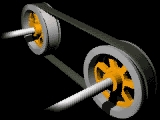 Conveyor belt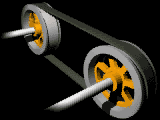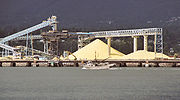 A
conveyor belt
consists of two or more
pulley
Pulley
A pulley, also called a sheave or a drum, is a mechanism composed of a wheel on an axle or shaft that may have a groove between two flanges around its circumference. A rope, cable, belt, or chain usually runs over the wheel and inside the groove, if present...
s, with a continuous loop of material - the conveyor belt - that rotates about them. One or both of the pulleys are powered, moving the belt and the material on the belt forward. The powered pulley is called the drive pulley while the unpowered pulley is called the idler. There are two main industrial classes of belt conveyors; Those in general
material handling
Material handling
-Material Handling Industry:Material Handling is the movement, storage, control and protection of materials, goods and products throughout the process of manufacturing, distribution, consumption and disposal. The focus is on the methods, mechanical equipment, systems and related controls used to...
such as those moving boxes along inside a factory and
bulk material handling
Bulk material handling
Bulk material handling is an engineering field that is centered around the design of equipment used for the handling of dry materials such as ores, coal, cereals, wood chips, sand, gravel and stone in loose bulk form...
such as those used to transport industrial and agricultural materials, such as grain, coal, ores, etc. generally in outdoor locations. Generally companies providing general material handling type belt conveyors do not provide the conveyors for bulk material handling. In addition there are a number of commercial applications of belt conveyors such as those in
grocery store
Grocery store
A grocery store is a store that retails food. A grocer, the owner of a grocery store, stocks different kinds of foods from assorted places and cultures, and sells these "groceries" to customers. Large grocery stores that stock products other than food, such as clothing or household items, are...
s.
The
belt
Belt (mechanical)
A belt is a loop of flexible material used to link two or more rotating shafts mechanically. Belts may be used as a source of motion, to transmit power efficiently, or to track relative movement. Belts are looped over pulleys. In a two pulley system, the belt can either drive the pulleys in the...
consists of one or more layers of material. They can be made out of
rubber
Rubber
Natural rubber, also called India rubber or caoutchouc, is an elastomer that was originally derived from latex, a milky colloid produced by some plants. The plants would be 'tapped', that is, an incision made into the bark of the tree and the sticky, milk colored latex sap collected and refined...
. Many belts in general material handling have two layers. An under layer of material to provide linear strength and shape called a carcass and an over layer called the cover. The carcass is often a cotton or plastic web or mesh. The cover is often various rubber or plastic compounds specified by use of the belt. Covers can be made from more exotic materials for unusual applications such as silicone for heat or gum rubber when traction is essential.
Material flowing over the belt may be weighed in transit using a
beltweigher
Beltweigher
A beltweigher or belt weigher is a piece of industrial control equipment used to gauge the mass or flow rate of material travelling over a troughed conveyor belt of any length which is able to adequately contain the material being weighed. These are also known as belt scales, dynamic scales,...
. Belts with regularly spaced partitions, known as
elevator belts
, are used for transporting loose materials up steep inclines. Belt Conveyors are used in self-unloading bulk freighters and in live bottom trucks. Conveyor technology is also used in conveyor transport such as moving sidewalks or
escalator
Escalator
An escalator is a moving staircase – a conveyor transport device for carrying people between floors of a building. The device consists of a motor-driven chain of individual, linked steps that move up or down on tracks, allowing the step treads to remain horizontal.Escalators are used around the...
s, as well as on many manufacturing
assembly line
Assembly line
An assembly line is a manufacturing process in which parts are added to a product in a sequential manner using optimally planned logistics to create a finished product much faster than with handcrafting-type methods...
s. Stores often have conveyor belts at the check-out counter to move shopping items.
Ski areas
Ski resort
A ski resort is a resort developed for skiing and other winter sports. In Europe a ski resort is a town or village in a ski area - a mountainous area, where there are ski trails and supporting services such as hotels and other accommodation, restaurants, equipment rental and a ski lift system...
also use conveyor belts to
transport skiers
Magic carpet (ski lift)
A magic carpet is a type of surface lift installed at ski areas to transport skiers and snowboarders up the hill...
up the hill.
A wide variety of related conveying machines are available, different as regards principle of operation, means and direction of conveyance, including
screw conveyor
Screw conveyor
A screw conveyor or auger conveyor is a mechanism that uses a rotating helical screw blade, called a "flighting", usually within a tube, to move liquid or granular materials. They are used in many bulk handling industries...
s, vibrating conveyors, pneumatic conveyors, the moving floor system, which uses reciprocating slats to move cargo, and roller conveyor system, which uses a series of powered rollers to convey boxes or
pallet
Pallet
A pallet , sometimes called a skid, is a flat transport structure that supports goods in a stable fashion while being lifted by a forklift, pallet jack, front loader or other jacking device. A pallet is the structural foundation of a unit load which allows handling and storage efficiencies...
s.
Belt conveyor systems
Conveyors are durable and reliable components used in automated distribution and warehousing. In combination with computer controlled pallet handling equipment this allows for more efficient
retail
Retail
Retail consists of the sale of physical goods or merchandise from a fixed location, such as a department store, boutique or kiosk, or by mail, in small or individual lots for direct consumption by the purchaser. Retailing may include subordinated services, such as delivery. Purchasers may be...
,
wholesale
Wholesale
Wholesaling, jobbing, or distributing is defined as the sale of goods or merchandise to retailers, to industrial, commercial, institutional, or other professional business users, or to other wholesalers and related subordinated services...
, and
manufacturing
Manufacturing
Manufacturing is the use of machines, tools and labor to produce goods for use or sale. The term may refer to a range of human activity, from handicraft to high tech, but is most commonly applied to industrial production, in which raw materials are transformed into finished goods on a large scale...
distribution
Distribution (business)
Product distribution is one of the four elements of the marketing mix. An organization or set of organizations involved in the process of making a product or service available for use or consumption by a consumer or business user.The other three parts of the marketing mix are product, pricing,...
. It is considered a labor saving system that allows large volumes to move rapidly through a process, allowing companies to
ship
Ship
Since the end of the age of sail a ship has been any large buoyant marine vessel. Ships are generally distinguished from boats based on size and cargo or passenger capacity. Ships are used on lakes, seas, and rivers for a variety of activities, such as the transport of people or goods, fishing,...
or receive higher volumes with smaller storage space and with less labor
expense
Expense
In common usage, an expense or expenditure is an outflow of money to another person or group to pay for an item or service, or for a category of costs. For a tenant, rent is an expense. For students or parents, tuition is an expense. Buying food, clothing, furniture or an automobile is often...
.
Rubber conveyor belts are commonly used to convey items with irregular bottom surfaces, small items that would fall in between rollers (e.g. a
sushi conveyor bar
Conveyor belt sushi
is the popular English translation for Japanese fast-food sushi. In Australia, it is also known as sushi train...
), or bags of product that would sag between rollers. Belt conveyors are generally fairly similar in construction consisting of a metal frame with rollers at either end of a flat metal bed. The belt is looped around each of the rollers and when one of the rollers is powered (by an
electrical motor
Electric motor
An electric motor converts electrical energy into mechanical energy.Most electric motors operate through the interaction of magnetic fields and current-carrying conductors to generate force...
) the belting slides across the solid metal frame bed, moving the product. In heavy use applications the beds which the belting is pulled over are replaced with rollers. The rollers allow weight to be conveyed as they reduce the amount of friction generated from the heavier loading on the belting. Belt conveyors can now be manufactured with curved sections which use tapered rollers and curved belting to convey products around a corner. These conveyor systems are commonly used in postal sorting offices and airport baggage handling systems. A sandwich belt conveyor uses two conveyor belts, face-to-face, to firmly contain the item being carried, making steep incline and even vertical-lift runs achievable.
Belt conveyors are the most commonly used powered conveyors because they are the most versatile and the least expensive. Product is conveyed directly on the belt so both regular and irregular shaped objects, large or small, light and heavy, can be transported successfully. These conveyors should use only the highest quality premium belting products, which reduces belt stretch and results in less maintenance for tension adjustments. Belt conveyors can be used to transport product in a straight line or through changes in elevation or direction. In certain applications they can also be used for static accumulation or cartons.
Long belt conveyors
The longest belt
conveyor system
Conveyor system
A conveyor system is a common piece of mechanical handling equipment that moves materials from one location to another. Conveyors are especially useful in applications involving the transportation of heavy or bulky materials...
in the world is in
Western Sahara
Transport in Western Sahara
-Rail:Western Sahara has no freight or passenger service railways, with the exception of a section of the Mauritania Railway; which , cuts across the extreme south-eastern corner of the territory.-Roads:...
. It is 100 km long, from the
phosphate
Phosphate
A phosphate, an inorganic chemical, is a salt of phosphoric acid. In organic chemistry, a phosphate, or organophosphate, is an ester of phosphoric acid. Organic phosphates are important in biochemistry and biogeochemistry or ecology. Inorganic phosphates are mined to obtain phosphorus for use in...
mine
Mining
Mining is the extraction of valuable minerals or other geological materials from the earth, from an ore body, vein or seam. The term also includes the removal of soil. Materials recovered by mining include base metals, precious metals, iron, uranium, coal, diamonds, limestone, oil shale, rock...
s of Bu Craa to the coast south of
El-Aaiun
El Aaiún
El-Aaiún , is a city in Western Sahara founded by the Spanish in 1928. Administered by Morocco since 1976, El-Aaiún is the capital of what the Moroccan government call the region of Laâyoune-Boujdour-Sakia El Hamra, and POLISARIO call Occupied Territories...
.
The longest conveyor system in an Airport is the Dubai International Airport baggage handling system at 92 km. It was installed by
Siemens
Siemens
Siemens may refer toSiemens, a German family name carried by generations of telecommunications industrialists, including:* Werner von Siemens , inventor, founder of Siemens AG...
and commissioned in 2008, and has a combination of traditional belt conveyors and tray conveyors.
The longest single belt conveyor runs from Meghalaya in India to Sylhet in
Bangladesh
Bangladesh
Bangladesh , officially the People's Republic of Bangladesh is a sovereign state located in South Asia. It is bordered by India on all sides except for a small border with Burma to the far southeast and by the Bay of Bengal to the south...
. It is about 17 km long and conveys
limestone
Limestone
Limestone is a sedimentary rock composed largely of the minerals calcite and aragonite, which are different crystal forms of calcium carbonate . Many limestones are composed from skeletal fragments of marine organisms such as coral or foraminifera....
and
shale
Shale
Shale is a fine-grained, clastic sedimentary rock composed of mud that is a mix of flakes of clay minerals and tiny fragments of other minerals, especially quartz and calcite. The ratio of clay to other minerals is variable. Shale is characterized by breaks along thin laminae or parallel layering...
at 960 tons/hr, from the quarry in
India
India
India , officially the Republic of India , is a country in South Asia. It is the seventh-largest country by geographical area, the second-most populous country with over 1.2 billion people, and the most populous democracy in the world...
to a cement factory in
Bangladesh
Bangladesh
Bangladesh , officially the People's Republic of Bangladesh is a sovereign state located in South Asia. It is bordered by India on all sides except for a small border with Burma to the far southeast and by the Bay of Bengal to the south...
(7 km long in India and 10 km long in Bangladesh). The conveyor was engineered by AUMUND France and Larsen & Toubro. The conveyor is actuated by 3 synchronized drive units for a total power of about 1.8 MW (2 drives at the head end in Bangladesh and 1 drive at the tail end in India). The conveyor belt was manufactured in 300-meter lengths on the Indian side and 500-meter lengths on the Bangladesh side, and was installed onsite by NILOS India. The
idle
Idle
Idle is a term which generally refers to a lack of motion and/or energy.- Uses :In describing a person or machine, idle means the act of nothing or no work...
rs, or rollers, of the system are unique in that they are designed to accommodate both horizontal and vertical curves along the terrain. Dedicated vehicles were designed for the maintenance of the conveyor, which is always at a minimum height of 5 meters above the ground to avoid being flooded during monsoon periods.
History
Primitive conveyor belts were used since the 19th century. In 1892, Thomas Robins began a series of inventions which led to the development of a conveyor belt used for carrying coal, ores and other products. In 1901,
Sandvik
Sandvik
Sandvik is a Swedish company founded in 1862 by Göran Fredrik Göransson in Sandviken. It is a high-technology engineering group and a world-leader in tooling, stainless steel alloys and materials technology, mining and construction...
invented and started the production of
steel
Steel
Steel is an alloy that consists mostly of iron and has a carbon content between 0.2% and 2.1% by weight, depending on the grade. Carbon is the most common alloying material for iron, but various other alloying elements are used, such as manganese, chromium, vanadium, and tungsten...
conveyor belts. In 1905
Richard Sutcliffe
Richard Sutcliffe
Richard Sutcliffe was an Irish-born mining engineer and inventor. He was born on a farm in Tipperary Ireland and worked at coal mines in Ireland between 1857 and 1885. He moved to Barnsley, England in August 1885. In 1892 he invented the world's first coal cutting machine. In 1905 he invented...
invented the first conveyor belts for use in coal mines which revolutionized the mining industry. In 1913,
Henry Ford
Henry Ford
Henry Ford was an American industrialist, the founder of the Ford Motor Company, and sponsor of the development of the assembly line technique of mass production. His introduction of the Model T automobile revolutionized transportation and American industry...
introduced conveyor-belt assembly lines at
Ford Motor Company
Ford Motor Company
Ford Motor Company is an American multinational automaker based in Dearborn, Michigan, a suburb of Detroit. The automaker was founded by Henry Ford and incorporated on June 16, 1903. In addition to the Ford and Lincoln brands, Ford also owns a small stake in Mazda in Japan and Aston Martin in the UK...
's Highland Park, Michigan factory. In 1972, the French society REI created in New Caledonia the then longest straight-belt conveyor in the world, at a length of 13.8 km. Hyacynthe Marcel Bocchetti was the concept designer.
In 1957, the B. F. Goodrich Company patented a conveyor belt that it went on to produce as the Turnover Conveyor Belt System. Incorporating a half-twist, it had the advantage over conventional belts of a longer life because it could expose all of its surface area to wear and tear.
Möbius strip
Möbius strip
The Möbius strip or Möbius band is a surface with only one side and only one boundary component. The Möbius strip has the mathematical property of being non-orientable. It can be realized as a ruled surface...
belts are no longer manufactured because untwisted modern belts can be made more durable by constructing them from several layers of different materials.
In 1963-64, First Indian Small Scale Industrial Unit with Japanese Plant for Rubber Belts for Conveyor / Elevator / Transmission was installed near National Capital Territory of Delhi and its MrBelts Conveyor Belting has been widely used in Steel, Cement, Fertilizer, Thermal Power, Sponge Iron Plants and Coal / Mineral establishments / Mines, Port Trusts and similar material handling applications of Industry for the last over 4 decades;
See also
Chain conveyor

Chain conveyor

A chain conveyor is a type of conveyor system for moving material through production lines.Chain conveyors utilize a powered continuous chain arrangement, carrying a series of single pendants. The chain arrangement is driven by a motor, and the material suspended on the pendants are conveyed...



Checkweigher
Conveyor systems
Lineshaft roller conveyor

Lineshaft roller conveyor

Lineshaft roller conveyors are, as their title suggests, powered via a shaft beneath the rollers. These conveyors are suitable for light applications up to 20 kg such as cardboard boxes and tote boxes....



Moving walkway

Moving walkway

A moving walkway or moving sidewalk is a slow moving conveyor mechanism that transports people, across a horizontal...



Thermohaline circulation

Thermohaline circulation

The term thermohaline circulation refers to a part of the large-scale ocean circulation that is driven by global density gradients created by surface heat and freshwater fluxes....



Treadmill

Treadmill

A treadmill is an exercise machine for running or walking while staying in one place. The word treadmill traditionally refers to a type of mill which was operated by a person or animal treading steps of a wheel to grind grain...