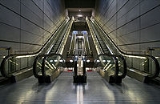 Escalator
An
escalator
is a moving staircase – a conveyor transport device for carrying people between floors of a building. The device consists of a
motor
Electric motor
An electric motor converts electrical energy into mechanical energy.Most electric motors operate through the interaction of magnetic fields and current-carrying conductors to generate force...
-driven chain of individual, linked steps that move up or down on tracks, allowing the step treads to remain horizontal.
Escalators are used around the world to move
pedestrian
Pedestrian
A pedestrian is a person traveling on foot, whether walking or running. In some communities, those traveling using roller skates or skateboards are also considered to be pedestrians. In modern times, the term mostly refers to someone walking on a road or footpath, but this was not the case...
traffic in places where
elevator
Elevator
An elevator is a type of vertical transport equipment that efficiently moves people or goods between floors of a building, vessel or other structures...
s would be impractical. Principal areas of usage include
department store
Department store
A department store is a retail establishment which satisfies a wide range of the consumer's personal and residential durable goods product needs; and at the same time offering the consumer a choice of multiple merchandise lines, at variable price points, in all product categories...
s,
shopping mall
Shopping mall
A shopping mall, shopping centre, shopping arcade, shopping precinct or simply mall is one or more buildings forming a complex of shops representing merchandisers, with interconnecting walkways enabling visitors to easily walk from unit to unit, along with a parking area — a modern, indoor version...
s,
airport
Airport
An airport is a location where aircraft such as fixed-wing aircraft, helicopters, and blimps take off and land. Aircraft may be stored or maintained at an airport...
s, transit systems,
convention center
Convention center
A convention center is a large building that is designed to hold a convention, where individuals and groups gather to promote and share common interests. Convention centers typically offer sufficient floor area to accommodate several thousand attendees...
s,
hotel
Hotel
A hotel is an establishment that provides paid lodging on a short-term basis. The provision of basic accommodation, in times past, consisting only of a room with a bed, a cupboard, a small table and a washstand has largely been replaced by rooms with modern facilities, including en-suite bathrooms...
s, and public buildings.
The benefits of escalators are many.