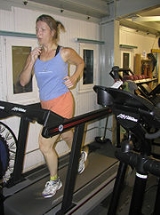 Treadmill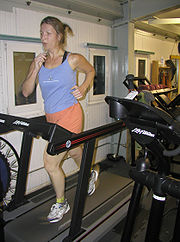 A
treadmill
is an
exercise machine
Exercise machine
An exercise machine is any machine used for physical exercise. These range from simple spring-like devices to computerized electromechanical rides to recirculating-stream swimming pools...
for
running
Running
Running is a means of terrestrial locomotion allowing humans and other animals to move rapidly on foot. It is simply defined in athletics terms as a gait in which at regular points during the running cycle both feet are off the ground...
or
walking
Walking
Walking is one of the main gaits of locomotion among legged animals, and is typically slower than running and other gaits. Walking is defined by an 'inverted pendulum' gait in which the body vaults over the stiff limb or limbs with each step...
while staying in one place. The word
treadmill
traditionally refers to a type of
mill
Mill (grinding)
A grinding mill is a unit operation designed to break a solid material into smaller pieces. There are many different types of grinding mills and many types of materials processed in them. Historically mills were powered by hand , working animal , wind or water...
which was operated by a person or animal treading steps of a wheel to grind grain (see
treadwheel
Treadwheel
A treadwheel is a form of animal engine typically powered by humans. It may resemble a water wheel in appearance, and can be worked either by a human treading paddles set into its circumference , or by a human or animal standing inside it .Uses of treadwheels included raising water, to power...
.)
The machine provides a moving platform with a wide
conveyor belt
Conveyor belt
A conveyor belt consists of two or more pulleys, with a continuous loop of material - the conveyor belt - that rotates about them. One or both of the pulleys are powered, moving the belt and the material on the belt forward. The powered pulley is called the drive pulley while the unpowered pulley...
and an
electric motor
Electric motor
An electric motor converts electrical energy into mechanical energy.Most electric motors operate through the interaction of magnetic fields and current-carrying conductors to generate force...
or a
flywheel
Flywheel
A flywheel is a rotating mechanical device that is used to store rotational energy. Flywheels have a significant moment of inertia, and thus resist changes in rotational speed. The amount of energy stored in a flywheel is proportional to the square of its rotational speed...
. The belt moves to the rear allowing a person to walk or run an equal, and necessarily opposite, velocity. The rate at which the belt moves is the rate of walking or running. Thus, the speed of running may be controlled and measured. The more expensive, heavy-duty versions are motor-driven (usually by an electric motor). The simpler, lighter, and less expensive versions passively resist the motion, moving only when the walker pushes the belt with their feet. The latter are known as "manual treadmills".
Origins
Treadmills were historically used as a method of reforming offenders in prison, an innovation introduced by Sir William Cubitt in 1817.; these were also termed
treadwheel
Treadwheel
A treadwheel is a form of animal engine typically powered by humans. It may resemble a water wheel in appearance, and can be worked either by a human treading paddles set into its circumference , or by a human or animal standing inside it .Uses of treadwheels included raising water, to power...
s. The first private
health club
Health club
A health club is a place which houses exercise equipment for the purpose of physical exercise.-Main workout area:...
in the U.S. was started by Professor Louis Attila in 1894. Cardio workout machines entered the clubs much later and were developed initially for the hospital. The first medical treadmill designed to diagnose heart and lung disease was invented by
Dr. Robert Bruce
Robert A. Bruce
Robert Arthur Bruce was an internationally recognized cardiologist and a professor at the University of Washington...
and
Wayne Quinton
Wayne Quinton
Wayne Quinton was a developer of over thirty biomedical devices.Quinton received a degree in biomedical technology from the University of Washington in 1959...
at the University of Washington in 1952.
Dr. Kenneth H. Cooper's
Kenneth H. Cooper
Kenneth H. Cooper is an doctor of medicine and former Air Force Colonel from Oklahoma, who introduced the concept of aerobics. He is the author of the 1968 book Aerobics, which emphasized a point system for improving the cardiovascular system...
research on the benefits of aerobic exercise, published in 1968, provided a medical argument to support the commercial development of the home treadmill and exercise bike.
Among the users of treadmills today are medical facilities (hospitals, rehabilitation centers, medical and physiotherapy clinics, institutes of higher education), sports clubs, Biomechanics Institute, orthopedic shoe shops, running shops, Olympic training centers, universities, fire-training centers, NASA, test facilities and training rooms of police and army, gyms and even home users.
Treadmill ergometers are now mainly with motor drive. Most treadmills have a running table with sliding plate. Before and after the race table, there are two shafts. Between the shafts and the running deck a running belt is stretched.
Safety standards for treadmills are the IEC EN 957-1 and IEC EN 957-6.
For medical treadmills applicable norms, standards and guidelines are the Medical Device Directive (MDD), European Guideline 93/42 EEC, European Guideline 2007/47 EEC, IEC EN 60601-1, EN 62304, EN 14971 and the machinery directive 2006/42/EC.
Medical treadmills are class IIb active therapeutic devices and also active devices for diagnosis.
With their very powerful (e.g. 3.3 kW = 4.5 HP) electric motor powered drive system treadmills deliver mechanical energy to the human body through the moving running belt of the treadmill. The subject is not changing his horizontal position and is passively moved and forced to catch up with the running belt underneath his feet. The subject can also be fixed in safety harnesses, unweighting systems, various supports or even fixed in and moved with a robotic orthotic system utilizing the treadmill.
Medical treadmills are also active measuring devices. They measure the heart rate of the subject. When connected through interface with ECG or ergospirometry or blood pressure monitor (BPM) or EMG they become a new medical system (e.g. stress test system or cardiopulmonary rehab system) and measure also the ECG, VO2max, breath volumes, blood pressure, muscle activity and various other vital functions.
Most treadmills have a "cardio mode", where a target heart rate is defined and the speed and elevation (load) is controlled automatically until the subject is in "heart rate steady state". So the treadmill is delivering mechanical energy to the human body based on the vital function (heart rate) of the subject.
A medical treadmill which is also used for ergometry and cardiopulmonary stress test as well as performance diagnostics is always a class IIb medical device either when used as stand alone device in a medical environment or when used in connection with an ECG, EMG, Ergospirometry or blood pressure monitoring device.
On the running deck the subject is moving, who adapts to the adjustable speed of the belt. The running deck is usually mounted on damping elements, so the running deck has shock absorbing characteristics. By a lifting element, the entire frame including treadmill running deck will be raised and thus simulates a pitch angle for uphill running. Some treadmills also have the reversing of a running belt for the purpose of downhill loads. Most treadmills for professionals in the fitness area, run for table sizes of about 150 cm long and 50 cm width, a speed range of about 0 ... 20 km/h and slope angle of 0 ... 20%.
For athletes larger and more stable treadmills are necessary. Sprinters reach with some weight relief temporarily speeds of up to 45 km/h must therefore run on a large deck of up to 300 cm in length and have up to 100 cm width. At high physical exertion and increased risk of falling a fall stop unit is required to prevent a fall of the subjects or patients. This fall stop device is usually implemented by a safety arch on which a rope is attached to an electrical switch. A harness bears the subject preventing from falling and shuts down the running belt.
In treatment centers treadmills are used with built-in seats left and right for therapists, for example, so the therapists then can move the legs of a stroke patient in order to simulate walking movements and learn to walk again. This is called manual locomotion therapy.
Oversized treadmills are also used for cycling at speeds up to 80 km/h, for wheelchair users and in special applications with thick running belt for cross-country skiing and biathlon, where athletes perform training and testing exercise with roller ski on a running deck of up to sizes of 450 x 300 cm.
Disadvantages
As a cardiovascular exercise:
Running on treadmills is easier than running on an equivalently flat distance outdoors because the ground is smooth and there is no wind resistance. A common misunderstanding is that it is easier because the ground is pulled beneath you. But the movement is relative and it would be the same as running on the deck of a ship which moves relative the terrain. Studies measuring the difference find that an average person running between 5 miles per hour (8 km/h) and 9 miles per hour (14.5 km/h) will expend between 0 and 5 percent more energy running outdoors. A person running outdoors faster than 10 miles per hour (16.1 km/h) (6 minute mile pace) will expend up to 10% more energy than an indoor runner. Treadmills can approximate the additional effort of running outdoors by setting the incline to 1%.
Some treadmill runners develop bad running habits that become apparent when they return to outdoor running. In particular a short, upright, bouncy gait may result from having no wind resistance and trying to avoid kicking the motor covering with the front of the foot.
Imposes a strict pace on runners, giving an unnatural feel to running which can cause a runner to lose balance.
As an indoor activity:
Many users find treadmills monotonous and lose interest after a period.
Treadmills do not offer the psychological satisfaction some runners get from running in new locations away from the distractions of home.
As a machine:
Treadmill calorie counters overestimate the number of calories burned by up to 15–20%, according to some reports.
May cause personal injury if not used properly. Of particular concern are children who reach into the treadmill belt while it is running and suffer severe friction burns that may require multiple skin grafts and result in lasting disability.
Costs of purchase, electrical costs, and possible repair are significantly greater than those of running outside.
Takes up space in homes.
Other uses
As it is basically a
conveyor belt
Conveyor belt
A conveyor belt consists of two or more pulleys, with a continuous loop of material - the conveyor belt - that rotates about them. One or both of the pulleys are powered, moving the belt and the material on the belt forward. The powered pulley is called the drive pulley while the unpowered pulley...
, the treadmill can be used for activities other than running. If
horse
Horse
The horse is one of two extant subspecies of Equus ferus, or the wild horse. It is a single-hooved mammal belonging to the taxonomic family Equidae. The horse has evolved over the past 45 to 55 million years from a small multi-toed creature into the large, single-toed animal of today...
s are being tested (especially in jockey racing) they will be put on a specially constructed treadmill. Large treadmills can also accommodate cars. Treadmills can also be used to exercise dogs that are accustomed to running on a conveyor; however tying the leash to the treadmill should be avoided as it can cause serious injury.
Omnidirectional treadmill
Advanced applications are so called omnidirectional treadmills. They are designed to move in two dimensions and are intended as the base for a "
holodeck
Holodeck
A holodeck, in the fictional Star Trek universe, is a simulated reality facility located on starships and starbases. The first use of a "holodeck" by that name in the Star Trek universe was in the pilot episode of Star Trek: The Next Generation, "Encounter at Farpoint", although a conceptually...
". There are several solutions which were proposed and research continues because some issues remain unsolved, such as large size, noise and vibration. There are parallel developments being conducted by researchers working on projects sponsored by the Department of Veterans Affairs to create virtual reality environments for a
wheelchair trainer
Wheelchair Trainer
A wheelchair trainer or wheelchair treadmill is an apparatus that allows a manual wheelchair user to simulate linear travel while remaining stationary in a manner similar to an ambulatory person walking or running on a treadmill or a cyclist pedaling a bicycle on a bicycle trainer...
in order to promote therapeutic exercise.