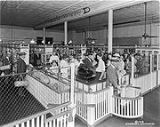 Grocery store
A
grocery store
is a store that retails food. A
grocer
Grocer
A grocer is a bulk seller of food. Beginning as early as the 14th century, a grocer was a dealer in comestible dry goods such as spices, pepper, sugar, and cocoa, tea and coffee...
, the owner of a grocery store, stocks different kinds of foods from assorted places and cultures, and sells these "groceries" to customers. Large grocery stores that stock products other than food, such as clothing or household items, are called
supermarket
Supermarket
A supermarket, a form of grocery store, is a self-service store offering a wide variety of food and household merchandise, organized into departments...
s. Small grocery stores that mainly sell
fruit
Fruit
In broad terms, a fruit is a structure of a plant that contains its seeds.The term has different meanings dependent on context. In non-technical usage, such as food preparation, fruit normally means the fleshy seed-associated structures of certain plants that are sweet and edible in the raw state,...
s and
vegetable
Vegetable
The noun vegetable usually means an edible plant or part of a plant other than a sweet fruit or seed. This typically means the leaf, stem, or root of a plant....
s are known as produce markets (U.S.) or
greengrocer
Greengrocer
A greengrocer or fruiterer is a retail trader in fruit and vegetables; that is, in green groceries. Greengrocer is primarily a British and Australian term, and greengrocers' shops were once common in suburbs, towns and villages...
s (Britain), and small grocery stores that predominantly sell snack foods and sandwiches are known as convenience stores or
delicatessen
Delicatessen
Delicatessen is a term meaning "delicacies" or "fine foods". The word entered English via German,with the old German spelling , plural of Delikatesse "delicacy", ultimately from Latin delicatus....
s.
U.S.