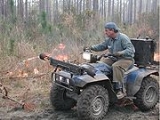 Controlled burn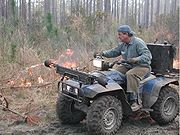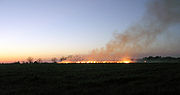 Controlled
or
prescribed burning
, also known as
hazard reduction burning
or
Swailing
is a technique sometimes used in
forest
Forest
A forest, also referred to as a wood or the woods, is an area with a high density of trees. As with cities, depending where you are in the world, what is considered a forest may vary significantly in size and have various classification according to how and what of the forest is composed...
management
Management
Management in all business and organizational activities is the act of getting people together to accomplish desired goals and objectives using available resources efficiently and effectively...
, farming,
prairie restoration
Prairie Restoration
Prairie restoration is an ecologically friendly way to restore some of the prairie land that was lost to industry, farming and commerce. For example, the U.S...
or
greenhouse gas
Greenhouse gas
A greenhouse gas is a gas in an atmosphere that absorbs and emits radiation within the thermal infrared range. This process is the fundamental cause of the greenhouse effect. The primary greenhouse gases in the Earth's atmosphere are water vapor, carbon dioxide, methane, nitrous oxide, and ozone...
abatement.
Fire
Fire
Fire is the rapid oxidation of a material in the chemical process of combustion, releasing heat, light, and various reaction products. Slower oxidative processes like rusting or digestion are not included by this definition....
is a natural part of both forest and grassland
ecology
Ecology
Ecology is the scientific study of the relations that living organisms have with respect to each other and their natural environment. Variables of interest to ecologists include the composition, distribution, amount , number, and changing states of organisms within and among ecosystems...
and controlled fire can be a tool for
forester
Forester
250px|thumb|right|Foresters of [[Southern University of Chile|UACh]] in the [[Valdivian forest]]s of San Pablo de Tregua, ChileA forester is a person who practices forestry, the science, art, and profession of managing forests. Foresters engage in a broad range of activities including timber...
s. Hazard reduction or controlled burning is conducted during the cooler months to reduce fuel buildup and decrease the likelihood of serious hotter fires. Controlled burning stimulates the
germination
Germination
Germination is the process in which a plant or fungus emerges from a seed or spore, respectively, and begins growth. The most common example of germination is the sprouting of a seedling from a seed of an angiosperm or gymnosperm. However the growth of a sporeling from a spore, for example the...
of some desirable forest
tree
Tree
A tree is a perennial woody plant. It is most often defined as a woody plant that has many secondary branches supported clear of the ground on a single main stem or trunk with clear apical dominance. A minimum height specification at maturity is cited by some authors, varying from 3 m to...
s, thus renewing the forest. Some
cones
Conifer cone
A cone is an organ on plants in the division Pinophyta that contains the reproductive structures. The familiar woody cone is the female cone, which produces seeds. The male cones, which produce pollen, are usually herbaceous and much less conspicuous even at full maturity...
, such as
sequoia
Sequoiadendron
Sequoiadendron giganteum is the sole living species in the genus Sequoiadendron, and one of three species of coniferous trees known as redwoods, classified in the family Cupressaceae in the subfamily Sequoioideae, together with Sequoia sempervirens and...
and serotinous require heat from fire to open cones to disperse seeds.
In industrialized countries, controlled burning is usually overseen by fire control authorities for regulations and permits. The party responsible must delineate the intended time and place. Obtaining a permit may not limit liability if the fire burns out of control.
Back burning
Back burning is a way of reducing the amount of flammable material during a bushfire by starting small fires along a man made or natural
firebreak
Firebreak
A firebreak is a gap in vegetation or other combustible material that acts as a barrier to slow or stop the progress of a bushfire or wildfire. A firebreak may occur naturally where there is a lack of vegetation or "fuel", such as a river, lake or canyon...
in front of a main fire front. It is called back burning because the small fires are designed to 'burn back towards the main fire front'. The basic reason for back burning is so that there is little material that can burn when the main fire reaches the burnt area. The firebreaks that may be used to start a line of fires along could be a river, road or a bulldozed clearing etc.
Forest use
Another consideration is the issue of
fire prevention
Fire prevention
Fire Prevention is a function of many fire departments. The goal of fire prevention is to educate the public to take precautions to prevent fires, and be educated about surviving them. It is a proactive method of reducing emergencies and the damage caused by them. Many fire departments have a Fire...
. In
Florida
Florida
Florida is a state in the southeastern United States, located on the nation's Atlantic and Gulf coasts. It is bordered to the west by the Gulf of Mexico, to the north by Alabama and Georgia and to the east by the Atlantic Ocean. With a population of 18,801,310 as measured by the 2010 census, it...
, during the drought in 1998, catastrophic
wildfire
Wildfire
A wildfire is any uncontrolled fire in combustible vegetation that occurs in the countryside or a wilderness area. Other names such as brush fire, bushfire, forest fire, desert fire, grass fire, hill fire, squirrel fire, vegetation fire, veldfire, and wilkjjofire may be used to describe the same...
s burned numerous homes. But forestry managers in the Florida Division of Forestry noted that the underlying problem was previous cessation of controlled burning, resulting from
complaints by homeowners
NIMBY
NIMBY or Nimby is an acronym for the phrase "not in my back yard". The term is used pejoratively to describe opposition by residents to a proposal for a new development close to them. Opposing residents themselves are sometimes called Nimbies...
. Each year additional
leaf
Leaf
A leaf is an organ of a vascular plant, as defined in botanical terms, and in particular in plant morphology. Foliage is a mass noun that refers to leaves as a feature of plants....
litter and dropped branches increased the likelihood of a hot and uncontrollable fire.
Controlled burns are sometimes ignited using a tool known as the
driptorch
Driptorch
A driptorch is a tool used in wildfire suppression, controlled burning, and other forestry applications to intentionally ignite fires.The driptorch consists of a canister for holding fuel with a handle attached to the side, a spout with a loop to prevent fire from entering the fuel canister, a...
, which allows a steady stream of flaming fuel to be directed to the ground as needed. Variations on the driptorch can be used such as the
helitorch
, which is mounted on a
helicopter
Helicopter
A helicopter is a type of rotorcraft in which lift and thrust are supplied by one or more engine-driven rotors. This allows the helicopter to take off and land vertically, to hover, and to fly forwards, backwards, and laterally...
, or other improvised devices such as mounting a driptorch-like device on the side of a
vehicle
Vehicle
A vehicle is a device that is designed or used to transport people or cargo. Most often vehicles are manufactured, such as bicycles, cars, motorcycles, trains, ships, boats, and aircraft....
. A pyrotechnic device known as a
fusee
Flare (pyrotechnic)
A flare, also sometimes called a fusee, is a type of pyrotechnic that produces a brilliant light or intense heat without an explosion. Flares are used for signalling, illumination, or defensive countermeasures in civilian and military applications...
can be used for ignition in nearby fuels while a
Very pistol
Flare gun
A flare gun is a firearm that launches flares. It is typically used for signalling, as distress signalling, at sea or from the ground to aircraft...
can be for fuels farther away.
For the burning of
slash
Slash (logging)
Slash, or slashings, is a forestry term that refers to coarse and fine woody debris generated during logging operations or through wind, snow or other natural forest disturbances. Slash generated during logging operations may increase fire hazard and some North American states have passed laws...
,
waste
Waste
Waste is unwanted or useless materials. In biology, waste is any of the many unwanted substances or toxins that are expelled from living organisms, metabolic waste; such as urea, sweat or feces. Litter is waste which has been disposed of improperly...
materials left over from
logging
Logging
Logging is the cutting, skidding, on-site processing, and loading of trees or logs onto trucks.In forestry, the term logging is sometimes used in a narrow sense concerning the logistics of moving wood from the stump to somewhere outside the forest, usually a sawmill or a lumber yard...
, there are several types of controlled burns. Broadcast burning is the burning of scattered slash over a wide area. Pile burning is gathering up the slash into piles before burning. These burning piles may be referred to as
bonfire
Bonfire
A bonfire is a controlled outdoor fire used for informal disposal of burnable waste material or as part of a celebration. Celebratory bonfires are typically designed to burn quickly and may be very large...
s. High
temperature
Temperature
Temperature is a physical property of matter that quantitatively expresses the common notions of hot and cold. Objects of low temperature are cold, while various degrees of higher temperatures are referred to as warm or hot...
s can harm the
soil
Soil
Soil is a natural body consisting of layers of mineral constituents of variable thicknesses, which differ from the parent materials in their morphological, physical, chemical, and mineralogical characteristics...
, damaging it
physically
Hydrophobic soil
Hydrophobic soil - soil that is hydrophobic - causes water to collect on the soil surface rather than infiltrate into the ground. Wild fires generally cause soils to be hydrophobic temporarily, which increases water repellency, surface runoff and erosion in post-burn sites...
,
chemically
Chemical change
Chemical changes occur when a substance combines with another to form a new substance or, alternatively, decomposes into two or more different substances. These processes are called chemical reactions and , in general, are not reversible except by further chemical reactions...
or
sterilizing
Sterilization (microbiology)
Sterilization is a term referring to any process that eliminates or kills all forms of microbial life, including transmissible agents present on a surface, contained in a fluid, in medication, or in a compound such as biological culture media...
it. Broadcast burns tend to have lower temperatures and will not harm the soil as much as pile burning, though steps can be taken to treat the soil after a burn. In lop and scatter burning, slash is left to compact over time, or is compacted with machinery. This produces a lower intensity fire, as long as the slash is not packed too tightly. However, soil may be damaged if machinery is used to compress the slash.
Controlled burning reduces
fuel
Fuel
Fuel is any material that stores energy that can later be extracted to perform mechanical work in a controlled manner. Most fuels used by humans undergo combustion, a redox reaction in which a combustible substance releases energy after it ignites and reacts with the oxygen in the air...
s, may improve
wildlife
Wildlife
Wildlife includes all non-domesticated plants, animals and other organisms. Domesticating wild plant and animal species for human benefit has occurred many times all over the planet, and has a major impact on the environment, both positive and negative....
habitat
Habitat (ecology)
A habitat is an ecological or environmental area that is inhabited by a particular species of animal, plant or other type of organism...
, controls competing vegetation, improves short term forage for grazing, improves accessibility, helps control
tree
Tree
A tree is a perennial woody plant. It is most often defined as a woody plant that has many secondary branches supported clear of the ground on a single main stem or trunk with clear apical dominance. A minimum height specification at maturity is cited by some authors, varying from 3 m to...
disease
Disease
A disease is an abnormal condition affecting the body of an organism. It is often construed to be a medical condition associated with specific symptoms and signs. It may be caused by external factors, such as infectious disease, or it may be caused by internal dysfunctions, such as autoimmune...
, and perpetuates fire dependent species. In mature
Longleaf Pine
Longleaf Pine
Pinus palustris, commonly known as the Longleaf Pine, is a pine native to the southeastern United States, found along the coastal plain from eastern Texas to southeast Virginia extending into northern and central Florida....
forest, it helps maintain habitat for
endangered
Endangered species
An endangered species is a population of organisms which is at risk of becoming extinct because it is either few in numbers, or threatened by changing environmental or predation parameters...
Red-cockaded Woodpecker
Red-cockaded Woodpecker
The Red-cockaded Woodpecker is a woodpecker found in southeastern North America.- Description :About the size of the Northern Cardinal, it is approximately 8.5 in. long, with a wingspan of about 14 in. and a weight of about 1.5 ounces...
s in their
sandhill
Sandhill
A sandhill is a type of ecological community or xeric wildfire-maintained ecosystem. It is not the same as a sand dune. It features very short fire return intervals, one to five years. Without fire, sandhills undergo ecological succession and become more oak dominated.Entisols are the typical...
and
flatwoods
Flatwoods
Flatwoods, Pineywoods, Longleaf Pine-Wiregrass Ecosystem refers to an ecological community in the Southeastern coastal plain of North America...
habitats. Fire is also felt to be a crucial element of the recovery of the threatened
Louisiana Pine Snake
Louisiana Pine Snake
The Louisiana Pine Snake is a large, nonvenomous constrictor of the Colubridae family. This powerful snake is notable because if its large eggs and small clutch sizes. The Louisiana Pine Snake is indigenous to west-central Louisiana and eastern Texas, where it relies strongly on the Baird's...
in the longleaf pine forests of central Louisiana and eastern Texas. However many scientists disagree with such a simplistic approach, and indicate that each forest must be assessed on its own merit.
Agricultural use
Controlled burns were first used significantly in the
Neolithic Revolution
Neolithic Revolution
The Neolithic Revolution was the first agricultural revolution. It was the transition from hunting and gathering to agriculture and settlement. Archaeological data indicates that various forms of plants and animal domestication evolved independently in 6 separate locations worldwide circa...
, i.e. about 9–11,000 years ago at the end of the last ice age when hunter gatherers turned to farming. In the developing world, this is often referred to as
slash and burn
Slash and burn
Slash-and-burn is an agricultural technique which involves cutting and burning of forests or woodlands to create fields. It is subsistence agriculture that typically uses little technology or other tools. It is typically part of shifting cultivation agriculture, and of transhumance livestock...
.
In addition to forest management, controlled burning is also used in agriculture. In industrialized nations, it is seen as one component of
shifting cultivation
Shifting cultivation
Shifting cultivation is an agricultural system in which plots of land are cultivated temporarily, then abandoned. This system often involves clearing of a piece of land followed by several years of wood harvesting or farming, until the soil loses fertility...
, as a part of field preparation for planting. Often called
field burning
, this technique is used to clear the land of any existing crop residue as well as kill weeds and weed seeds. Field burning is less expensive than most other methods such as herbicides or tillage but because it does produce smoke and other fire related pollutants, its use is not popular in agricultural areas bounded by residential housing.
In the United States, field burning is a legislative and regulatory issue at both the Federal and state levels of government.
Controversy
In
Oregon
Oregon
Oregon is a state in the Pacific Northwest region of the United States. It is located on the Pacific coast, with Washington to the north, California to the south, Nevada on the southeast and Idaho to the east. The Columbia and Snake rivers delineate much of Oregon's northern and eastern...
, field burning has been widely used by
grass
Grass
Grasses, or more technically graminoids, are monocotyledonous, usually herbaceous plants with narrow leaves growing from the base. They include the "true grasses", of the Poaceae family, as well as the sedges and the rushes . The true grasses include cereals, bamboo and the grasses of lawns ...
seed farmers as a method for clearing fields for the next round of planting, as well as revitalizing grasses that require fire in order to grow seed again. The
Oregon Department of Environmental Quality
Oregon Department of Environmental Quality
The Oregon Department of Environmental Quality is the chief regulatory agency of the government of the U.S. state of Oregon responsible for protecting and enhancing the state's natural resources and managing sanitary and toxic waste disposal. The agency employs approximately 700 scientists,...
began requiring a permit for farmers to burn their fields in 1981, but the requirements became stricter in 1988 following a multi-car accident in which smoke from field burning near
Albany, Oregon
Albany, Oregon
Albany is the eleventh largest city in the U.S. state of Oregon, and is the county seat of Linn County. It is located in the Willamette Valley at the confluence of the Calapooia River and the Willamette River in both Linn and Benton counties, just east of Corvallis and south of Salem. It is...
obscured the vision of drivers on Interstate 5, leading to a 23-car accident in which 5 people died and 37 were injured. This resulted in more scrutiny of field burning and proposals to ban field burning in the state altogether.
Following extensive research and advocacy from the
Western Environmental Law Center
Western Environmental Law Center
The Western Environmental Law Center is a nonprofit public interest law firm that works to protect and restore western wildlands and advocates for a healthy environment on behalf of communities throughout the West....
, in 2007 the Lane County Board of Commissioners and the Lane County Board of Health decided to formally urge the state's Environmental Quality Commission (EQC) to order a two-year moratorium of open field burning in the Willamette Valley in order to protect Oregonians from smoke inhalation from burning grass seed fields.
Heathland use
The controlled burning or Swailing of
heathland
Heath (habitat)
A heath or heathland is a dwarf-shrub habitat found on mainly low quality acidic soils, characterised by open, low growing woody vegetation, often dominated by plants of the Ericaceae. There are some clear differences between heath and moorland...
is used in the
United Kingdom
United Kingdom
The United Kingdom of Great Britain and Northern IrelandIn the United Kingdom and Dependencies, other languages have been officially recognised as legitimate autochthonous languages under the European Charter for Regional or Minority Languages...
and other countries as a
conservation
Conservation ethic
Conservation is an ethic of resource use, allocation, and protection. Its primary focus is upon maintaining the health of the natural world: its, fisheries, habitats, and biological diversity. Secondary focus is on materials conservation and energy conservation, which are seen as important to...
tool. In Scotland it is known as Muirburn. Often it is used as a tool for creating fire breaks to reduce the risk of dangerous outbreaks but is also an important mechanism for preventing succession to woodier vegetation and plays an important role in the life cycle of
heather
Ericaceae
The Ericaceae, commonly known as the heath or heather family, is a group of mostly calcifuge flowering plants. The family is large, with roughly 4000 species spread across 126 genera, making it the 14th most speciose family of flowering plants...
species.
Greenhouse gas abatement
Controlled burns on Australian
savanna
Savanna
A savanna, or savannah, is a grassland ecosystem characterized by the trees being sufficiently small or widely spaced so that the canopy does not close. The open canopy allows sufficient light to reach the ground to support an unbroken herbaceous layer consisting primarily of C4 grasses.Some...
s can result in an overall reduction of greenhouse gas emissions. One working example is the West Arnhem Fire Management Agreement, started to bring "strategic fire management across 28000 square kilometres (10,810.9 sq mi) of Western Arnhem Land" to partially offset greenhouse gas emissions from a
liquefied natural gas
Liquefied natural gas
Liquefied natural gas or LNG is natural gas that has been converted temporarily to liquid form for ease of storage or transport....
plant in
Darwin
Darwin, Northern Territory
Darwin is the capital city of the Northern Territory, Australia. Situated on the Timor Sea, Darwin has a population of 127,500, making it by far the largest and most populated city in the sparsely populated Northern Territory, but the least populous of all Australia's capital cities...
, Australia. Deliberately starting controlled burns early in the dry season results in a mosaic of burnt and unburnt country which reduces the area of stronger, late dry season fires.
See also
Agroecology

Agroecology

Agroecology is the application of ecological principles to the production of food, fuel, fiber, and pharmaceuticals. The term encompasses a broad range of approaches, and is considered "a science, a movement, [and] a practice."...



Bushfire
Country Fire Service

Country Fire Service

The SA Country Fire Service is a volunteer based fire service in the state of South Australia in Australia. Many parts of Australia are sparsely populated whilst at the same time they are under significant risk of bushfire. Due to economics, it is prohibitively expensive for each Australian town...


(South Australia)
Country Fire Authority

Country Fire Authority

Country Fire Authority, or CFA, is the name of the fire service that provides firefighting and other emergency services to all of the country areas and regional townships within the state of Victoria, Australia, as well as large portions of the outer suburban areas and growth corridors of Melbourne...


(Victoria, Australia)
Fire ecology

Fire ecology

Fire ecology is concerned with the processes linking the natural incidence of fire in an ecosystem and the ecological effects of this fire. Many ecosystems, such as the North American prairie and chaparral ecosystems, and the South African savanna, have evolved with fire as a natural and necessary...



Firebreak

Firebreak

A firebreak is a gap in vegetation or other combustible material that acts as a barrier to slow or stop the progress of a bushfire or wildfire. A firebreak may occur naturally where there is a lack of vegetation or "fuel", such as a river, lake or canyon...



Fire-stick farming

Fire-stick farming

Fire-stick farming is a term coined by Australian archaeologist Rhys Jones in 1969 to describe the practice of Indigenous Australians where fire was used regularly to burn vegetation to facilitate hunting and to change the composition of plant and animal species in an area.Fire-stick farming had...



Flora of Australia

Flora of Australia

The flora of Australia comprises a vast assemblage of plant species estimated to over 20,000 vascular and 14,000 non-vascular plants, 250,000 species of fungi and over 3,000 lichens...



New South Wales Rural Fire Service

New South Wales Rural Fire Service

The New South Wales Rural Fire Service is a volunteer-based firefighting agency and statutory body of the NSW Government. The NSW RFS is responsible for the general administration of rural fire management affairs including administration of the Rural Fire Fighting Fund, co-ordination with local...


(Australia)
Shifting cultivation

Shifting cultivation

Shifting cultivation is an agricultural system in which plots of land are cultivated temporarily, then abandoned. This system often involves clearing of a piece of land followed by several years of wood harvesting or farming, until the soil loses fertility...



Wildfire suppression
Women in firefighting
External links