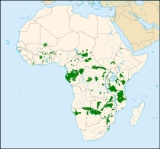 Habitat (ecology)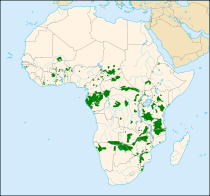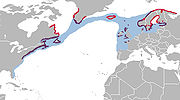 A
habitat
is an ecological or
environmental
Natural environment
The natural environment encompasses all living and non-living things occurring naturally on Earth or some region thereof. It is an environment that encompasses the interaction of all living species....
area that is inhabited by a particular
species
Species
In biology, a species is one of the basic units of biological classification and a taxonomic rank. A species is often defined as a group of organisms capable of interbreeding and producing fertile offspring. While in many cases this definition is adequate, more precise or differing measures are...
of
animal
Animal
Animals are a major group of multicellular, eukaryotic organisms of the kingdom Animalia or Metazoa. Their body plan eventually becomes fixed as they develop, although some undergo a process of metamorphosis later on in their life. Most animals are motile, meaning they can move spontaneously and...
,
plant
Plant
Plants are living organisms belonging to the kingdom Plantae. Precise definitions of the kingdom vary, but as the term is used here, plants include familiar organisms such as trees, flowers, herbs, bushes, grasses, vines, ferns, mosses, and green algae. The group is also called green plants or...
or other type of
organism
Organism
In biology, an organism is any contiguous living system . In at least some form, all organisms are capable of response to stimuli, reproduction, growth and development, and maintenance of homoeostasis as a stable whole.An organism may either be unicellular or, as in the case of humans, comprise...
. It is the natural environment in which an organism lives, or the physical environment that surrounds (influences and is utilized by) a species
population
Population
A population is all the organisms that both belong to the same group or species and live in the same geographical area. The area that is used to define a sexual population is such that inter-breeding is possible between any pair within the area and more probable than cross-breeding with individuals...
.
Definition
The term "population" is preferred to "organism" because, while it is possible to describe the habitat of a single black bear, it is also possible that we may not find any particular or individual bear but the grouping of bears that constitute a breeding population and occupy a certain biogeographical area. Further, this habitat could be somewhat different from the habitat of another group or population of black bears living elsewhere. Thus it is neither the species nor the individual for which the term habitat is typically used.
Microhabitat
The term microhabitat is often used to describe the small-scale physical requirements of a particular organism or population.
Monotypic habitat
The monotypic habitat occurs in botanical and zoological contexts, and is a component of
conservation biology
Conservation biology
Conservation biology is the scientific study of the nature and status of Earth's biodiversity with the aim of protecting species, their habitats, and ecosystems from excessive rates of extinction...
. In restoration ecology of native plant communities or habitats, some
invasive species
Invasive species
"Invasive species", or invasive exotics, is a nomenclature term and categorization phrase used for flora and fauna, and for specific restoration-preservation processes in native habitats, with several definitions....
create monotypic stands that replace and/or prevent other species, especially indigenous ones, from growing there. A dominant colonization can occur from retardant chemicals exuded, nutrient monopolization, or from lack of natural controls such as
herbivore
Herbivore
Herbivores are organisms that are anatomically and physiologically adapted to eat plant-based foods. Herbivory is a form of consumption in which an organism principally eats autotrophs such as plants, algae and photosynthesizing bacteria. More generally, organisms that feed on autotrophs in...
s or climate, that keep them in balance with their native habitats. The yellow starthistle,
Centaurea solstitialis
, is a botanical monotypic-habitat example of this, currently dominating over 15000000 acres (60,702.9 km²) in California alone. The non-native freshwater
zebra mussel, Dreissena polymorpha
Zebra mussel
The zebra mussel, Dreissena polymorpha, is a small freshwater mussel. This species was originally native to the lakes of southeast Russia being first described in 1769 by a German zoologist Peter Simon Pallas in the Ural, Volga and Dnieper rivers. They are still found nearby, as Pontic and Caspian...
, that colonizes areas of the
Great Lakes
Great Lakes
The Great Lakes are a collection of freshwater lakes located in northeastern North America, on the Canada – United States border. Consisting of Lakes Superior, Michigan, Huron, Erie, and Ontario, they form the largest group of freshwater lakes on Earth by total surface, coming in second by volume...
and the
Mississippi River
Mississippi River
The Mississippi River is the largest river system in North America. Flowing entirely in the United States, this river rises in western Minnesota and meanders slowly southwards for to the Mississippi River Delta at the Gulf of Mexico. With its many tributaries, the Mississippi's watershed drains...
watershed
Drainage basin
A drainage basin is an extent or an area of land where surface water from rain and melting snow or ice converges to a single point, usually the exit of the basin, where the waters join another waterbody, such as a river, lake, reservoir, estuary, wetland, sea, or ocean...
, without its home-range predator control, is a zoological monotypic-habitat example.
Even though its name may seem to imply simplicity as compared with
polytypic
Polytypic
In zoology, polytypic refers to a taxonomic unit with more than one subgroup at the next lower level.-See also:*Linnaean taxonomy*monotypic*monotypic habitat...
habitats, the monotypic habitat can be complex.
See also
Habitat conservation

Habitat conservation

Habitat conservation is a land management practice that seeks to conserve, protect and restore, habitat areas for wild plants and animals, especially conservation reliant species, and prevent their extinction, fragmentation or reduction in range...



Habitat destruction

Habitat destruction

Habitat destruction is the process in which natural habitat is rendered functionally unable to support the species present. In this process, the organisms that previously used the site are displaced or destroyed, reducing biodiversity. Habitat destruction by human activity mainly for the purpose of...



Habitat fragmentation

Habitat fragmentation

Habitat fragmentation as the name implies, describes the emergence of discontinuities in an organism's preferred environment , causing population fragmentation...



Habitat garden
Natural landscape

Natural landscape

A natural landscape is a landscape that is unaffected by human activity. A natural landscape is intact when all living and nonliving elements are free to move and change. The nonliving elements distinguish a natural landscape from a wilderness. A wilderness includes areas within which natural...



Natural resource

Natural resource

Natural resources occur naturally within environments that exist relatively undisturbed by mankind, in a natural form. A natural resource is often characterized by amounts of biodiversity and geodiversity existent in various ecosystems....



Human habitats
External links
Habitat.org.tr
, Human Settlements, Environment, Education and Health Association (Türkiye)