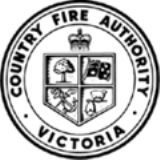 Country Fire Authority
style="font-size: larger;" | Country Fire Authority


Official Seal and Emblem of the Country Fire Authority
Established:
1945



Regions:
20


Specialities:
Combatant Authority for Fire

Fire

Fire is the rapid oxidation of a material in the chemical process of combustion, releasing heat, light, and various reaction products. Slower oxidative processes like rusting or digestion are not included by this definition....


, Rescue

Rescue

Rescue refers to responsive operations that usually involve the saving of life, or prevention of injury during an incident or dangerous situation....


and Hazmat


Volunteers:
~59,000


Paid Staff:
1,650+


Brigades:
1222


Location:
Victoria, Australia


Website
www.cfa.vic.gov.au
Country Fire Authority
, or
CFA
, is the name of the fire service that provides firefighting and other emergency services to all of the country areas and regional townships within the state of
Victoria
Victoria (Australia)
Victoria is the second most populous state in Australia. Geographically the smallest mainland state, Victoria is bordered by New South Wales, South Australia, and Tasmania on Boundary Islet to the north, west and south respectively....
,
Australia
Australia
Australia , officially the Commonwealth of Australia, is a country in the Southern Hemisphere comprising the mainland of the Australian continent, the island of Tasmania, and numerous smaller islands in the Indian and Pacific Oceans. It is the world's sixth-largest country by total area...
, as well as large portions of the outer suburban areas and growth corridors of
Melbourne
Melbourne
Melbourne is the capital and most populous city in the state of Victoria, and the second most populous city in Australia. The Melbourne City Centre is the hub of the greater metropolitan area and the Census statistical division—of which "Melbourne" is the common name. As of June 2009, the greater...
not covered by the
Metropolitan Fire Brigade
Metropolitan Fire Brigade (Melbourne)
The Metropolitan Fire Brigade , also known as the Metropolitan Fire and Emergency Services Board, provides firefighting, rescue, and hazardous material incident response services to the metropolitan area of Melbourne, Victoria, Australia...
. In the event of an emergency in Australia, emergency services including the CFA can be called by dialling 000.
CFA, as it is commonly known, draws the majority of its officers and members from the local community on a volunteer basis.
The CFA works closely with the other emergency services within Victoria namely being the
State Emergency Service
State Emergency Service
A State Emergency Service is an Australian volunteer organisation that provides emergency help during and after declared disasters. The SES is also the primary or secondary agency for emergencies, such as storm damage,flood damage, building damage, traffic hazards and road crash rescue...
,
Victoria Police
Victoria Police
Victoria Police is the primary law enforcement agency of Victoria, Australia. , the Victoria Police has over 12,190 sworn members, along with over 400 recruits, reservists and Protective Service Officers, and over 2,900 civilian staff across 393 police stations.-Early history:The Victoria Police...
,
Ambulance Victoria
Ambulance Victoria
Since 1 July 2008 emergency ambulance services in Victoria have been provided by a single provider known as Ambulance Victoria. It was formed from the three previous providers of emergency ambulance services: the Metropolitan Ambulance Service , Rural Ambulance Victoria , and the Alexandra District...
and the
Metropolitan Fire Brigade
Metropolitan Fire Brigade
Metropolitan Fire Brigade could refer to:*Metropolitan Fire Brigade *Metropolitan Fire Brigade...
working together with unique skill sets and resources for the betterment and safety of all Victorians.
The current Chairman of CFA is Kerry Murphy. Its Chief Executive Officer is Mick Bourke, and its operational
Chief Officer
Chief officer
A chief officer can refer to any of various leaders:In the military, it can refer to certain non-commissioned members:*Chief Petty Officer*Chief Warrant OfficerMarine occupation:*Chief Mate...
of CFA is Euan Ferguson.
The CFA falls under the portfolio of the Minister for Police and Emergency Services,
Peter Ryan
Peter Ryan (politician)
Peter Julian Ryan is an Australian politician and leader of the National Party in Victoria. He has represented the electoral district of Gippsland South since 1992, and has been the Deputy Premier of Victoria, Minister for Police as well as the Minister for Rural and Regional Development since 2...
.
History
CFA operates under the Country Fire Authority Act of 1958, its amendments and Regulations. This legislation was brought about by significant bushfires during the period 1939-1944 which killed 114 people and destroyed nearly 1400 homes while also damaging large areas of the state and destroying significant amounts of stock. Subsequent investigations showed the lack of a cohesive firefighting agency outside the central metropolitan area and CFA was born on 2 April 1945. Many of its brigades however were established in the 19th century or early in the 20th century.
CFA is one of the world's largest volunteer based firefighting organisations. It services more than 150,000 square kilometres and 3.3 million people, and currently has approximately 59,000 active volunteers with over 550 career firefighters and about 1,100 career support staff.
Funding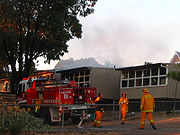 The CFA is funded on a 77.5%/22.5% split where
Insurance
Insurance
In law and economics, insurance is a form of risk management primarily used to hedge against the risk of a contingent, uncertain loss. Insurance is defined as the equitable transfer of the risk of a loss, from one entity to another, in exchange for payment. An insurer is a company selling the...
companies provide 77.5% of the funding through fire levies on insurance policies and the
Victorian Government
Government of Victoria
The Government of Victoria, under the Constitution of Australia, ceded certain legislative and judicial powers to the Commonwealth, but retained complete independence in all other areas...
provides 22.5% of the funding. In 2006/2007 Insurance companies provided $180.8m and $51.1m was provided from the State Government.
The CFA also receives small amounts of funding from the provision of goods and services to external bodies. Additional funding from the government is also provided during serious long duration bushfires.
Individual brigades receive further funds from local councils, from their own fundraising activities and from donations from the community.
Fire Brigades
There are 1209 brigades (1023 rural, 252 urban and some just brigades), with more than 2300 vehicles across 20 Districts in eight Regions. The Brigades are split up into Regions, Districts then Groups with each division having less brigades in each, however in Urban locations the Region may be the same as the District.
There are Eight "Regions", Twenty "Districts" and many Groups. All brigades are in a District and a Region, but may not fall into a group.
The CFA's Regions are:
Barwon Southwest Region -Includes Districts 4, 5, 6 & 7
Gippsland -Includes Districts 9, 10 & 11
Loddon Mallee Region -Includes Districts 2, 18 & 20
Hume Region -Includes Districts 12, 22, 23 & 24
Grampians Region -Includes Districts 15, 16 & 17
Northern and Western Metropolitan Region -District 14
Southern Metropolitan Region -District 8
Eastern Metropolitan Region -District 13
Coast Guard Brigades
In 2005 the CFA signed a Memorandum of Understanding with the Australian Volunteer Coast Guard to create CFA Coast Guard brigades. All Victorian Coast Guard Vessels will have CFA Radios installed, EAS (Emergency Alerting System) pagers as used by the CFA as well as basic firefighting tools including a small pump and hoses. Additionally all Coast Guard members are to receive basic CFA firefighting training and some land brigades will receive marine firefighting training.
Vehicles
The CFA owned vehicles consist of nearly 1300 Tankers, 250 Pumpers, 7 Aerial Appliances (telescopic ladders), 30 Rescue Units and various other special purpose and Command and Support vehicles. This fleet is supplemented by more than 1,400 brigade owned vehicles. Brigade owned vehicles are bought and paid for by the individual brigades and communities (sometimes with the assistance of Victorian Government grants) to allow extension of brigade firefighting capability. There are a total of over 4000 vehicles in operation.
Communications
Most CFA firefighters are issued an EAS (Emergency Alerting System)
Pager
Pager
A pager is a simple personal telecommunications device for short messages. A one-way numeric pager can only receive a message consisting of a few digits, typically a phone number that the user is then requested to call...
These pagers allow
Emergency
Emergency
An emergency is a situation that poses an immediate risk to health, life, property or environment. Most emergencies require urgent intervention to prevent a worsening of the situation, although in some situations, mitigation may not be possible and agencies may only be able to offer palliative...
, Non-Emergency and Administration messages to be sent to members either individually or by groups of people.
Brigades are dispatched based on various factors including the time of day, location and type of fire or incident. Although each fire brigade has a primary response zone, other neighboring brigades or specific appliances may be responded as support to the primary brigade. This is especially the case where specialist skills or equipment are needed, such as for road accident rescue or very large structural fires.
When the emergency dispatcher is notified of a fire or incident, he or she sends an Emergency-type message to volunteers or CFA career firefighters via EAS Pager. When this is received by the brigade members, firefighters respond to their station and from there will "turn out" firefighting appliances. While these calls usually come from VicFire (CFA dispatch) as a result of a call to 000, brigades or appliances may also be responded by other dispatch agencies such as D24 (Victoria Police dispatch) or at the request of incident controllers. Other emergency service providers such as Ambulance Victoria and the Victorian State Emergency Service may also request that CFA brigades be responded to an incident.
The CFA has 1,200 base radios, 5,800 mobile radios (mounted on vehicles), 3,000 portable radios (hand held), 35,000 pagers on the EAS network, 58 satellite terminals and 10,700 pre-conference interceptors.
Training
The CFA Operates seven major training facilities at the South Eastern Training Ground (SETG) in Bangholme, Penshurst in Western Victoria, Longerenong (near Horsham), Bendigo, the Gippsland Fire Training Complex in West Sale, Wangaratta and Fiskville near Baccus Marsh.
Fiskville is the largest training facility in Victoria and is where
Metropolitan Fire Brigade
Metropolitan Fire Brigade (Melbourne)
The Metropolitan Fire Brigade , also known as the Metropolitan Fire and Emergency Services Board, provides firefighting, rescue, and hazardous material incident response services to the metropolitan area of Melbourne, Victoria, Australia...
and CFA staff firefighters receive basic training. Fiskville has three precincts including a Hospitality Precinct, a Teaching Centre and Admin Precinct and a PAD Precinct
SETG near Carrum is the major Training facility for outer metropolitan brigades, which includes Lecture facilities as well asFlammable liquid spill , Gas Attack and Breathing Apparatus training areas
All members are required to undertake
Wildfire
Wildfire
A wildfire is any uncontrolled fire in combustible vegetation that occurs in the countryside or a wilderness area. Other names such as brush fire, bushfire, forest fire, desert fire, grass fire, hill fire, squirrel fire, vegetation fire, veldfire, and wilkjjofire may be used to describe the same...
"Minimum Skills" training before turning out in a fire truck. This consists of five basic training modules including:
Personal Protection
Map Reading
Wildfire Behaviour
Wildfire Suppression
Wildfire Communication
Major incidents
The CFA has been involved in a number of major fires over the years where lives have been lost, including:
Ash Wednesday fires

Ash Wednesday fires

The Ash Wednesday bushfires, known in South Australia as Ash Wednesday II, were a series of bushfires that occurred in south-eastern Australia on 16 February 1983. Within twelve hours, more than 180 fires fanned by winds of up to 110 km per hour caused widespread destruction across the states...


in 1983
Linton bushfire

Linton bushfire

The Linton bushfire was a wildfire that burned through private land and state forests near the township of Linton, Victoria, Australia on 2 December 1998. Firefighters from the Victorian state government's Department of Natural Resources and Country Fire Authority were deployed to put out the fire...


in 1998
The Victorian Alps fires in 2003 and 2007.
The Black Saturday bushfires in 2009
The CFA has also been involved in combatting interstate fires such as the
Sydney
Sydney
Sydney is the most populous city in Australia and the state capital of New South Wales. Sydney is located on Australia's south-east coast of the Tasman Sea. As of June 2010, the greater metropolitan area had an approximate population of 4.6 million people...
fires in 2002 and the
2003 Canberra bushfires
2003 Canberra bushfires
The Canberra bushfires of 2003 caused severe damage to the outskirts of Canberra, the Australian capital city. Almost 70% of the Australian Capital Territory's pasture, forests and nature parks were severely damaged, and most of the renowned Mount Stromlo Observatory was destroyed...
.
Activities
The CFA is involved in other non-firefighting operations. The CFA has a leading role in Prevention, Preparedness, Response and Recovery of Fires and other Incidents.
The CFA is responsible for all fires on Private land in Victoria outside of the Metropolitan Fire Brigade area including Structure Fires and Bushfires. The CFA has a shared responsibility for Rescues with the Victorian
State Emergency Service
State Emergency Service
A State Emergency Service is an Australian volunteer organisation that provides emergency help during and after declared disasters. The SES is also the primary or secondary agency for emergencies, such as storm damage,flood damage, building damage, traffic hazards and road crash rescue...
. In addition to its Response activities members also run prevention programs such as Fire Ready Victoria and Brigades in Schools.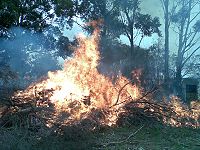 The CFA is also responsible for specialist response functions, including -
Confined Space Rescue
Trench Rescue
High Angle Rescue
Road Accident Rescue
Industrial Rescue
Urban Search and Rescue (USAR)
Aviation Response
Marine Response
Hazardous Materials Response
Chemical, Biological, Radiological (CBR) Response
United Firefighters Union and the Volunteer Association
The group associated with the CFA is Volunteer Fire Brigades Victoria (VFBV) which was created following the merger of the Victorian Urban Fire Brigades' Association (VUFBA), and the Victorian Rural Fire Brigades' Association (VRFBA). The role of these organisations is to represent the interests of volunteers of urban and rural fire brigades, and deal with the CFA Board, state and federal governments as well as the United Firefighters Union of Australia (
UFU
United Firefighters Union of Australia
The United Firefighters Union of Australia is the trade union which represents professional firefighters in Australia. Formed 1 August 1990, the union has branches in every state and the ACT and is affiliated with the Australian Council of Trade Unions....
). The UFU is the Union that represents the career firefighters in the CFA, however volunteer firefighters are able to join as Associate Members.
The VFBV is also responsible for running the Urban and Rural (respectively) State Championships held each year. These competitions involve brigades from around the state competing in a range of events which are based on current and past fire fighting practices.
Firestar Rose
The official Rose of the CFA is the "firestar" which was introduced in 2010. The rose will be sold by the individual brigades to raise funds and is named after the distinctive shape of the volunteer fire fighter badge.
See also
Metropolitan Fire Brigade

Metropolitan Fire Brigade (Melbourne)

The Metropolitan Fire Brigade , also known as the Metropolitan Fire and Emergency Services Board, provides firefighting, rescue, and hazardous material incident response services to the metropolitan area of Melbourne, Victoria, Australia...



New South Wales Rural Fire Service

New South Wales Rural Fire Service

The New South Wales Rural Fire Service is a volunteer-based firefighting agency and statutory body of the NSW Government. The NSW RFS is responsible for the general administration of rural fire management affairs including administration of the Rural Fire Fighting Fund, co-ordination with local...



South Australian Country Fire Service

Country Fire Service

The SA Country Fire Service is a volunteer based fire service in the state of South Australia in Australia. Many parts of Australia are sparsely populated whilst at the same time they are under significant risk of bushfire. Due to economics, it is prohibitively expensive for each Australian town...



New South Wales Fire Brigades

New South Wales Fire Brigades

Fire and Rescue NSW, an agency of the Government of New South Wales, Australia, is responsible for firefighting, rescue and hazmat services in the major cities, metropolitan areas and towns across rural and regional New South Wales...



Australasian Fire Authorities Council

Australasian Fire Authorities Council

The Australasian Fire and Emergency Service Authorities Council , or AFAC is the peak body responsible for representing fire, emergency services and land management agencies in the Australasian region...



List of Country Fire Authority brigades
CFA Training College, Fiskville
External links
Related links