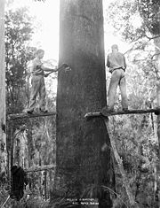 Logging
Logging
is the cutting, skidding, on-site processing, and loading of trees or logs onto trucks.
In
forestry
Forestry
Forestry is the interdisciplinary profession embracing the science, art, and craft of creating, managing, using, and conserving forests and associated resources in a sustainable manner to meet desired goals, needs, and values for human benefit. Forestry is practiced in plantations and natural stands...
, the term logging is sometimes used in a narrow sense concerning the logistics of moving wood from the stump to somewhere outside the forest, usually a
sawmill
Sawmill
A sawmill is a facility where logs are cut into boards.-Sawmill process:A sawmill's basic operation is much like those of hundreds of years ago; a log enters on one end and dimensional lumber exits on the other end....
or a
lumber yard
Lumber yard
A lumber yard is a retail location for lumber and wood related products used in construction and/or home improvement projects. Lumber yards can also provide services such as the use of a planer and other large machines....
. However, in common usage, the term may be used to indicate a range of forestry or silviculture activities.
Illegal logging
Illegal logging
Illegal logging is the harvest, transportation, purchase or sale of timber in violation of laws. The harvesting procedure itself may be illegal, including using corrupt means to gain access to forests; extraction without permission or from a protected area; the cutting of protected species; or the...
refers to what in forestry might be called timber theft.