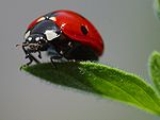 Coccinellidae
Coccinellidae
is a
family
Family (biology)
In biological classification, family is* a taxonomic rank. Other well-known ranks are life, domain, kingdom, phylum, class, order, genus, and species, with family fitting between order and genus. As for the other well-known ranks, there is the option of an immediately lower rank, indicated by the...
of
beetle
Beetle
Coleoptera is an order of insects commonly called beetles. The word "coleoptera" is from the Greek , koleos, "sheath"; and , pteron, "wing", thus "sheathed wing". Coleoptera contains more species than any other order, constituting almost 25% of all known life-forms...
s, known variously as
ladybirds
(UK, Ireland, Australia, Sri Lanka, Pakistan, South Africa, New Zealand, India, Malta, some parts of Canada and the US), or
ladybugs
(North America). Scientists increasingly prefer the names
ladybird beetles
or
lady beetles
as these insects are not
true bugs
Hemiptera
Hemiptera is an order of insects most often known as the true bugs , comprising around 50,000–80,000 species of cicadas, aphids, planthoppers, leafhoppers, shield bugs, and others...
. Lesser-used names include
God's cow
,
ladycock
,
lady cow
, and
lady fly
.
Coccinellids are small
insect
Insect
Insects are a class of living creatures within the arthropods that have a chitinous exoskeleton, a three-part body , three pairs of jointed legs, compound eyes, and two antennae...
s, ranging from 1 mm to 10 mm (0.04 to 0.4 inches), and are commonly yellow, orange, or scarlet with small black spots on their wing covers, with black legs, head and
antennae
Antenna (biology)
Antennae in biology have historically been paired appendages used for sensing in arthropods. More recently, the term has also been applied to cilium structures present in most cell types of eukaryotes....
. A very large number of coccinellid
species
Species
In biology, a species is one of the basic units of biological classification and a taxonomic rank. A species is often defined as a group of organisms capable of interbreeding and producing fertile offspring. While in many cases this definition is adequate, more precise or differing measures are...
are mostly, or entirely, black, grey, or brown and may be difficult for non-entomologists to recognize as coccinellids. Conversely, many small beetles are easily mistaken for coccinellids, such as the
tortoise beetle
Tortoise beetle
The tortoise beetles are an artificial grouping of tribes within the leaf beetle subfamily Hispinae. In past classifications, they have been variously placed as a family or a subfamily ; when it was recognized that this group was not monophyletic, it was split and the resulting tribes were...
s.
Coccinellids are found worldwide, with over 5,000 species described, more than 450 native to
North America
North America
North America is a continent wholly within the Northern Hemisphere and almost wholly within the Western Hemisphere. It is also considered a northern subcontinent of the Americas...
alone.
A few species are considered pests in North America and Europe, but they are generally considered useful insects, as many species feed on
aphid
Aphid
Aphids, also known as plant lice and in Britain and the Commonwealth as greenflies, blackflies or whiteflies, are small sap sucking insects, and members of the superfamily Aphidoidea. Aphids are among the most destructive insect pests on cultivated plants in temperate regions...
s or
scale insect
Scale insect
The scale insects are small insects of the order Hemiptera, generally classified as the superfamily Coccoidea. There are about 8,000 species of scale insects.-Ecology:...
s, which are pests in gardens, agricultural fields, orchards, and similar places.
Harmonia axyridis
(or the harlequin ladybug) was introduced into North America from Asia in 1916 to control aphids, but is now the most common species as it is out-competing many of the native species. It has since spread to much of western Europe, reaching the UK in 2004.
A common myth is that the number of spots on the insect's back indicates its age.
Etymology
The name "ladybird" originated in Britain where the insects became known as "
Our Lady
Mary (mother of Jesus)
Mary , commonly referred to as "Saint Mary", "Mother Mary", the "Virgin Mary", the "Blessed Virgin Mary", or "Mary, Mother of God", was a Jewish woman of Nazareth in Galilee...
's bird" or the "Lady beetle". Mary (Our Lady) was often depicted wearing a red cloak in early paintings and the spots of the seven spot ladybird (the most common in Europe) were said to symbolise her
seven joys
Seven Joys of the Virgin
The Seven Joys of the Virgin is a popular devotion to events of the life of the Virgin Mary, arising from a trope of medieval devotional literature and art....
and
seven sorrows
Our Lady of Sorrows
Our Lady of Sorrows , the Sorrowful Mother or Mother of Sorrows , and Our Lady of the Seven Sorrows or Our Lady of the Seven Dolours are names by which the Blessed Virgin Mary is referred to in relation to sorrows in her life...
.
In the United States the name was adapted to "ladybug".
Common names in other European languages have the same association (the German name
Marienkäfer
translates to Marybeetle).
The Dutch name "Lieveheersbeestje" and the colloquial French name "Bête à bon Dieu" mean "Our Lord's animal". The Irish name "Bóín Dé" means "God's little cow".
Biology
See also :
List of Coccinellidae genera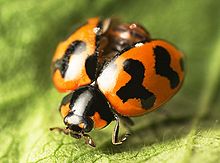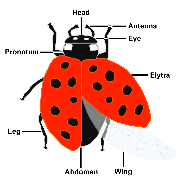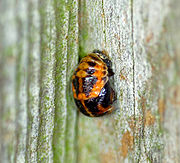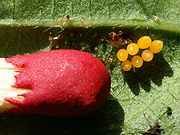 Coccinellids are typically predators of
Hemiptera
Hemiptera
Hemiptera is an order of insects most often known as the true bugs , comprising around 50,000–80,000 species of cicadas, aphids, planthoppers, leafhoppers, shield bugs, and others...
such as aphids and scale insects, though
larvae and eggs of their own species
Cannibalism (zoology)
In zoology, cannibalism is the act of one individual of a species consuming all or part of another individual of the same species as food. Cannibalism is a common ecological interaction in the animal kingdom and has been recorded for more than 1500 species...
can also be important resources when alternative prey are scarce. Members of the subfamily Epilachninae are
herbivore
Herbivore
Herbivores are organisms that are anatomically and physiologically adapted to eat plant-based foods. Herbivory is a form of consumption in which an organism principally eats autotrophs such as plants, algae and photosynthesizing bacteria. More generally, organisms that feed on autotrophs in...
s, and can be very destructive agricultural pests (e.g., the Mexican bean beetle). While predatory species are often used as biological control agents, introduced species of ladybirds (such as
Harmonia axyridis
or
Coccinella septempunctata
Coccinella septempunctata
Coccinella septempunctata, the seven-spot ladybird , is the most common ladybird in Europe...
in
North America
North America
North America is a continent wholly within the Northern Hemisphere and almost wholly within the Western Hemisphere. It is also considered a northern subcontinent of the Americas...
) outcompete and displace native coccinellids and become pests in their own right.
Coccinellids are often brightly colored to ward away potential predators. This phenomenon is called
aposematism
Aposematism
Aposematism , perhaps most commonly known in the context of warning colouration, describes a family of antipredator adaptations where a warning signal is associated with the unprofitability of a prey item to potential predators...
and works because predators learn by experience to associate certain prey
phenotype
Phenotype
A phenotype is an organism's observable characteristics or traits: such as its morphology, development, biochemical or physiological properties, behavior, and products of behavior...
s with a bad taste (or worse). Mechanical stimulation (such as by predator attack) causes "reflex bleeding" in both larval and adult lady beetles, in which an alkaloid toxin is exuded through the joints of the exoskeleton, deterring feeding. Lady beetles, as well as other Coccinellids are known to spray a toxin that is venomous to certain mammals and other insects when threatened.
Most coccinellids overwinter as adults, aggregating on the south sides of large objects such as trees or houses during the winter months, dispersing in response to increasing day length in the spring. In
Harmonia axyridis
, eggs hatch in 3–4 days from clutches numbering from a few to several dozen. Depending on resource availability, the larvae pass through four
instar
Instar
An instar is a developmental stage of arthropods, such as insects, between each molt , until sexual maturity is reached. Arthropods must shed the exoskeleton in order to grow or assume a new form. Differences between instars can often be seen in altered body proportions, colors, patterns, or...
s over 10–14 days, after which
pupa
Pupa
A pupa is the life stage of some insects undergoing transformation. The pupal stage is found only in holometabolous insects, those that undergo a complete metamorphosis, going through four life stages; embryo, larva, pupa and imago...
tion occurs. After a teneral period of several days, the adults become reproductively active and are able to reproduce again, although they may become reproductively quiescent if eclosing late in the season. Total life span is 1–2 years on average.
It is thought that certain species of Coccinellids lay extra infertile eggs with the fertile eggs. These appear to provide a backup food source for the larvae when they hatch. The ratio of infertile to fertile eggs increases with scarcity of food at the time of egg laying.
Habitats
Coccinellids are generally considered beneficial to gardeners, as they typically eat
aphid
Aphid
Aphids, also known as plant lice and in Britain and the Commonwealth as greenflies, blackflies or whiteflies, are small sap sucking insects, and members of the superfamily Aphidoidea. Aphids are among the most destructive insect pests on cultivated plants in temperate regions...
s,
scale insect
Scale insect
The scale insects are small insects of the order Hemiptera, generally classified as the superfamily Coccoidea. There are about 8,000 species of scale insects.-Ecology:...
s,
mealybug
Mealybug
Mealybugs are insects in the family Pseudococcidae, unarmored scale insects found in moist, warm climates. They are considered pests as they feed on plant juices of greenhouse plants, house plants and subtropical trees and also acts as a vector for several plant diseases.-Distribution:Mealybugs...
s, and
mite
Mite
Mites, along with ticks, are small arthropods belonging to the subclass Acari and the class Arachnida. The scientific discipline devoted to the study of ticks and mites is called acarology.-Diversity and systematics:...
s throughout the winter. As in many insects, ladybugs in temperate regions enter
diapause
Diapause
Diapause is the delay in development in response to regularly and recurring periods of adverse environmental conditions. It is considered to be a physiological state of dormancy with very specific initiating and inhibiting conditions...
during the winter, so they often are among the first insects to appear in the spring. Some species (e.g.,
Hippodamia convergens
) gather into groups and move to higher land, such as a mountain, to enter diapause. Predatory ladybugs are usually found on plants where aphids or scale insects are, and they lay their eggs near their prey, to increase the likelihood the larvae will find the prey easily. Ladybugs are cosmopolitan in distribution, as are their prey.
Coccinellids also require a source of pollen for food and are attracted to specific types of plants. The most popular ones are any type of mustard plant, as well as other early blooming nectar and pollen sources, like buckwheat, coriander, red or crimson clover, and legumes like vetches, and also early aphid sources, such as bronze fennel, dill, coriander, caraway, angelica, tansy, yarrow, of the wild carrot family,
Apiaceae
Apiaceae
The Apiaceae , commonly known as carrot or parsley family, is a group of mostly aromatic plants with hollow stems. The family is large, with more than 3,700 species spread across 434 genera, it is the sixteenth largest family of flowering plants...
. Other plants that also attract ladybugs include coreopsis, cosmos (especially the white ones), dandelions and scented geraniums.
Coccinellids are sensitive to most synthetic insecticides. If food sources are limited, oviposition is reduced. A larva uses its sharp jaws to crush an aphid's body and sucks out the aphid's juices.
Infestations
In the United States, Coccinellids usually begin to appear indoors in the fall. They leave their summer feeding sites in fields, forests and yards looking for a place to spend the winter. Typically when temperatures warm to the mid-60s Fahrenheit in the late afternoon, following a period of cooler weather, they will swarm onto or into buildings illuminated by the sun. Swarms of Coccinellids fly to buildings in September through November depending on location and weather conditions. Also, homes or buildings near fields or woods are more prone to infestation.
The presence of Coccinellids in grape harvests can cause ladybird taint in wines produced from the grapes.
Impact on humans
After an abnormally long period of hot dry weather in the
Summer of 1976 in the UK
Summer of 1976 (Europe)
The summer of 1976 was considered to be one of the hottest summers in Europe within recent memory. A large high-pressure area dominated the majority of Europe for all of the summer months. The pressure system moved into place in late May 1976 and remained until the first traces of rain were...
, there was a marked increase in the aphid population followed by a "plague" of Coccinellids, with many reports of people being bitten as the supply of aphids dwindled. Recent studies suggest that Coccinellids can also cause allergic reactions, such as eye irritation or asthma.
UK Ladybird survey
The ladybird atlas
Ladybirds (Coccinellidae) of Britain and Ireland
published in 2011 showed a decline of more than 20% in native species due to environmental changes and competition from foreign invaders. The distribution maps, compiled over a twenty year period with help from thousands of volunteers, showed a decline in the numbers of the common 10-spot and 14-spot ladybirds and a number of other species including the 11-spot, 22-spot, Cream-spot, Water and Hieroglyphic ladybirds, Coccidula rufa, Rhyzobius litura and Nephus redtenbacheri. Conversely, increases were seen in the numbers of Harlequin, Orange , Pine and 24-spot ladybirds as well as Rhyzobius chrysomeloides. The Kidney spot ladybird was recorded in Scotland for the fist time in recent years, probably due to climate change, and the once-extinct 13-spot was found to have recolonised
Cornwall
Cornwall
Cornwall is a unitary authority and ceremonial county of England, within the United Kingdom. It is bordered to the north and west by the Celtic Sea, to the south by the English Channel, and to the east by the county of Devon, over the River Tamar. Cornwall has a population of , and covers an area of...
,
Devon
Devon
Devon is a large county in southwestern England. The county is sometimes referred to as Devonshire, although the term is rarely used inside the county itself as the county has never been officially "shired", it often indicates a traditional or historical context.The county shares borders with...
and the
New forest
New Forest
The New Forest is an area of southern England which includes the largest remaining tracts of unenclosed pasture land, heathland and forest in the heavily-populated south east of England. It covers south-west Hampshire and extends into south-east Wiltshire....
. The most commonly recorded species was the 7-spot, closely followed by the Asian Harlequin — an invader that arrived from continental Europe in 2003 after being introduced to control pests. An 'explosion' in the number of Orange ladybirds, which feed on mildew, is thought to be due to the warmer damper conditions that now prevail in parts of England.
In popular culture
Coccinellids are and have been for very many years a favorite insect of children. The insects had many regional names (now mostly disused) in English, such as the lady-cows, may-bug, golden-knop, golden-bugs (
Suffolk
Suffolk
Suffolk is a non-metropolitan county of historic origin in East Anglia, England. It has borders with Norfolk to the north, Cambridgeshire to the west and Essex to the south. The North Sea lies to the east...
); and variations on Bishop-Barnaby (
Norfolk dialect
Norfolk dialect
The Norfolk dialect, also known as Broad Norfolk, is a dialect that was once, and to a great extent, still is spoken by those living in the county of Norfolk in England...
) – Barnabee, Burnabee, the Bishop-that-burneth, and bishy bishy barnabee. The etymology is unclear but it may be from St. Barnabas feast in June, when the insect appears or a corruption of "Bishop-that-burneth", from the fiery elytra of the beetles.
The ladybird was immortalized in the still-popular children's
nursery rhyme
Nursery rhyme
The term nursery rhyme is used for "traditional" poems for young children in Britain and many other countries, but usage only dates from the 19th century and in North America the older 'Mother Goose Rhymes' is still often used.-Lullabies:...
Ladybird, Ladybird
:
Ladybird, ladybird, fly away home

Your house is on fire and your children are gone

All except one, and that's Little Anne

For she has crept under the warming pan.
This poem has its counterpart in German as
Marienwuermchen,
collected in
Des Knaben Wunderhorn
, and set to music by Robert Schumann as Op. 79, No. 13.
Many cultures consider Coccinellids lucky and have nursery rhymes or local names for the insects that reflect this. For instance, the Turkish name for the insect is
uğur böceği
, literally meaning
luck bug
. In many countries, including Russia, Turkey, and Italy, the sight of a ladybug is either a call to make a wish or a sign that a wish will soon be granted.
In Christian areas, Coccinellids are often associated with the Virgin Mary and the name that the insect bears in the various languages of
Europe
Europe
Europe is, by convention, one of the world's seven continents. Comprising the westernmost peninsula of Eurasia, Europe is generally 'divided' from Asia to its east by the watershed divides of the Ural and Caucasus Mountains, the Ural River, the Caspian and Black Seas, and the waterways connecting...
corresponds to this. Though historically many European languages referenced Freyja, the
fertility
Fertility
Fertility is the natural capability of producing offsprings. As a measure, "fertility rate" is the number of children born per couple, person or population. Fertility differs from fecundity, which is defined as the potential for reproduction...
goddess
Goddess
A goddess is a female deity. In some cultures goddesses are associated with Earth, motherhood, love, and the household. In other cultures, goddesses also rule over war, death, and destruction as well as healing....
of
Norse mythology
Norse mythology
Norse mythology, a subset of Germanic mythology, is the overall term for the myths, legends and beliefs about supernatural beings of Norse pagans. It flourished prior to the Christianization of Scandinavia, during the Early Middle Ages, and passed into Nordic folklore, with some aspects surviving...
, in the names, the Virgin Mary has now largely supplanted her, so that, for example,
freyjuhœna
(
Old Norse
Old Norse
Old Norse is a North Germanic language that was spoken by inhabitants of Scandinavia and inhabitants of their overseas settlements during the Viking Age, until about 1300....
) and
Frouehenge
have been changed into
marihøne
(
Norwegian
Norwegian language
Norwegian is a North Germanic language spoken primarily in Norway, where it is the official language. Together with Swedish and Danish, Norwegian forms a continuum of more or less mutually intelligible local and regional variants .These Scandinavian languages together with the Faroese language...
) and
Marienkäfer
(
German
German language
German is a West Germanic language, related to and classified alongside English and Dutch. With an estimated 90 – 98 million native speakers, German is one of the world's major languages and is the most widely-spoken first language in the European Union....
), which corresponds with Our Lady's Bird. Sometimes, the insect is referred to as belonging directly to God (
Irish
Irish language
Irish , also known as Irish Gaelic, is a Goidelic language of the Indo-European language family, originating in Ireland and historically spoken by the Irish people. Irish is now spoken as a first language by a minority of Irish people, as well as being a second language of a larger proportion of...
bóín Dé
,
Romanian
Romanian language
Romanian Romanian Romanian (or Daco-Romanian; obsolete spellings Rumanian, Roumanian; self-designation: română, limba română ("the Romanian language") or românește (lit. "in Romanian") is a Romance language spoken by around 24 to 28 million people, primarily in Romania and Moldova...
vaca-Domnului
,
Polish
Polish language
Polish is a language of the Lechitic subgroup of West Slavic languages, used throughout Poland and by Polish minorities in other countries...
boża krówka
, all meaning "God's [little] cow"). In
Dutch
Dutch language
Dutch is a West Germanic language and the native language of the majority of the population of the Netherlands, Belgium, and Suriname, the three member states of the Dutch Language Union. Most speakers live in the European Union, where it is a first language for about 23 million and a second...
it is called
lieveheersbeestje
, meaning "little animal of our Good Lord".
In both Hebrew and Yiddish, it is called "Moshe Rabbenu's (i.e. Moses's) little cow" or "little horse", apparently an adaptation from Slavic languages. Occasionally, it is called "Little
Messiah
Messiah
A messiah is a redeemer figure expected or foretold in one form or another by a religion. Slightly more widely, a messiah is any redeemer figure. Messianic beliefs or theories generally relate to eschatological improvement of the state of humanity or the world, in other words the World to...
".
Some languages name the insect by its color. In
Finnish
Finnish language
Finnish is the language spoken by the majority of the population in Finland Primarily for use by restaurant menus and by ethnic Finns outside Finland. It is one of the two official languages of Finland and an official minority language in Sweden. In Sweden, both standard Finnish and Meänkieli, a...
, the Coccinellid is, for its blood red color, called
leppäkerttu
, translating to
Blood Gertrud
from the ancient
Finnic
Finnic languages
The term Finnic languages often means the Baltic-Finnic languages, an undisputed branch of the Uralic languages. However, it is also commonly used to mean the Finno-Permic languages, a hypothetical intermediate branch that includes Baltic Finnic, or the more disputed Finno-Volgaic languages....
meaning
blood
or the word
leppä
(that means
alder
in modern Finnish).
In
Roald Dahl
Roald Dahl
Roald Dahl was a British novelist, short story writer, fighter pilot and screenwriter.Born in Wales to Norwegian parents, he served in the Royal Air Force during the Second World War, in which he became a flying ace and intelligence agent, rising to the rank of Wing Commander...
's children's book
James and the Giant Peach
James and the Giant Peach
James and the Giant Peach is a popular children's novel written in 1961 by British author Roald Dahl. The original first edition published by Alfred Knopf featured illustrations by Nancy Ekholm Burkert. However, there have been various reillustrated versions of it over the years, done by Michael...
, The Ladybird, among a cast of anthropomorphic
minibeast
Minibeast
"Minibeast" or "Minibeasts" is a term for a variety of arthropods and other invertebrates, including spiders, ants, butterflies, bees, wasps, flies, woodlice , and many others. The United Kingdom-based Young People's Charitable Trust defines them as "small animals" in a factsheet written for young...
characters grown to human size, becomes perhaps the closest friend to the protagonist, James, treating him with motherly affection. In the American-produced
1996 animated film version
James and the Giant Peach (film)
James and the Giant Peach is a 1996 musical fantasy film directed by Henry Selick, based on the 1961 novel of the same name by Roald Dahl. It was produced by Tim Burton and Denise Di Novi. The film is a combination of live action and stop-motion animation....
, she was voiced by
Jane Leeves
Jane Leeves
Jane Leeves is an English film, stage, and television actress, comedienne and dancer.Leeves made her screen debut with a small role in the 1983 popular British comedy television show The Benny Hill Show. Leeves moved to the United States, where she performed in small roles until she secured a...
and renamed The Ladybug, despite Leeves' northern English interpretation.
In the animated film
A Bug's Life

A Bug's Life

A Bug's Life is a 1998 American computer animated adventure comedy film produced by Pixar and released by Walt Disney Pictures in the United States on November 25, 1998. A Bug's Life was the second Disney·Pixar feature film after Toy Story, and the third American computer-animated film after Toy...


,
Francis the Ladybug (voiced by Dennis Leary) is an aggressive Coccinellid and the clown in P.T. Flea's circus. The contrast between him being a male and a 'lady'bug is a recurring joke in the film.
Ledyba and Ledian, of the
Pokémon
Pokémon
is a media franchise published and owned by the video game company Nintendo and created by Satoshi Tajiri in 1996. Originally released as a pair of interlinkable Game Boy role-playing video games developed by Game Freak, Pokémon has since become the second most successful and lucrative video...
series, are based on Coccinellids.
As a logo
Bold colors and simple shape have led to use as a
logo
Logo
A logo is a graphic mark or emblem commonly used by commercial enterprises, organizations and even individuals to aid and promote instant public recognition...
for a wide range of organizations and companies including:
Symbol of the Dutch Foundation Against Senseless Violence
Ladybird Books

Ladybird Books

Ladybird Books is a London-based publishing company, trading as a stand-alone imprint within the Penguin Group of companies. The Ladybird imprint publishes mass-market children's books.-History:...


(owned by Pearson PLC

Pearson PLC

Pearson plc is a global media and education company headquartered in London, United Kingdom. It is both the largest education company and the largest book publisher in the world, with consumer imprints including Penguin, Dorling Kindersley and Ladybird...


)
Ladybird range of children's clothing sold by Woolworths.co.uk

Woolworths.co.uk

Woolworths.co.uk is an online retail company owned by Shop Direct Group, formed in 2009, after the demise of the high street Woolworths stores. The online store opened on 25 June 2009.- Stores in Britain :...


and formerly by the (now defunct) Woolworth's chain store in the UK
Polish supermarket chain Biedronka

Biedronka

Biedronka is the biggest chain of no frills supermarkets in Poland , owned by the Portuguese company Jerónimo Martins. Literally, the name translates as ladybird which is the logo of the company....



Atmel AVR

Atmel AVR

The AVR is a modified Harvard architecture 8-bit RISC single chip microcontroller which was developed by Atmel in 1996. The AVR was one of the first microcontroller families to use on-chip flash memory for program storage, as opposed to one-time programmable ROM, EPROM, or EEPROM used by other...


Studio software logo
Estonian mobile operator EMT

EMT (mobile operator)

AS EMT is Estonia's and one of the largest Baltic's mobile operator. Founded on 28 April 1991 as an Estonian Swedish-Finnish joint company.Headquarter in Tallinn. Traded on NASDAQ OMX stock exchanges.- External links :* * *...



Software development firm Axosoft

Axosoft

Axosoft is a software company located in Scottsdale, Arizona that provides bug tracking and software project management applications for software development teams...


.
Symbol of the Finnish

Politics of Finland

Politics of Finland takes place in a framework of a parliamentary representative democratic republic and of a multi-party system. The President of Finland is the head of state, leads the foreign policy, and is the Commander-in-chief of the Defense Forces. The Prime Minister of Finland is the head...


Swedish People's Party.
In addition, it has been chosen as
State insect of: Delaware

Delaware

Delaware is a U.S. state located on the Atlantic Coast in the Mid-Atlantic region of the United States. It is bordered to the south and west by Maryland, and to the north by Pennsylvania...


, Massachusetts

Massachusetts

The Commonwealth of Massachusetts is a state in the New England region of the northeastern United States of America. It is bordered by Rhode Island and Connecticut to the south, New York to the west, and Vermont and New Hampshire to the north; at its east lies the Atlantic Ocean. As of the 2010...


, New Hampshire

New Hampshire

New Hampshire is a state in the New England region of the northeastern United States of America. The state was named after the southern English county of Hampshire. It is bordered by Massachusetts to the south, Vermont to the west, Maine and the Atlantic Ocean to the east, and the Canadian...


, New York

New York

New York is a state in the Northeastern region of the United States. It is the nation's third most populous state. New York is bordered by New Jersey and Pennsylvania to the south, and by Connecticut, Massachusetts and Vermont to the east...


, Ohio

Ohio

Ohio is a Midwestern state in the United States. The 34th largest state by area in the U.S.,it is the 7th‑most populous with over 11.5 million residents, containing several major American cities and seven metropolitan areas with populations of 500,000 or more.The state's capital is Columbus...


, and Tennessee

Tennessee

Tennessee is a U.S. state located in the Southeastern United States. It has a population of 6,346,105, making it the nation's 17th-largest state by population, and covers , making it the 36th-largest by total land area...


, though only New York has selected a species native to the United States

United States

The United States of America is a federal constitutional republic comprising fifty states and a federal district...


(Coccinella novemnotata

Coccinella novemnotata

Coccinella novemnotata, the nine-spotted ladybug or nine-spotted lady beetle, is a species of ladybug native to North America....


); the other states have all adopted an invasive European species (Coccinella septempunctata

Coccinella septempunctata

Coccinella septempunctata, the seven-spot ladybird , is the most common ladybird in Europe...


).
An "official national mascot" for Alpha Sigma Alpha

Alpha Sigma Alpha

Alpha Sigma Alpha is a US national sorority founded on November 15, 1901 at the Virginia State Female Normal School in Farmville, Virginia...


, a national sorority in the United States.
External links