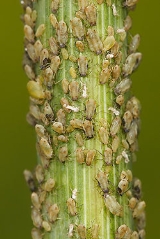 Aphid
Aphids
, also known as
plant lice
and in Britain and the Commonwealth as
greenflies
,
blackflies
or
whiteflies
, (not to be confused with "
jumping plant lice
Jumping plant louse
Psyllids or jumping plant lice are small plant-feeding insects that tend to be very host specific, i.e. they only feed on one plant species or feed on a few related plants...
" or true
whiteflies
Whitefly
The whiteflies, comprising only the family Aleyrodidae, are small hemipterans. More than 1550 species have been described. Whiteflies typically feed on the underside of plant leaves.-Agricultural threat:...
) are small sap sucking
insect
Insect
Insects are a class of living creatures within the arthropods that have a chitinous exoskeleton, a three-part body , three pairs of jointed legs, compound eyes, and two antennae...
s, and members of the
superfamily
Taxonomic rank
In biological classification, rank is the level in a taxonomic hierarchy. Examples of taxonomic ranks are species, genus, family, and class. Each rank subsumes under it a number of less general categories...
Aphidoidea
. Aphids are among the most destructive insect pests on cultivated plants in temperate regions. The damage they do to plants has made them enemies of farmers and gardeners the world over, but from a zoological standpoint they are a very successful group of organisms. Their success is in part due to the
asexual reproduction
Asexual reproduction
Asexual reproduction is a mode of reproduction by which offspring arise from a single parent, and inherit the genes of that parent only, it is reproduction which does not involve meiosis, ploidy reduction, or fertilization. A more stringent definition is agamogenesis which is reproduction without...
capability of some species.
About 4,400 species of 10 families are known.
Aphids
, also known as
plant lice
and in Britain and the Commonwealth as
greenflies
,
blackflies
or
whiteflies
, (not to be confused with "
jumping plant lice
Jumping plant louse
Psyllids or jumping plant lice are small plant-feeding insects that tend to be very host specific, i.e. they only feed on one plant species or feed on a few related plants...
" or true
whiteflies
Whitefly
The whiteflies, comprising only the family Aleyrodidae, are small hemipterans. More than 1550 species have been described. Whiteflies typically feed on the underside of plant leaves.-Agricultural threat:...
) are small sap sucking
insect
Insect
Insects are a class of living creatures within the arthropods that have a chitinous exoskeleton, a three-part body , three pairs of jointed legs, compound eyes, and two antennae...
s, and members of the
superfamily
Taxonomic rank
In biological classification, rank is the level in a taxonomic hierarchy. Examples of taxonomic ranks are species, genus, family, and class. Each rank subsumes under it a number of less general categories...
Aphidoidea
. Aphids are among the most destructive insect pests on cultivated plants in temperate regions. The damage they do to plants has made them enemies of farmers and gardeners the world over, but from a zoological standpoint they are a very successful group of organisms. Their success is in part due to the
asexual reproduction
Asexual reproduction
Asexual reproduction is a mode of reproduction by which offspring arise from a single parent, and inherit the genes of that parent only, it is reproduction which does not involve meiosis, ploidy reduction, or fertilization. A more stringent definition is agamogenesis which is reproduction without...
capability of some species.
About 4,400 species of 10 families are known. Historically, many fewer families were recognised, as most species were included in the family Aphididae. Around 250 species are serious pests for
agriculture
Agriculture
Agriculture is the cultivation of animals, plants, fungi and other life forms for food, fiber, and other products used to sustain life. Agriculture was the key implement in the rise of sedentary human civilization, whereby farming of domesticated species created food surpluses that nurtured the...
and
forestry
Forestry
Forestry is the interdisciplinary profession embracing the science, art, and craft of creating, managing, using, and conserving forests and associated resources in a sustainable manner to meet desired goals, needs, and values for human benefit. Forestry is practiced in plantations and natural stands...
as well as an annoyance for gardeners. They vary in length from 1 to 10 mm (0.0393700787401575 to 0.393700787401575 ).
Natural enemies include predatory
ladybirds
Coccinellidae
Coccinellidae is a family of beetles, known variously as ladybirds , or ladybugs . Scientists increasingly prefer the names ladybird beetles or lady beetles as these insects are not true bugs...
,
hoverfly
Hoverfly
Hoverflies, sometimes called flower flies or syrphid flies, make up the insect family Syrphidae. As their common name suggests, they are often seen hovering or nectaring at flowers; the adults of many species feed mainly on nectar and pollen, while the larvae eat a wide range of foods...
larvae,
parasitic wasp
Parasitic wasp
The term parasitoid wasp refers to a large evolutionary grade of hymenopteran superfamilies, mainly in the Apocrita. They are primarily parasitoids of other animals, mostly other arthropods...
s,
aphid midge larvae
Aphidoletes aphidimyza
Aphidoletes aphidimyza is a midge whose larvae feed on over 70 aphid species, including the green peach aphid.- Description :The adults are small , black, delicate flies that live for an average of 10 days, feeding on aphid honeydew...
,
crab spider
Crab spider
Crab spider is a common name applied loosely to many species of spiders, but most nearly consistently to members of the family Thomisidae...
s, lacewings and
entomopathogenic fungi
Entomopathogenic fungus
An entomopathogenic fungus is a fungus that can act as a parasite of insects and kills or seriously disables them.-Typical life cycle:These fungi usually attach to the external body surface of insects in the form of microscopic spores...
like
Lecanicillium lecanii
Lecanicillium lecanii
Lecanicillium lecanii is now an approved name of an entomopathogenic fungus species, that was previously widely known as Verticillium lecanii Viegas), but is now understood to be an anamorphic form in the Cordyceps group of genera in the Clavicipitaceae . It now appears that isolates formerly...
and the
Entomophthorales
Entomophthorales
The Entomophthorales are an order of fungi that were previously classified in the class Zygomycetes. A new subphylum, Entomophthoromycotina, has recently been described for them.Most species of the Entomophthorales are pathogens of insects...
.
Distribution
Aphids are distributed worldwide, but are most common in temperate zones. Also, in contrast to many taxa, species diversity is much lower in the tropics than in the temperate zones. They can migrate great distances, mainly through passive dispersal by riding on winds. For example, the currant lettuce aphid,
Nasonovia ribisnigri
Nasonovia ribisnigri
Nasonovia ribisnigri is a species of aphid. Their primary hosts are currant plants, including blackcurrants and gooseberries , while the secondary hosts are a wider range of plants, including members of the Compositae , Lamiales and...
, is believed to have spread from
New Zealand
New Zealand
New Zealand is an island country in the south-western Pacific Ocean comprising two main landmasses and numerous smaller islands. The country is situated some east of Australia across the Tasman Sea, and roughly south of the Pacific island nations of New Caledonia, Fiji, and Tonga...
to
Tasmania
Tasmania
Tasmania is an Australian island and state. It is south of the continent, separated by Bass Strait. The state includes the island of Tasmania—the 26th largest island in the world—and the surrounding islands. The state has a population of 507,626 , of whom almost half reside in the greater Hobart...
in this way. Aphids have also been spread by human transportation of infested plant materials.
Taxonomy
Aphids are in the superfamily Aphidoidea in the homopterous division of the order Hemiptera. Recent classification within Hemiptera has reduced the old taxon "Homoptera" to two suborders:
Sternorrhyncha
Sternorrhyncha
Sternorrhyncha is a suborder of the Hemiptera which contains the aphids, whiteflies, and scale insects, groups which were traditionally included in the order Homoptera. "Sternorrhyncha" refers to the rearward position of the mouthparts relative to the head...
(e.g., aphids, whiteflies,
scales
Scale insect
The scale insects are small insects of the order Hemiptera, generally classified as the superfamily Coccoidea. There are about 8,000 species of scale insects.-Ecology:...
,
psyllids
Psylloidea
Psylloidea is a superfamily of true bugs, including the jumping plant lice and others which have recently been classified as distinct families....
, etc.) and
Auchenorrhyncha
Auchenorrhyncha
The Auchenorrhyncha is the suborder of the Hemiptera which contains most of the familiar members of what was called the Homoptera - groups such as cicadas, leafhoppers, treehoppers, planthoppers, and spittlebugs. The aphids and scale insects are the other well-known "Homoptera", and they are in...
(e.g., cicadas, leafhoppers,
treehopper
Treehopper
Treehoppers and thorn bugs are members of the family Membracidae, a group of insects related to the cicadas and the leafhoppers. There are about 3,200 known species of treehoppers in over 600 genera...
s,
planthopper
Planthopper
A planthopper is any insect in the infraorder Fulgoromorpha within the Hemiptera. The name comes from their remarkable resemblance to leaves and other plants of their environment and from the fact that they often "hop" for quick transportation in a similar way to that of grasshoppers. However,...
s, etc.) with the suborder
Heteroptera
Heteroptera
Heteroptera is a group of about 40,000 species of insects in the Hemiptera. Sometimes called "true bugs", that name more commonly refers to Hemiptera as a whole, and "typical bugs" might be used as a more unequivocal alternative since among the Hemiptera the heteropterans are most consistently and...
containing a large group of insects known as the true bugs. More recent reclassifications have substantially rearranged the families within Aphidoidea: some old families were reduced to subfamily rank (e.g.,
Eriosomatidae
Eriosomatidae
Woolly aphids are sucking insects that live on plant fluids, and produces a filamentous waxy white covering which resembles cotton or wool. The adults are winged and move to new locations where they lay egg masses. The larvae often form large cottony masses on twigs, for protection from predators...
), and many old subfamilies elevated to family rank. Taxonomically woolly conifer aphids like the pine aphid, the spruce aphid and the balsam woolly aphid are not true aphids, but adelgids, and lack the cornicles of true aphids.
Relation to phylloxera and adelgids
Aphids, adelgids, and
phylloxerids
Phylloxera
Grape phylloxera ; originally described in France as Phylloxera vastatrix; equated to the previously described Daktulosphaira vitifoliae, Phylloxera vitifoliae; commonly just called phylloxera is a pest of commercial grapevines worldwide, originally native to eastern North America...
are very closely related, and are either placed in the insect super family
Aphidoidea
, or into two superfamilies (
Phylloxeroidea
Phylloxeroidea
The Phylloxeroidea is a small superfamily of the Hemiptera closely related to the aphids, and often traditionally included in the Aphidoidea, which is the sister taxon...
and Aphidoidea) within the suborder
Homoptera
Homoptera
Homoptera is a deprecated suborder of order Hemiptera; recent morphological studies and DNA analysis strongly suggests that the order is paraphyletic. It was therefore split into the suborders Sternorrhyncha, Auchenorrhyncha, and Coleorrhyncha....
, the plant-sucking bugs.
Like aphids, phylloxera feed on the roots, leaves and shoots of grape plants, but unlike aphids do not produce
honeydew
Honeydew (secretion)
Honeydew is a sugar-rich sticky liquid, secreted by aphids and some scale insects as they feed on plant sap. When their mouthpart penetrates the phloem, the sugary, high-pressure liquid is forced out of the gut's terminal opening. Honeydew is particularly common as a secretion in the Hemipteran...
or
cornicle
Cornicle
The cornicle is one of a pair of small upright backward-pointing tubes found on the dorsal side of the last segment of the bodies of aphids. They are sometimes mistaken for cerci...
secretions. Phylloxera (Daktulosphaira vitifoliae) are insects which caused the
Great French Wine Blight
Great French Wine Blight
The Great French Wine Blight was a severe blight of the mid-19th century that destroyed many of the vineyards in France and laid to waste the wine industry...
that devastated European
viticulture
Viticulture
Viticulture is the science, production and study of grapes which deals with the series of events that occur in the vineyard. When the grapes are used for winemaking, it is also known as viniculture...
in the 19th century.
Similarly, adelgids also feed on plant phloem. Adelgids are sometimes described as aphids, but more properly as classified as aphid-like insects, because they have no cauda or cornicles.
Anatomy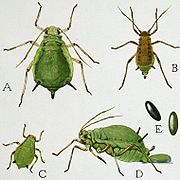 Most aphids have soft bodies, which may be green, black, brown, pink or almost colourless. Aphids have antennae with as many as six segments. Aphids feed themselves through sucking mouthparts called
stylet
Stylet
A stylet is a hard, sharp, anatomical structure found in some invertebrates.For example, the word stylet or stomatostyle, is used for the primitive piercing mouthparts of some nematodes and some nemerteans...
s, enclosed in a sheath called a
rostrum
Rostrum (anatomy)
The term rostrum is used for a number of unrelated structures in different groups of animals:*In crustaceans, the rostrum is the forward extension of the carapace in front of the eyes....
, which is formed from modifications of the mandible and maxilla of the insect mouthparts. They have long, thin legs and two-jointed, two-clawed
tarsi
Arthropod leg
The arthropod leg is a form of jointed appendage of arthropods, usually used for walking. Many of the terms used for arthropod leg segments are of Latin origin, and may be confused with terms for bones: coxa , trochanter , femur, tibia, tarsus, ischium, metatarsus, carpus, dactylus ,...
.
Most aphids have a pair of cornicles (or "siphunculi"), abdominal tubes through which they exude droplets of a quick-hardening defensive fluid containing triacylglycerols, called cornicle wax. Other defensive compounds can also be produced by some types of aphids.
Aphids have a tail-like protrustion called a "cauda" above their rectal apertures. They have two compound eyes, and an ocular tubercle behind and above each eye, made up of three lenses (called triommatidia).
When host plant quality becomes poor or conditions become crowded, some aphid species produce winged offspring, "
alate
Alate
An alate is a winged reproductive of a social insect . Alate females are typically those destined to become queens , whereas alate males are occasionally referred to as "drones"...
s", that can disperse to other food sources. The mouthparts or eyes are smaller or missing in some species and forms.
Diet
Many aphid species are monophagous (that is, they feed on only one plant species). Others, like the green peach aphid
Myzus persicae
Myzus persicae
Myzus persicae, known as the green peach aphid, is a small green aphid. It is the most significant aphid pest of peach trees, causing decreased growth, shriveling of the leaves and the death of various tissues...
, feed on hundreds of plant species across many
families
Family (biology)
In biological classification, family is* a taxonomic rank. Other well-known ranks are life, domain, kingdom, phylum, class, order, genus, and species, with family fitting between order and genus. As for the other well-known ranks, there is the option of an immediately lower rank, indicated by the...
.
Aphids passively feed on
sap
Sap
Sap may refer to:* Plant sap, the fluid transported in xylem cells or phloem sieve tube elements of a plant* Sap , a village in the Dunajská Streda District of Slovakia...
of
phloem
Phloem
In vascular plants, phloem is the living tissue that carries organic nutrients , in particular, glucose, a sugar, to all parts of the plant where needed. In trees, the phloem is the innermost layer of the bark, hence the name, derived from the Greek word "bark"...
vessels in plants, as do many of their fellow members of Hemiptera such as scale insects and
cicada
Cicada
A cicada is an insect of the order Hemiptera, suborder Auchenorrhyncha , in the superfamily Cicadoidea, with large eyes wide apart on the head and usually transparent, well-veined wings. There are about 2,500 species of cicada around the world, and many of them remain unclassified...
s. Once a phloem vessel is punctured, the sap, which is under high pressure, is forced into the aphid's food canal. Occasionally, aphids also ingest
xylem
Xylem
Xylem is one of the two types of transport tissue in vascular plants. . The word xylem is derived from the Classical Greek word ξυλον , meaning "wood"; the best-known xylem tissue is wood, though it is found throughout the plant...
sap, which is a more dilute diet than phloem sap as the concentration of sugars and amino acids are 1% of those in the phloem. Xylem sap is under negative hydrostatic pressure and requires active sucking, suggesting an important role in aphid physiology. As xylem sap ingestion has been observed following a dehydration period, it was suspected that aphids consume xylem sap to replenish their water balance; the consumption of the dilute sap of xylem permitting aphids to rehydrate. However, recent data showed that aphids consume more xylem sap than expected and that they notably do so when they are not dehydrated and when their fecundity decreases. This suggests that aphids, and potentially, all the phloem-sap feeding species of the order Hemiptera, consume xylem sap for another reason than replenishing water balance.
It was suggested that xylem sap consumption is related to
osmoregulation
Osmoregulation
Osmoregulation is the active regulation of the osmotic pressure of an organism's fluids to maintain the homeostasis of the organism's water content; that is it keeps the organism's fluids from becoming too diluted or too concentrated. Osmotic pressure is a measure of the tendency of water to move...
. High osmotic pressure in the stomach, caused by high sucrose concentration, can lead to water transfer from the hemolymph to the stomach, thus resulting in hyperosmotic stress and eventually to the death of the insect. Aphids avoid this fate by osmoregulating through several processes. Sucrose concentration is directly reduced by assimilating sucrose toward metabolism and by synthesizing
oligosaccharide
Oligosaccharide
An oligosaccharide is a saccharide polymer containing a small number of component sugars, also known as simple sugars...
s from several sucrose
molecule
Molecule
A molecule is an electrically neutral group of at least two atoms held together by covalent chemical bonds. Molecules are distinguished from ions by their electrical charge...
s, thus reducing the solute concentration and consequently the osmotic pressure. Oligasaccharides are then excreted through honeydew, explaining its high sugar concentrations, which can then be used by other animals such as ants. Furthermore, water is transferred from the
hindgut
Hindgut
The hindgut is the posterior part of the alimentary canal. In mammals, it includes the distal third of the transverse colon and the splenic flexure, the descending colon, sigmoid colon and rectum.-Blood flow:...
, where omostic pressure has already been reduced, to the stomach to dilute stomach content. Eventually, aphids consume xylem sap to dilute the stomach osmotic pressure. All these processes function synergetically, and enable aphids to feed on high sucrose concentration plant sap as well as to adapt to varying sucrose concentrations.
Plant sap is an unbalanced diet for aphids as it lacks essential amino acids, which aphids, like all animals, cannot synthesise, and possesses a high
osmotic pressure
Osmotic pressure
Osmotic pressure is the pressure which needs to be applied to a solution to prevent the inward flow of water across a semipermeable membrane....
due to its high
sucrose
Sucrose
Sucrose is the organic compound commonly known as table sugar and sometimes called saccharose. A white, odorless, crystalline powder with a sweet taste, it is best known for its role in human nutrition. The molecule is a disaccharide composed of glucose and fructose with the molecular formula...
concentration. Essential amino acids are provided to aphids by bacterial endosymbionts, harboured in special cells,
bacteriocyte
Bacteriocyte
A bacteriocyte , also called a mycetocyte, is a specialized adipocyte found in some insect groups such as aphids, tsetse flies, german cockroaches, and many others. Mycetocyte symbionts specifically include three insect groups: Cockroaches, Homoptera such as aphid, and Coleoptera such as weevils...
s. These symbionts recycle glutamate, a metabolic waste of their host, into essential amino acids.
As they feed, aphids often transmit plant viruses to the plants, such as to
potato
Potato
The potato is a starchy, tuberous crop from the perennial Solanum tuberosum of the Solanaceae family . The word potato may refer to the plant itself as well as the edible tuber. In the region of the Andes, there are some other closely related cultivated potato species...
es,
cereal
Cereal
Cereals are grasses cultivated for the edible components of their grain , composed of the endosperm, germ, and bran...
s, sugarbeets and
citrus plants
Citrus
Citrus is a common term and genus of flowering plants in the rue family, Rutaceae. Citrus is believed to have originated in the part of Southeast Asia bordered by Northeastern India, Myanmar and the Yunnan province of China...
. These viruses can sometimes kill the plants.
Ant mutualism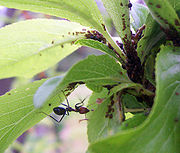 Some species of
ant
Ant
Ants are social insects of the family Formicidae and, along with the related wasps and bees, belong to the order Hymenoptera. Ants evolved from wasp-like ancestors in the mid-Cretaceous period between 110 and 130 million years ago and diversified after the rise of flowering plants. More than...
s "farm" aphids, protecting them on the plants they eat, eating the honeydew that the aphids release from the
terminations
Rectum
The rectum is the final straight portion of the large intestine in some mammals, and the gut in others, terminating in the anus. The human rectum is about 12 cm long...
of their
alimentary canals
Gastrointestinal tract
The human gastrointestinal tract refers to the stomach and intestine, and sometimes to all the structures from the mouth to the anus. ....
. This is a "mutualistic relationship".
These "dairying ants" "milk" the aphids by stroking them with their
antennae
Antenna (biology)
Antennae in biology have historically been paired appendages used for sensing in arthropods. More recently, the term has also been applied to cilium structures present in most cell types of eukaryotes....
.
Some farming ant species gather and store the aphid eggs in their nests over the winter. In the spring, the ants carry the newly hatched aphids back to the plants. Some species of dairying ants (such as the European
yellow meadow ant
Yellow meadow ant
The Yellow Meadow Ant, Lasius flavus, is one of the most common ants in Central Europe, although it also occurs in Asia, North Africa and eastern North America.The queen is 7–9 mm long, males 3–4 mm and workers 2–4 mm...
, Lasius flavus) manage large "herds" of aphids that feed on roots of plants in the ant colony. Queens that are leaving to start a new colony take an aphid egg to found a new herd of underground aphids in the new colony. These farming ants protect the aphids by fighting off aphid predators.
An interesting variation in ant-aphid relationships involves
lycaenid butterflies
Lycaenidae
The Lycaenidae are the second-largest family of butterflies, with about 6000 species worldwide, whose members are also called gossamer-winged butterflies...
and
Myrmica
Myrmica
Myrmica is a genus of ants within the subfamily Myrmicinae. It is widespread throughout the temperate regions of the Holarctic and high mountains in Southeast Asia. The genus consists of around 200 known species, and additional subspecies, although this figure is likely only to rise as soon as...
ants. For example, Niphanda fusca butterflies lay eggs on plants where ants tend herds of aphids. The eggs hatch as
caterpillar
Caterpillar
Caterpillars are the larval form of members of the order Lepidoptera . They are mostly herbivorous in food habit, although some species are insectivorous. Caterpillars are voracious feeders and many of them are considered to be pests in agriculture...
s which feed on the aphids. The ants do not defend the aphids from the caterpillars but carry the caterpillars to their nest. In the nest, the ants feed the caterpillars, which produce honeydew for the ants. When the caterpillars reach full size, they crawl to the colony entrance and form cocoons. After two weeks, butterflies emerge and take flight.
Some
bee
Bee
Bees are flying insects closely related to wasps and ants, and are known for their role in pollination and for producing honey and beeswax. Bees are a monophyletic lineage within the superfamily Apoidea, presently classified by the unranked taxon name Anthophila...
s in coniferous forests also collect aphid honeydew to make "forest honey".
Bacterial endosymbiosis
Endosymbiosis with micro-organism is common in insects, with more than 10% of insect species relying upon intracellular bacteria for their development and survival Aphids harbour a vertically transmitted (from parent to its offspring) obligate
symbiosis
Symbiosis
Symbiosis is close and often long-term interaction between different biological species. In 1877 Bennett used the word symbiosis to describe the mutualistic relationship in lichens...
with Buchnera aphidicola (Buchner) (Proteobacteria:Enterobacteriaceae), referred to as the primary symbiont, which is located inside specialised cells, the bacteriocytes. The original contamination occurred in a common ancestor and has enabled aphids to exploit a new
ecological niche
Ecological niche
In ecology, a niche is a term describing the relational position of a species or population in its ecosystem to each other; e.g. a dolphin could potentially be in another ecological niche from one that travels in a different pod if the members of these pods utilize significantly different food...
, phloem-sap feeding on vascular plants. Buchnera aphidicola provides its host with
essential amino acid
Essential amino acid
An essential amino acid or indispensable amino acid is an amino acid that cannot be synthesized de novo by the organism , and therefore must be supplied in the diet.-Essentiality vs. conditional essentiality in humans:...
s, which are present in low concentrations in plant sap. The stable intracellular conditions as well as the bottleneck effect experienced during the transmission of a few bacteria from the mother to each nymph increase the probability of transmission of mutations and gene deletions. As a result the size of the B. aphidicola genome is greatly reduced, compared to its putative ancestor. Despite the apparent loss of
transcription factor
Transcription factor
In molecular biology and genetics, a transcription factor is a protein that binds to specific DNA sequences, thereby controlling the flow of genetic information from DNA to mRNA...
s in the reduced genome,
gene expression
Gene expression
Gene expression is the process by which information from a gene is used in the synthesis of a functional gene product. These products are often proteins, but in non-protein coding genes such as ribosomal RNA , transfer RNA or small nuclear RNA genes, the product is a functional RNA...
is highly regulated, as shown by the tenfold variation in expression levels between different genes under normal conditions. Buchnera aphidicola gene transcription, although not well understood, is thought to be regulated by a small number of global transcriptional regulators and/or through nutrient supplies from the aphid host.
Some aphid colonies also harbour other bacterial symbionts, referred to as secondary symbionts due to their facultative status. They are vertically transmitted, although some studies demonstrated the possibility of horizontal transmission (from one lineage to another and possibly from one species to another). So far, the role of only some of the secondary symbionts has been described; Regiella insecticola plays a role in defining the host-plant range, Hamiltonella defensa provides resistance to parasitoids, and Serratia symbiotica prevents the deleterious effects of heat.
Carotenoid synthesis
Some species of aphids have acquired the ability to synthesise red
carotenoid
Carotenoid
Carotenoids are tetraterpenoid organic pigments that are naturally occurring in the chloroplasts and chromoplasts of plants and some other photosynthetic organisms like algae, some bacteria, and some types of fungus. Carotenoids can be synthesized fats and other basic organic metabolic building...
s, by
horizontal gene transfer
Horizontal gene transfer
Horizontal gene transfer , also lateral gene transfer , is any process in which an organism incorporates genetic material from another organism without being the offspring of that organism...
from
fungi
Fungus
A fungus is a member of a large group of eukaryotic organisms that includes microorganisms such as yeasts and molds , as well as the more familiar mushrooms. These organisms are classified as a kingdom, Fungi, which is separate from plants, animals, and bacteria...
. This allows otherwise green aphids to be coloured red. Aphids are the only known member of the animal kingdom with the ability to synthesise carotenoids.
Reproduction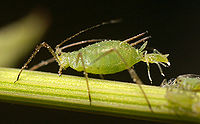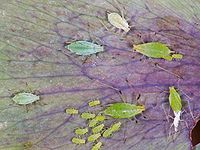 Some aphid species have unusual and complex reproductive adaptations, while others have fairly simple reproduction. Adaptations include having both
sexual
Sexual reproduction
Sexual reproduction is the creation of a new organism by combining the genetic material of two organisms. There are two main processes during sexual reproduction; they are: meiosis, involving the halving of the number of chromosomes; and fertilization, involving the fusion of two gametes and the...
and asexual reproduction, creation of
egg
Egg (biology)
An egg is an organic vessel in which an embryo first begins to develop. In most birds, reptiles, insects, molluscs, fish, and monotremes, an egg is the zygote, resulting from fertilization of the ovum, which is expelled from the body and permitted to develop outside the body until the developing...
s or live
nymph
Nymph (biology)
In biology, a nymph is the immature form of some invertebrates, particularly insects, which undergoes gradual metamorphosis before reaching its adult stage. Unlike a typical larva, a nymph's overall form already resembles that of the adult. In addition, while a nymph moults it never enters a...
s and switches between
woody
Woody plant
A woody plant is a plant that uses wood as its structural tissue. These are typically perennial plants whose stems and larger roots are reinforced with wood produced adjacent to the vascular tissues. The main stem, larger branches, and roots of these plants are usually covered by a layer of...
and
herbaceous
Herbaceous plant
A herbaceous plant is a plant that has leaves and stems that die down at the end of the growing season to the soil level. They have no persistent woody stem above ground...
types of host plant at different times of the year.
Only females are present in the population (although, a few species of aphids have been found to have both male and female genders). The overwintering eggs that hatch in the spring result in females, called fundatrices. Reproduction is typically parthenogenetic and viviparous. Females undergo a modified
meiosis
Meiosis
Meiosis is a special type of cell division necessary for sexual reproduction. The cells produced by meiosis are gametes or spores. The animals' gametes are called sperm and egg cells....
that results in eggs that are genetically identical to their mother (parthenogenetic). The embryos develop within the mothers'
ovarioles
Ovarioles
An ovariole is one of the tubes of which the ovaries of most insects are composed. Typically an insect will have two ovaries. The constituent ovarioles lead to two oviducts, which converge into a single oviduct. The ovarioles are composed of a germarium and a set of ovarial follicles.-In D...
, which then give live birth to first
instar
Instar
An instar is a developmental stage of arthropods, such as insects, between each molt , until sexual maturity is reached. Arthropods must shed the exoskeleton in order to grow or assume a new form. Differences between instars can often be seen in altered body proportions, colors, patterns, or...
female nymphs (viviparous). The offspring resemble their parent in every way except size, and are called virginoparae.
This process iterates throughout the summer, producing multiple generations that typically live 20 to 40 days. Thus one female hatched in spring may produce thousands of descendants. For example, some species of cabbage aphids (like
Brevicoryne brassicae
Brevicoryne brassicae
Brevicoryne brassicae, commonly known as the cabbage aphid, cabbage aphis or turnip aphid, is a destructive aphid native to Europe that is now found in many other areas of the world...
) can produce up to 41 generations of females.
In autumn, aphids undergo sexual, oviparous reproduction. A change in photoperiod and
temperature
Temperature
Temperature is a physical property of matter that quantitatively expresses the common notions of hot and cold. Objects of low temperature are cold, while various degrees of higher temperatures are referred to as warm or hot...
, or perhaps a lower food quantity or quality, causes females to parthenogenetically produce sexual females and males. The males are genetically identical to their mothers except that they have one less sex chromosome. These sexual aphids may lack wings or even mouthparts. Sexual females and males mate, and females lay eggs that develop outside the mother. The eggs endure the winter and emerge as winged or wingless females the following spring. This is, for example, the life cycle of the
rose aphid
Rose aphid
Macrosiphum rosae is a species of aphid. It infests rosebushes, especially around new buds....
(Macrosiphum rosae, or less commonly Aphis rosae), which may be considered typical of the family. However in warm environments, such as in the
tropics
Tropics
The tropics is a region of the Earth surrounding the Equator. It is limited in latitude by the Tropic of Cancer in the northern hemisphere at approximately N and the Tropic of Capricorn in the southern hemisphere at S; these latitudes correspond to the axial tilt of the Earth...
or in a
greenhouse
Greenhouse
A greenhouse is a building in which plants are grown. These structures range in size from small sheds to very large buildings...
, aphids may go on reproducing asexually for many years.
Some species produce winged females in the summer, sometimes in response to low food quality or quantity. The winged females migrate to start new colonies on a new plant, often of quite a different kind. For example, the apple aphid (Aphis pomi), after producing many generations of wingless females on its typical food-plant, gives rise to winged forms which fly away and settle on grass or corn-stalks.
Some aphids have
telescoping generations
Telescoping generations
Telescoping generations occur in parthenogenetic species, such as aphids or other life forms that have the ability to reproduce without ovum fertilization. This occurrence is characterized by a viviparous female having a daughter growing inside her that is also parthenogenetically pregnant with a...
. That is, the parthenogenetic, viviparous female has a daughter within her, who is already parthenogenetically producing her own daughter. Thus a female's diet can affect the body size and birth rate of more than two generations (daughters and granddaughters).
Aphid reproduction jargon:
Heteroecious – host alternating
Egg
Fundatrix (foundress from the first egg)
Fundatrigeniae (daughter clones)
Emigrant (winged female; in spring, winged aphids migrating from primary hosts infest Poaceae)
Apterous exule (wingless female)
Alate exule (winged female)
Gynoparae (produce sexual females)
Male
Oviparae (sexual females that mate with the males)
Autoecious – single host
Egg
Fundatrix
Apterous exule
Alate exule
Sexuparae (Parthenogenetic viviparous females of aphids giving rise to the sexual generation and usually developing on the secondary host, the alate forms migrating to the primary host at the end of the summer (holocyclic and heteroecious aphids).)
Oviparae
Males
Within these two host life cycles, there exist 2 other forms of life cycle,
holocyclic
(sex involved; will lead to egg production which facilitates overwintering),
anholocyclic
(no sex or egg involved, reproduce parthenogenetically),
androcyclic
(reproduction at end of season by parthenogenesis to produce males to contribute to holocyclic phase).
The bird cherry-oat aphid is an example of a host alternating species (as implied by the double barrelled name), that starts its life cycle with a large, highly fecund fundatrix. Her offspring then proceed to grow and produce emigrants which develop on the bird cherry before flying to the oat species where they continue feeding. The subsequent apterous exules feed solely on the oats and eventually lead to growth of gynoparae which will return to the bird cherry where they will produce males and oviparae, which in turn will reproduce, giving eggs for the next year.
In
heteroecious
Heteroecious
A heteroecious parasite is one that requires at least two hosts. The primary host is the host in which the parasite spends its adult life; the other is the secondary host. Both the primary host and an unrelated alternate host are required for the parasite to complete its life cycle...
species, the aphids spend winter on tree or bush aka primary host, in summer they migrate to their secondary host on a herbaceous plant, then the gynoparae return to the tree in autumn. The pea aphid has a primary host of a perennial vetch and secondary of the annual pea. This is likely due to the decline of food quality in trees during the summer as well as overcrowding amongst aphids which they sense when they bump into each other too often. The heteroecious life cycle (which is mainly linked to consumption of angiosperms and represents 10% of all aphids) is believed to have evolved from the ancestral autoecious form (on conifers); this is believed to have reverted to the ancestral form in some species that were once heteroecious.
Four types of alate (winged) aphid morphs exist, known as polymorphisms
Emigrants (heteroecious only). They are produced on primary host and migrate to secondary host, this is once again due to quality of food decreasing AND to a lesser extent overcrowding. These aphids are capable of eating off of both hosts.
Alate exules (produced on secondary host if heteroecious, if autoecious will be produced on host anyway). For the alate exules the same factors apply as for emigrants EXCEPT that crowding is more important.
Gynoparae (heteroecious only and produced on secondary host in response to longer nights and falling temperature).Nymphs can only feed on secondary host, they are unable to consume the primary host,
Males (produced on secondary host in heteroecious, in autoecious, normal host). These too are produced in response to longer nights and decreased temperature.
Of these, only 0.6% of autumn alate migrants will find host plants i.e. gynoparae.
Why do aphids host alternate?
Nutritional optimization (right)
Temperature tolerance – morphs adapted to part temperature.
Oviposition and rendezvous sites
Induced host-plant defences - plants abscise galled tissue; evidence shows that some plants selectively drop galled leaves earlier than ungalled ones.
Increasing chance of new clones produced

Autoecious (increase likelihood to meet same individual
Heteroecious (decreases chance of meeting self therefore mating with different clone). Better oviposition sites on trees than herbaceous plants as dies and rots in winter. Problem: survival rate of autoecious vs heteroecious is similar.

Enemy escape – same tree all year round increases risk of predator finding you, also you can't escape, however if you move to a secondary host, you can circumvent them for a period of time. One of the problems with this is that on species of primary host, you will find the autoecious aphid that will continue feeding the predator.
Fundatrix specialisation – host alternation a constraint imposed by specialised feeding requirements of the fundatrix morph as heteroecious life cycle is not the optimal one.
Many host alternating species are the biggest aphid pests:
Aphis fabae
Metopolophium dirhodum
Myzus persicae
Rhopalosiphum padi
Evolution
Aphids probably appeared around , in the early
Permian
Permian
The PermianThe term "Permian" was introduced into geology in 1841 by Sir Sir R. I. Murchison, president of the Geological Society of London, who identified typical strata in extensive Russian explorations undertaken with Edouard de Verneuil; Murchison asserted in 1841 that he named his "Permian...
period. They probably fed on plants like
Cordaitales
Cordaitales
Cordaitales is an extinct order of primitive conifers....
or Cycadophyta. The oldest known aphid
fossil
Fossil
Fossils are the preserved remains or traces of animals , plants, and other organisms from the remote past...
is of the species Triassoaphis cubitus from the
Triassic
Triassic
The Triassic is a geologic period and system that extends from about 250 to 200 Mya . As the first period of the Mesozoic Era, the Triassic follows the Permian and is followed by the Jurassic. Both the start and end of the Triassic are marked by major extinction events...
. The number of species was small, but increased considerably with the appearance of angiosperms . Angiosperms allowed aphids to specialise. Organs like the cornicles did not appear until the
Cretaceous
Cretaceous
The Cretaceous , derived from the Latin "creta" , usually abbreviated K for its German translation Kreide , is a geologic period and system from circa to million years ago. In the geologic timescale, the Cretaceous follows the Jurassic period and is followed by the Paleogene period of the...
period.
Threats
Aphids are soft-bodied, and have a wide variety of insect predators. Aphids also are often infected by
bacteria
Bacteria
Bacteria are a large domain of prokaryotic microorganisms. Typically a few micrometres in length, bacteria have a wide range of shapes, ranging from spheres to rods and spirals...
,
virus
Virus
A virus is a small infectious agent that can replicate only inside the living cells of organisms. Viruses infect all types of organisms, from animals and plants to bacteria and archaea...
es and fungi. Aphids are affected by the weather, such as
precipitation
Precipitation (meteorology)
In meteorology, precipitation In meteorology, precipitation In meteorology, precipitation (also known as one of the classes of hydrometeors, which are atmospheric water phenomena is any product of the condensation of atmospheric water vapor that falls under gravity. The main forms of precipitation...
, temperature and
wind
Wind
Wind is the flow of gases on a large scale. On Earth, wind consists of the bulk movement of air. In outer space, solar wind is the movement of gases or charged particles from the sun through space, while planetary wind is the outgassing of light chemical elements from a planet's atmosphere into space...
.
Insects that attack aphids include predatory
Coccinellidae
Coccinellidae
Coccinellidae is a family of beetles, known variously as ladybirds , or ladybugs . Scientists increasingly prefer the names ladybird beetles or lady beetles as these insects are not true bugs...
(lady bugs or ladybirds),
hoverfly
Hoverfly
Hoverflies, sometimes called flower flies or syrphid flies, make up the insect family Syrphidae. As their common name suggests, they are often seen hovering or nectaring at flowers; the adults of many species feed mainly on nectar and pollen, while the larvae eat a wide range of foods...
larvae (Diptera: Syrphidae), parasitic
wasp
Wasp
The term wasp is typically defined as any insect of the order Hymenoptera and suborder Apocrita that is neither a bee nor an ant. Almost every pest insect species has at least one wasp species that preys upon it or parasitizes it, making wasps critically important in natural control of their...
s, aphid midge larvae, "aphid lions" (the larvae of green lacewings), crab spiders and lacewings (Neuroptera: Chrysopidae).
Fungi that attack aphids include Neozygites fresenii, Entomophthora,
Beauveria bassiana
Beauveria bassiana
Beauveria bassiana is a fungus that grows naturally in soils throughout the world and acts as a parasite on various arthropod species, causing white muscardine disease; it thus belongs to the entomopathogenic fungi. It is being used as a biological insecticide to control a number of pests such as...
,
Metarhizium anisopliae
Metarhizium anisopliae
Metarhizium anisopliae, formerly known as Entomophthora anisopliae , is a fungus that grows naturally in soils throughout the world and causes disease in various insects by acting as a parasite. Ilya I. Mechnikov named it after the insect species it was originally isolated from: the beetle...
and entomopathogenic fungi like Lecanicillium lecanii. Aphids brush against the microscopic spores. These spores stick to the aphid, germinate and penetrate the aphid's skin. The fungus grows in the aphid
hemolymph
Hemolymph
Hemolymph, or haemolymph, is a fluid in the circulatory system of some arthropods and is analogous to the fluids and cells making up both blood and interstitial fluid in vertebrates such as birds and mammals...
(i.e., the counterpart of
blood
Blood
Blood is a specialized bodily fluid in animals that delivers necessary substances such as nutrients and oxygen to the cells and transports metabolic waste products away from those same cells....
for aphids). After about 3 days, the aphid dies and the fungus releases more spores into the air. Infected aphids are covered with a woolly mass that progressively grows thicker until the aphid is obscured. Often the visible fungus is not the type of fungus that killed the aphid, but a secondary fungus.
Aphids can be easily killed by unfavourable weather, such as late spring freezes. Excessive heat kills the symbiotic bacteria that some aphids depend on, which makes the aphids infertile. Rain prevents winged aphids from dispersing, and knocks aphids off plants and thus kills them from the impact or by starvation. However, rain cannot be relied on for aphid control.
Defences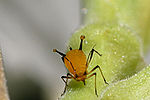 Aphids are soft-bodied, and have little protection from predators and diseases. Some species of aphid interact with plant tissues forming a
gall
Gall
Galls or cecidia are outgrowths on the surface of lifeforms caused by invasion by other lifeforms, such as parasites or bacterial infection. Plant galls are abnormal outgrowths of plant tissues and can be caused by various parasites, from fungi and bacteria, to insects and mites...
, an abnormal swelling of plant tissue. Aphids can live inside the gall, which provides protection from predators and the elements. A number of galling aphid species are known to produce specialised "soldier" forms, sterile nymphs with defensive features which defend the gall from invasion. For example, Alexander's horned aphids are a type of soldier aphid that has a hard
exoskeleton
Exoskeleton
An exoskeleton is the external skeleton that supports and protects an animal's body, in contrast to the internal skeleton of, for example, a human. In popular usage, some of the larger kinds of exoskeletons are known as "shells". Examples of exoskeleton animals include insects such as grasshoppers...
and
pincer
Pincer
Pincer may refer to:*Pincer *Pincer , part of an animal*Pincer ligand, a terdentate, often planar molecule that tightly binds a variety of metal ions.*Pingas...
-like mouthparts. Infestation of a variety of Chinese trees by Chinese sumac aphids (
Melaphis chinensis
Melaphis chinensis
Melaphis chinensis, the Chinese sumac aphid, is an aphid species in the genus Melaphis.The species produce galls on the Chinese sumac . The gall is called Chinese gall, Galla Chinensis or wu bei zi in Chinese. It is rich in gallotannins, a type of hydrolysable tannins...
) can create a "Chinese gall" which is valued as a commercial product. As "Galla Chinensis", Chinese galls are used in Chinese medicine to treat
cough
Cough
A cough is a sudden and often repetitively occurring reflex which helps to clear the large breathing passages from secretions, irritants, foreign particles and microbes...
s,
diarrhoea
Diarrhea
Diarrhea , also spelled diarrhoea, is the condition of having three or more loose or liquid bowel movements per day. It is a common cause of death in developing countries and the second most common cause of infant deaths worldwide. The loss of fluids through diarrhea can cause dehydration and...
, night sweats,
dysentery
Dysentery
Dysentery is an inflammatory disorder of the intestine, especially of the colon, that results in severe diarrhea containing mucus and/or blood in the faeces with fever and abdominal pain. If left untreated, dysentery can be fatal.There are differences between dysentery and normal bloody diarrhoea...
and to stop intestinal and uterine bleeding. Chinese galls are also an important source of
tannin
Tannin
A tannin is an astringent, bitter plant polyphenolic compound that binds to and precipitates proteins and various other organic compounds including amino acids and alkaloids.The term tannin refers to the use of...
s.
Some species of aphid, known as "woolly aphids" (Eriosomatinae), excrete a "fluffy wax coating" for protection.
The cabbage aphid, Brevicoryne brassicae, stores and releases chemicals that produce a violent
chemical reaction
Chemical reaction
A chemical reaction is a process that leads to the transformation of one set of chemical substances to another. Chemical reactions can be either spontaneous, requiring no input of energy, or non-spontaneous, typically following the input of some type of energy, such as heat, light or electricity...
and strong
mustard oil
Mustard oil
The term mustard oil is used for three different oils that are made from mustard seeds:*A fatty vegetable oil resulting from pressing the seeds,...
smell to repel predators.
It was common at one time to suggest that the cornicles were the source of the honeydew, and this was even included in the
Shorter Oxford English Dictionary
Shorter Oxford English Dictionary
The Shorter Oxford English Dictionary, often abbreviated to SOED, is a scaled-down version of the Oxford English Dictionary . It comprises two volumes rather than the twenty needed for the full second edition of the OED...
and the 2008 edition of the
World Book Encyclopedia
World Book Encyclopedia
The World Book Encyclopedia is an encyclopedia published in the United States. It is self-described as "the number-one selling print encyclopedia in the world." The encyclopedia is designed to cover major areas of knowledge uniformly, but it shows particular strength in scientific, technical, and...
. In fact, honeydew secretions are produced from the anus of the aphid, while cornicles mostly produce defensive chemicals such as waxes. There also is evidence of cornicle wax
attracting aphid predators
Kairomone
A kairomone is a semiochemical, emitted by an organism, which mediates interspecific interactions in a way that benefits an individual of another species which receives it, without benefiting the emitter. This "eavesdropping" is often disadvantageous to the producer...
in some cases. Aphids are also known to defend themselves from attack by
parasitoid
Parasitoid
A parasitoid is an organism that spends a significant portion of its life history attached to or within a single host organism in a relationship that is in essence parasitic; unlike a true parasite, however, it ultimately sterilises or kills, and sometimes consumes, the host...
wasps by kicking.
Effects on plants
Plants exhibiting aphid damage can have a variety of symptoms, such as decreased growth rates, mottled leaves, yellowing, stunted growth, curled leaves, browning, wilting, low yields and death. The removal of sap creates a lack of vigour in the plant, and aphid saliva is toxic to plants. Aphids frequently transmit disease-causing organisms like
plant virus
Plant virus
Plant viruses are viruses that affect plants. Like all other viruses, plant viruses are obligate intracellular parasites that do not have the molecular machinery to replicate without a host. Plant viruses are pathogenic to higher plants...
es to their hosts. The green peach aphid,
Myzus persicae
Myzus persicae
Myzus persicae, known as the green peach aphid, is a small green aphid. It is the most significant aphid pest of peach trees, causing decreased growth, shriveling of the leaves and the death of various tissues...
, is a vector for more than 110 plant viruses. Cotton aphids (Aphis gossypii) often infect
sugarcane
Sugarcane
Sugarcane refers to any of six to 37 species of tall perennial grasses of the genus Saccharum . Native to the warm temperate to tropical regions of South Asia, they have stout, jointed, fibrous stalks that are rich in sugar, and measure two to six metres tall...
,
papaya
Papaya
The papaya , papaw, or pawpaw is the fruit of the plant Carica papaya, the sole species in the genus Carica of the plant family Caricaceae...
and
peanut
Peanut
The peanut, or groundnut , is a species in the legume or "bean" family , so it is not a nut. The peanut was probably first cultivated in the valleys of Peru. It is an annual herbaceous plant growing tall...
s with viruses. Aphids contributed to the spread of late blight (Phytophthora infestans) among potatoes in the Irish potato famine of the 1840s.
The cherry aphid or black cherry aphid, Myzus cerasi, is responsible for some leaf curl of cherry trees. This can easily be distinguished from 'leaf curl' caused by Taphrina fungus species due to the presence of aphids beneath the leaves.
The coating of plants with honeydew can contribute to the spread of fungi which can damage plants. Honeydew produced by aphids has been observed to reduce the effectiveness of fungicides as well.
A hypothesis that insect feeding may improve plant fitness was floated in the mid-1970s by Owen and Wiegert. It was felt that the excess honeydew would nourish soil micro-organisms, including nitrogen fixers. In a nitrogen poor environment, this could provide an advantage to an infested plant over a noninfested plant. However, this does not appear to be supported by the observational evidence.
The damage of plants, and in particular commercial crops, has resulted in large amounts of resources and efforts being spent attempting to control the activities of aphids.
Control
There are various
insecticide
Insecticide
An insecticide is a pesticide used against insects. They include ovicides and larvicides used against the eggs and larvae of insects respectively. Insecticides are used in agriculture, medicine, industry and the household. The use of insecticides is believed to be one of the major factors behind...
s that can be used to control aphids. Nowadays, there are many plant extracts and plant products that are eco-friendly and control aphids as effectively as chemical insecticides. Shreth et al. suggested use of
neem
Neem
Azadirachta indica is a tree in the mahogany family Meliaceae. It is one of two species in the genus Azadirachta, and is native to India growing in tropical and semi-tropical regions. Its fruits and seeds are the source of neem oil...
products and
lantana
Lantana
Lantana is a genus of about 150 species of perennial flowering plants in the verbena family, Verbenaceae. They are native to tropical regions of the Americas and Africa but exist as an introduced species in numerous areas, especially in the Australian-Pacific region. The genus includes both...
products to protect plants against aphids. It is important to inspect the undersides of leaves and especially new growth for aphids. Contact pesticides as well as detergents are the most effective means of bringing down an aphid population.
Alternatively, biological control can be used. This involves using a natural predator, such as lacewings, to control the population of aphids. The predator is introduced as eggs or larvae which then develop by eating aphids, bringing down the aphid population. Aphids also dislike the smell of
garlic
Garlic
Allium sativum, commonly known as garlic, is a species in the onion genus, Allium. Its close relatives include the onion, shallot, leek, chive, and rakkyo. Dating back over 6,000 years, garlic is native to central Asia, and has long been a staple in the Mediterranean region, as well as a frequent...
, catnip, and
mint
Mentha
Mentha is a genus of flowering plants in the family Lamiaceae . The species are not clearly distinct and estimates of the number of species varies from 13 to 18. Hybridization between some of the species occurs naturally...
. If you add those plants next to infested plants, aphids will soon relocate themselves.
Integrated pest management
Integrated Pest Management
Integrated pest management is an ecological approach to agricultural pest control that integrates pesticides/herbicides into a management system incorporating a range of practices for economic control of a pest...
of various species of aphids can be achieved using biological insecticides based on microbes such as Beauveria bassiana or
Paecilomyces fumosoroseus
Paecilomyces fumosoroseus
Paecilomyces fumosoroseus is a microscopic fungus that infects and kills insects. It shows promise as a biological pesticide with an extensive host range.-Life cycle:...
.
Synthesised neuropeptide analogues are another form of biological control that is being explored by researchers at the
United States Agricultural Research Service
Agricultural Research Service
The Agricultural Research Service is the principal in-house research agency of the United States Department of Agriculture . ARS is one of four agencies in USDA's Research, Education and Economics mission area...
. Neuropeptide is a chemical signal that aphids use to regulate and control body functions such as digestion, respiration, and water intake. Researchers are seeking ways to alter the molecular structure of neuropeptide so that it cannot be broken down by other enzymes, therefore disrupting the body functions that the chemical controls. In experimental tests, one neuropeptide mimic killed 90%–100% of the aphids within three days. The neuropeptide mimic's rate of mortality is comparable to commercial insecticides; however, the mimic must be thoroughly tested before it can be used as an effective biological agent.
External links
On the
University of Florida
University of Florida
The University of Florida is an American public land-grant, sea-grant, and space-grant research university located on a campus in Gainesville, Florida. The university traces its historical origins to 1853, and has operated continuously on its present Gainesville campus since September 1906...
/
Institute of Food and Agricultural Sciences
Institute of Food and Agricultural Sciences
The University of Florida's Institute of Food and Agricultural Sciences is a federal-state-county partnership dedicated to developing knowledge in agriculture, human and natural resources, and the life sciences, and enhancing and sustaining the quality of human life by making that information...
Featured Creatures website: