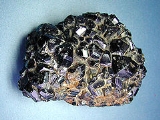 Cassiterite
Cassiterite
is a
tin
Tin
Tin is a chemical element with the symbol Sn and atomic number 50. It is a main group metal in group 14 of the periodic table. Tin shows chemical similarity to both neighboring group 14 elements, germanium and lead and has two possible oxidation states, +2 and the slightly more stable +4...
oxide mineral
Oxide mineral
The oxide mineral class includes those minerals in which the oxide anion is bonded to one or more metal ions. The hydroxide bearing minerals are typically included in the oxide class...
,
SnO2
Tin dioxide
Tin dioxide is the inorganic compound with the formula SnO2. The mineral form of SnO2 is called cassiterite, and this is the main ore of tin. With many other names , this oxide of tin is the most important raw material in tin chemistry...
. It is generally opaque, but it is translucent in thin crystals. Its luster and multiple crystal faces produce a desirable gem. Cassiterite has been the chief tin
ore
Ore
An ore is a type of rock that contains minerals with important elements including metals. The ores are extracted through mining; these are then refined to extract the valuable element....
throughout
ancient history
Tin sources and trade in ancient times
Tin is an essential metal in the creation of tin bronzes and its acquisition has been an important part of Bronze Age and later cultures throughout ancient history. Its use began in the Near East and the Balkans around 3000 BC...
and remains the most important source of tin today.
Occurrence
Most sources of cassiterite today are found in
alluvial
Alluvium
Alluvium is loose, unconsolidated soil or sediments, eroded, deposited, and reshaped by water in some form in a non-marine setting. Alluvium is typically made up of a variety of materials, including fine particles of silt and clay and larger particles of sand and gravel...
or
placer
Placer mining
Placer mining is the mining of alluvial deposits for minerals. This may be done by open-pit or by various surface excavating equipment or tunneling equipment....
deposits containing the resistant weathered grains. The best sources of primary cassiterite are found in the tin mines of
Bolivia
Bolivia
Bolivia officially known as Plurinational State of Bolivia , is a landlocked country in central South America. It is the poorest country in South America...
, where it is found in hydrothermal veins.
Rwanda
Rwanda
Rwanda or , officially the Republic of Rwanda , is a country in central and eastern Africa with a population of approximately 11.4 million . Rwanda is located a few degrees south of the Equator, and is bordered by Uganda, Tanzania, Burundi and the Democratic Republic of the Congo...
has a nascent cassiterite mining industry. Fighting over cassiterite deposits (particularly in
Walikale
Walikale
Walikale Territory is a territory located within the Congolese province of North Kivu, in the eastern regions of the Democratic Republic of the Congo. The locality is situated between Bukavu and Lubutu on DR Congo National Road No. 2 in the valley of the river Lowa, 135 km to the west of...
) is a major cause of the conflict waged in eastern parts of the
Democratic Republic of the Congo
Democratic Republic of the Congo
The Democratic Republic of the Congo is a state located in Central Africa. It is the second largest country in Africa by area and the eleventh largest in the world...
.
Cassiterite is a widespread minor constituent of igneous rocks. The Bolivia veins and the old exhausted workings of
Cornwall
Cornwall
Cornwall is a unitary authority and ceremonial county of England, within the United Kingdom. It is bordered to the north and west by the Celtic Sea, to the south by the English Channel, and to the east by the county of Devon, over the River Tamar. Cornwall has a population of , and covers an area of...
,
England
England
England is a country that is part of the United Kingdom. It shares land borders with Scotland to the north and Wales to the west; the Irish Sea is to the north west, the Celtic Sea to the south west, with the North Sea to the east and the English Channel to the south separating it from continental...
, are concentrated in high temperature
quartz
Quartz
Quartz is the second-most-abundant mineral in the Earth's continental crust, after feldspar. It is made up of a continuous framework of SiO4 silicon–oxygen tetrahedra, with each oxygen being shared between two tetrahedra, giving an overall formula SiO2. There are many different varieties of quartz,...
veins and
pegmatite
Pegmatite
A pegmatite is a very crystalline, intrusive igneous rock composed of interlocking crystals usually larger than 2.5 cm in size; such rocks are referred to as pegmatitic....
s associated with
granitic
Granite
Granite is a common and widely occurring type of intrusive, felsic, igneous rock. Granite usually has a medium- to coarse-grained texture. Occasionally some individual crystals are larger than the groundmass, in which case the texture is known as porphyritic. A granitic rock with a porphyritic...
intrusives. The veins commonly contain
tourmaline
Tourmaline
Tourmaline is a crystal boron silicate mineral compounded with elements such as aluminium, iron, magnesium, sodium, lithium, or potassium. Tourmaline is classified as a semi-precious stone and the gem comes in a wide variety of colors...
,
topaz
Topaz
Topaz is a silicate mineral of aluminium and fluorine with the chemical formula Al2SiO42. Topaz crystallizes in the orthorhombic system and its crystals are mostly prismatic terminated by pyramidal and other faces.-Color and varieties:...
,
fluorite
Fluorite
Fluorite is a halide mineral composed of calcium fluoride, CaF2. It is an isometric mineral with a cubic habit, though octahedral and more complex isometric forms are not uncommon...
,
apatite
Apatite
Apatite is a group of phosphate minerals, usually referring to hydroxylapatite, fluorapatite, chlorapatite and bromapatite, named for high concentrations of OH−, F−, Cl− or Br− ions, respectively, in the crystal...
,
wolframite
Wolframite
Wolframite WO4, is an iron manganese tungstate mineral that is the intermediate between ferberite and huebernite . Along with scheelite, the wolframite series are the most important tungsten ore minerals. Wolframite is found in quartz veins and pegmatites associated with granitic intrusives...
,
molybdenite
Molybdenite
Molybdenite is a mineral of molybdenum disulfide, MoS2. Similar in appearance and feel to graphite, molybdenite has a lubricating effect that is a consequence of its layered structure. The atomic structure consists of a sheet of molybdenum atoms sandwiched between sheets of sulfur atoms...
, and
arsenopyrite
Arsenopyrite
Arsenopyrite is an iron arsenic sulfide . It is a hard metallic, opaque, steel grey to silver white mineral with a relatively high specific gravity of 6.1. When dissolved in nitric acid, it releases elemental sulfur. When arsenopyrite is heated, it becomes magnetic and gives off toxic fumes...
. The mineral occurs extensively in
Cornwall
Cornwall
Cornwall is a unitary authority and ceremonial county of England, within the United Kingdom. It is bordered to the north and west by the Celtic Sea, to the south by the English Channel, and to the east by the county of Devon, over the River Tamar. Cornwall has a population of , and covers an area of...
as surface deposits on
Dartmoor
Dartmoor
Dartmoor is an area of moorland in south Devon, England. Protected by National Park status, it covers .The granite upland dates from the Carboniferous period of geological history. The moorland is capped with many exposed granite hilltops known as tors, providing habitats for Dartmoor wildlife. The...
for example, where there are extensive traces of an hydraulic mining method known as
streaming
. The current major tin production comes from placer or alluvial deposits in
Malaysia
,
Thailand
Thailand
Thailand , officially the Kingdom of Thailand , formerly known as Siam , is a country located at the centre of the Indochina peninsula and Southeast Asia. It is bordered to the north by Burma and Laos, to the east by Laos and Cambodia, to the south by the Gulf of Thailand and Malaysia, and to the...
,
Indonesia
Indonesia
Indonesia , officially the Republic of Indonesia , is a country in Southeast Asia and Oceania. Indonesia is an archipelago comprising approximately 13,000 islands. It has 33 provinces with over 238 million people, and is the world's fourth most populous country. Indonesia is a republic, with an...
,
Maakhir
Maakhir
Maakhir , officially the Maakhir State of Somalia was an autonomous region in northern Somalia in an area disputed by the Somaliland and Puntland macro-regions. In January 2009, it was incorporated into Puntland.-Autonomy:...
region of Somalia, and
Russia
Russia
Russia or , officially known as both Russia and the Russian Federation , is a country in northern Eurasia. It is a federal semi-presidential republic, comprising 83 federal subjects...
.
Hydraulic mining
Hydraulic mining
Hydraulic mining, or hydraulicking, is a form of mining that uses high-pressure jets of water to dislodge rock material or move sediment. In the placer mining of gold or tin, the resulting water-sediment slurry is directed through sluice boxes to remove the gold.-Precursor - ground...
methods are used to concentrate the fine particles of ore owing to its high specific gravity of about 7.0 G.
Crystallography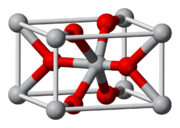 Crystal twinning
Crystal twinning
Crystal twinning occurs when two separate crystals share some of the same crystal lattice points in a symmetrical manner. The result is an intergrowth of two separate crystals in a variety of specific configurations. A twin boundary or composition surface separates the two crystals....
is common in cassiterite and most aggregate specimens show crystal twins. The typical twin is bent at a near-60-degree angle, forming an "elbow twin". Botryoidal or reniform cassiterite is called
wood tin
.
Cassiterite is also used as a
gemstone
Gemstone
A gemstone or gem is a piece of mineral, which, in cut and polished form, is used to make jewelry or other adornments...
and collector specimens when quality crystals can be found.
Etymology
The name derives from the
Greek
Greek language
Greek is an independent branch of the Indo-European family of languages. Native to the southern Balkans, it has the longest documented history of any Indo-European language, spanning 34 centuries of written records. Its writing system has been the Greek alphabet for the majority of its history;...
kassiteros
for "tin"—or from the
Phoenician
Phoenician languages
Phoenician was a language originally spoken in the coastal region then called "Canaan" in Phoenician, Arabic, Hebrew, and Aramaic, "Phoenicia" in Greek and Latin, and "Pūt" in Ancient Egyptian. Phoenician is a Semitic language of the Canaanite subgroup; its closest living relative is Hebrew, to...
word
Cassiterid
referring to the islands of
Ireland
Ireland
Ireland is an island to the northwest of continental Europe. It is the third-largest island in Europe and the twentieth-largest island on Earth...
and
Britain
Great Britain
Great Britain or Britain is an island situated to the northwest of Continental Europe. It is the ninth largest island in the world, and the largest European island, as well as the largest of the British Isles...
, the ancient sources of tin—or, as
Roman Ghirshman
Roman Ghirshman
Roman Ghirshman was a Ukrainian-born French archeologist who specialized in ancient Iran.A native of Kharkiv, Ghirshman moved to Paris in 1917 to study Archeology and Ancient Languages...
(1954) suggests, from the region of the
Kassites
Kassites
The Kassites were an ancient Near Eastern people who gained control of Babylonia after the fall of the Old Babylonian Empire after ca. 1531 BC to ca. 1155 BC...
, an ancient people in west and central
Iran
Iran
Iran , officially the Islamic Republic of Iran , is a country in Southern and Western Asia. The name "Iran" has been in use natively since the Sassanian era and came into use internationally in 1935, before which the country was known to the Western world as Persia...
.