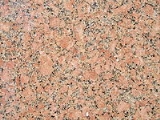 Granite
Granite
is a common and widely occurring type of intrusive,
felsic
Felsic
The word "felsic" is a term used in geology to refer to silicate minerals, magma, and rocks which are enriched in the lighter elements such as silicon, oxygen, aluminium, sodium, and potassium....
,
igneous
Igneous rock
Igneous rock is one of the three main rock types, the others being sedimentary and metamorphic rock. Igneous rock is formed through the cooling and solidification of magma or lava...
rock
Rock (geology)
In geology, rock or stone is a naturally occurring solid aggregate of minerals and/or mineraloids.The Earth's outer solid layer, the lithosphere, is made of rock. In general rocks are of three types, namely, igneous, sedimentary, and metamorphic...
. Granite usually has a medium- to coarse-grained texture. Occasionally some individual crystals (phenocrysts) are larger than the groundmass, in which case the texture is known as porphyritic. A granitic rock with a porphyritic texture is sometimes known as a
porphyry
Porphyry (geology)
Porphyry is a variety of igneous rock consisting of large-grained crystals, such as feldspar or quartz, dispersed in a fine-grained feldspathic matrix or groundmass. The larger crystals are called phenocrysts...
. Granites can be pink to gray in color, depending on their chemistry and mineralogy.