 Cargo aircraft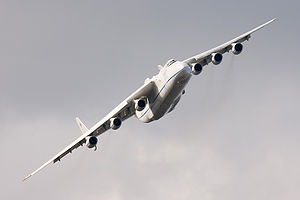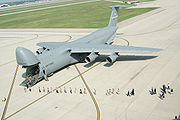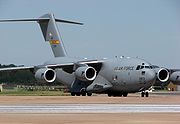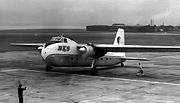 A
cargo aircraft
(also known as
freight aircraft
,
freighter
,
airlifter
, or
cargo jet
) is a
fixed-wing aircraft
Fixed-wing aircraft
A fixed-wing aircraft is an aircraft capable of flight using wings that generate lift due to the vehicle's forward airspeed. Fixed-wing aircraft are distinct from rotary-wing aircraft in which wings rotate about a fixed mast and ornithopters in which lift is generated by flapping wings.A powered...
designed or converted for the carriage of goods, rather than passengers. They are usually devoid of passenger amenities, and generally feature one or more large doors for the loading and unloading of cargo. Freighters may be operated by civil passenger or
cargo airline
Cargo airline
Cargo airlines are airlines dedicated to the transport of cargo. Some cargo airlines are divisions or subsidiaries of larger passenger airlines.-Logistics:...
s, by private individuals or by the
armed forces
Armed forces
The armed forces of a country are its government-sponsored defense, fighting forces, and organizations. They exist to further the foreign and domestic policies of their governing body, and to defend that body and the nation it represents from external aggressors. In some countries paramilitary...
of individual countries. However most air freight is carried in special
ULD containers
Unit Load Device
A unit load device , is a pallet or container used to load luggage, freight, and mail on wide-body aircraft and specific narrow-body aircraft. It allows a large quantity of cargo to be bundled into a single unit. Since this leads to fewer units to load, it saves ground crews time and effort and...
in the
cargo
Cargo
Cargo is goods or produce transported, generally for commercial gain, by ship, aircraft, train, van or truck. In modern times, containers are used in most intermodal long-haul cargo transport.-Marine:...
holds of passenger aircraft.
Aircraft designed for cargo flight use have a number of features that distinguish them from conventional passenger aircraft: a "fat" looking fuselage, a high-wing to allow the cargo area to sit near the ground, a large number of wheels to allow it to land at unprepared locations, and a high-mounted tail to allow cargo to be driven directly into and off the aircraft.
History
Aircraft were put to use carrying cargo in the form of air mail as early as 1911. Although the earliest aircraft were not designed primarily as cargo carriers, by the mid 1920s aircraft manufacturers were designing and building dedicated cargo aircraft.
The earliest "true" cargo aircraft is arguably the
World War II
World War II
World War II, or the Second World War , was a global conflict lasting from 1939 to 1945, involving most of the world's nations—including all of the great powers—eventually forming two opposing military alliances: the Allies and the Axis...
German design, the
Arado Ar 232
Arado Ar 232
The Arado Ar 232 Tausendfüssler was the first truly modern cargo aircraft, designed and built in small numbers by the German firm Arado Flugzeugwerke during World War II...
. The Ar 232 was intended to supplant the earlier
Junkers Ju 52
Junkers Ju 52
The Junkers Ju 52 was a German transport aircraft manufactured from 1932 to 1945. It saw both civilian and military service during the 1930s and 1940s. In a civilian role, it flew with over 12 air carriers including Swissair and Deutsche Luft Hansa as an airliner and freight hauler...
freighter conversions, but only small numbers were built. Most other forces used freighter versions of airliners in the cargo role as well, most notably the
C-47 Skytrain
C-47 Skytrain
The Douglas C-47 Skytrain or Dakota is a military transport aircraft that was developed from the Douglas DC-3 airliner. It was used extensively by the Allies during World War II and remained in front line operations through the 1950s with a few remaining in operation to this day.-Design and...
version of the
Douglas DC-3
Douglas DC-3
The Douglas DC-3 is an American fixed-wing propeller-driven aircraft whose speed and range revolutionized air transport in the 1930s and 1940s. Its lasting impact on the airline industry and World War II makes it one of the most significant transport aircraft ever made...
, which served with practically every allied nation. Post war
Europe
Europe
Europe is, by convention, one of the world's seven continents. Comprising the westernmost peninsula of Eurasia, Europe is generally 'divided' from Asia to its east by the watershed divides of the Ural and Caucasus Mountains, the Ural River, the Caspian and Black Seas, and the waterways connecting...
also served to play a major role in the development of the modern air cargo and air freight industry during what became known as the "
Cold War
Cold War
The Cold War was the continuing state from roughly 1946 to 1991 of political conflict, military tension, proxy wars, and economic competition between the Communist World—primarily the Soviet Union and its satellite states and allies—and the powers of the Western world, primarily the United States...
." It is during the Berlin Airlift at the height of this "Cold War," when a massive mobilization of aircraft was undertaken by the "
free world
Free World
The Free World is a Cold War-era term often used to describe states not under the rule of the Soviet Union, its Eastern European allies, China, Vietnam, Cuba, and other communist nations. The term often referred to states such as the United States, Canada, and Western European states such as the...
," to supply
West Berlin
West Berlin
West Berlin was a political exclave that existed between 1949 and 1990. It comprised the western regions of Berlin, which were bordered by East Berlin and parts of East Germany. West Berlin consisted of the American, British, and French occupation sectors, which had been established in 1945...
residents with food and supplies, in a virtual around the clock air bridge; after the
Soviet Union
Soviet Union
The Soviet Union , officially the Union of Soviet Socialist Republics , was a constitutionally socialist state that existed in Eurasia between 1922 and 1991....
closed and
blockade
Blockade
A blockade is an effort to cut off food, supplies, war material or communications from a particular area by force, either in part or totally. A blockade should not be confused with an embargo or sanctions, which are legal barriers to trade, and is distinct from a siege in that a blockade is usually...
d Berlin's borders, and land links to the west.
In the years following the war era a number of new custom-built cargo aircraft were introduced, often including some "experimental" features. For instance, the US's
C-82 Packet
C-82 Packet
The C-82 Packet was a twin-engine, twin-boom cargo aircraft designed and built by Fairchild Aircraft. It was used briefly by the United States Army Air Forces and United States Navy following World War II.-Design and development:...
featured a removable cargo area, while the
C-123 Provider
C-123 Provider
The C-123 Provider was an American military transport aircraft designed by Chase Aircraft and subsequently built by Fairchild Aircraft for the United States Air Force...
introduced the now-common upswept tail with a drop-down loading and unloading ramp. But it was the introduction of the
turboprop
Turboprop
A turboprop engine is a type of turbine engine which drives an aircraft propeller using a reduction gear.The gas turbine is designed specifically for this application, with almost all of its output being used to drive the propeller...
that allowed the class to mature, and even one of its earliest examples, the
C-130 Hercules
C-130 Hercules
The Lockheed C-130 Hercules is a four-engine turboprop military transport aircraft designed and built originally by Lockheed, now Lockheed Martin. Capable of using unprepared runways for takeoffs and landings, the C-130 was originally designed as a troop, medical evacuation, and cargo transport...
, is still the yardstick against which newer
military transport aircraft
Military transport aircraft
Military transport aircraft are typically fixed and rotary wing cargo aircraft which are used to deliver troops, weapons and other military equipment by a variety of methods to any area of military operations around the surface of the planet, usually outside of the commercial flight routes in...
designs are measured.
Today
Most conversions are carried out on older aircraft no longer suitable for passenger use, often due to changing safety or noise requirements, or when the aircraft type is considered to have become uncompetitive in
passenger airline
Passenger airline
A passenger airline is an airline dedicated to the transport of passengers. Cf. cargo airline. Passenger airlines usually operate a fleet of passenger aircraft which, rather than being owned outright, are usually leased from commercial aircraft sales and leasing companies such as GECAS and...
service, but there is also a market for new-build freighter designs. Freighter aircraft normally have strengthened cabin floors and the inclusion of a broad top-hinged door on the port
fuselage
Fuselage
The fuselage is an aircraft's main body section that holds crew and passengers or cargo. In single-engine aircraft it will usually contain an engine, although in some amphibious aircraft the single engine is mounted on a pylon attached to the fuselage which in turn is used as a floating hull...
in addition to an absence of passenger cabin windows which are "plugged."
The
Boeing 747
Boeing 747
The Boeing 747 is a wide-body commercial airliner and cargo transport, often referred to by its original nickname, Jumbo Jet, or Queen of the Skies. It is among the world's most recognizable aircraft, and was the first wide-body ever produced...
can be ordered in a freighter version with a large nose door which could be raised above the cockpit for loading. The bulged top deck housing the cockpit was originally designed to allow an unobstructed main deck, and to keep cargo from crushing the pilots in the case of an accident. The interior size of the fuselage is matched to the size of a standard
shipping container
Intermodal container
An intermodal container is a standardized reusable steel box used for the safe, efficient and secure storage and movement of materials and products within a global containerized intermodal freight transport system...
, stacked two high and two wide.
Other types of specialized civilian cargo aircraft configurations, include the swing-tail
Canadair CL-44
Canadair CL-44
The Canadair CL-44 was a Canadian turboprop airliner and cargo aircraft based on the Bristol Britannia that was developed and produced by Canadair in the late 1950s and early 1960s...
and Boeing 747 Large Cargo Freighter, and the clamshell tail
CASA CN-235
CASA CN-235
The CASA/IPTN CN-235 is a medium-range twin-engined transport plane that was jointly developed by CASA of Spain and IPTN of Indonesia as a regional airliner and military transport. Its primary military roles include maritime patrol, surveillance, and air transport...
.
Early Air mail and airlift logistics aircraft

Important "
airlift
Airlift
Airlift is the act of transporting people or cargo from point to point using aircraft.Airlift may also refer to:*Airlift , a suction device for moving sand and silt underwater-See also:...
and
logistics
Logistics
Logistics is the management of the flow of goods between the point of origin and the point of destination in order to meet the requirements of customers or corporations. Logistics involves the integration of information, transportation, inventory, warehousing, material handling, and packaging, and...
;" "cargo-liners," "mail-liners," and "mail aircraft."
Civilian cargo/freight aircraft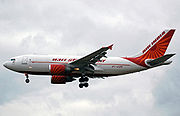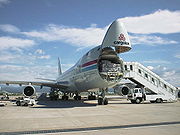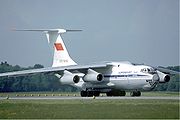 Light aircraft
Military cargo aircraft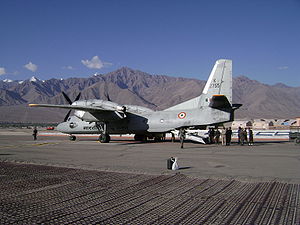 See: Military transport aircraft

Military transport aircraft

Military transport aircraft are typically fixed and rotary wing cargo aircraft which are used to deliver troops, weapons and other military equipment by a variety of methods to any area of military operations around the surface of the planet, usually outside of the commercial flight routes in...



Experimental cargo aircraft
Comparisons
Aircraft
Cargo Volume
Cargo Mass
Cruise Speed
Maximum Range
Aircraft Category
Airbus A400M

Airbus A400M

The Airbus A400M, also known as the Atlas, is a multi-national four-engine turboprop military transport aircraft. It was designed by Airbus Military as a tactical airlifter with strategic capabilities. The aircraft's maiden flight, originally planned for 2008, took place on 11 December 2009 in...



-
37,000 kg (82,000 lbs)
780 km/h ( 420 kn; 480 mph)
6,390 km (3,450 nm)
Military
Airbus 330-200F
475 m3
871 km/h (537 mph)
7,400 km (4,000 nm, 4,600 mi)
Commercial
Airbus Beluga

Airbus Beluga

-External links:*...



1210 m3
47,000 kg
-
4,632 km (2500 nm)
Commercial
Antonov 124
-
150,000 kg (330,000 lbs)
800 km/h (430 kn, 490 mph)
5,400 km (2,900 nm, 3,360 mi)
Military & Commercial
Antonov 225
1,300 m3 (46,000 cu ft))
250,000 kg (550,000 lbs)
800 km/h (430 kn, 500 mph)
15,400 km (9,570 mi)
Commercial
Boeing 747-8F
854.5 m3 (30,177 cu ft)
134,200 kg (295,800 lbs)
908 km/h (490 kn, 564 mph)
8,288 km (4,475 nmi)
Commercial
Boeing 747 LCF
1840 m3 (65,000 cu ft)
83,325kg (183,700lbs)
878 km/h (474 kn)
7,800 km (4,200 nmi)
Commercial
Lockheed C-5 (Galaxy)

C-5 Galaxy

The Lockheed C-5 Galaxy is a large military transport aircraft built by Lockheed. It provides the United States Air Force with a heavy intercontinental-range strategic airlift capability, one that can carry outsize and oversize cargos, including all air-certifiable cargo. The Galaxy has many...



-
122,470 kg (270,000 lbs)
919 km/h
4,440 km (2,400 nmi; 2,760 mi)
Military
Lockheed C-130H (Hercules)
-
33,000 kg (72,000 lbs)
540 km/h (292 kn, 336 mph)
3,800 km (2,050 nm, 2,360 mi)
Military
External links