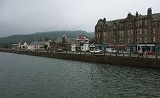 Campbeltown
Campbeltown
is a town and former
royal burgh
Royal burgh
A royal burgh was a type of Scottish burgh which had been founded by, or subsequently granted, a royal charter. Although abolished in 1975, the term is still used in many of the former burghs....
in
Argyll and Bute
Argyll and Bute
Argyll and Bute is both one of 32 unitary council areas; and a Lieutenancy area in Scotland. The administrative centre for the council area is located in Lochgilphead.Argyll and Bute covers the second largest administrative area of any Scottish council...
,
Scotland
Scotland
Scotland is a country that is part of the United Kingdom. Occupying the northern third of the island of Great Britain, it shares a border with England to the south and is bounded by the North Sea to the east, the Atlantic Ocean to the north and west, and the North Channel and Irish Sea to the...
. It lies by
Campbeltown Loch
Campbeltown Loch
Campbeltown Loch is a small sea loch near the south of the Kintyre Peninsula facing eastwards towards the Firth of Clyde. The town of Campbeltown, from which it takes its name, is located at its head. The island of Davaar is located in the loch, and can be reach by foot along a natural shingle...
on the
Kintyre
Kintyre
Kintyre is a peninsula in western Scotland, in the southwest of Argyll and Bute. The region stretches approximately 30 miles , from the Mull of Kintyre in the south, to East Loch Tarbert in the north...
peninsula
Peninsula
A peninsula is a piece of land that is bordered by water on three sides but connected to mainland. In many Germanic and Celtic languages and also in Baltic, Slavic and Hungarian, peninsulas are called "half-islands"....
. Originally known as
Kinlochkilkerran
(an anglicization of the Gaelic, which means "head of the
loch
Loch
Loch is the Irish and Scottish Gaelic word for a lake or a sea inlet. It has been anglicised as lough, although this is pronounced the same way as loch. Some lochs could also be called a firth, fjord, estuary, strait or bay...
by the
kirk
Kirk
Kirk can mean "church" in general or the Church of Scotland in particular. Many place names and personal names are also derived from it.-Basic meaning and etymology:...
of
Ciarán
Ciarán
Ciarán , Ciaran in Scottish Gaelic, Ceiran, Kieran, Keeran, Kyran, Kiaran, Keiran, Kieren, Kieron, Keiron or Kiernan , is a personal name meaning "small dark one". Ciarán comes from the Irish word "Ciar" which means black or dark. Ciar can be linked back to Ciar, son of Fergus, King of Ulster...
"), it was renamed in the 17th century as
Campbell's Town
after Archibald Campbell (Earl of Argyle) was granted the site in 1667. Campbeltown became an important centre for
shipbuilding
Shipbuilding
Shipbuilding is the construction of ships and floating vessels. It normally takes place in a specialized facility known as a shipyard. Shipbuilders, also called shipwrights, follow a specialized occupation that traces its roots to before recorded history.Shipbuilding and ship repairs, both...
and
Scotch whisky
Scotch whisky
Scotch whisky is whisky made in Scotland.Scotch whisky is divided into five distinct categories: Single Malt Scotch Whisky, Single Grain Scotch Whisky, Blended Malt Scotch Whisky , Blended Grain Scotch Whisky, and Blended Scotch Whisky.All Scotch whisky must be aged in oak barrels for at least three...
, and a busy
fishing port
Port
A port is a location on a coast or shore containing one or more harbors where ships can dock and transfer people or cargo to or from land....
.
Whisky
Campbeltown is one of the handful of areas in Scotland categorised as a distinct
whisky
Whisky
Whisky or whiskey is a type of distilled alcoholic beverage made from fermented grain mash. Different grains are used for different varieties, including barley, malted barley, rye, malted rye, wheat, and corn...
producing region, and is home to the
Campbeltown Single Malts
Campbeltown Single Malts
Campbeltown Single Malts are single malt Scotch whiskies distilled in the burgh of Campbeltown, on the Kintyre peninsula in Scotland. Once a major producer of whisky with as many as 28 distilleries, and claiming the title "whisky capital of the world", production has markedly declined...
. At one point it had 34
distilleries
Distillation
Distillation is a method of separating mixtures based on differences in volatilities of components in a boiling liquid mixture. Distillation is a unit operation, or a physical separation process, and not a chemical reaction....
and proclaimed itself "the whisky capital of the world". However, a focus on quantity rather than quality, and the combination of
prohibition
Prohibition in the United States
Prohibition in the United States was a national ban on the sale, manufacture, and transportation of alcohol, in place from 1920 to 1933. The ban was mandated by the Eighteenth Amendment to the Constitution, and the Volstead Act set down the rules for enforcing the ban, as well as defining which...
and the
Great Depression
Great Depression
The Great Depression was a severe worldwide economic depression in the decade preceding World War II. The timing of the Great Depression varied across nations, but in most countries it started in about 1929 and lasted until the late 1930s or early 1940s...
in the
United States
United States
The United States of America is a federal constitutional republic comprising fifty states and a federal district...
, led to most distilleries going out of business. Today only three active distilleries remain in Campbeltown:
Glen Scotia
Glen Scotia (whisky distillery)
The Glen Scotia distillery is a producer of single malt Scotch whisky that was founded in 1832.-History:Glen Scotia was founded in 1832 by the Galbraith family. The family sold it to West Highland Malt Distillers in 1919, although that company went bankrupt in 1924 and control of the distillery was...
, Glengyle, and
Springbank
Springbank Distillery
Springbank Distillery is one of the last surviving producers of Campbeltown Single Malts. The distillery, located on the southern Kintyre peninsula, produces three distinct types of single malt Scotch whisky.-Brands:...
.
The well known
folk song
Folk music
Folk music is an English term encompassing both traditional folk music and contemporary folk music. The term originated in the 19th century. Traditional folk music has been defined in several ways: as music transmitted by mouth, as music of the lower classes, and as music with unknown composers....
titled
Campbeltown Loch, I wish you were whisky
Campbeltown Loch
Campbeltown Loch is a small sea loch near the south of the Kintyre Peninsula facing eastwards towards the Firth of Clyde. The town of Campbeltown, from which it takes its name, is located at its head. The island of Davaar is located in the loch, and can be reach by foot along a natural shingle...
is based on the town's history in this industry.
Culture
Campbeltown boasts a
museum
Museum
A museum is an institution that cares for a collection of artifacts and other objects of scientific, artistic, cultural, or historical importance and makes them available for public viewing through exhibits that may be permanent or temporary. Most large museums are located in major cities...
and a
heritage centre
Heritage centre
A heritage centre is a museum facility primarily dedicated to the presentation of historical and cultural information about a place and its people, including, to some degree, natural features...
. The museum has a varied collection of items from Campbeltown's past, and
prehistoric
Prehistory
Prehistory is the span of time before recorded history. Prehistory can refer to the period of human existence before the availability of those written records with which recorded history begins. More broadly, it refers to all the time preceding human existence and the invention of writing...
items excavated from sites around Kintyre, such as axeheads, jewellery and combs. The 19th century building also houses a library and has plaques or exhibits related to famous Kintyre people: for example,
William McTaggart
William McTaggart
William McTaggart was a Scottish landscape painter who was influenced by Impressionism.-Life and work:...
and William Mackinnon. Near the museum is the
Wee Picture House
, a small but distinctive
Art Deco
Art Deco
Art deco , or deco, is an eclectic artistic and design style that began in Paris in the 1920s and flourished internationally throughout the 1930s, into the World War II era. The style influenced all areas of design, including architecture and interior design, industrial design, fashion and...
cinema
Movie theater
A movie theater, cinema, movie house, picture theater, film theater is a venue, usually a building, for viewing motion pictures ....
dating from 1913 and believed to be the oldest surviving purpose-built cinema in Scotland. These buildings are on the waterfront, as is a 14th century
Celtic cross
Celtic cross
A Celtic cross is a symbol that combines a cross with a ring surrounding the intersection. In the Celtic Christian world it was combined with the Christian cross and this design was often used for high crosses – a free-standing cross made of stone and often richly decorated...
that also served as a
mercat cross
Mercat cross
A mercat cross is a market cross found in Scottish cities and towns where trade and commerce was a part of economic life. It was originally a place where merchants would gather, and later became the focal point of many town events such as executions, announcements and proclamations...
. St Kieran lived in this area before the town existed. A cave named after him can be visited at low tide, as can the cave on nearby
Davaar Island
Davaar Island
Davaar Island or Island Davaar is located at the mouth of Campbeltown Loch off the east coast of Kintyre, in Argyll and Bute, Scotland. It is a tidal island, linked to the mainland by a natural shingle causeway called the Dhorlin near Campbeltown at low tide...
where pilgrims and tourists go to see a 19th century
crucifixion
Crucifixion
Crucifixion is an ancient method of painful execution in which the condemned person is tied or nailed to a large wooden cross and left to hang until dead...
painting.
Campbeltown also hosts the annual Mull Of Kintyre Music Festival, which has seen acts ranging from up-and-coming local bands to well-established groups such as
Deacon Blue
Deacon Blue
Deacon Blue are a Scottish pop band formed in Glasgow during 1985. Their name was taken from the title of the Steely Dan song "Deacon Blues". The band consists of vocalist Ricky Ross and Lorraine McIntosh, keyboard player James Prime and drummer Dougie Vipond....
,
The Stranglers
The Stranglers
The Stranglers are an English punk/rock music group.Scoring some 23 UK top 40 singles and 17 UK top 40 albums to date in a career spanning five decades, the Stranglers are the longest-surviving and most "continuously successful" band to have originated in the UK punk scene of the mid to late 1970s...
and
Idlewild
Idlewild (band)
Idlewild are a Scottish rock band, formed in Edinburgh, in 1995, comprising Roddy Woomble , Rod Jones , Colin Newton , Allan Stewart and Gareth Russell...
perform.
A recent addition has been the Kintyre Songwriters Festival, a fairly low key annual gathering aimed at promoting the wealth and variety of original music across the area. The festival is held during the last weekend of May and is open to anyone interested in performing.
On Friday 16 June 2006,
First Minister
First Minister of Scotland
The First Minister of Scotland is the political leader of Scotland and head of the Scottish Government. The First Minister chairs the Scottish Cabinet and is primarily responsible for the formulation, development and presentation of Scottish Government policy...
Jack McConnell
Jack McConnell
Jack Wilson McConnell, Baron McConnell of Glenscorrodale is a British Labour life peer in the House of Lords. He was third First Minister of Scotland from 2001 to 2007, making him the longest serving First Minister in the history of the Scottish Parliament...
flew to Campbeltown to officially open Campbeltown's new 'Aqualibrium' Centre. Aqualibrium replaced the old Campbeltown swimming pool, which closed 7 years ago due to safety concerns, and houses Campbeltown's library (with the old building being the museum only), swimming pool, gym, conference centre and 'Mussel Ebb' Cafe.
The Kintyre Camanachd are a local
shinty
Shinty
Shinty is a team game played with sticks and a ball. Shinty is now played mainly in the Scottish Highlands, and amongst Highland migrants to the big cities of Scotland, but it was formerly more widespread, being once competitively played on a widespread basis in England and other areas in the...
team that belongs to the
Camanachd Association
Camanachd Association
The Camanachd Association is the World governing body of the Scottish sport of shinty. The body is based in Inverness, Highland, and is in charge of the rules of the game...
.
Argyll FM is a local radio station based in Campbeltown on 106.5, 107.1 and 107.7
Transport
Campbeltown Airport
Campbeltown Airport
Campbeltown Airport is located at Machrihanish, west of Campbeltown, near the tip of the Kintyre peninsula in Argyll and Bute on the west coast of Scotland...
lies near the burgh, and a scheduled service runs between here and Glasgow International Airport on weekdays, but not at weekends.
The town's remote location near the far end of a long peninsula makes for a difficult road journey, and to some extent the area relies on sea and air transport, like the
Inner Hebrides
Inner Hebrides
The Inner Hebrides is an archipelago off the west coast of Scotland, to the south east of the Outer Hebrides. Together these two island chains form the Hebrides, which enjoy a mild oceanic climate. There are 36 inhabited islands and a further 43 uninhabited Inner Hebrides with an area greater than...
. However it is linked to the rest of Scotland by the
A83
A83 road
The A83 is a major road in Argyll and Bute, Scotland, running from Tarbet, on the western shore of Loch Lomond, where it splits from the A82, to Campbeltown at the southern end of the Kintyre peninsula.-Route:...
(to
Tarbet
) and
A82
A82 road
The A82 is a trunk road in Scotland. It is the principal route from Lowland Scotland to the western Scottish Highlands, running from Glasgow to Inverness, going by Loch Lomond, Glen Coe and Fort William. It is the second longest primary A-road in Scotland after the A9, which is the other...
(from Tarbet to
Glasgow
Glasgow
Glasgow is the largest city in Scotland and third most populous in the United Kingdom. The city is situated on the River Clyde in the country's west central lowlands...
).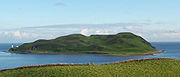 Ferries
Ferry
A ferry is a form of transportation, usually a boat, but sometimes a ship, used to carry primarily passengers, and sometimes vehicles and cargo as well, across a body of water. Most ferries operate on regular, frequent, return services...
once sailed from Campbeltown to
Ballycastle
Ballycastle, County Antrim
Ballycastle is a small town in County Antrim in Northern Ireland. Its population was 5,089 people in the 2001 Census. It is the seat and main settlement of Moyle District Council....
in
Northern Ireland
Northern Ireland
Northern Ireland is one of the four countries of the United Kingdom. Situated in the north-east of the island of Ireland, it shares a border with the Republic of Ireland to the south and west...
, but the service was suspended in June 2002 until further notice. According to the
Campbeltown Courier
, the Scottish Executive repeatedly gives the message "not this year, maybe next" about this ferry service. Since 2011 a passenger ferry service runs to Ballycastle every Friday to Monday during summer months and on Mondays and Fridays during the winter months. This new service is operated by Kintyre Express.
In 2006 a foot passenger ferry operated by Kintyre Express ran between Campbeltown and
Troon
Troon
Troon is a town in South Ayrshire. It is situated on the west coast of Scotland, about eight miles north of Ayr and three miles northwest of Glasgow Prestwick International Airport. Lying across the Firth of Clyde, the Isle of Arran can be seen. Troon is also a port with freight and ferry services...
every Monday, Wednesday and Friday with a crossing time of one hour in calm weather. By 2007 this ferry no longer ran, although the vessel can be chartered privately.
Campbeltown was linked to
Machrihanish
Machrihanish
Machrihanish is a village in Argyll, Scotland. Machrihanish has a classic links golf course described by many as the defining links course in Scotland.Campbeltown Airport, formerly RAF Machrihanish, is located near the village...
by a
canal
Canal
Canals are man-made channels for water. There are two types of canal:#Waterways: navigable transportation canals used for carrying ships and boats shipping goods and conveying people, further subdivided into two kinds:...
(1794-mid 1880s) that was superseded by the
Campbeltown and Machrihanish Light Railway
Campbeltown and Machrihanish Light Railway
The Campbeltown and Machrihanish Light Railway was a narrow gauge railway in Kintyre, Scotland, between the towns of Campbeltown and Machrihanish...
that closed in 1932.
Climate
As with the rest of the
British Isles
British Isles
The British Isles are a group of islands off the northwest coast of continental Europe that include the islands of Great Britain and Ireland and over six thousand smaller isles. There are two sovereign states located on the islands: the United Kingdom of Great Britain and Northern Ireland and...
and Scotland, Cambeltown experiences a maritime climate with cool summers and mild winters. The nearest official Metoffice weather station for which online records are available is at Campbeltown Airport/RAF-Machrihanish, about 3 miles est of the town centre.
The lowest temperature to be reported in recent years was -12.9 C during December 2010.
Language
Campbeltown is one of the few communities in the
Scottish Highlands
Scottish Highlands
The Highlands is an historic region of Scotland. The area is sometimes referred to as the "Scottish Highlands". It was culturally distinguishable from the Lowlands from the later Middle Ages into the modern period, when Lowland Scots replaced Scottish Gaelic throughout most of the Lowlands...
where the
Scots language
Scots language
Scots is the Germanic language variety spoken in Lowland Scotland and parts of Ulster . It is sometimes called Lowland Scots to distinguish it from Scottish Gaelic, the Celtic language variety spoken in most of the western Highlands and in the Hebrides.Since there are no universally accepted...
predominated in recent centuries, rather than the previously widespread Scottish Gaelic. This was due to the
plantation
Plantation (settlement or colony)
Plantation was an early method of colonization in which settlers were "planted" abroad in order to establish a permanent or semi-permanent colonial base. Such plantations were also frequently intended to promote Western culture and Christianity among nearby indigenous peoples, as can be seen in the...
of
lowland
Scottish Lowlands
The Scottish Lowlands is a name given to the Southern half of Scotland.The area is called a' Ghalldachd in Scottish Gaelic, and the Lawlands ....
merchants in the burgh in the 17th century. The dominant position that Lowland Scots had in the town has today been taken by the
English language
English language
English is a West Germanic language that arose in the Anglo-Saxon kingdoms of England and spread into what was to become south-east Scotland under the influence of the Anglian medieval kingdom of Northumbria...
, in the form of the
Scottish English
Scottish English
Scottish English refers to the varieties of English spoken in Scotland. It may or may not be considered distinct from the Scots language. It is always considered distinct from Scottish Gaelic, a Celtic language....
dialect
Dialect
The term dialect is used in two distinct ways, even by linguists. One usage refers to a variety of a language that is a characteristic of a particular group of the language's speakers. The term is applied most often to regional speech patterns, but a dialect may also be defined by other factors,...
.
Notable people
Jill McGown

Jill McGown

Jill McGown was a British writer of mystery novels. She was best known for her mystery series featuring Inspector Lloyd and Judy Hill, one of which was made into a television series...


, British writer of mystery novels
Sir William Mackinnon, 1st Baronet, Scottish ship-owner and businessman
James C. Russell, Moderator of the General Assembly of the Church of Scotland
Norman MacLeod, Scottish clergyman and author
Paul McCartney

Paul McCartney

Sir James Paul McCartney, MBE, Hon RAM, FRCM is an English musician, singer-songwriter and composer. Formerly of The Beatles and Wings , McCartney is listed in Guinness World Records as the "most successful musician and composer in popular music history", with 60 gold discs and sales of 100...


, musician, singer, songwriter and leader of Wings

Wings (band)

Wings were a British-American rock group formed in 1971 by Paul McCartney, Denny Laine and Linda McCartney that remained active until 1981....


and a member of the Beatles

The Beatles

The Beatles were an English rock band, active throughout the 1960s and one of the most commercially successful and critically acclaimed acts in the history of popular music. Formed in Liverpool, by 1962 the group consisted of John Lennon , Paul McCartney , George Harrison and Ringo Starr...


owns a farm near the town
Duncan McNab McEachran

Duncan McNab McEachran

Duncan McNab McEachran as a Canadian veterinarian and academic.Born in Campbeltown, Scotland, the son of David McEachran and Jean Blackney, McEachran graduated from the Edinburgh Veterinary College in 1861 and received his license to practice from Royal College of Veterinary Surgeons. In 1862, he...


, Canadian veterinarian and academic
Hugh Henry Brackenridge

Hugh Henry Brackenridge

Hugh Henry Brackenridge was an American writer, lawyer, judge, and justice of the Pennsylvania Supreme Court.A frontier citizen in Pittsburgh, Pennsylvania, USA, he founded both the Pittsburgh Academy, now the University of Pittsburgh, and the Pittsburgh Gazette, still operating today as the...


, American writer, lawyer, judge, and justice of the Pennsylvania Supreme Court
Rodney Pattisson

Rodney Pattisson

Rodney Stuart Pattisson, MBE is a double olympic gold medalist in sailing won at the 1968 Mexico City Olympics and 1972 Munich Olympics all in the Flying Dutchman class...


, sailor, Olympic gold medalist at the 1968 Mexico City Olympics

1968 Summer Olympics

The 1968 Summer Olympics, officially known as the Games of the XIX Olympiad, were an international multi-sport event held in Mexico City, Mexico in October 1968. The 1968 Games were the first Olympic Games hosted by a developing country, and the first Games hosted by a Spanish-speaking country...


and 1972 Munich Olympics

1972 Summer Olympics

The 1972 Summer Olympics, officially known as the Games of the XX Olympiad, were an international multi-sport event held in Munich, West Germany, from August 26 to September 11, 1972....


along with a silver medal at the 1976 Montreal Olympics

1976 Summer Olympics

The 1976 Summer Olympics, officially known as the Games of the XXI Olympiad, was an international multi-sport event celebrated in Montreal, Quebec, Canada, in 1976. Montreal was awarded the rights to the 1976 Games on May 12, 1970, at the 69th IOC Session in Amsterdam, over the bids of Moscow and...



Angus MacVicar

Angus MacVicar

Angus MacVicar was a Scottish author with a wide-ranging output. His greatest successes came in three separate genres: crime thrillers, juvenile science fiction, and autobiography...


, author and broadcaster
External links