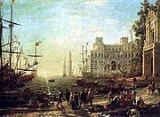 Port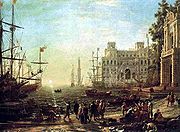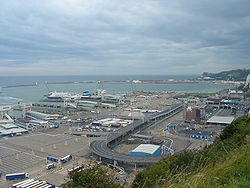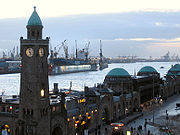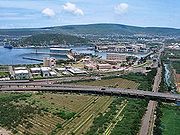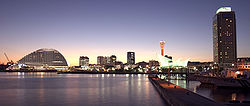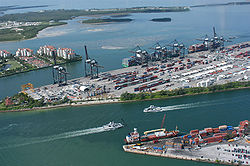 A
port
is a location on a coast or shore containing one or more
harbor
Harbor
A harbor or harbour , or haven, is a place where ships, boats, and barges can seek shelter from stormy weather, or else are stored for future use. Harbors can be natural or artificial...
s where ships can dock and transfer people or cargo to or from land.
Port locations are selected to optimize access to land and
navigable
Navigability
A body of water, such as a river, canal or lake, is navigable if it is deep, wide and slow enough for a vessel to pass. Preferably there are few obstructions such as rocks or trees to avoid. Bridges must have sufficient clearance. High water speed may make a channel unnavigable. Waters may be...
water, for commercial demand, and for shelter from wind and waves.
Ports with deeper water are rarer, but can handle larger, more economical ships.
Since ports throughout history handled every kind of traffic, support and storage facilities vary widely, may extend for miles, and dominate the local economy.
Some ports have an important military role.
Distribution
Ports often have cargo-handling equipment, such as
cranes
Crane (machine)
A crane is a type of machine, generally equipped with a hoist, wire ropes or chains, and sheaves, that can be used both to lift and lower materials and to move them horizontally. It uses one or more simple machines to create mechanical advantage and thus move loads beyond the normal capability of...
(operated by longshoremen) and forklifts for use in loading ships, which may be provided by private interests or public bodies.
Often,
canneries
Canning
Canning is a method of preserving food in which the food contents are processed and sealed in an airtight container. Canning provides a typical shelf life ranging from one to five years, although under specific circumstances a freeze-dried canned product, such as canned, dried lentils, can last as...
or other processing facilities will be located nearby. Some ports feature
canal
Canal
Canals are man-made channels for water. There are two types of canal:#Waterways: navigable transportation canals used for carrying ships and boats shipping goods and conveying people, further subdivided into two kinds:...
s, which allow ships further movement inland.
Access to intermodal transportation, such as trains and trucks, are critical to a port, so that passengers and cargo can also move further inland beyond the port area.
Ports with international traffic have
customs
Customs
Customs is an authority or agency in a country responsible for collecting and safeguarding customs duties and for controlling the flow of goods including animals, transports, personal effects and hazardous items in and out of a country...
facilities.
Harbour pilots and
tugboat
Tugboat
A tugboat is a boat that maneuvers vessels by pushing or towing them. Tugs move vessels that either should not move themselves, such as ships in a crowded harbor or a narrow canal,or those that cannot move by themselves, such as barges, disabled ships, or oil platforms. Tugboats are powerful for...
s may maneuver large ships in tight quarters when near
docks
Dock (maritime)
A dock is a human-made structure or group of structures involved in the handling of boats or ships, usually on or close to a shore.However, the exact meaning varies among different variants of the English language...
.
Types
The terms "port" and "seaport" are used for different types of port facilities that handle ocean-going vessels, and
river port
is used for river traffic, such as barges and other shallow-draft vessels.
Some ports on a lake, river, or canal have access to a sea or ocean, and are sometimes called "
inland port
Inland port
The term inland port is used in two different but related ways to mean either a port on an inland waterway or an inland site carrying out some functions of a seaport.- As a port on an inland waterway :...
s".
A
fishing port
is a port or harbour for landing and distributing fish. It may be a recreational facility, but it is usually commercial. A fishing port is the only port that depends on an ocean product, and depletion of fish may cause a fishing port to be uneconomical. In recent decades, regulations to save fishing stock may limit the use of a fishing port, perhaps effectively closing it.
A "
dry port
Dry port
A dry port is an inland intermodal terminal directly connected by road or rail to a seaport and operating as a centre for the transshipment of sea cargo to inland destinations....
" is a term sometimes used to describe a yard used to place containers or conventional bulk cargo, usually connected to a seaport by rail or road.
A
warm water port
is one where the water does not freeze in winter time. Because they are available year-round, warm water ports can be of great geopolitical or economic interest. Such settlements as
Murmansk
Murmansk
Murmansk is a city and the administrative center of Murmansk Oblast, Russia. It serves as a seaport and is located in the extreme northwest part of Russia, on the Kola Bay, from the Barents Sea on the northern shore of the Kola Peninsula, not far from Russia's borders with Norway and Finland...
and
Petropavlovsk-Kamchatsky
Petropavlovsk-Kamchatsky
Petropavlovsk-Kamchatsky is the main city and the administrative, industrial, scientific, and cultural center of Kamchatka Krai, Russia. Population: .-History:It was founded by Danish navigator Vitus Bering, in the service of the Russian Navy...
in Russia,
Odessa
Odessa
Odessa or Odesa is the administrative center of the Odessa Oblast located in southern Ukraine. The city is a major seaport located on the northwest shore of the Black Sea and the fourth largest city in Ukraine with a population of 1,029,000 .The predecessor of Odessa, a small Tatar settlement,...
in Ukraine,
Kushiro
Kushiro, Hokkaido
is a city located in Kushiro Subprefecture, Hokkaidō, Japan. It is the capital city of Kushiro Subprefecture, as well as the most populous city in eastern Hokkaidō....
in Japan and
Valdez
Valdez, Alaska
Valdez is a city in Valdez-Cordova Census Area in the U.S. state of Alaska. According to 2005 Census Bureau estimates, the population of the city is 4,020. The city is one of the most important ports in Alaska. The port of Valdez was named in 1790 after the Spanish naval officer Antonio Valdés y...
at the terminus of the Alaska Pipeline owe their very existence to being ice-free ports.
A
seaport
is further categorized as a "cruise port" or a "cargo port". Additionally, "cruise ports" are also known as a "home port" or a "port of call". The "cargo port" is also further categorized into a "bulk" or "break bulk port" or as a "container port".
A
cruise home port
is the port where cruise-ship passengers board (or embark) to start their cruise and also debark (or disembark) the cruise ship at the end of their cruise. It is also where the cruise ship's supplies are loaded for the cruise, which includes everything from fresh water and fuel to fruits, vegetable, champagne, and any other supplies needed for the cruise. "Cruise home ports" are a very busy place during the day the cruise ship is in port, because off-going passengers debark their baggage and on-coming passengers board the ship in addition to all the supplies being loaded. Currently, the
Cruise Capital of the World
is the
Port of Miami
Port of Miami
The Dante B. Fascell Port of Miami is a seaport located in Biscayne Bay in Miami, Florida, United States. It is connected to Downtown Miami by Port Boulevard, a bridge over the Intracoastal Waterway. The port is located on Dodge Island, which is the combination of three historic islands that have...
,
Florida
Florida
Florida is a state in the southeastern United States, located on the nation's Atlantic and Gulf coasts. It is bordered to the west by the Gulf of Mexico, to the north by Alabama and Georgia and to the east by the Atlantic Ocean. With a population of 18,801,310 as measured by the 2010 census, it...
, closely followed behind by
Port Everglades
Port Everglades
Port Everglades is a port in Broward County, Florida. As one of South Florida's leading economic powerhouses, Port Everglades is the gateway for international trade and cruise vacations. Already one of the three busiest cruise ports worldwide, Port Everglades is also one of Florida's leading...
, Florida and the Port of San Juan,
Puerto Rico
Puerto Rico
Puerto Rico , officially the Commonwealth of Puerto Rico , is an unincorporated territory of the United States, located in the northeastern Caribbean, east of the Dominican Republic and west of both the United States Virgin Islands and the British Virgin Islands.Puerto Rico comprises an...
.
A
port of call
is an intermediate stop for a ship on its sailing itinerary, which may include up to half a dozen ports. At these ports, a cargo ship may take on supplies or fuel, as well as unloading and loading cargo. But for a cruise ship, it is their premier stop where the cruise lines take on passengers to enjoy their vacation.
Cargo ports
, on the other hand, are quite different from cruise ports, because each handles very different cargo, which has to be loaded and unloaded by very different mechanical means. The port may handle one particular type of cargo or it may handle numerous cargoes, such as grains, liquid fuels, liquid chemicals, wood, automobiles, etc. Such ports are known as the "bulk" or "break bulk ports". Those ports that handle containerized cargo are known as container ports. Most cargo ports handle all sorts of cargo, but some ports are very specific as to what cargo they handle. Additionally, the individual cargo ports are divided into different operating terminals which handle the different cargoes, and are operated by different companies, also known as terminal operators or
stevedore
Stevedore
Stevedore, dockworker, docker, dock labourer, wharfie and longshoreman can have various waterfront-related meanings concerning loading and unloading ships, according to place and country....
s.
Access
Ports sometimes fall out of use.
Rye, East Sussex
Rye, East Sussex
Rye is a small town in East Sussex, England, which stands approximately two miles from the open sea and is at the confluence of three rivers: the Rother, the Tillingham and the Brede...
, was an important
English
England
England is a country that is part of the United Kingdom. It shares land borders with Scotland to the north and Wales to the west; the Irish Sea is to the north west, the Celtic Sea to the south west, with the North Sea to the east and the English Channel to the south separating it from continental...
port in the Middle Ages, but the coastline changed and it is now 2 miles (3.2 km) from the sea, while the ports of
Ravenspurn
Ravenspurn
Ravenspurn was a town in the East Riding of Yorkshire, England, which was lost due to coastal erosion, one of more than 30 along the Holderness Coast which have been lost to the North Sea since the 19th century. The town was located close to the end of a peninsula near Ravenser Odd, which has also...
and
Dunwich
Dunwich
Dunwich is a small town in Suffolk, England, within the Suffolk Coast and Heaths AONB.Dunwich was the capital of East Anglia 1500 years ago but the harbour and most of the town have since disappeared due to coastal erosion. Its decline began in 1286 when a sea surge hit the East Anglian coast, and...
have been lost to
coastal erosion
Coastal erosion
Coastal erosion is the wearing away of land and the removal of beach or dune sediments by wave action, tidal currents, wave currents, or drainage...
.
Also in the United Kingdom,
London
London
London is the capital city of :England and the :United Kingdom, the largest metropolitan area in the United Kingdom, and the largest urban zone in the European Union by most measures. Located on the River Thames, London has been a major settlement for two millennia, its history going back to its...
, on the
River Thames
River Thames
The River Thames flows through southern England. It is the longest river entirely in England and the second longest in the United Kingdom. While it is best known because its lower reaches flow through central London, the river flows alongside several other towns and cities, including Oxford,...
, was once an important international port, but changes in shipping methods, such as the use of containers and larger ships, put it at a disadvantage.
North America
The largest ports are
Los Angeles
Port of Los Angeles
The Port of Los Angeles, also called Los Angeles Harbor and WORLDPORT L.A, is a port complex that occupies of land and water along of waterfront. The port is located on San Pedro Bay in the San Pedro neighborhood of Los Angeles, approximately south of downtown...
in the U.S.,
Manzanillo
Manzanillo, Colima
The name Manzanillo refers to the city as well as its surrounding municipality in the Mexican state of Colima. The city, located on the Pacific Ocean, contains Mexico's busiest port. Manzanillo was the third port created by the Spanish in the Pacific during the New Spain period...
in Mexico and
Vancouver
Port Metro Vancouver
Port Metro Vancouver is a non-shareholder, financially self-sufficient corporation, established by the Government of Canada in January 2008, pursuant to the Canada Marine Act, and accountable to the federal Minister of Transport. It is the principal authority for shipping and port-related land and...
in Canada.
Panama
Panama
Panama , officially the Republic of Panama , is the southernmost country of Central America. Situated on the isthmus connecting North and South America, it is bordered by Costa Rica to the northwest, Colombia to the southeast, the Caribbean Sea to the north and the Pacific Ocean to the south. The...
also has the
Canal
Panama Canal
The Panama Canal is a ship canal in Panama that joins the Atlantic Ocean and the Pacific Ocean and is a key conduit for international maritime trade. Built from 1904 to 1914, the canal has seen annual traffic rise from about 1,000 ships early on to 14,702 vessels measuring a total of 309.6...
that connects the Pacific and Atlantic Ocean, and is a key conduit for international trade.
For details on all North American ports, see the
List of North American ports
.
The ports of the United States handle more than 2 billion metric tons of domestic and import/export cargo annually.
American ports are responsible for moving over 99 percent of the country's overseas cargo.
For details on U.S. Ports, see the List of ports in the United States.
Water port topics
Lists
World's busiest port

World's busiest port

The world's busiest port is contested by several ports around the world, as there is as yet no standardised means of evaluating port performance and traffic. For the past decade, the distinction has been claimed by both the Port of Rotterdam and the Port of Singapore...



List of busiest container ports
List of ports in the United States
Sea rescue organisations
External links