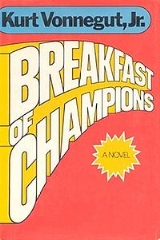 Breakfast of Champions
Breakfast of Champions, or Goodbye Blue Monday
is a 1973 novel by the American author
Kurt Vonnegut
Kurt Vonnegut
Kurt Vonnegut, Jr. was a 20th century American writer. His works such as Cat's Cradle , Slaughterhouse-Five and Breakfast of Champions blend satire, gallows humor and science fiction. He was known for his humanist beliefs and was honorary president of the American Humanist Association.-Early...
. Set in the fictional town of Midland City, it is the story of "two lonesome, skinny, fairly old white men on a planet which was dying fast." One of these men, Dwayne Hoover, is a normal-looking but deeply deranged
Pontiac
Pontiac
Pontiac was an automobile brand that was established in 1926 as a companion make for General Motors' Oakland. Quickly overtaking its parent in popularity, it supplanted the Oakland brand entirely by 1933 and, for most of its life, became a companion make for Chevrolet. Pontiac was sold in the...
dealer and
Burger Chef
Burger Chef
Burger Chef was an American fast-food restaurant chain founded in 1954 in Indianapolis, Indiana. The chain expanded throughout the United States, and at its peak, was second only to McDonald's in the number of locations nationwide...
franchise owner who becomes obsessed with the writings of the other man,
Kilgore Trout
Kilgore Trout
Kilgore Trout is a fictional character created by author Kurt Vonnegut. He was originally created as a fictionalized version of author Theodore Sturgeon , although Trout's consistent presence in Vonnegut's works has also led critics to view him as the author's own alter ego...
, taking them for literal truth. Trout, a largely unknown
pulp
Pulp magazine
Pulp magazines , also collectively known as pulp fiction, refers to inexpensive fiction magazines published from 1896 through the 1950s. The typical pulp magazine was seven inches wide by ten inches high, half an inch thick, and 128 pages long...
science fiction
Science fiction
Science fiction is a genre of fiction dealing with imaginary but more or less plausible content such as future settings, futuristic science and technology, space travel, aliens, and paranormal abilities...
writer who has appeared in several other Vonnegut novels, looks like a crazy old man but is in fact relatively sane. As the novel opens, Trout journeys toward Midland City to appear at a convention where he is destined to meet Dwayne Hoover and unwittingly inspire him to run amok.
Background
In the preface Vonnegut states that as he reached his fiftieth birthday he felt a need to "clear his head of all the junk in there" -- which includes the various subjects of his drawings, and the characters from his past novels and stories. To this end, he sprinkles plot descriptions for Trout's stories throughout the novel, illustrates the book with his own simple felt-tip pen drawings, and includes a number of characters from his other novels and short stories.
His drawings, intending to illustrate various aspects of life on Earth, are sometimes pertinent to the story line and sometimes tangential. They include renderings of an
anus
Anus
The anus is an opening at the opposite end of an animal's digestive tract from the mouth. Its function is to control the expulsion of feces, unwanted semi-solid matter produced during digestion, which, depending on the type of animal, may be one or more of: matter which the animal cannot digest,...
,
flag
Flag
A flag is a piece of fabric with a distinctive design that is usually rectangular and used as a symbol, as a signaling device, or decoration. The term flag is also used to refer to the graphic design employed by a flag, or to its depiction in another medium.The first flags were used to assist...
s, the date 1492, a
beaver
Beaver
The beaver is a primarily nocturnal, large, semi-aquatic rodent. Castor includes two extant species, North American Beaver and Eurasian Beaver . Beavers are known for building dams, canals, and lodges . They are the second-largest rodent in the world...
, a
vulva
Vulva
The vulva consists of the external genital organs of the female mammal. This article deals with the vulva of the human being, although the structures are similar for other mammals....
, a
flamingo
Flamingo
Flamingos or flamingoes are gregarious wading birds in the genus Phoenicopterus , the only genus in the family Phoenicopteridae...
, little girls' underpants, a
torch
Torch
A torch is a fire source, usually a rod-shaped piece of wood with a rag soaked in pitch and/or some other flammable material wrapped around one end. Torches were often supported in sconces by brackets high up on walls, to throw light over corridors in stone structures such as castles or crypts...
,
headstone
Headstone
A headstone, tombstone, or gravestone is a marker, usually stone, that is placed over a grave. In most cases they have the deceased's name, date of birth, and date of death inscribed on them, along with a personal message, or prayer.- Use :...
s, the yin-yang symbol,
gun
Gun
A gun is a muzzle or breech-loaded projectile-firing weapon. There are various definitions depending on the nation and branch of service. A "gun" may be distinguished from other firearms in being a crew-served weapon such as a howitzer or mortar, as opposed to a small arm like a rifle or pistol,...
s, trucks, cows and the
hamburger
Hamburger
A hamburger is a sandwich consisting of a cooked patty of ground meat usually placed inside a sliced bread roll...
s that are made from them, chickens and the Kentucky Fried Chicken that is made from them, an
electric chair
Electric chair
Execution by electrocution, usually performed using an electric chair, is an execution method originating in the United States in which the condemned person is strapped to a specially built wooden chair and electrocuted through electrodes placed on the body...
, the letters ETC,
Christmas card
Christmas card
A Christmas card is a greeting card sent as part of the traditional celebration of Christmas in order to convey between people a range of sentiments related to the Christmas and holiday season. Christmas cards are usually exchanged during the weeks preceding Christmas Day by many people in Western...
s, a right hand that has a severed ring finger, the chemical structure of a
plastic
Plastic
A plastic material is any of a wide range of synthetic or semi-synthetic organic solids used in the manufacture of industrial products. Plastics are typically polymers of high molecular mass, and may contain other substances to improve performance and/or reduce production costs...
molecule, an apple,
pi
Pi
' is a mathematical constant that is the ratio of any circle's circumference to its diameter. is approximately equal to 3.14. Many formulae in mathematics, science, and engineering involve , which makes it one of the most important mathematical constants...
, zero,
infinity
Infinity
Infinity is a concept in many fields, most predominantly mathematics and physics, that refers to a quantity without bound or end. People have developed various ideas throughout history about the nature of infinity...
, and the
sunglasses
Sunglasses
Sunglasses or sun glasses are a form of protective eyewear designed primarily to prevent bright sunlight and high-energy visible light from damaging or discomforting the eyes. They can sometimes also function as a visual aid, as variously termed spectacles or glasses exist, featuring lenses that...
the author himself wears as he enters the storyline.
In addition to Kilgore Trout, characters from other Vonnegut books which appear here include
Eliot Rosewater
Eliot Rosewater
Eliot Rosewater is a recurring character in the novels of American author Kurt Vonnegut. He appears throughout various novels as an alcoholic, and a philanthropist who claims to be a volunteer fireman. He runs the Rosewater Foundation, an organization created to keep the family's money in the family...
and
Rabo Karabekian
Rabo Karabekian
Rabo Karabekian is a fictional character and the narrator and protagonist of the 1987 novel Bluebeard by American author Kurt Vonnegut, Jr.-In Vonnegut's fiction:...
. Rosewater was the main character in
God Bless You, Mr. Rosewater
God Bless You, Mr. Rosewater
God Bless You, Mr. Rosewater, or Pearls Before Swine, is a novel written by Kurt Vonnegut, Jr., published in 1965. The plot focuses on Eliot Rosewater, the primary trustee of the philanthropic Rosewater Foundation, whom one of the family lawyers, Norman Mushari, is attempting to have declared...
(1965) and a minor character in
Slaughterhouse-Five
Slaughterhouse-Five
Slaughterhouse-Five, or The Children's Crusade: A Duty-Dance with Death is a satirical novel by Kurt Vonnegut about World War II experiences and journeys through time of a soldier called Billy Pilgrim...
(1969), while Karabekian later became the main character in
Bluebeard
(1988). Hoover's secretary, Francine Pefko, previously appeared in
Cat's Cradle
Cat's Cradle
Cat's Cradle is the fourth novel by American writer Kurt Vonnegut, first published in 1963. It explores issues of science, technology, and religion, satirizing the arms race and many other targets along the way...
(1963), where she performed secretarial duties at General Forge and Foundry, in Ilium, New York. (Pefko also appears in "Fubar," a story released posthumously in
Look at the Birdie
.) Vonnegut uses the name "Khashdrahr Miasma" for a minor character, in reference to a character in
Player Piano
Player Piano
Player Piano, author Kurt Vonnegut's first novel, was published in 1952. It is a dystopia of automation and capitalism, describing the dereliction they cause in the quality of life. The...
. The vicious guard dog, Kazak, was Winston Niles Rumfoord's pet in
The Sirens of Titan
The Sirens of Titan
The Sirens of Titan is a Hugo Award-nominated novel by Kurt Vonnegut, Jr., first published in 1959. His second novel, it involves issues of free will, omniscience, and the overall purpose of human history...
(1959) and Selena MacIntosh's guide dog in
Galápagos
(1985). Many of Midland City's inhabitants reappear in
Deadeye Dick
Deadeye Dick
Deadeye Dick is a novel by Kurt Vonnegut originally published in 1982.- Plot summary :The novel's main character, Rudy Waltz, nicknamed Deadeye Dick, commits accidental manslaughter as a child and lives his whole life feeling guilty and seeking forgiveness for it...
(1982), which locates the city in
Ohio
Ohio
Ohio is a Midwestern state in the United States. The 34th largest state by area in the U.S.,it is the 7th‑most populous with over 11.5 million residents, containing several major American cities and seven metropolitan areas with populations of 500,000 or more.The state's capital is Columbus...
.
The title, taken from the well-known
slogan
Slogan
A slogan is a memorable motto or phrase used in a political, commercial, religious and other context as a repetitive expression of an idea or purpose. The word slogan is derived from slogorn which was an Anglicisation of the Scottish Gaelic sluagh-ghairm . Slogans vary from the written and the...
for
Wheaties
Wheaties
Wheaties is a brand of General Mills breakfast cereal. It is well known for featuring prominent athletes on the exterior of the package, and has become a major cultural icon...
breakfast cereal, crops up in a key scene late in the novel when a waitress, apparently ironically, says "Breakfast of Champions" each time she serves a customer a
martini
Martini (cocktail)
The martini is a cocktail made with gin and vermouth, and garnished with an olive or a lemon twist. Over the years, the martini has become one of the best-known mixed alcoholic beverages. H. L. Mencken called the martini "the only American invention as perfect as the sonnet" and E. B...
. Vonnegut, in his typical ironic manner, mocks the legal and copyright systems as he notes meticulously that
Breakfast of Champions
is a registered trademark of
General Mills
General Mills
General Mills, Inc. is an American Fortune 500 corporation, primarily concerned with food products, which is headquartered in Golden Valley, Minnesota, a suburb of Minneapolis. The company markets many well-known brands, such as Betty Crocker, Yoplait, Colombo, Totinos, Jeno's, Pillsbury, Green...
, Inc. for its breakfast cereal products, and that his use of the term is not "intended to disparage their fine products." He uses a strange name for a character, Philboyd Studge, which he borrowed from a
short story
Short story
A short story is a work of fiction that is usually written in prose, often in narrative format. This format tends to be more pointed than longer works of fiction, such as novellas and novels. Short story definitions based on length differ somewhat, even among professional writers, in part because...
by Edwardian satirist
Saki
Saki
Hector Hugh Munro , better known by the pen name Saki, and also frequently as H. H. Munro, was a British writer whose witty, mischievous and sometimes macabre stories satirised Edwardian society and culture. He is considered a master of the short story and often compared to O. Henry and Dorothy...
. ("Filboid Studge, the Story of the Mouse that Helped", describes the success of the eponymous
breakfast cereal
Breakfast cereal
A breakfast cereal is a food made from processed grains that is often, but not always, eaten with the first meal of the day. It is often eaten cold, usually mixed with milk , water, or yogurt, and sometimes fruit but sometimes eaten dry. Some cereals, such as oatmeal, may be served hot as porridge...
through bizarrely counter-intuitive advertising.)
The novel also describes a fictional extinct giant sea eagle called the Bermuda Ern. This allegorical species was later described in Vonnegut's Book
Timequake
Timequake
Timequake is a semi-autobiographical work by Kurt Vonnegut, Jr. published in 1997. Vonnegut described the novel as a "stew", in which he alternates between summarizing a novel he had been struggling with for a number of years, and waxing nostalgic about various events in his life.-Plot...
(1997) as a pelagic
raptor
Bird of prey
Birds of prey are birds that hunt for food primarily on the wing, using their keen senses, especially vision. They are defined as birds that primarily hunt vertebrates, including other birds. Their talons and beaks tend to be relatively large, powerful and adapted for tearing and/or piercing flesh....
, a "great blue bird", the looming extinction of whose population was being caused by its female members "kicking the eggs from the nest" prior to their hatching, rather than kicking the young fledglings from the nest at the appropriate time. In
Breakfast of Champions
their extinction is said to have been caused by a fungus, brought to the island by men (in the form of
athlete's foot
Athlete's foot
Athlete's foot is a fungal infection of the skin that causes scaling, flaking, and itch of affected areas. It is caused by fungi in the genus Trichophyton and is typically transmitted in moist areas where people walk barefoot, such as showers or bathhouses...
), which attacked the birds' eyes and brains.
In 1999, the novel was made into a film of the same name, starring
Bruce Willis
Bruce Willis
Walter Bruce Willis , better known as Bruce Willis, is an American actor, producer, and musician. His career began in television in the 1980s and has continued both in television and film since, including comedic, dramatic, and action roles...
,
Albert Finney
Albert Finney
Albert Finney is an English actor. He achieved prominence in films in the early 1960s, and has maintained a successful career in theatre, film and television....
,
Nick Nolte
Nick Nolte
Nicholas King "Nick" Nolte is an American actor whose career has spanned over five decades, peaking in the 1990s when his commercial success made him one of the most popular celebrities of that decade.-Early life:...
and
Omar Epps
Omar Epps
Omar Hashim Epps is an American actor, singer, songwriter, and record producer. His film roles include Major League II, Juice, Higher Learning, Scream 2, The Wood, In Too Deep, and Love and Basketball. Epps' television work includes the role of Dr. Dennis Gant on the US medical drama series ER,...
;
see
Breakfast of Champions (film)
Breakfast of Champions (film)
Breakfast of Champions is a 1999 American comedy film adapted and directed by Alan Rudolph from the novel of the same name by Kurt Vonnegut, Jr.-Plot:...
. The movie was widely panned by critics.
Plot summary
Kilgore Trout is a widely published, but otherwise unsung and virtually invisible writer who, by a fluke, is invited to deliver a keynote address at a local arts festival in distant Midland City. Dwayne Hoover is a wealthy businessman who owns much of Midland City, but is mentally unstable and is undergoing a gradual mental collapse. Kilgore arrives in Midland City and, by happenstance, piques the interest of Dwayne. A confused Dwayne demands a message from Kilgore, who hands over a copy of his novel. Dwayne reads the novel, which purports to be a message from the Creator of the Universe explaining that the reader - in this case Dwayne - is the only individual in the universe with
free will
Free will
"To make my own decisions whether I am successful or not due to uncontrollable forces" -Troy MorrisonA pragmatic definition of free willFree will is the ability of agents to make choices free from certain kinds of constraints. The existence of free will and its exact nature and definition have long...
. Everyone else is a robot. Dwayne believes the novel to be factual and immediately goes on a violent rampage, severely beating his son, his lover, and nine other people before being taken into custody. While Kilgore is walking the streets of Midland after Dwayne's rampage the narrator of the book approaches Kilgore. The narrator tells Kilgore of his existence, the narrator lets Kilgore be free and to be under his own will.
Editions
ISBN 0-224-00888-9 (1973)
ISBN 0-586-08977-7 (1990)
ISBN 1-56267-113-8 (paperback

Paperback

Paperback, softback or softcover describe and refer to a book by the nature of its binding. The covers of such books are usually made of paper or paperboard, and are usually held together with glue rather than stitches or staples...


, 1996)
ISBN 0-385-33420-6 (paperback, 1999)
ISBN 0-7953-0240-1 (e-book

E-book

An electronic book is a book-length publication in digital form, consisting of text, images, or both, and produced on, published through, and readable on computers or other electronic devices. Sometimes the equivalent of a conventional printed book, e-books can also be born digital...


)
ISBN 0-7953-0242-8 (e-book)