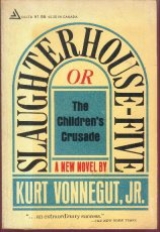 Slaughterhouse-Five
Slaughterhouse-Five, or The Children's Crusade: A Duty-Dance with Death
(1969) is a satirical
novel
Novel
A novel is a book of long narrative in literary prose. The genre has historical roots both in the fields of the medieval and early modern romance and in the tradition of the novella. The latter supplied the present generic term in the late 18th century....
by
Kurt Vonnegut
Kurt Vonnegut
Kurt Vonnegut, Jr. was a 20th century American writer. His works such as Cat's Cradle , Slaughterhouse-Five and Breakfast of Champions blend satire, gallows humor and science fiction. He was known for his humanist beliefs and was honorary president of the American Humanist Association.-Early...
about
World War II
World War II
World War II, or the Second World War , was a global conflict lasting from 1939 to 1945, involving most of the world's nations—including all of the great powers—eventually forming two opposing military alliances: the Allies and the Axis...
experiences and
journeys through time
Time travel
Time travel is the concept of moving between different points in time in a manner analogous to moving between different points in space. Time travel could hypothetically involve moving backward in time to a moment earlier than the starting point, or forward to the future of that point without the...
of a soldier called
Billy Pilgrim
Billy Pilgrim
Billy Pilgrim was an American folk rock duo based in Atlanta, Georgia, comprising Andrew Hyra and Kristian Bush. The band's name was taken from the time-traveling anti-hero of Kurt Vonnegut's novel Slaughterhouse-Five. The name was adopted in 1994; prior to that the duo simply billed itself as...
. The novel is widely regarded as among the most significant works of 20th century literature, and is generally recognized as Vonnegut's most influential and popular work.
Some editions of the novel give the title as
Slaughterhouse-Five, or The Children's Crusade: A Duty Dance with Death
.
This is a novel somewhat in the telegraphic schizophrenic manner of tales of the planet Tralfamadore|Tralfamadore, where the flying saucers come from. Peace.

Epigram
So it goes.

Recurring statement throughout the novel, based on what Tralfamadorians say whenever someone or something dies.
The smell of mustard gas and roses.

Repeated quote in various places in the novel to describe either a drunkard's breath or the smell of rotting corpses.
It is so short and jumbled and jangled, Sam, because there is nothing intelligent to say about a massacre. Everybody is supposed to be dead, to never say anything or want anything ever again. Everything is supposed to be very quiet after a massacre, and it always is, except for the birds.And what do the birds say? All there is to say about a massacre, things like "Poo-tee-weet?"(19,24)

Vonnegut, as narrator, addresses his publisher Seymour ("Sam") Lawrence directly about his book
I have told my sons that they are not under any circumstances to take part in massacres, and that the news of massacres of enemies is not to fill them with satisfaction or glee.

I have also told them not to work for companies which make massacre machinery, and to express contempt for people who think we need machinery like that.

Listen: Billy Pilgrim has come unstuck in time.