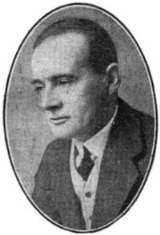 Saki
Hector Hugh Munro
better known by the
pen name
Pen name
A pen name, nom de plume, or literary double, is a pseudonym adopted by an author. A pen name may be used to make the author's name more distinctive, to disguise his or her gender, to distance an author from some or all of his or her works, to protect the author from retribution for his or her...
Saki
, and also frequently as
H. H. Munro
, was a
British
United Kingdom of Great Britain and Ireland
The United Kingdom of Great Britain and Ireland was the formal name of the United Kingdom during the period when what is now the Republic of Ireland formed a part of it....
writer whose witty, mischievous and sometimes
macabre
Macabre
In works of art, macabre is the quality of having a grim or ghastly atmosphere. Macabre works emphasize the details and symbols of death....
stories satirised Edwardian society and culture. He is considered a master of the
short story
Short story
A short story is a work of fiction that is usually written in prose, often in narrative format. This format tends to be more pointed than longer works of fiction, such as novellas and novels. Short story definitions based on length differ somewhat, even among professional writers, in part because...
and often compared to
O. Henry
O. Henry
O. Henry was the pen name of the American writer William Sydney Porter . O. Henry's short stories are well known for their wit, wordplay, warm characterization and clever twist endings.-Early life:...
and
Dorothy Parker
Dorothy Parker
Dorothy Parker was an American poet, short story writer, critic and satirist, best known for her wit, wisecracks, and eye for 20th century urban foibles....
. Influenced by
Oscar Wilde
Oscar Wilde
Oscar Fingal O'Flahertie Wills Wilde was an Irish writer and poet. After writing in different forms throughout the 1880s, he became one of London's most popular playwrights in the early 1890s...
,
Lewis Carroll
Lewis Carroll
Charles Lutwidge Dodgson , better known by the pseudonym Lewis Carroll , was an English author, mathematician, logician, Anglican deacon and photographer. His most famous writings are Alice's Adventures in Wonderland and its sequel Through the Looking-Glass, as well as the poems "The Hunting of the...
, and Kipling, he himself influenced
A. A. Milne
A. A. Milne
Alan Alexander Milne was an English author, best known for his books about the teddy bear Winnie-the-Pooh and for various children's poems. Milne was a noted writer, primarily as a playwright, before the huge success of Pooh overshadowed all his previous work.-Biography:A. A...
,
Noël Coward
Noël Coward
Sir Noël Peirce Coward was an English playwright, composer, director, actor and singer, known for his wit, flamboyance, and what Time magazine called "a sense of personal style, a combination of cheek and chic, pose and poise".Born in Teddington, a suburb of London, Coward attended a dance academy...
, and
P. G. Wodehouse
P. G. Wodehouse
Sir Pelham Grenville Wodehouse, KBE was an English humorist, whose body of work includes novels, short stories, plays, poems, song lyrics, and numerous pieces of journalism. He enjoyed enormous popular success during a career that lasted more than seventy years and his many writings continue to be...
.
Beside his short stories (which were first published in newspapers, as was customary at the time, and then collected into several volumes), he wrote a full-length play, The Watched Pot, in collaboration with Charles Maude; two one-act plays; a historical study, The Rise of the Russian Empire, the only book published under his own name; a short novel, The Unbearable Bassington; the episodic The Westminster Alice (a
Parliamentary
Parliament of the United Kingdom
The Parliament of the United Kingdom of Great Britain and Northern Ireland is the supreme legislative body in the United Kingdom, British Crown dependencies and British overseas territories, located in London...
parody
Parody
A parody , in current usage, is an imitative work created to mock, comment on, or trivialise an original work, its subject, author, style, or some other target, by means of humorous, satiric or ironic imitation...
of Alice in Wonderland), and
When William Came
When William Came
When William Came: A Story of London Under the Hohenzollerns is a novel written by British author Saki and published in 1913. It was set several years in what was then the future, after a war between Germany and Great Britain, which Germany won...
, subtitled A Story of London Under the Hohenzollerns, a fantasy about a
future German invasion
Invasion literature
Invasion literature was a historical literary genre most notable between 1871 and the First World War . The genre first became recognizable starting in Britain in 1871 with The Battle of Dorking, a fictional account of an invasion of England by Germany...
of Britain.
The name Saki may be a reference to the cupbearer in the
Rubáiyát of Omar Khayyam
Rubaiyat of Omar Khayyam
The Rubáiyát of Omar Khayyám is the title that Edward FitzGerald gave to his translation of a selection of poems, originally written in Persian and of which there are about a thousand, attributed to Omar Khayyám , a Persian poet, mathematician and astronomer...
, a poem mentioned disparagingly by the eponymous character in "Reginald on Christmas Presents" and alluded to in a few other stories.
We all know that Prime Ministers are wedded to the truth, but like other married couples they sometimes live apart.

The Unbearable Bassington, ch. 13 (1912)
A little inaccuracy sometimes saves tons of explanation.

"The Comments of Moung Ka", The Square Egg (1924)
Put that bloody cigarette out!

Reported in The Square Egg, p. 102.
Confront a child, a puppy, and a kitten with a sudden danger; the child will turn instinctively for assistance, the puppy will grovel in abject submission to the impending visitation, the kitten will brace its tiny body for a frantic resistance.

The Achievement of the Cat
Reginald in his wildest lapses into veracity never admits to being more than twenty-two.

"Reginald"
I found everyone talking nervously and feverishly of the weather and the war in South Africa, except Reginald, who was reclining in a comfortable chair with the dreamy, far-away look that a volcano might wear just after it had desolated entire villages.

"Reginald"
It is an admitted fact that the ordinary tomtit of commerce has a sounder aesthetic taste than the average female relative in the country.

"Reginald on Christmas Presents"
I am not collecting copies of the cheaper editions of Omar Khayyám. I gave the last four that I received to the lift-boy, and I like to think of him reading them, with FitzGerald's notes, to his aged mother. Lift-boys always have aged mothers; shows such nice feeling on their part, I think.

"Reginald on Christmas Presents"
To die before being painted by Sargent is to go to Heaven prematurely.

"Reginald on the Academy"
You can't expect the fatted calf to share the enthusiasm of the angels over the prodigal's return.

"Reginald on the Academy"