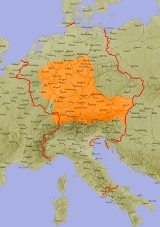 Old High German
The term
Old High German
(OHG, German: , German abbr.
Ahd.
) refers to the earliest stage of the
German language
German language
German is a West Germanic language, related to and classified alongside English and Dutch. With an estimated 90 – 98 million native speakers, German is one of the world's major languages and is the most widely-spoken first language in the European Union....
and it conventionally covers the period from around 500 to 1050. Coherent written texts do not appear until the second half of the 8th century, and some treat the period before 750 as 'prehistoric' and date the start of Old High German proper to 750 for this reason. There are, however, a number of
Elder Futhark
Elder Futhark
The Elder Futhark is the oldest form of the runic alphabet, used by Germanic tribes for Northwest Germanic and Migration period Germanic dialects of the 2nd to 8th centuries for inscriptions on artifacts such as jewellery, amulets, tools, weapons and runestones...
inscriptions dating to the 6th century (notably the
Pforzen buckle
Pforzen buckle
The Pforzen buckle is a silver belt buckle found in Pforzen, Ostallgäu in 1992. The Alemannic grave in which it was found dates to the end of the 6th century and was presumably that of a warrior, as it also contained a lance, spatha, seax and shield...
), as well as single words and many names found in
Latin
Latin
Latin is an Italic language originally spoken in Latium and Ancient Rome. It, along with most European languages, is a descendant of the ancient Proto-Indo-European language. Although it is considered a dead language, a number of scholars and members of the Christian clergy speak it fluently, and...
texts predating the 8th century.
The main difference between Old High German and the
West Germanic dialects
West Germanic languages
The West Germanic languages constitute the largest of the three traditional branches of the Germanic family of languages and include languages such as German, English, Dutch, Afrikaans, the Frisian languages, and Yiddish...
from which it developed is that it underwent the Second Sound Shift or
High German consonant shift
High German consonant shift
In historical linguistics, the High German consonant shift or second Germanic consonant shift is a phonological development that took place in the southern parts of the West Germanic dialect continuum in several phases, probably beginning between the 3rd and 5th centuries AD, and was almost...
.