 Bockwurst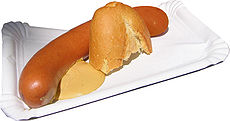 Bockwurst
is a kind of
German
German cuisine
German cuisine is a style of cooking derived from the nation of Germany. It has evolved as a national cuisine through centuries of social and political change with variations from region to region. The southern regions of Germany, including Bavaria and neighbouring Swabia, share many dishes....
sausage
Sausage
A sausage is a food usually made from ground meat , mixed with salt, herbs, and other spices, although vegetarian sausages are available. The word sausage is derived from Old French saussiche, from the Latin word salsus, meaning salted.Typically, a sausage is formed in a casing traditionally made...
invented in 1889 by restaurant owner R. Scholtz of
Berlin
Berlin
Berlin is the capital city of Germany and is one of the 16 states of Germany. With a population of 3.45 million people, Berlin is Germany's largest city. It is the second most populous city proper and the seventh most populous urban area in the European Union...
. It is one of the most popular varieties within
Germany
Germany
Germany , officially the Federal Republic of Germany , is a federal parliamentary republic in Europe. The country consists of 16 states while the capital and largest city is Berlin. Germany covers an area of 357,021 km2 and has a largely temperate seasonal climate...
, and can be found abroad. The sausage is traditionally made from ground
veal
Veal
Veal is the meat of young cattle , as opposed to meat from older cattle. Though veal can be produced from a calf of either sex and any breed, most veal comes from male calves of dairy cattle breeds...
and
pork
Pork
Pork is the culinary name for meat from the domestic pig , which is eaten in many countries. It is one of the most commonly consumed meats worldwide, with evidence of pig husbandry dating back to 5000 BC....
(tending more towards veal, unlike
bratwurst
Bratwurst
A bratwurst is a sausage usually composed of veal, pork or beef. The plural in German is Bratwürste....
). In modern Germany, however, it is made from different types of ground meat, such as pork, lamb,
turkey
Turkey (bird)
A turkey is a large bird in the genus Meleagris. One species, Meleagris gallopavo, commonly known as the Wild Turkey, is native to the forests of North America. The domestic turkey is a descendant of this species...
,
chicken
Chicken
The chicken is a domesticated fowl, a subspecies of the Red Junglefowl. As one of the most common and widespread domestic animals, and with a population of more than 24 billion in 2003, there are more chickens in the world than any other species of bird...
and in rare cases even from
horse meat
Horse meat
Horse meat is the culinary name for meat cut from a horse. It is a major meat in only a few countries, notably in Central Asia, but it forms a significant part of the culinary traditions of many others, from Europe to South America to Asia. The top eight countries consume about 4.7 million horses...
. In
Northern Germany
Northern Germany
- Geography :The key terrain features of North Germany are the marshes along the coastline of the North Sea and Baltic Sea, and the geest and heaths inland. Also prominent are the low hills of the Baltic Uplands, the ground moraines, end moraines, sandur, glacial valleys, bogs, and Luch...
there is also a version of bockwurst which is made from
fish
Fish
Fish are a paraphyletic group of organisms that consist of all gill-bearing aquatic vertebrate animals that lack limbs with digits. Included in this definition are the living hagfish, lampreys, and cartilaginous and bony fish, as well as various extinct related groups...
. Bockwurst is flavored with
salt
Salt
In chemistry, salts are ionic compounds that result from the neutralization reaction of an acid and a base. They are composed of cations and anions so that the product is electrically neutral...
,
white pepper
Black pepper
Black pepper is a flowering vine in the family Piperaceae, cultivated for its fruit, which is usually dried and used as a spice and seasoning. The fruit, known as a peppercorn when dried, is approximately in diameter, dark red when fully mature, and, like all drupes, contains a single seed...
and
paprika
Paprika
Paprika is a spice made from the grinding of dried fruits of Capsicum annuum . In many European languages, the word paprika refers to bell peppers themselves. The seasoning is used in many cuisines to add color and flavor to dishes. Paprika can range from mild to hot...
. Other spices, such as
chives
Chives
Chives are the smallest species of the edible onions. A perennial plant, they are native to Europe, Asia and North America.. Allium schoenoprasum is the only species of Allium native to both the New and the Old World....
and
parsley
Parsley
Parsley is a species of Petroselinum in the family Apiaceae, native to the central Mediterranean region , naturalized elsewhere in Europe, and widely cultivated as an herb, a spice and a vegetable.- Description :Garden parsley is a bright green hairless biennial herbaceous plant in temperate...
, are often also added and in Germany itself bockwurst is often smoked as well. Bockwurst was originally eaten with
bock beer
Bock
Bock is a strong lager of German origin. Several substyles exist, including maibock or helles bock, a paler, more hopped version generally made for consumption at spring festivals; doppelbock, a stronger and maltier version; and eisbock, a much stronger version made by partially freezing the beer...
and it is usually served with
mustard
Mustard (condiment)
Mustard is a condiment made from the seeds of a mustard plant...
. A
natural casing
Casing (sausage)
Casing, sausage casing, or sausage skin is the material that encloses the filling of a sausage. Casings are divided into two categories, natural and artificial...
sausage, it is usually cooked by simmering although it may also be grilled. When thoroughly cooked, its casing usually splits open. Ideally, one stops cooking just before that occurs because the split casing may look unappetizing and the sausage may then lose flavor to the cooking water.
Bockwurst made in America, also from veal and pork, bears more resemblance to the Bavarian Weisswurst in color and taste, albeit parsley is rarely used in this version.