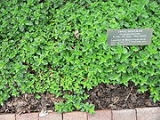 Marjoram
Marjoram
is a somewhat cold-sensitive
perennial
Perennial plant
A perennial plant or simply perennial is a plant that lives for more than two years. The term is often used to differentiate a plant from shorter lived annuals and biennials. The term is sometimes misused by commercial gardeners or horticulturalists to describe only herbaceous perennials...
herb
Herb
Except in botanical usage, an herb is "any plant with leaves, seeds, or flowers used for flavoring, food, medicine, or perfume" or "a part of such a plant as used in cooking"...
or undershrub with sweet
pine
Pine
Pines are trees in the genus Pinus ,in the family Pinaceae. They make up the monotypic subfamily Pinoideae. There are about 115 species of pine, although different authorities accept between 105 and 125 species.-Etymology:...
and
citrus
Citrus
Citrus is a common term and genus of flowering plants in the rue family, Rutaceae. Citrus is believed to have originated in the part of Southeast Asia bordered by Northeastern India, Myanmar and the Yunnan province of China...
flavours. In some Middle-eastern countries, marjoram is synonymous with oregano, and there the names
sweet marjoram
and
knotted marjoram
are used to distinguish it from other plants of the genus
Origanum
Origanum
Origanum is a genus of about 20 species of aromatic herbs in the family Lamiaceae, native to the Mediterranean region east to eastern Asia...
.
The name marjoram (
Old French
Old French
Old French was the Romance dialect continuum spoken in territories that span roughly the northern half of modern France and parts of modern Belgium and Switzerland from the 9th century to the 14th century...
majorane
,
Medieval Latin
Medieval Latin
Medieval Latin was the form of Latin used in the Middle Ages, primarily as a medium of scholarly exchange and as the liturgical language of the medieval Roman Catholic Church, but also as a language of science, literature, law, and administration. Despite the clerical origin of many of its authors,...
majorana
) does not directly derive from the Latin word
maior
(major). Marjoram is indigenous to the Mediterranean area, and was known to the Greeks and Romans as a symbol of happiness.
Cultivation
Considered a tender perennial (USDA Zones 7-9),
marjoram can sometimes prove hardy even in
zone 5
Hardiness zone
A hardiness zone is a geographically defined area in which a specific category of plant life is capable of growing, as defined by climatic conditions, including its ability to withstand the minimum temperatures of the zone...
.
Marjoram is cultivated for its aromatic leaves, either green or dry, for culinary purposes; the tops are cut as the plants begin to flower and are dried slowly in the shade. It is often used in herb combinations such as
herbes de Provence
Herbes de Provence
Herbes de Provence is a mixture of dried herbs typical of Provence. Formerly simply a descriptive term referring to herbs typical of Provence, in the 1970s, commercial blends started to be sold under this name....
and
za'atar
Za'atar
Za'atar is a generic name for a family of related Middle Eastern herbs from the genera Origanum , Calamintha , Thymus vulgaris and Satureja . It is also the name for a condiment made from the dried herb, mixed together with sesame seeds, dried sumac, and often salt, as well as other spices...
. The flowering leaves and tops of marjoram are steam-distilled to produce an
essential oil
Essential oil
An essential oil is a concentrated hydrophobic liquid containing volatile aroma compounds from plants. Essential oils are also known as volatile oils, ethereal oils or aetherolea, or simply as the "oil of" the plant from which they were extracted, such as oil of clove...
that is yellowish in color (darkening to brown as it ages). It has many chemical components, some of which are
borneol
Borneol
Borneol is a bicyclic organic compound and a terpene. The hydroxyl group in this compound is placed in an endo position.Borneol is easily oxidized to the ketone yielding camphor. One historical name for borneol is Borneo camphor which explains the name. Borneol can be synthesized by reduction of...
,
camphor
Camphor
Camphor is a waxy, white or transparent solid with a strong, aromatic odor. It is a terpenoid with the chemical formula C10H16O. It is found in wood of the camphor laurel , a large evergreen tree found in Asia and also of Dryobalanops aromatica, a giant of the Bornean forests...
and
pinene
Pinene
Pinene is a bicyclic monoterpene chemical compound. There are two structural isomers of pinene found in nature: α-pinene and β-pinene. As the name suggests, both forms are important constituents of pine resin; they are also found in the resins of many other conifers, as well as in non-coniferous...
.
Related species
Oregano
Oregano
Oregano – scientifically named Origanum vulgare by Carolus Linnaeus – is a common species of Origanum, a genus of the mint family . It is native to warm-temperate western and southwestern Eurasia and the Mediterranean region.Oregano is a perennial herb, growing from 20–80 cm tall,...
(
Origanum vulgare
, sometimes listed with marjoram as
Origanum majorana
) is also called wild marjoram. It is a perennial common in
southern Europe
Southern Europe
The term Southern Europe, at its most general definition, is used to mean "all countries in the south of Europe". However, the concept, at different times, has had different meanings, providing additional political, linguistic and cultural context to the definition in addition to the typical...
in dry copses and on hedge-banks, with many stout stems 30–80 cm high, bearing short-stalked, somewhat ovate leaves and clusters of purple flowers. It has a stronger flavor than marjoram.
Pot marjoram or Cretan oregano (
Origanum onites
) has similar uses to marjoram.
Hardy marjoram or French marjoram, a cross of marjoram with oregano, is much more resistant to cold, but is slightly less sweet.
Origanum pulchellum
Origanum pulchellum
Origanum pulchellum is an ornamental plant, which is native of Asia.-External links:*...
is known as showy marjoram or showy oregano.
External links