 Bow (weapon)
The
bow and arrow
is a projectile
weapon system
Weapon system
Weapon System is a United States military term that designated, along with a weapon system number , military experimental systems prior to official naming Weapon System is a United States military term that designated, along with a weapon system number (e.g., WS-110), military experimental (MX)...
that predates recorded history and is common to most
culture
Culture
Culture is a term that has many different inter-related meanings. For example, in 1952, Alfred Kroeber and Clyde Kluckhohn compiled a list of 164 definitions of "culture" in Culture: A Critical Review of Concepts and Definitions...
s.
Description
A
bow
is a flexible arc that shoots aerodynamic projectiles (
arrow

Arrow

An arrow is a shafted projectile that is shot with a bow. It predates recorded history and is common to most cultures.An arrow usually consists of a shaft with an arrowhead attached to the front end, with fletchings and a nock at the other.- History:...


s
or
quarrel

Quarrel

A quarrel or bolt is the term for the ammunition used in a crossbow. The name "quarrel" is derived from the French carré, "square", referring to the fact that they typically have square heads. Although their length varies, they are typically shorter than traditional arrows.Bolts and arrows have...


s
, sometimes stones) by means of
elastic energy
Elastic energy
Elastic energy is the potential mechanical energy stored in the configuration of a material or physical system as work is performed to distort its volume or shape....
. Essentially, the bow is a form of
spring
Spring (device)
A spring is an elastic object used to store mechanical energy. Springs are usually made out of spring steel. Small springs can be wound from pre-hardened stock, while larger ones are made from annealed steel and hardened after fabrication...
powered by a string or cord. As this string is
drawn
Bow draw
A bow draw is the method used to draw a bow. Currently, the most common method is the Mediterranean draw, long the usual method in European archery. Other methods include the pinch draw and the Mongolian draw.- Pinch draw or "primary release":...
, energy is stored in the flexible limbs of the bow; the energy is transferred to the arrow when the string is released, projecting it much farther than a weapon could be thrown. Today, bows and arrows are used primarily for
hunting
Bowhunting
Bowhunting is the practice of killing game animals by archery. It has been a normal use of archery in every culture that had bows.- Technique :...
and for sport (see
archery
Archery
Archery is the art, practice, or skill of propelling arrows with the use of a bow, from Latin arcus. Archery has historically been used for hunting and combat; in modern times, however, its main use is that of a recreational activity...
). Though they are still occasionally used as weapons of
war
War
War is a state of organized, armed, and often prolonged conflict carried on between states, nations, or other parties typified by extreme aggression, social disruption, and usually high mortality. War should be understood as an actual, intentional and widespread armed conflict between political...
, the development of
gunpowder
Gunpowder
Gunpowder, also known since in the late 19th century as black powder, was the first chemical explosive and the only one known until the mid 1800s. It is a mixture of sulfur, charcoal, and potassium nitrate - with the sulfur and charcoal acting as fuels, while the saltpeter works as an oxidizer...
and
musket
Musket
A musket is a muzzle-loaded, smooth bore long gun, fired from the shoulder. Muskets were designed for use by infantry. A soldier armed with a musket had the designation musketman or musketeer....
s, and the growing size of armies, led to their replacement in warfare several centuries ago in much of the world.
Someone who makes bows is known as a
bowyer
Bowyer
A bowyer is someone who makes or sells bows. Bows are used for hunting and for archery. The development of gunpowder and muskets slowly led to the replacement of bows as weapons of war which decreased the importance of bowyers. Someone who makes arrows is a fletcher.-History:Historically, a huge...
, and one who makes arrows is a
fletcher
Fletching
Fletching is the aerodynamic stabilization of arrows or darts with materials such as feathers, each piece of which is referred to as a fletch. The word is related to the French word flèche, meaning "arrow," via Old French; the ultimate root is Frankish fliukka...
—or in the case of the manufacture of metal arrow heads, an arrowsmith.
History
The bow and arrow was not the first composite projectile weapon to be invented. It was preceded by the
sling
Sling (weapon)
A sling is a projectile weapon typically used to throw a blunt projectile such as a stone or lead "sling-bullet". It is also known as the shepherd's sling....
and by spear throwers such as the
atlatl
Atlatl
An atlatl or spear-thrower is a tool that uses leverage to achieve greater velocity in dart-throwing.It consists of a shaft with a cup or a spur at the end that supports and propels the butt of the dart. The atlatl is held in one hand, gripped near the end farthest from the cup...
of the Americas and the
woomera
Woomera (spear-thrower)
A woomera is an Australian Aboriginal spear-throwing device used for when there is a greater distance to be overcome. It is highly efficient and made of wood. Similar to an atlatl, it enables a spear to travel much further than by arm strength alone...
of
Australia
Australia
Australia , officially the Commonwealth of Australia, is a country in the Southern Hemisphere comprising the mainland of the Australian continent, the island of Tasmania, and numerous smaller islands in the Indian and Pacific Oceans. It is the world's sixth-largest country by total area...
. A number of cultures in historical times lacked the bow and arrow, and in others
oral history
Oral history
Oral history is the collection and study of historical information about individuals, families, important events, or everyday life using audiotapes, videotapes, or transcriptions of planned interviews...
records a time before its acquisition.
The earliest potential arrow heads date from about sixty-four-thousand years ago in the South African
Sibudu Cave
Sibudu Cave
Sibudu Cave is a cave in a sandstone cliff in northern KwaZulu-Natal, South Africa. It is an important Middle Stone Age site occupied, with some gaps, from 77,000 years ago to 38,000 years ago...
. By 16,000 BCE flint points were being bound by sinews to split shafts.
Fletching
Fletching
Fletching is the aerodynamic stabilization of arrows or darts with materials such as feathers, each piece of which is referred to as a fletch. The word is related to the French word flèche, meaning "arrow," via Old French; the ultimate root is Frankish fliukka...
was being practiced, with feathers glued and bound to shafts.
The first actual bow fragments are the Stellmoor bows from northern Germany. They were dated to about 8,000 BCE but were destroyed in Hamburg during the Second World War. They were destroyed before carbon 14 dating was invented and their age is attributed by archaeological association. The oldest bow in one piece, are the
elm
Elm
Elms are deciduous and semi-deciduous trees comprising the genus Ulmus in the plant family Ulmaceae. The dozens of species are found in temperate and tropical-montane regions of North America and Eurasia, ranging southward into Indonesia. Elms are components of many kinds of natural forests...
Holmegaard bow
Holmegaard bow
The Holmegaard bows are a series of self bows found in the bogs of Northern Europe dating from the Mesolithic period. They are named after the Holmegaard area of Denmark in which the first and oldest specimens were found.-Description:...
s from Denmark which were dated to 9,000 BCE. High performance wooden bows are currently made following the Holmegaard design.
Around 3,300 BCE "
Ötzi the Iceman
Ötzi the Iceman
Ötzi the Iceman , Similaun Man, and Man from Hauslabjoch are modern names for a well-preserved natural mummy of a man who lived about 5,300 years ago. The mummy was found in September 1991 in the Ötztal Alps, near Hauslabjoch on the border between Austria and Italy. The nickname comes from the...
" was shot through the lung near the present-day border between Austria and Italy and was
mummified
Mummy
A mummy is a body, human or animal, whose skin and organs have been preserved by either intentional or incidental exposure to chemicals, extreme coldness , very low humidity, or lack of air when bodies are submerged in bogs, so that the recovered body will not decay further if kept in cool and dry...
. Among his preserved possessions were bone and
flint
Flint
Flint is a hard, sedimentary cryptocrystalline form of the mineral quartz, categorized as a variety of chert. It occurs chiefly as nodules and masses in sedimentary rocks, such as chalks and limestones. Inside the nodule, flint is usually dark grey, black, green, white, or brown in colour, and...
tipped arrows and an unfinished
yew
Taxus baccata
Taxus baccata is a conifer native to western, central and southern Europe, northwest Africa, northern Iran and southwest Asia. It is the tree originally known as yew, though with other related trees becoming known, it may be now known as the English yew, or European yew.-Description:It is a small-...
longbow 1.82 m (72 in) tall. His arrows had spiral feathers, which spin the arrow in flight and tend to give a straight flight despite any small asymmetry.
Bow construction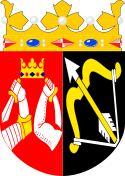 The basic elements of a bow are a pair of curved elastic limbs, traditionally made from
wood
Wood
Wood is a hard, fibrous tissue found in many trees. It has been used for hundreds of thousands of years for both fuel and as a construction material. It is an organic material, a natural composite of cellulose fibers embedded in a matrix of lignin which resists compression...
, connected by a
string
Bow string
A bow string joins the two ends of the bow stave and launches the arrow. Desirable properties include light weight, strength, resistance to abrasion, and resistance to water...
. By pulling the string backwards the
archer
Archery
Archery is the art, practice, or skill of propelling arrows with the use of a bow, from Latin arcus. Archery has historically been used for hunting and combat; in modern times, however, its main use is that of a recreational activity...
exerts
compressive force
Compressive strength
Compressive strength is the capacity of a material or structure to withstand axially directed pushing forces. When the limit of compressive strength is reached, materials are crushed. Concrete can be made to have high compressive strength, e.g...
on the string-facing section, or belly, of the limbs as well as placing the outer section, or back, under tension. While the string is held, this stores the energy later released in putting the arrow to flight. The force required to hold the string stationary at full draw is often used to express the power of a bow, and is known as its draw weight. Other things being equal, a higher draw weight means a more powerful bow, which is able to project arrows heavier, faster, or a greater distance.
In bows drawn and held by hand, the maximum draw weight is determined by the strength of the archer. The maximum distance the string could be displaced and thus the longest arrow that could be loosed from it, a bow's draw length, is determined by the size of the archer. For bows drawn and held mechanically, the maximum draw weight was a matter of
engineering
Engineering
Engineering is the discipline, art, skill and profession of acquiring and applying scientific, mathematical, economic, social, and practical knowledge, in order to design and build structures, machines, devices, systems, materials and processes that safely realize improvements to the lives of...
. The mechanical force required to draw the string was mainly limited by the time required to do so.
Limbs

The elastic qualities of the limbs of a bow provide a wide variety of performance characteristics. Longer limbs typically provide longer draw lengths, but the archer may have other constraints that limit the possible size of the bow; a mounted archer usually prefers something smaller than the head-high weapon typically employed by his
infantry
Infantry
Infantrymen are soldiers who are specifically trained for the role of fighting on foot to engage the enemy face to face and have historically borne the brunt of the casualties of combat in wars. As the oldest branch of combat arms, they are the backbone of armies...
counterpart.
The limbs of the bow must endure repeated bending into a deep curve. The tips of the limbs may consist of a single curve for the
longbow
Longbow
A longbow is a type of bow that is tall ; this will allow its user a fairly long draw, at least to the jaw....
, or be bent back upon themselves in the recurve bow. The recurve allows for greater draw weight with shorter limbs, but this places greater strain on the limb materials and may increase string noise when shot. Decurve bows, where the tips bend towards the archer, provide proportionally lower draw weights but may be made with relatively poor materials.
The considerable
strain
Deformation (mechanics)
Deformation in continuum mechanics is the transformation of a body from a reference configuration to a current configuration. A configuration is a set containing the positions of all particles of the body...
placed upon the limbs of the bow when drawn requires durable materials with high
tensile strength
Tensile strength
Ultimate tensile strength , often shortened to tensile strength or ultimate strength, is the maximum stress that a material can withstand while being stretched or pulled before necking, which is when the specimen's cross-section starts to significantly contract...
and
extensibility
Extensibility
In software engineering, extensibility is a system design principle where the implementation takes into consideration future growth. It is a systemic measure of the ability to extend a system and the level of effort required to implement the extension...
on the back of the bow, and high
compressive strength
Compressive strength
Compressive strength is the capacity of a material or structure to withstand axially directed pushing forces. When the limit of compressive strength is reached, materials are crushed. Concrete can be made to have high compressive strength, e.g...
and
compressibility
on the belly. Wood is readily obtained, reasonably good for both back and belly, and easily shaped;
self bow
Self bow
A self bow is a bow made from a single piece of wood. Extra material such as horn nocks on the ends, or built-up handles, would normally be accepted as part of a self bow...
s consisting of a single material are usually of wooden construction. Considerable compromise must be made in selecting a single material, and sophisticated techniques were employed to overcome this problem. The
flatbow
Flatbow
A flatbow is a bow with non-recurved, flat, relatively wide limbs that are approximately rectangular in cross-section. Because the limbs are relatively wide, flatbows will usually narrow and become deeper at the handle, with a rounded, non-bending, handle for easier grip...
's cross section is shaped to spread stress more evenly, and the
yew
Taxus
Taxus is a genus of yews, small coniferous trees or shrubs in the yew family Taxaceae. They are relatively slow-growing and can be very long-lived, and reach heights of 1-40 m, with trunk diameters of up to 4 m...
for use in
English longbow
English longbow
The English longbow, also called the Welsh longbow, is a powerful type of medieval longbow about 6 ft long used by the English and Welsh for hunting and as a weapon in medieval warfare...
s was oriented to take advantage of the ability of the heartwood to store energy in compression, and the outer sapwood's strength in tension.
A
composite bow
Composite bow
A composite bow is a bow made from horn, wood, and sinew laminated together. The horn is on the belly, facing the archer, and sinew on the back of a wooden core. Sinew and horn will store more energy than wood for the same length of bow...
uses a combination of materials to create the limbs, allowing the use of materials specialized for the different functions of a bow limb. The classic composite bow uses wood for lightness and dimensional stability in the core, horn to store energy in compression, and sinew for its ability to store energy in tension. Such bows, typically Asian, would often use a stiff end on the limb end, having the effect of a recurve. In this type of bow, this is known by the Arabic name 'siyah'. While composite limbs allow greater draw length with shorter limbs, they are typically less robust than a wooden limb. Composite bows are made with water-soluble glue and could be damaged by exposure to moisture.
Modern construction materials for bows include
laminated
Laminated bow
A laminated bow is an archery bow in which different materials are laminated together to form the bow stave itself. Traditional composite bows are normally not included, although their construction with horn, wood, and sinew might bring them within the above definition. This term usually refers to...
wood,
fiberglass
Fiberglass
Glass fiber is a material consisting of numerous extremely fine fibers of glass.Glassmakers throughout history have experimented with glass fibers, but mass manufacture of glass fiber was only made possible with the invention of finer machine tooling...
,
metal
Metal
A metal , is an element, compound, or alloy that is a good conductor of both electricity and heat. Metals are usually malleable and shiny, that is they reflect most of incident light...
s, and
carbon fiber
Carbon fiber
Carbon fiber, alternatively graphite fiber, carbon graphite or CF, is a material consisting of fibers about 5–10 μm in diameter and composed mostly of carbon atoms. The carbon atoms are bonded together in crystals that are more or less aligned parallel to the long axis of the fiber...
components.
String
The
string
Bow string
A bow string joins the two ends of the bow stave and launches the arrow. Desirable properties include light weight, strength, resistance to abrasion, and resistance to water...
that connects the tips of the limbs is under considerable stress when drawn. A rule of thumb is that a string should withstand a static tension at least four times the draw weight of its bow, because of the substantial shock forces on release and when pulled taut. An ideal string material is strong for its mass, resists stretching, and remains strong after exposure to moisture. To enhance accuracy, the nocking point for the arrow will be marked, often by the addition of some turns of waxed thread, or a small metallic ring.
Historically bow strings were frequently made from animal byproducts such as sinew, intestine, or hair. Plant fibers such as
linen
Linen
Linen is a textile made from the fibers of the flax plant, Linum usitatissimum. Linen is labor-intensive to manufacture, but when it is made into garments, it is valued for its exceptional coolness and freshness in hot weather....
or
hemp
Hemp
Hemp is mostly used as a name for low tetrahydrocannabinol strains of the plant Cannabis sativa, of fiber and/or oilseed varieties. In modern times, hemp has been used for industrial purposes including paper, textiles, biodegradable plastics, construction, health food and fuel with modest...
were also common and usually had a superior ratio of strength to mass. When treated with
beeswax
Beeswax
Beeswax is a natural wax produced in the bee hive of honey bees of the genus Apis. It is mainly esters of fatty acids and various long chain alcohols...
they are very resistant to moisture.
Modern synthetic
polymer
Polymer
A polymer is a large molecule composed of repeating structural units. These subunits are typically connected by covalent chemical bonds...
s are totally resistant to moisture, have excellent mechanical properties, and are very cheap to produce. Modern
compound bow
Compound bow
A compound bow is a modern bow that uses a levering system, usually of cables and pulleys, to bend the limbs.The limbs of a compound bow are much stiffer than those of a recurve bow or longbow. This limb stiffness makes the compound bow more energy-efficient than other bows, in conjunction with the...
s have a mechanical system of pulley cams over which cables wind, before ending in a 'tail' to which the actual string is attached.
Crossbows
In a
crossbow
Crossbow
A crossbow is a weapon consisting of a bow mounted on a stock that shoots projectiles, often called bolts or quarrels. The medieval crossbow was called by many names, most of which derived from the word ballista, a torsion engine resembling a crossbow in appearance.Historically, crossbows played a...
, the limbs of the bow, called a
prod
, are attached to a crosspiece or
stock
Stock (firearm)
A stock, also known as a buttstock or shoulder stock, is a part of a rifle or other firearm, to which the barrel and firing mechanism are attached, that is held against one's shoulder when firing the gun. Stocks are also found on crossbows though a crossbow stock is more properly referred to as a...
in order to allow for mechanical pulling and holding of the string. This allows for a much larger draw weight than could be drawn and held by hand. A crossbow can be much smaller than a manually held bow of the same power, or may be constructed on a much larger scale like the
arbalest
Arbalest
The arbalest was a late variation of the medieval European crossbow. A large weapon, the arbalest had a steel prod . Since an arbalest was much larger than earlier crossbows, and because of the greater compressive strength of steel, it had a greater force...
and
ballista
Ballista
The ballista , plural ballistae, was an ancient missile weapon which launched a large projectile at a distant target....
for use as a
siege engine
Siege engine
A siege engine is a device that is designed to break or circumvent city walls and other fortifications in siege warfare. Some have been operated close to the fortifications, while others have been used to attack from a distance. From antiquity, siege engines were constructed largely of wood and...
.
The drawing of the bow could be accomplished through use of a lever, the archer's legs, or complex
windlass
Windlass
The windlass is an apparatus for moving heavy weights. Typically, a windlass consists of a horizontal cylinder , which is rotated by the turn of a crank or belt...
designs. The principal disadvantage to a crossbow is the time taken for reloading. While repeating crossbows existed, as did crossbows which shot more than one arrow (or 'bolt') at a time, for the most part an archer could deliver many times more arrows per minute than a crossbowman could. The weapon's additional weight and the greater potential for mechanical failure could also be a problem for armed forces on the move.
Crossbows require less training and practice than traditional bows, which allowed cheaper and faster raising of troops. Crossbows are also more accurate than hand bows, allowing shooting individual targets rather than volleys. As more powerful crossbows were developed, to shoot a heavy bolt to give a devastating wound, even through heavy armour, an edict was made by Pope Innocent II in 1139, that it should be used only against 'infidels', not Christians.
See also
Further reading
The Traditional Bowyers Bible Volume 1. 1992 The Lyons Press. ISBN 1-58574-085-3
The Traditional Bowyers Bible Volume 2. 1992 The Lyons Press. ISBN 1-58574-086-1
The Traditional Bowyers Bible Volume 3. 1994 The Lyons Press. ISBN 1-58574-087-X
The Traditional Bowyers Bible Volume 4. 2008 The Lyons Press. ISBN 978-0-9645741-6-8
U. Stodiek/H. Paulsen, "Mit dem Pfeil, dem Bogen..." Techniken der steinzeitlichen Jagd. (Oldenburg 1996).
Gray, David, "Bows of the World". The Lyons Press, 2002. ISBN 1-58574-478-6.
Comstock, Paul. "The Bent Stick"
External links
Simon Archery Collection From The Manchester Museum

Manchester Museum

The Manchester Museum is owned by the University of Manchester. Sited on Oxford Road at the heart of the university's group of neo-Gothic buildings, it provides access to about six million items from every continent and serves both as a resource for academic research and teaching and as a regional...


, The University of Manchester

University of Manchester

The University of Manchester is a public research university located in Manchester, United Kingdom. It is a "red brick" university and a member of the Russell Group of research-intensive British universities and the N8 Group...