 Infantry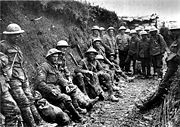 Infantrymen
are soldiers who are specifically trained for the role of fighting on foot to engage the enemy face to face and have historically borne the brunt of the casualties of combat in wars. As the oldest branch of
combat arms
Combat Arms
Combat Arms is a multiplayer game, free-to-play modern first-person shooter developed by the South Korea-based developer Doobic Studios, and published by Nexon. The game uses the Lithtech game engine to produce its graphics.- Gameplay :...
, they are the backbone of armies. Infantry units have more physically demanding training than other branches of armies, and place a greater emphasis on discipline, fitness, physical strength and aggression.
Infantrymen are distinguished from soldiers trained to fight on horseback (
cavalry
Cavalry
Cavalry or horsemen were soldiers or warriors who fought mounted on horseback. Cavalry were historically the third oldest and the most mobile of the combat arms...
), in tanks, or in technical roles such as armourers or
signaller
Signaller
In the armed forces, a signaller or signaleer is a specialist soldier or seaman or airman responsible for military communications. Signallers, aka Combat Signallers or signalmen or women, are commonly employed as radio or telephone operators, relaying messages for field commanders at the front line...
s, but basic infantry skills are fundamental to the training of any soldier, and soldiers of any branch of an army are expected to serve as auxiliary infantry (e.g., patrolling and security) when necessary. Infantry can access and maneuver in terrain inaccessible to vehicles and tanks, and employ infantry support weapons that can provide firepower in the absence of artillery.
Since the end of the Second World War the infantry has become a smaller part of armies of the
Western world
Western world
The Western world, also known as the West and the Occident , is a term referring to the countries of Western Europe , the countries of the Americas, as well all countries of Northern and Central Europe, Australia and New Zealand...
, constituting typically between 10% and 30% of an army's personnel. Despite still often representing the largest individual arm, with the exception of logistics, this is vastly reduced from pre-war levels. For instance, in the
United States Army
United States Army
The United States Army is the main branch of the United States Armed Forces responsible for land-based military operations. It is the largest and oldest established branch of the U.S. military, and is one of seven U.S. uniformed services...
of 2009 there were only approximately 49,000 infantrymen out of about 450,000 active duty enlisted personnel.
This reflects the greatly increased requirement for technical and logistical specialists in Western armies, resulting from the increasing complexity of military technology and equipment and an increased recognition of the importance of logistics in warfare. In armies of developing world nations, infantry still accounts for a majority of soldiers, but they are often lacking adequate training in infantry tactics and resources to be as effective as other infantry.
History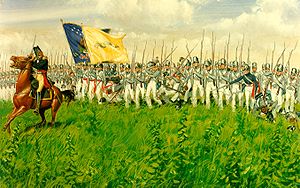 Although the use of the term
infantry
in English dates from the 16th century, the foot troops of the previous eras in history who fought with a variety of weapons before the introduction of the
firearm
Firearm
A firearm is a weapon that launches one, or many, projectile at high velocity through confined burning of a propellant. This subsonic burning process is technically known as deflagration, as opposed to supersonic combustion known as a detonation. In older firearms, the propellant was typically...
s are also referred to as infantry. During the Ancient and Middle Ages Infantry were categorized by the types of
weapon
Weapon
A weapon, arm, or armament is a tool or instrument used with the aim of causing damage or harm to living beings or artificial structures or systems...
s and armor they used, such as
heavy
Heavy infantry
Heavy infantry refers to heavily armed and armoured ground troops, as opposed to medium or light infantry, in which the warriors are relatively lightly armoured. As modern infantry troops usually define their subgroups differently , 'heavy infantry' almost always is used to describe pre-gunpowder...
, medium, and
light infantry
Light infantry
Traditionally light infantry were soldiers whose job was to provide a skirmishing screen ahead of the main body of infantry, harassing and delaying the enemy advance. Light infantry was distinct from medium, heavy or line infantry. Heavy infantry were dedicated primarily to fighting in tight...
. Since the introduction of firearms classifications have changed initially to reflect their formations on the battlefield as
line infantry
Line infantry
Line infantry is a type of infantry which composed the basis of European land armies from the middle of the 17th century to the middle of the 19th century....
, and later to reflect modes of transport and type of tactics used by specific units as
Mechanized infantry
Mechanized infantry
Mechanized infantry are infantry equipped with armored personnel carriers , or infantry fighting vehicles for transport and combat ....
or airborne infantry.
Role
The role of the infantry is generally defined as being to destroy the enemy under any conditions, for example:
All things considered these synopsize what the infantry does and has done throughout the ages, regardless of nationality, changes in technology, doctrine, tactics, etc.
Organization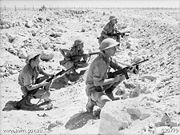 Infantry is notable by its reliance on organized formations to be employed in battle. These have been developed over time, but remain a key element to effective infantry development and deployment. Up into the 20th century, infantry units were for the most part employed in closely organized formations up until the actual moment of contact with the enemy. This was necessary to allow commanders to retain control of the unit, especially while maneuvering, as well as allowing officers to retain discipline amongst the ranks.
With the development of weapons with increased firepower, it became necessary to disperse soldiers in infantry units to make them less susceptible to high explosive and rapid fire weapons. From World War I, it was recognized that infantry were most successfully employed when using their ability to maneuver in constricted terrain and evade detection in ways not possible for other weapons such as vehicles. This decentralization of command was made possible by improved communications equipment and greater focus on small unit training.
Among the various subtypes of infantry is 'Medium infantry.' This refers to infantry which are less heavily armed and armored than
heavy infantry
Heavy infantry
Heavy infantry refers to heavily armed and armoured ground troops, as opposed to medium or light infantry, in which the warriors are relatively lightly armoured. As modern infantry troops usually define their subgroups differently , 'heavy infantry' almost always is used to describe pre-gunpowder...
, but more so than
light infantry
Light infantry
Traditionally light infantry were soldiers whose job was to provide a skirmishing screen ahead of the main body of infantry, harassing and delaying the enemy advance. Light infantry was distinct from medium, heavy or line infantry. Heavy infantry were dedicated primarily to fighting in tight...
. In the
early modern period
Early modern period
In history, the early modern period of modern history follows the late Middle Ages. Although the chronological limits of the period are open to debate, the timeframe spans the period after the late portion of the Middle Ages through the beginning of the Age of Revolutions...
, medium infantry were largely eliminated due to discontinued use of body armour up until the 20th century. In the United States Army,
Stryker
Stryker
The IAV Stryker is a family of eight-wheeled, 4-wheel-drive , armored fighting vehicles derived from the Canadian LAV III and produced by General Dynamics Land Systems, in use by the United States Army. The vehicle is named for two American servicemen who posthumously received the Medal of Honor:...
Infantry is considered Medium Infantry, since they are "heavier" than
light infantry
Light infantry
Traditionally light infantry were soldiers whose job was to provide a skirmishing screen ahead of the main body of infantry, harassing and delaying the enemy advance. Light infantry was distinct from medium, heavy or line infantry. Heavy infantry were dedicated primarily to fighting in tight...
but "lighter" than
mechanized infantry
Mechanized infantry
Mechanized infantry are infantry equipped with armored personnel carriers , or infantry fighting vehicles for transport and combat ....
.
Doctrine
Infantry doctrine is the concise expression of how infantry forces contribute to
campaign
Military campaign
In the military sciences, the term military campaign applies to large scale, long duration, significant military strategy plan incorporating a series of inter-related military operations or battles forming a distinct part of a larger conflict often called a war...
s, major
operations
Military operation
Military operation is the coordinated military actions of a state in response to a developing situation. These actions are designed as a military plan to resolve the situation in the state's favor. Operations may be of combat or non-combat types, and are referred to by a code name for the purpose...
,
battle
Battle
Generally, a battle is a conceptual component in the hierarchy of combat in warfare between two or more armed forces, or combatants. In a battle, each combatant will seek to defeat the others, with defeat determined by the conditions of a military campaign...
s, and
engagement
Engagement
An engagement or betrothal is a promise to marry, and also the period of time between proposal and marriage which may be lengthy or trivial. During this period, a couple is said to be betrothed, affianced, engaged to be married, or simply engaged...
s. It is a guide to action, not hard and fast rules.
Doctrine provides a very common frame of reference across the military forces allowing the infantry to function cooperatively in what is now called
combined arms
Combined arms
Combined arms is an approach to warfare which seeks to integrate different branches of a military to achieve mutually complementary effects...
operations. Doctrine helps standardize operations, facilitating readiness by establishing common ways of accomplishing infantry tasks. Doctrine links theory, history, experimentation, and practice. Its objective is to foster initiative and creative thinking in the infantry's tactical combat environment.
Doctrine provides the infantry with an authoritative body of statements on how infantry forces conduct operations and provides a common lexicon for use by infantry planners and leaders.
Until development of effective artillery doctrines, and more recently precision guided air delivered ordnance, the most recent important role of the infantry has been as the primary force of inflicting casualties on the enemy through aimed fire. The infantry is also the only combat Arm which can ultimately decide whether any given tactical position is occupied, and it is the presence of infantry that assures control of terrain. While the tactics of employment in battle have changed, the basic missions of the infantry have not.
Operations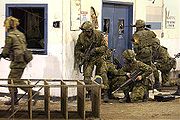 Attack
operations are the most basic role of the infantry, and along with defense, form the two primary stances of the infantry on the battlefield. Traditionally, in an open battle, or
meeting engagement
Meeting engagement
A meeting engagement, a term used in warfare, is a combat action that occurs when a moving force, incompletely deployed for battle, engages an enemy at an unexpected time and place.-Description:...
, two armies would maneuver to contact, at which point they would form up their infantry and other units opposite each other. Then one or both would advance and attempt to defeat the enemy force. The goal of an attack remains the same: to advance into an enemy-held objective and dislodge the enemy, thereby establishing control of the objective.
Attacks are often feared by the infantry conducting them because of the high number of casualties suffered while advancing under enemy fire (
mechanized infantry
Mechanized infantry
Mechanized infantry are infantry equipped with armored personnel carriers , or infantry fighting vehicles for transport and combat ....
are considered in assaulting positions in contrast to light infantry because of armoured protection and high mobility). Successful attacks rely on sufficient force, preparative
reconnaissance
Reconnaissance
Reconnaissance is the military term for exploring beyond the area occupied by friendly forces to gain information about enemy forces or features of the environment....
and bombardment, and retention of
unit cohesion
Unit cohesion
Unit cohesion is a military concept, defined by one former United States Chief of staff in the early 1980s as "the bonding together of soldiers in such a way as to sustain their will and commitment to each other, the unit, and mission accomplishment, despite combat or mission stress"...
throughout the attack. A subcategory of attacks is the
ambush
Ambush
An ambush is a long-established military tactic, in which the aggressors take advantage of concealment and the element of surprise to attack an unsuspecting enemy from concealed positions, such as among dense underbrush or behind hilltops...
, where infantry lie in wait for enemy forces before attacking at the most vulnerable moment.
Defense
Defense (military)
Defense has several uses in the sphere of military application.Personal defense implies measures taken by individual soldiers in protecting themselves whether by use of protective materials such as armor, or field construction of trenches or a bunker, or by using weapons that prevent the enemy...
operations are the natural counter to attacks, in which the mission is to hold an objective and defeat enemy forces attempting to dislodge the defender. Defensive posture offers many advantages to the infantry, including the ability to use terrain and constructed fortifications to advantage and the reduced exposure to enemy fire compared with advancing forces. Effective defense relies on minimizing losses to enemy fire, breaking the enemy's cohesion before their advance is completed, and preventing enemy penetration of defensive positions.
Patrol
is the most common infantry mission. Full scale attacks and defensive efforts are occasional, but patrols are constant. Patrols consist of small groups of infantry moving about in areas of possible enemy activity to discern enemy deployments and ambush enemy patrols. Patrols are used not only on the front-lines, but in rear areas where enemy infiltration or insurgencies are possible.
Pursuit
is a role that the infantry often assumes. The objective of pursuit operations is the destruction of enemy forces which are not capable of effectively engaging friendly units before they can build their strength to the point where they are effective. Infantry traditionally have been the main force to overrun these units in the past, and in modern combat are used to pursue enemy forces in constricted terrain (urban areas in particular), where faster forces, such as armored vehicles are incapable of going or would be exposed to ambush.
Escort
consists of protecting other units from ambush, particularly from other infantry. This is one of the most important roles for the modern infantry, in particular when operating along side armored vehicles. In this capacity, infantry essentially conducts patrol on the move, scouring terrain which may hide enemy infantry waiting to ambush friendly vehicles, and identifying enemy strong points for attack by the heavier units.
Maneuver
Military exercise
A military exercise is the employment of military resources in training for military operations, either exploring the effects of warfare or testing strategies without actual combat...
operations consume much of an infantry unit's time. Infantry, like all combat units, are often maneuvered to meet battlefield needs, and often must do so under enemy attack. The infantry must maintain their cohesion and readiness during the move to ensure their usefulness when they reach their objective. Traditionally, infantry have relied on their own legs for mobility, but mechanised or armoured infantry often uses trucks and armored vehicles for transport, leaving the light infantry to jobs which they cannot access.
Reconnaissance/intelligence gathering
Reconnaissance
Reconnaissance is the military term for exploring beyond the area occupied by friendly forces to gain information about enemy forces or features of the environment....
Surveillance operations are often carried out with the employment of small recon units or sniper teams which gather information about the enemy, reporting on characteristics such as size, activity, location, and equipment. These infantry units typically are known for their stealth and ability to operate for periods of time within close proximity of the enemy without being detected. They may engage high profile targets or be employed to hunt down terrorist cells and insurgents within a given area. These units may also entice the enemy to engage a located recon unit thus disclosing their location to be destroyed by larger combat assault forces.
Reserve
Military reserve force
A military reserve force is a military organization composed of citizens of a country who combine a military role or career with a civilian career. They are not normally kept under arms and their main role is to be available to fight when a nation mobilizes for total war or to defend against invasion...
assignments for infantry units involve deployment behind the front, although patrol and security operations are usually maintained in case of enemy infiltration. This is usually the best time for infantry units to integrate replacements into units and to maintain equipment. Additionally, soldiers can be rested and general readiness should improve. However, the unit must be ready for deployment at any point.
Construction
Construction
In the fields of architecture and civil engineering, construction is a process that consists of the building or assembling of infrastructure. Far from being a single activity, large scale construction is a feat of human multitasking...
can be undertaken either in reserve or on the front, but consists of using infantry troops as labor for construction of field positions, roads, bridges, airfields, and all other manner of structures. The infantry is often given this assignment because of the physical quantity of men within the unit, although it can lessen a unit's morale and limit the unit's ability to maintain readiness and perform other missions. More often, such jobs are given to specialist engineering corps.
Base defense
is where infantry units are tasked to protect certain areas like command posts or airbases. Units assigned to this job usually have a large amount of military police attached to them for control of checkpoints and prisons.
Raid/Hostage Rescue
Infantry units are trained to quickly mobilize, infiltrate, enter and neutralize threat forces when appropriate combat intelligence indicates.
Daily life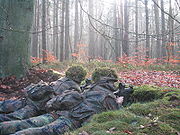 Because of the very nature of the work; with firearms, explosives, physical-emotional stress, and genuine violence, casualties and or deaths are not uncommon in both war and in peacetime training or operations.
The physical demands are extreme. All of the combat necessities such as ammunition, weapon systems, food and clothing and shelter are literally carried on the backs of the infantrymen. Combat loads of 80lbs are common and greater loads in excess of 100lbs are not unheard of.
http://www.bordeninstitute.army.mil/other_pub/LoadCarriagePDF.pdf
These heavy loads, combined with long forced foot marches and patrols of up to 25 miles a day, in any climate from 110 degree heat, to -20 degree cold, there is no escape from the elements, ensure the development of strong bonds and mutual respect between infantrymen, in and out of the armed services.
http://www.bordeninstitute.army.mil/other_pub/LoadCarriagePDF.pdf
Despite these extreme physical demands, an infantryman is expected and highly trained to continue on with the mission despite personal fear, despair, fatigue and injury. This is exemplified in the United States Army by an excerpt from the infantryman's creed

In the race for victory, I am swift, determined, and courageous; Armed with a fierce will to win. Never will I fail my country's trust. Always I fight on: through the foe, to the objective, to triumph over all. If necessary, I fight to my death.

United States Army Rangers, a specialised light infantry, have their own
Ranger Creed
Ranger Creed
The Ranger Creed is the official creed of the United States Army Rangers. It is also adopted by Rangers in other armed forces around the world. It was initiated by then-LTC Leuer and his Command Sergeant Major Neal R. Gentry...
that demands faithful service from the infantryman even "...though I be the lone survivor."
Though the skill of infantry has no direct civilian correlation, valuable life skills that cannot be taught in any classroom, such as discipline, courage, team work, initiative, loyalty, trust, empathy, stress management, "lead by example" leadership, as well as many others contribute to the success that many face in the civilian world regardless of occupation.
http://www.goarmy.com/careers-and-jobs/browse-career-and-job-categories/combat/infantry-officer.html
Work with individial and crew served weapon systems, combatives, sensitive information, and the rigors of the job make infantrymen good recruitment candidates for government and private police and intelligence agencies, especially if the individual has attained other important skills in language computers and public policy.
Equipment
The equipment of infantry forces has evolved along with the development of military technology in general, but certain constants remain regarding the design and selection of this equipment. Primary types of equipment are weaponry, protective gear, survival gear, and special equipment.
Infantry weapons have included all types of personal weapons, i.e., anything that can be handled by individual soldiers, as well as some small crew-served weapons that can be carried. During operations, especially in modern times, infantry often scavenge and employ whatever weapons they can acquire in addition to those given them by their supply chain.
Infantry from ancient times up until the modern age have wielded a wide array of weaponry. Infantry used all sorts of
melee weapon
Mêlée weapon
A melee weapon is any weapon that does not involve a projectile — that is, both the user and target of the weapon are in contact with it simultaneously in normal use...
s, such as various types
sword
Sword
A sword is a bladed weapon used primarily for cutting or thrusting. The precise definition of the term varies with the historical epoch or the geographical region under consideration...
s,
axe
Axe
The axe, or ax, is an implement that has been used for millennia to shape, split and cut wood; to harvest timber; as a weapon; and as a ceremonial or heraldic symbol...
s, and maces, as well as ranged weapons such as
javelin
Javelin
A Javelin is a light spear intended for throwing. It is commonly known from the modern athletic discipline, the Javelin throw.Javelin may also refer to:-Aviation:* ATG Javelin, an American-Israeli civil jet aircraft, under development...
s,
bows
Bow (weapon)
The bow and arrow is a projectile weapon system that predates recorded history and is common to most cultures.-Description:A bow is a flexible arc that shoots aerodynamic projectiles by means of elastic energy. Essentially, the bow is a form of spring powered by a string or cord...
, and
sling
Sling
The word sling may refer to:* Sling , a device used to hurl projectiles* Sling is an item of climbing equipment consisting of a sewn loop of webbing that can be wrapped around sections of rock or tied to other pieces of equipment.* Sling * Ski jumping sling is an item of sports training...
s. Infantry of these periods also often wore varying types of armor, including
chain mail
Chain Mail
"Chain Mail" is a single by Mancunian band James, released in March 1986 by Sire Records, the first after the band defected from Factory Records. The record was released in two different versions, as 7" single and 12" EP, with different artworks by John Carroll and, confusingly, under different...
and
Cuirass
Cuirass
A cuirass is a piece of armour, formed of a single or multiple pieces of metal or other rigid material, which covers the front of the torso...
es. Many of their weapons evolved over time to counter advances made in armor, such as the
falchion
Falchion
A falchion is a one-handed, single-edged sword of European origin, whose design is reminiscent of the Persian scimitar and the Chinese dao....
, whose heavy blade was designed to break chain mail armor.
Modern infantry weaponry include
rifle
Rifle
A rifle is a firearm designed to be fired from the shoulder, with a barrel that has a helical groove or pattern of grooves cut into the barrel walls. The raised areas of the rifling are called "lands," which make contact with the projectile , imparting spin around an axis corresponding to the...
s,
grenade
Grenade
A grenade is a small explosive device that is projected a safe distance away by its user. Soldiers called grenadiers specialize in the use of grenades. The term hand grenade refers any grenade designed to be hand thrown. Grenade Launchers are firearms designed to fire explosive projectile grenades...
s, sub machine guns,
machine gun
Machine gun
A machine gun is a fully automatic mounted or portable firearm, usually designed to fire rounds in quick succession from an ammunition belt or large-capacity magazine, typically at a rate of several hundred rounds per minute....
s, shoulder-fired
rocket launchers
Shoulder-launched missile weapon
A shoulder-fired missile, shoulder-launched missile or man-portable missile is a projectile fired at a target, small enough to be carried by a single person, and fired while held on one's shoulder...
and
missile
Missile
Though a missile may be any thrown or launched object, it colloquially almost always refers to a self-propelled guided weapon system.-Etymology:The word missile comes from the Latin verb mittere, meaning "to send"...
s, and lighter
mortars
Mortar (weapon)
A mortar is an indirect fire weapon that fires explosive projectiles known as bombs at low velocities, short ranges, and high-arcing ballistic trajectories. It is typically muzzle-loading and has a barrel length less than 15 times its caliber....
and
grenade launcher
Grenade launcher
A grenade launcher or grenade discharger is a weapon that launches a grenade with more accuracy, higher velocity, and to greater distances than a soldier could throw it by hand....
s. Modern infantry are often equipped with helmets, a
gas mask
Gas mask
A gas mask is a mask put on over the face to protect the wearer from inhaling airborne pollutants and toxic gases. The mask forms a sealed cover over the nose and mouth, but may also cover the eyes and other vulnerable soft tissues of the face. Some gas masks are also respirators, though the word...
, and in some cases, additional body armor.
Protective equipment and survival gear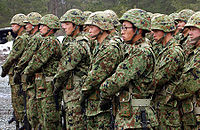 Infantry protective gear includes all equipment designed to protect the soldier against enemy attack. Most protective gear comprises
personal armor
Personal armor
Personal armor is the whole of protecting clothing, designed to absorb and/or deflect slashing, bludgeoning, and penetrating attacks. They were historically used to protect soldiers, whereas today, they are also used to protect police forces, private citizens and private security guards or...
of some type. Classical and medieval infantry employed leather and metal armor as defense against both ranged and melee attacks, but with the advent of firearms, such armor could no longer defeat attacks and was discarded. The return to use of the helmet was prompted by the need to defend against high explosive
fragmentation
Fragmentation (weaponry)
Fragmentation is the process by which the casing of an artillery shell, bomb, grenade, etc. is shattered by the detonating high explosive filling. The correct technical terminology for these casing pieces is fragments , although shards or splinters can be used for non-preformed fragments...
, and further developments in materials led to effective bullet-defeating armor within the weight acceptable for infantry use. The use of body armor is again becoming widespread amongst infantry units, primarily using
Kevlar
Kevlar
Kevlar is the registered trademark for a para-aramid synthetic fiber, related to other aramids such as Nomex and Technora. Developed at DuPont in 1965, this high strength material was first commercially used in the early 1970s as a replacement for steel in racing tires...
technology. Infantry must also often carry protective measures against chemical and biological attack, including gas masks, counter-agents, and protective suits.
Infantry survival gear includes all of the items soldiers require for day-to-day survival in the combat environment. These include basic environmental protections, medical supplies, food, and sundries. As the amount of equipment a soldier can carry is very limited, efforts have been made to make equipment light and compact. Equipment is carried in tactical gear (such as
ALICE
All-purpose Lightweight Individual Carrying Equipment
The All-Purpose Lightweight Individual Carrying Equipment, or ALICE system, was adopted as United States Army Standard A on 17 January 1973 to replace the M-1956 Load-Carrying Equipment [LCE] and M-1967 Modernized Load-Carrying Equipment [MLCE]. ALICE gear is still in some limited use in the US...
), which should be comfortable to wear for extended periods of time, hamper movement as little as possible and be compatible with other things a soldier can be expected to carry, such as field radios and spare magazines. infantry have suffered large casualty rates from disease, exposure, and privation—often in excess of those suffered from enemy attacks. Better equipment of troops in this area greatly reduce this rate of loss. One of the most valuable pieces of gear is the
entrenching tool
Entrenching tool
An entrenching tool or E-tool is a collapsible spade used by military forces for a variety of military purposes. Survivalists, freedivers, campers, hikers and other outdoors groups have found it to be indispensable in field use...
- basically a collapsible spade — which can be employed not only to dig important defenses, but also in a variety of other daily tasks and even as a weapon.
Specialized equipment consists of a variety of gear which may or may not be carried depending on the mission and the level of equipment of an army. Communications gear has become a necessity, as it allows effective command of infantry units over greater distances. In some units, individual communications are being used to allow the greatest level of flexibility. Engineering equipment, including demolitions, mines, and other gear, is also commonly carried by the infantry or attached specialists. A variety of other gear, often relating to a specific mission, or to the particular terrain in which the unit is employed, can be carried by infantry units.
Historical descriptions
See also
External links