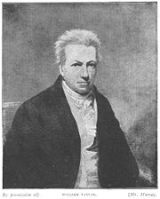 William Taylor
William Taylor
was a
British
British people
The British are citizens of the United Kingdom, of the Isle of Man, any of the Channel Islands, or of any of the British overseas territories, and their descendants...
scholar,
polyglot
Polyglot (person)
A polyglot is someone with a high degree of proficiency in several languages. A bilingual person can speak two languages fluently, whereas a trilingual three; above that the term multilingual may be used.-Hyperpolyglot:...
, and translator of German romantic literature.
Early life
He was born in
Norwich
Norwich
Norwich is a city in England. It is the regional administrative centre and county town of Norfolk. During the 11th century, Norwich was the largest city in England after London, and one of the most important places in the kingdom...
,
East Anglia
East Anglia
East Anglia is a traditional name for a region of eastern England, named after an ancient Anglo-Saxon kingdom, the Kingdom of the East Angles. The Angles took their name from their homeland Angeln, in northern Germany. East Anglia initially consisted of Norfolk and Suffolk, but upon the marriage of...
, England on 7 November 1765, the only child of William Taylor (died 1819), a wealthy Norwich
merchant
Merchant
A merchant is a businessperson who trades in commodities that were produced by others, in order to earn a profit.Merchants can be one of two types:# A wholesale merchant operates in the chain between producer and retail merchant...
with European trade connections, by his wife Sarah (died 1811), second daughter of John Wright of
Diss
Diss
Diss is a town in Norfolk, England close to the border with the neighbouring East Anglian county of Suffolk.The town lies in the valley of the River Waveney, around a mere that covers . The mere is up to deep, although there is another of mud, making it one of the deepest natural inland lakes...
, Norfolk. William Taylor was taught
Latin
Latin
Latin is an Italic language originally spoken in Latium and Ancient Rome. It, along with most European languages, is a descendant of the ancient Proto-Indo-European language. Although it is considered a dead language, a number of scholars and members of the Christian clergy speak it fluently, and...
,
French
French language
French is a Romance language spoken as a first language in France, the Romandy region in Switzerland, Wallonia and Brussels in Belgium, Monaco, the regions of Quebec and Acadia in Canada, and by various communities elsewhere. Second-language speakers of French are distributed throughout many parts...
and
Dutch
Dutch language
Dutch is a West Germanic language and the native language of the majority of the population of the Netherlands, Belgium, and Suriname, the three member states of the Dutch Language Union. Most speakers live in the European Union, where it is a first language for about 23 million and a second...
by
John Bruckner
John Bruckner
John Bruckner was a Dutch Lutheran minister and author, who settled in Norwich, England.-Life:He was born on 31 December 1726 at Kadzand, then a small island in Zeeland...
,
pastor
Pastor
The word pastor usually refers to an ordained leader of a Christian congregation. When used as an ecclesiastical styling or title, this role may be abbreviated to "Pr." or often "Ps"....
of the French and Dutch Protestant churches in Norwich, in preparation to continue his father's continental trading in textiles. In 1774 he was transferred to
Palgrave Academy
Palgrave Academy
Palgrave Academy was an early dissenting academy, that is, a school or college set up by English Dissenters. It was run from 1774-1785 in Palgrave, Suffolk by the married couple Anna Laetitia Barbauld and her husband Rochemont Barbauld, a minister...
,
Suffolk
Suffolk
Suffolk is a non-metropolitan county of historic origin in East Anglia, England. It has borders with Norfolk to the north, Cambridgeshire to the west and Essex to the south. The North Sea lies to the east...
, by Rochemont Barbauld, whose wife Anna Letitia Barbauld Taylor regarded as a strong influence. For three years his school companion was
Frank Sayers
Frank Sayers
Frank Sayers was an English poet and metaphysical writer.-Life:Born in London on 3 March 1763, being baptised at St Margaret Pattens on 3 April, he was son of Francis Sayers, an insurance broker, by his wife Anne, daughter of John Morris of Great Yarmouth. His father died within a year, and he...
, to be a lifelong friend.
In August 1779 his father took him from school. During the next three years he spent much of his time abroad. Firstly he visited the Netherlands, France, and Italy, learning languages and business methods. In 1781, he left home again, and spent a year in
Detmold
Detmold
Detmold is a city in North Rhine-Westphalia, Germany, with a population of about 74,000. It was the capital of the small Principality of Lippe from 1468 until 1918 and then of the Free State of Lippe until 1947...
, staying with an Alsatian Protestant pastor called Roederer, and absorbing German literature under the influence of Lorenz Benzler. Roederer gave him introductions to
August Ludwig von Schlözer
August Ludwig von Schlözer
August Ludwig von Schlözer was a German historian who laid foundations for the critical study of Russian history.-Early career:...
the historian at
Göttingen
Göttingen
Göttingen is a university town in Lower Saxony, Germany. It is the capital of the district of Göttingen. The Leine river runs through the town. In 2006 the population was 129,686.-General information:...
, and to Goethe at
Weimar
Weimar
Weimar is a city in Germany famous for its cultural heritage. It is located in the federal state of Thuringia , north of the Thüringer Wald, east of Erfurt, and southwest of Halle and Leipzig. Its current population is approximately 65,000. The oldest record of the city dates from the year 899...
. After further German travels he returned to Norwich on 17 November 1782.
Intellectual interests
William Taylor was a nonconformist who attended the
Unitarian
Unitarianism
Unitarianism is a Christian theological movement, named for its understanding of God as one person, in direct contrast to Trinitarianism which defines God as three persons coexisting consubstantially as one in being....
Octagon Chapel, Norwich
Octagon Chapel, Norwich
The Octagon Chapel is a Unitarian Chapel located in Colegate in Norwich, Norfolk, England. It is home to a growing liberal religious community, welcoming people of all religious faiths and none. The congregation is a member of the General Assembly of Unitarian and Free Christian Churches.The chapel...
. He became the leading member of Norwich
intelligentsia
Intelligentsia
The intelligentsia is a social class of people engaged in complex, mental and creative labor directed to the development and dissemination of culture, encompassing intellectuals and social groups close to them...
, and a political radical who applauded the
French Revolution
French Revolution
The French Revolution , sometimes distinguished as the 'Great French Revolution' , was a period of radical social and political upheaval in France and Europe. The absolute monarchy that had ruled France for centuries collapsed in three years...
. He argued for
universal suffrage
Universal suffrage
Universal suffrage consists of the extension of the right to vote to adult citizens as a whole, though it may also mean extending said right to minors and non-citizens...
and the end of all governmental intervention in the affairs of
religion
Religion
Religion is a collection of cultural systems, belief systems, and worldviews that establishes symbols that relate humanity to spirituality and, sometimes, to moral values. Many religions have narratives, symbols, traditions and sacred histories that are intended to give meaning to life or to...
. He maintained radical views and the 18th century tradition of liberal and latitudinarian criticism of Biblical
Scripture
Bible
The Bible refers to any one of the collections of the primary religious texts of Judaism and Christianity. There is no common version of the Bible, as the individual books , their contents and their order vary among denominations...
. In the period 1793 to 1799 he wrote over 200 reviews in periodicals, following his concept of 'philosophical criticism'.
He was nicknamed
godless Billy
for his radical views. A heavy drinker, his contemporary
Harriet Martineau
Harriet Martineau
Harriet Martineau was an English social theorist and Whig writer, often cited as the first female sociologist....
said of him:
his habits of intemperance kept him out of the sight of ladies, and he got round him a set of ignorant and conceited young men, who thought they could set the whole world right by their destructive propensities.
Later life
In May and June 1784 Taylor was in Scotland with Sayers, who had begun medical studies at
Edinburgh
Edinburgh
Edinburgh is the capital city of Scotland, the second largest city in Scotland, and the eighth most populous in the United Kingdom. The City of Edinburgh Council governs one of Scotland's 32 local government council areas. The council area includes urban Edinburgh and a rural area...
; there he met
James Mackintosh
James Mackintosh
Sir James Mackintosh was a Scottish jurist, politician and historian. His studies and sympathies embraced many interests. He was trained as a doctor and barrister, and worked also as a journalist, judge, administrator, professor, philosopher and politician.-Early life:Mackintosh was born at...
. A second journey to Edinburgh in 1788 followed
a breakdown in the health of Sayers. In 1790 he went over to France; on 13 May he reached Paris, and attended the debates in the National Assembly. He returned in June to Norwich, where a 'revolution society' was now dropped under fear of repressive measures; but before the end of 1790 two new clubs were formed in Norwich, of which Taylor became a member, the 'Tusculan' for political, and the 'Speculative,' founded by
William Enfield
William Enfield
William Enfield was a British Unitarian minister who published a bestselling book on elocution entitled The Speaker .-Life:...
for philosophical debate. Up to this point Taylor had been engaged (from 1783) in his father's business; now he persuaded his father to retire on his fortune. The firm was dissolved in 1791; his father employed part of his capital in underwriting, not very successfully. Taylor resisted his father's wish to put him into a London bank.
His friendship with
Robert Southey
Robert Southey
Robert Southey was an English poet of the Romantic school, one of the so-called "Lake Poets", and Poet Laureate for 30 years from 1813 to his death in 1843...
began early in 1798, when Southey, having placed his brother
Henry Herbert Southey
Henry Herbert Southey
-Life:The son of Robert Southey by his wife, Margaret Hill, and younger brother of Robert Southey, the poet, he was born at Bristol in 1783. After education at private schools in and near Great Yarmouth, his brother Robert proposed to establish him in his house in London in order that he might...
with
George Burnett
George Burnett (writer)
George Burnett was an English nonconformist minister, surgeon and tutor, known as a writer.-Life:He was the son of a farmer at Huntspill in Somerset, where he was born about 1776. After an introduction to classical literature by a clergyman in the neighbourhood, he was sent to Balliol College,...
at
Great Yarmouth
Great Yarmouth
Great Yarmouth, often known to locals as Yarmouth, is a coastal town in Norfolk, England. It is at the mouth of the River Yare, east of Norwich.It has been a seaside resort since 1760, and is the gateway from the Norfolk Broads to the sea...
, visited Norwich as Taylor's guest; Southey revisited him at Norwich in February 1802. Much of their correspondence to 1821 is given by John Warden Robberds in his
Memoir
of Taylor; it is frank on both sides. In 1799 Taylor embarked on another tour of Europe, visiting France, Italy and German, partly on business; Henry Southey joined him at Paris. He stayed with Lafayette at Lagrange, where he met Frances d'Arblay. In Paris he met
Thomas Holcroft
Thomas Holcroft
Thomas Holcroft was an English dramatist and miscellaneous writer.-Early life:He was born in Orange Court, Leicester Fields, London. His father had a shoemaker's shop, and kept riding horses for hire; but having fallen into difficulties was reduced to the status of hawking peddler...
,
Thomas Paine
Thomas Paine
Thomas "Tom" Paine was an English author, pamphleteer, radical, inventor, intellectual, revolutionary, and one of the Founding Fathers of the United States...
, and
Thomas Manning
Thomas Manning
Thomas Manning is considered the first lay Chinese studies scholar in Europe and was the first Englishman to enter Lhasa, the holy city of Tibet.-Life:...
.
From 1811 American and other business losses made money tight. Taylor applied in 1812, at Southey's suggestion, for the post of keeper of manuscripts in the
British Museum
British Museum
The British Museum is a museum of human history and culture in London. Its collections, which number more than seven million objects, are amongst the largest and most comprehensive in the world and originate from all continents, illustrating and documenting the story of human culture from its...
, on the resignation of
Francis Douce
Francis Douce
Francis Douce was an English antiquary.-Biography:Douce was born in London. His father was a clerk in Chancery. After completing his education he entered his father's office, but soon quit it to devote himself to the study of antiquities...
; but the vacancy was already filled.
A confirmed
bachelor
Bachelor
A bachelor is a man above the age of majority who has never been married . Unlike his female counterpart, the spinster, a bachelor may have had children...
, Taylor lived with his parents. He had a daily routine of studying in the morning, walking in the afternoon followed by bathing in the River Wensum. In the evening he liked to socialise, drink (heavily) and discuss
linguistics
Linguistics
Linguistics is the scientific study of human language. Linguistics can be broadly broken into three categories or subfields of study: language form, language meaning, and language in context....
,
literature
Literature
Literature is the art of written works, and is not bound to published sources...
and
philosophy
Philosophy
Philosophy is the study of general and fundamental problems, such as those connected with existence, knowledge, values, reason, mind, and language. Philosophy is distinguished from other ways of addressing such problems by its critical, generally systematic approach and its reliance on rational...
in society.
Works
Three early poetic translations from German brought him to notice. Georg Herzfeld wrongly assigned to him the political song, 'The Trumpet of Liberty,' first published in the
Norfolk Chronicle
on 16 July 1791, having been sung on 14 July at a dinner commemorating the fall of the Bastille;
Edward Taylor
Edward Taylor (music writer)
Edward Taylor was an English singer, writer on music, and Gresham Professor of Music from 1837.-Life:The son of John Taylor, he was born at Norwich on 22 January 1784. From 1808 to 1815 Edward Taylor was in business at the corner of Rampant Horse Street, Norwich...
claimed it for his father, John Taylor, of the unrelated Norwich family. William Taylor's name was made by his translation of
Gottfried August Bürger
Gottfried August Bürger
Gottfried August Bürger was a German poet. His ballads were very popular in Germany. His most noted ballad, Lenore, found an audience beyond readers of the German language in an English adaptation and a French translation.-Biography:He was born in Molmerswende , Principality of Halberstadt, where...
's
Lenore
Lenore (ballad)
Lenore, sometimes translated as Leonora, Leonore or Ellenore, is a poem written by German author Gottfried August Bürger in 1773, and published in 1774 in the Göttinger Musenalmanach...
into English ballad metre. This was written in 1790, and bore the title
Lenora
; sent it to his friend Benzler from Detmold (then in
Wernigerode
Wernigerode
Wernigerode is a town in the district of Harz, Saxony-Anhalt, Germany. Until 2007, it was the capital of the district of Wernigerode. Its population was 35,500 in 1999....
); a previous version had been made in 1782 by
Henry James Pye
Henry James Pye
Henry James Pye was an English poet. Pye was Poet Laureate from 1790 until his death. He was the first poet laureate to receive a fixed salary of £27 instead of the historic tierce of Canary wine Henry James Pye (20 February 1745 – 11 August 1813) was an English poet. Pye was Poet Laureate...
, but was not published till 1795, and was unknown to Taylor. The translation, circulated in manuscript, was made the foundation of a ballad (1791) by
John Aikin
John Aikin
John Aikin was an English doctor and writer.-Life:He was born at Kibworth Harcourt, Leicestershire, England, son of Dr. John Aikin, Unitarian divine, and received his elementary education at the Nonconformist academy at Warrington, where his father was a tutor. He studied medicine at the...
, and was read by Anna Barbauld in 1794 at a literary gathering in the house of
Dugald Stewart
Dugald Stewart
Dugald Stewart was a Scottish Enlightenment philosopher and mathematician. His father, Matthew Stewart , was professor of mathematics in the University of Edinburgh .-Life and works:...
in Edinburgh. Stewart's brother-in-law,
George Cranstoun
George Cranstoun
George Cranstoun, Lord Corehouse was a Scottish advocate, judge and satirist.-Life:He was the second son of the Hon. George Cranstoun of Longwarton, seventh son William Cranstoun, 5th Lord Cranstoun, and Maria, daughter of Thomas Brisbane of Brisbane, Ayrshire...
(Lord Corehouse) gave his recollection of it to
Walter Scott
Walter Scott
Sir Walter Scott, 1st Baronet was a Scottish historical novelist, playwright, and poet, popular throughout much of the world during his time....
, who produced his own version (1796) of the poem, entitled
William and Helen
. The announcement of the almost simultaneous publication of Scott's version and three others had led Taylor to publish his in the
Monthly Magazine
in March 1796; he then published it separately as
Ellenore
, revised with some input from the version by
William Robert Spencer
William Robert Spencer
William Robert Spencer , English poet and wit, was the younger son of Lord Charles Spencer and his wife Mary Beauclerk. He was the grandson of Charles Spencer, 3rd Duke of Marlborough on his father's side and Vere Beauclerk, 1st Baron Vere on his mother's...
.
To 1790 belong also his translations of
Gotthold Ephraim Lessing
Gotthold Ephraim Lessing
Gotthold Ephraim Lessing was a German writer, philosopher, dramatist, publicist, and art critic, and one of the most outstanding representatives of the Enlightenment era. His plays and theoretical writings substantially influenced the development of German literature...
's
Nathan the Wise
and Goethe's
Iphigenia in Tauris
. The former was first published in 1805. The
Iphigenia
was submitted to Benzler before September 1790, but was not printed till 1793 (for private distribution); and published 1794. In 1795 Taylor sent a copy to Goethe, through Benzler. A volume of
Christoph Martin Wieland
Christoph Martin Wieland
Christoph Martin Wieland was a German poet and writer.- Biography :He was born at Oberholzheim , which then belonged to the Free Imperial City of Biberach an der Riss in the south-east of the modern-day state of Baden-Württemberg...
's 'Dialogues of the Gods,' 1795, contained four dialogues; five more dialogues were included in his 'Historic Survey' (1828–30).
Taylor's career as a prolific literary critic began in April 1793 with an article in the
Monthly Review
Monthly Review (London)
The Monthly Review was an English periodical founded by Ralph Griffiths, a Nonconformist bookseller. The first periodical in England to offer reviews, it featured the novelist and poet Oliver Goldsmith as an early contributor. William Kenrick, the "superlative scoundrel", was editor from 1759 to...
on his friend Frank Sayers's
Disquisitions
. To this review (with a break, 1800–1809) he contributed till 1824; to the
Monthly Magazine
from its start till 1824; to the
Annual Review
from 1802 to 1807; to the
Critical Review
The Critical Review
The Critical Review was first edited by Tobias Smollett from 1756 to 1763, and was contributed to by Samuel Johnson, David Hume, John Hunter, and Oliver Goldsmith, until 1817....
, 1803–4 and 1809; to the
Athenæum
, 1807–8, making a total of 1754 articles. He wrote also for the
Cambridge Intelligencer
, conducted by
Benjamin Flower
Benjamin Flower
Benjamin Flower was an English radical journalist and political writer, a vocal opponent of his country's involvement in the early stages of the Napoleonic Wars.-Life:...
, from 20 July 1793 to 18 June 1803, and was concerned in two short-lived Norwich magazines, the
Cabinet
(October 1794–5), issued in conjunction with Sayers, and the
Iris
(5 February 1803–29 January 1804), to which Robert Southey was a contributor. To the
Foreign Quarterly
(1827) he contributed one article. His friends teased him on the peculiarities of his diction, which
James Mackintosh
James Mackintosh
Sir James Mackintosh was a Scottish jurist, politician and historian. His studies and sympathies embraced many interests. He was trained as a doctor and barrister, and worked also as a journalist, judge, administrator, professor, philosopher and politician.-Early life:Mackintosh was born at...
styled the Taylorian language: he coined words such as 'transversion,' 'body-spirit,' and 'Sternholdianism. Some of his terms, ruled out by the editor of the
Monthly Review
as 'not English,' have since become accepted—for instance, 'rehabilitated.' He forecast steam navigation (1804); advised the formation of colonies in Africa (1805); and projected the
Panama Canal
Panama Canal
The Panama Canal is a ship canal in Panama that joins the Atlantic Ocean and the Pacific Ocean and is a key conduit for international maritime trade. Built from 1904 to 1914, the canal has seen annual traffic rise from about 1,000 ships early on to 14,702 vessels measuring a total of 309.6...
(1824).
Taylor suggested to Southey the publication of an annual collection of verse, on the plan of the
Almanach des Muses
, and contributed to both volumes of this
Annual Anthology
(1799–1800), using the signatures 'Ryalto' (an anagram) and 'R. O.' To the second volume he contributed specimens of English hexameters, which he had first attempted in the
Monthly Magazine
, 1796. As editor of
A Voyage to the Demerary
(1807) by Henry Bolingbroke, he expressed himself in favour of a regulated slave trade.
His family financial affairs were not prospering, and he wrote more for money. His 'Tales of Yore,' 1810, 3 vols. (anon.), was a collection of prose translations from French and German, begun in 1807. On the basis of his magazine articles he issued his 'English Synonyms Described,' 1813, a work from which his old schoolfellow
George Crabb
George Crabb (writer)
-Life:He was born 8 December 1778 at Palgrave, Suffolk. He was educated at a school at Diss and under a private tutor. He began as a medical student, but became assistant to a bookseller...
borrowed much (1824) without specific acknowledgment; it was reissued in 1850 and subsequently; a German translation appeared in 1851. In 1823 he edited the works of his friend Sayers, prefixing an elaborate biography.
His major work, the 'Historic Survey of German Poetry,' 1828–30, 3 vols., was behind the times. It is a patchwork of previous articles and translations, with digressions. His last publication was a 'Memoir,' 1831, of Philip Meadows Martineau, a Norwich surgeon, written in conjunction with F. Elwes.
Influence
William Taylor was England's first advocate of and enthusiast for German Romantic literature, and leader in its assimilation until the return of Coleridge from Germany in 1799. English writers were indebted to his enthusiastic if free translations. In 1828 the author
Thomas Carlyle
Thomas Carlyle
Thomas Carlyle was a Scottish satirical writer, essayist, historian and teacher during the Victorian era.He called economics "the dismal science", wrote articles for the Edinburgh Encyclopedia, and became a controversial social commentator.Coming from a strict Calvinist family, Carlyle was...
reminded Goethe that:
A Mr.Taylor of Norwich who is at present publishing 'Specimens of German Poetry', is a man of learning and long ago gave a version of your Iphigenie auf Tauris

Iphigenie auf Tauris

Iphigenia in Tauris is a reworking by Johann Wolfgang von Goethe of the ancient Greek tragedy Ἰφιγένεια ἐν Ταύροις, Iphigeneia en Taurois, by Euripides. Goethe's chosen Latinized title for his work, however, is a false analogy to the title of Euripides's tragedy, which really means "Iphigenia...


(Iphigenia in Tauris)
Taylor is depicted as a
mentor
Mentorship
Mentorship refers to a personal developmental relationship in which a more experienced or more knowledgeable person helps a less experienced or less knowledgeable person....
in
George Borrow
George Borrow
George Henry Borrow was an English author who wrote novels and travelogues based on his own experiences around Europe. Over the course of his wanderings, he developed a close affinity with the Romani people of Europe. They figure prominently in his work...
's semi-autobiographical novel
Lavengro
Lavengro
Lavengro: The Scholar, the Gypsy, the Priest is a work by George Borrow, falling somewhere between the genres of memoir and novel, which has long been considered a classic of 19th century English literature. According to the author lav-engro is a Romany word meaning "word master". The historian...
. Borrow described his philological teacher as:
the Anglo-German... a real character, the founder of the Anglo-German school in England, and the cleverest Englishman who ever talked or wrote encomiastic nonsense about Germany and the Germans. (Romany Rye)
External links
Attribution