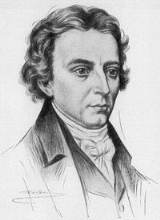 Robert Southey
Robert Southey
was an English poet of the
Romantic
Romantic poetry
Romanticism, a philosophical, literary, artistic and cultural era which began in the mid/late-1700s as a reaction against the prevailing Enlightenment ideals of the day , also influenced poetry...
school, one of the so-called "
Lake Poets
Lake Poets
The Lake Poets are a group of English poets who all lived in the Lake District of England at the turn of the nineteenth century. As a group, they followed no single "school" of thought or literary practice then known, although their works were uniformly disparaged by the Edinburgh Review...
", and
Poet Laureate
Poet Laureate
A poet laureate is a poet officially appointed by a government and is often expected to compose poems for state occasions and other government events...
for 30 years from 1813 to his death in 1843. Although his fame has been long eclipsed by that of his contemporaries and friends
William Wordsworth
William Wordsworth
William Wordsworth was a major English Romantic poet who, with Samuel Taylor Coleridge, helped to launch the Romantic Age in English literature with the 1798 joint publication Lyrical Ballads....
and
Samuel Taylor Coleridge
Samuel Taylor Coleridge
Samuel Taylor Coleridge was an English poet, Romantic, literary critic and philosopher who, with his friend William Wordsworth, was a founder of the Romantic Movement in England and a member of the Lake Poets. He is probably best known for his poems The Rime of the Ancient Mariner and Kubla...
, Southey's verse still enjoys some popularity.
Moreover, Southey was a prolific letter writer, literary scholar, essay writer, historian and biographer.
"In my days of youth, I remembered my God,And he hath not forgotten my age."

The Old Man's Comforts and How He Gained Them, st. 6
Till the vessel strikes with a shivering shock,"Oh Christ! It is the Inchcape Rock!"

The Inchcape Rock, st. 15
What will not woman, gentle woman dare,When strong affection stirs her spirit up?

Madoc in Wales, Part II, 2 (1805)
And last of all an Admiral came,A terrible man with a terrible name,—A name which you all know by sight very well,But which no one can speak, and no one can spell.

March to Moscow, St. 8 (1814)
Where Washington hath leftHis awful memoryA light for after times!

Ode written during the War with America (1814)
The laws are with us, and God on our side.

On the Rise and Progress of Popular Disaffection, Essay viii, Vol. ii (1817)