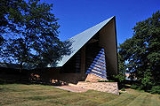 Unitarianism
Unitarianism
is a
Christian
Christianity
Christianity is a monotheistic religion based on the life and teachings of Jesus as presented in canonical gospels and other New Testament writings...
theological
Christian theology
- Divisions of Christian theology :There are many methods of categorizing different approaches to Christian theology. For a historical analysis, see the main article on the History of Christian theology.- Sub-disciplines :...
movement
Sociological classifications of religious movements
Sociologists have proposed various classifications of religious movements. The most widely used classification in the sociology of religion is the church-sect typology. The typology states that churches, ecclesia, denominations and sects form a continuum with decreasing influence on society...
, named for its understanding of
God
God in Christianity
In Christianity, God is the eternal being that created and preserves the universe. God is believed by most Christians to be immanent , while others believe the plan of redemption show he will be immanent later...
as one person, in direct contrast to
Trinitarianism
Trinity
The Christian doctrine of the Trinity defines God as three divine persons : the Father, the Son , and the Holy Spirit. The three persons are distinct yet coexist in unity, and are co-equal, co-eternal and consubstantial . Put another way, the three persons of the Trinity are of one being...
which defines God as three persons coexisting
consubstantially
Consubstantiality
Consubstantial is an adjective used in Latin Christian christology, coined by Tertullian in Against Hermogenes 44, used to translate the Greek term homoousios...
as
one in being
Homoousian
Homoousian is a technical theological term used in discussion of the Christian understanding of God as Trinity. The Nicene Creed describes Jesus as being homooúsios with God the Father — that is, they are of the "same substance" and are equally God...
.
For most of its history, Unitarianism has been known for the rejection of several
orthodox
Orthodoxy
The word orthodox, from Greek orthos + doxa , is generally used to mean the adherence to accepted norms, more specifically to creeds, especially in religion...
Protestant doctrines besides the Trinity, including the
soteriological
Soteriology
The branch of Christian theology that deals with salvation and redemption is called Soteriology. It is derived from the Greek sōtērion + English -logy....
doctrines of
original sin
Original sin
Original sin is, according to a Christian theological doctrine, humanity's state of sin resulting from the Fall of Man. This condition has been characterized in many ways, ranging from something as insignificant as a slight deficiency, or a tendency toward sin yet without collective guilt, referred...
and predestination, and, in more recent times,
biblical inerrancy
Biblical inerrancy
Biblical inerrancy is the doctrinal position that the Bible is accurate and totally free of error, that "Scripture in the original manuscripts does not affirm anything that is contrary to fact." Some equate inerrancy with infallibility; others do not.Conservative Christians generally believe that...
.