 Turbine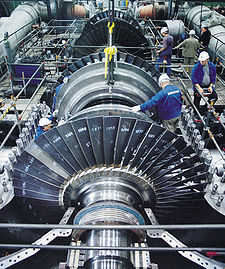 A
turbine
is a rotary
engine
Engine
An engine or motor is a machine designed to convert energy into useful mechanical motion. Heat engines, including internal combustion engines and external combustion engines burn a fuel to create heat which is then used to create motion...
that extracts
energy
Energy
In physics, energy is an indirectly observed quantity. It is often understood as the ability a physical system has to do work on other physical systems...
from a
fluid
Fluid
In physics, a fluid is a substance that continually deforms under an applied shear stress. Fluids are a subset of the phases of matter and include liquids, gases, plasmas and, to some extent, plastic solids....
flow and converts it into useful work.
The simplest turbines have one moving part, a rotor assembly, which is a shaft or drum with blades attached. Moving fluid acts on the blades, or the blades react to the flow, so that they move and impart rotational energy to the rotor. Early turbine examples are
windmill
Windmill
A windmill is a machine which converts the energy of wind into rotational energy by means of vanes called sails or blades. Originally windmills were developed for milling grain for food production. In the course of history the windmill was adapted to many other industrial uses. An important...
s and
water wheel
Water wheel
A water wheel is a machine for converting the energy of free-flowing or falling water into useful forms of power. A water wheel consists of a large wooden or metal wheel, with a number of blades or buckets arranged on the outside rim forming the driving surface...
s.
Gas
Gas turbine
A gas turbine, also called a combustion turbine, is a type of internal combustion engine. It has an upstream rotating compressor coupled to a downstream turbine, and a combustion chamber in-between....
,
steam
Steam turbine
A steam turbine is a mechanical device that extracts thermal energy from pressurized steam, and converts it into rotary motion. Its modern manifestation was invented by Sir Charles Parsons in 1884....
, and
water
Water turbine
A water turbine is a rotary engine that takes energy from moving water.Water turbines were developed in the 19th century and were widely used for industrial power prior to electrical grids. Now they are mostly used for electric power generation. They harness a clean and renewable energy...
turbines usually have a casing around the blades that contains and controls the working fluid. Credit for invention of the steam turbine is given both to the British engineer
Sir Charles Parsons
Charles Algernon Parsons
Sir Charles Algernon Parsons OM KCB FRS was an Anglo-Irish engineer, best known for his invention of the steam turbine. He worked as an engineer on dynamo and turbine design, and power generation, with great influence on the naval and electrical engineering fields...
(1854–1931), for invention of the reaction turbine and to Swedish engineer
Gustaf de Laval
Gustaf de Laval
Karl Gustaf Patrik de Laval was a Swedish engineer and inventor who made important contributions to the design of steam turbines and dairy machinery.-Life:De Laval was born at Orsa in Dalarna...
(1845–1913), for invention of the impulse turbine. Modern steam turbines frequently employ both reaction and impulse in the same unit, typically varying the degree of reaction and impulse from the blade root to its periphery.
A device similar to a turbine but operating in reverse, i.e., driven, is a
compressor
Gas compressor
A gas compressor is a mechanical device that increases the pressure of a gas by reducing its volume.Compressors are similar to pumps: both increase the pressure on a fluid and both can transport the fluid through a pipe. As gases are compressible, the compressor also reduces the volume of a gas...
or
pump
Pump
A pump is a device used to move fluids, such as liquids, gases or slurries.A pump displaces a volume by physical or mechanical action. Pumps fall into three major groups: direct lift, displacement, and gravity pumps...
. The
axial compressor
Axial compressor
Axial compressors are rotating, airfoil-based compressors in which the working fluid principally flows parallel to the axis of rotation. This is in contrast with other rotating compressors such as centrifugal, axi-centrifugal and mixed-flow compressors where the air may enter axially but will have...
in many
gas turbine
Gas turbine
A gas turbine, also called a combustion turbine, is a type of internal combustion engine. It has an upstream rotating compressor coupled to a downstream turbine, and a combustion chamber in-between....
engines is a common example. Here again, both reaction and impulse are employed and again, in modern axial compressors, the degree of reaction and impulse typically vary from the blade root to its periphery.
Claude Burdin
Claude Burdin
Claude Burdin was a French engineer.Born in Lépin-le-Lac, Savoie he was professor at the school of mines in Saint-Étienne.He proposed the concept and developed the term turbine from Latin turbo for whirlpool....
coined the term from the
Latin
Latin
Latin is an Italic language originally spoken in Latium and Ancient Rome. It, along with most European languages, is a descendant of the ancient Proto-Indo-European language. Although it is considered a dead language, a number of scholars and members of the Christian clergy speak it fluently, and...
turbo
, or
vortex
Vortex
A vortex is a spinning, often turbulent,flow of fluid. Any spiral motion with closed streamlines is vortex flow. The motion of the fluid swirling rapidly around a center is called a vortex...
, during an 1828 engineering competition.
Benoit Fourneyron
Benoît Fourneyron
Benoît Fourneyron was a French engineer, born in Saint-Étienne, Loire. Fourneyron made significant contributions to the development of water turbines....
, a student of Claude Burdin, built the first practical water turbine.
Theory of operation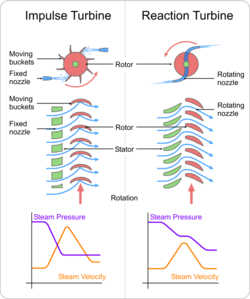 A working fluid contains
potential energy
Potential energy
In physics, potential energy is the energy stored in a body or in a system due to its position in a force field or due to its configuration. The SI unit of measure for energy and work is the Joule...
(pressure head) and
kinetic energy
Kinetic energy
The kinetic energy of an object is the energy which it possesses due to its motion.It is defined as the work needed to accelerate a body of a given mass from rest to its stated velocity. Having gained this energy during its acceleration, the body maintains this kinetic energy unless its speed changes...
(velocity head). The fluid may be
compressible
or incompressible. Several physical principles are employed by turbines to collect this energy:
Impulse turbines change the direction of flow of a high velocity fluid or gas jet. The resulting impulse spins the turbine and leaves the fluid flow with diminished kinetic energy. There is no pressure change of the fluid or gas in the turbine blades (the moving blades), as in the case of a steam or gas turbine, all the pressure drop takes place in the stationary blades (the nozzles). Before reaching the turbine, the fluid's
pressure head
is changed to
velocity head
by accelerating the fluid with a
nozzle
Nozzle
A nozzle is a device designed to control the direction or characteristics of a fluid flow as it exits an enclosed chamber or pipe via an orifice....
.
Pelton wheel
Pelton wheel
The Pelton wheel is an impulse turbine which is among the most efficient types of water turbines. It was invented by Lester Allan Pelton in the 1870s. The Pelton wheel extracts energy from the impulse of moving water, as opposed to its weight like traditional overshot water wheel...
s and
de Laval turbine
Steam turbine
A steam turbine is a mechanical device that extracts thermal energy from pressurized steam, and converts it into rotary motion. Its modern manifestation was invented by Sir Charles Parsons in 1884....
s use this process exclusively. Impulse turbines do not require a pressure casement around the rotor since the fluid jet is created by the nozzle prior to reaching the blading on the rotor. Newton's second law describes the transfer of energy for impulse turbines.
Reaction
Reaction (physics)
The third of Newton's laws of motion of classical mechanics states that forces always occur in pairs. Every action is accompanied by a reaction of equal magnitude but opposite direction. This principle is commonly known in the Latin language as actio et reactio. The attribution of which of the two...
turbines develop
torque
Torque
Torque, moment or moment of force , is the tendency of a force to rotate an object about an axis, fulcrum, or pivot. Just as a force is a push or a pull, a torque can be thought of as a twist....
by reacting to the gas or fluid's pressure or mass. The pressure of the gas or fluid changes as it passes through the turbine rotor blades. A pressure casement is needed to contain the working fluid as it acts on the turbine stage(s) or the turbine must be fully immersed in the fluid flow (such as with wind turbines). The casing contains and directs the working fluid and, for water turbines, maintains the suction imparted by the draft tube.
Francis turbine
Francis turbine
The Francis turbine is a type of water turbine that was developed by James B. Francis in Lowell, Massachusetts. It is an inward-flow reaction turbine that combines radial and axial flow concepts....
s and most
steam turbine
Steam turbine
A steam turbine is a mechanical device that extracts thermal energy from pressurized steam, and converts it into rotary motion. Its modern manifestation was invented by Sir Charles Parsons in 1884....
s use this concept. For compressible working fluids, multiple turbine stages are usually used to harness the expanding gas efficiently. Newton's third law describes the transfer of energy for reaction turbines.
In the case of steam turbines, such as would be used for marine applications or for land-based electricity generation, a Parsons type reaction turbine would require approximately double the number of blade rows as a de Laval type impulse turbine, for the same degree of thermal energy conversion. Whilst this makes the Parsons turbine much longer and heavier, the overall efficiency of a reaction turbine is slightly higher than the equivalent impulse turbine for the same thermal energy conversion.
In practice, modern turbine designs use both reaction and impulse concepts to varying degrees whenever possible.
Wind turbine
Wind turbine
A wind turbine is a device that converts kinetic energy from the wind into mechanical energy. If the mechanical energy is used to produce electricity, the device may be called a wind generator or wind charger. If the mechanical energy is used to drive machinery, such as for grinding grain or...
s use an
airfoil
Airfoil
An airfoil or aerofoil is the shape of a wing or blade or sail as seen in cross-section....
to generate a reaction
lift
Lift (force)
A fluid flowing past the surface of a body exerts a surface force on it. Lift is the component of this force that is perpendicular to the oncoming flow direction. It contrasts with the drag force, which is the component of the surface force parallel to the flow direction...
from the moving fluid and impart it to the rotor. Wind turbines also gain some energy from the impulse of the wind, by deflecting it at an angle.
Crossflow turbine
Banki turbine
A cross-flow turbine, Banki-Michell turbine, or Ossberger turbine is a water turbine developed by the Australian Anthony Michell, the Hungarian Donát Bánki and the German Fritz Ossberger. Michell obtained patents for his turbine design in 1903, and the manufacturing company Weymouth made it for...
s are designed as an impulse machine, with a nozzle, but in low head applications maintain some efficiency through reaction, like a traditional water wheel. Turbines with multiple stages may utilize either reaction or impulse blading at high pressure. Steam turbines were traditionally more impulse but continue to move towards reaction designs similar to those used in gas turbines. At low pressure the operating fluid medium expands in volume for small reductions in pressure. Under these conditions, blading becomes strictly a reaction type design with the base of the blade solely impulse. The reason is due to the effect of the rotation speed for each blade. As the volume increases, the blade height increases, and the base of the blade spins at a slower speed relative to the tip. This change in speed forces a designer to change from impulse at the base, to a high reaction style tip.
Classical turbine design methods were developed in the mid 19th century. Vector analysis related the fluid flow with turbine shape and rotation. Graphical calculation methods were used at first. Formulae for the basic dimensions of turbine parts are well documented and a highly efficient machine can be reliably designed for any fluid
flow condition
Flow conditioning
Flow conditioning ensures that the "real world" environment closely resembles the "laboratory" environment for proper performance of inferential flowmeters like orifice, turbine, coriolis, ultrasonic etc.- Types of Flow :...
. Some of the calculations are empirical or 'rule of thumb' formulae, and others are based on
classical mechanics
Classical mechanics
In physics, classical mechanics is one of the two major sub-fields of mechanics, which is concerned with the set of physical laws describing the motion of bodies under the action of a system of forces...
. As with most engineering calculations, simplifying assumptions were made.
Velocity triangles can be used to calculate the basic performance of a turbine stage. Gas exits the stationary turbine nozzle guide vanes at absolute velocity
V
a1
. The rotor rotates at velocity
U
. Relative to the rotor, the velocity of the gas as it impinges on the rotor entrance is
V
r1
. The gas is turned by the rotor and exits, relative to the rotor, at velocity
V
r2
. However, in absolute terms the rotor exit velocity is
V
a2
. The velocity triangles are constructed using these various velocity vectors. Velocity triangles can be constructed at any section through the blading (for example: hub , tip, midsection and so on) but are usually shown at the mean stage radius. Mean performance for the stage can be calculated from the velocity triangles, at this radius, using the Euler equation:

Hence:

where:

specific enthalpy drop across stage

turbine entry total (or stagnation) temperature
turbine rotor peripheral velocity

change in whirl velocity
The turbine pressure ratio is a function of

and the turbine efficiency.
Modern turbine design carries the calculations further.
Computational fluid dynamics
Computational fluid dynamics
Computational fluid dynamics, usually abbreviated as CFD, is a branch of fluid mechanics that uses numerical methods and algorithms to solve and analyze problems that involve fluid flows. Computers are used to perform the calculations required to simulate the interaction of liquids and gases with...
dispenses with many of the simplifying assumptions used to derive classical formulas and computer software facilitates optimization. These tools have led to steady improvements in turbine design over the last forty years.
The primary numerical classification of a turbine is its
specific speed
. This number describes the speed of the turbine at its maximum efficiency with respect to the power and flow rate. The specific speed is derived to be independent of turbine size. Given the fluid flow conditions and the desired shaft output speed, the specific speed can be calculated and an appropriate turbine design selected.
The specific speed, along with some fundamental formulas can be used to reliably scale an existing design of known performance to a new size with corresponding performance.
Off-design performance is normally displayed as a
turbine map
Turbine map
Each turbine in a gas turbine engine has an operating map. Complete maps are either based on turbine rig test results or are predicted by a special computer program. Alternatively, the map of a similar turbine can be suitably scaled.-Description:...
or characteristic.
Types of turbines
Steam turbine

Steam turbine

A steam turbine is a mechanical device that extracts thermal energy from pressurized steam, and converts it into rotary motion. Its modern manifestation was invented by Sir Charles Parsons in 1884....


s are used for the generation of electricity in thermal power plants, such as plants using coal

Coal

Coal is a combustible black or brownish-black sedimentary rock usually occurring in rock strata in layers or veins called coal beds or coal seams. The harder forms, such as anthracite coal, can be regarded as metamorphic rock because of later exposure to elevated temperature and pressure...


, fuel oil

Fuel oil

Fuel oil is a fraction obtained from petroleum distillation, either as a distillate or a residue. Broadly speaking, fuel oil is any liquid petroleum product that is burned in a furnace or boiler for the generation of heat or used in an engine for the generation of power, except oils having a flash...


or nuclear power

Nuclear power

Nuclear power is the use of sustained nuclear fission to generate heat and electricity. Nuclear power plants provide about 6% of the world's energy and 13–14% of the world's electricity, with the U.S., France, and Japan together accounting for about 50% of nuclear generated electricity...


. They were once used to directly drive mechanical devices such as ships' propeller

Propeller

A propeller is a type of fan that transmits power by converting rotational motion into thrust. A pressure difference is produced between the forward and rear surfaces of the airfoil-shaped blade, and a fluid is accelerated behind the blade. Propeller dynamics can be modeled by both Bernoulli's...


s (for example the Turbinia

Turbinia

Turbinia was the first steam turbine-powered steamship. Built as an experimental vessel in 1894, and easily the fastest ship in the world at that time, Turbinia was demonstrated dramatically at the Spithead Navy Review in 1897 and set the standard for the next generation of steamships, the...


, the first turbine-powered steam launch) but most such applications now use reduction gears or an intermediate electrical step, where the turbine is used to generate electricity, which then powers an electric motor

Electric motor

An electric motor converts electrical energy into mechanical energy.Most electric motors operate through the interaction of magnetic fields and current-carrying conductors to generate force...


connected to the mechanical load. Turbo electric ship machinery was particularly popular in the period immediately before and during World War II

World War II

World War II, or the Second World War , was a global conflict lasting from 1939 to 1945, involving most of the world's nations—including all of the great powers—eventually forming two opposing military alliances: the Allies and the Axis...


, primarily due to a lack of sufficient gear-cutting facilities in US and UK shipyards.
Gas turbine

Gas turbine

A gas turbine, also called a combustion turbine, is a type of internal combustion engine. It has an upstream rotating compressor coupled to a downstream turbine, and a combustion chamber in-between....


s are sometimes referred to as turbine engines. Such engines usually feature an inlet, fan, compressor, combustor and nozzle (possibly other assemblies) in addition to one or more turbines.
Transonic

Transonic

Transonic speed is an aeronautics term referring to the condition of flight in which a range of velocities of airflow exist surrounding and flowing past an air vehicle or an airfoil that are concurrently below, at, and above the speed of sound in the range of Mach 0.8 to 1.2, i.e. 600–900 mph...


turbine. The gasflow in most turbines employed in gas turbine engines remains subsonic throughout the expansion process. In a transonic turbine the gasflow becomes supersonic as it exits the nozzle guide vanes, although the downstream velocities normally become subsonic. Transonic turbines operate at a higher pressure ratio than normal but are usually less efficient and uncommon.
Contra-rotating

Contra-rotating

Contra-rotating, also referred to as coaxial contra-rotating, is a technique whereby parts of a mechanism rotate in opposite directions about a common axis, usually to minimise the effect of torque. Examples include some aircraft propellers, resulting in the maximum power of a single piston or...


turbines. With axial turbines, some efficiency advantage can be obtained if a downstream turbine rotates in the opposite direction to an upstream unit. However, the complication can be counter-productive. A contra-rotating steam turbine, usually known as the Ljungström turbine, was originally invented by Swedish Engineer Fredrik Ljungström

Fredrik Ljungström

Fredrik Ljungström was a Swedish engineer, technical designer and an industrialist...


(1875–1964), in Stockholm and in partnership with his brother Birger Ljungström he obtained a patent in 1894. The design is essentially a multi-stage radial turbine (or pair of 'nested' turbine rotors) offering great efficiency, four times as large heat drop per stage as in the reaction (Parsons) turbine, extremely compact design and the type met particular success in backpressure power plants. However, contrary to other designs, large steam volumes are handled with difficulty and only a combination with axial flow turbines (DUREX) admits the turbine to be built for power greater than ca 50 MW. In marine applications only about 50 turbo-electric units were ordered (of which a considerable amount were finally sold to land plants) during 1917-19, and during 1920-22 a few turbo-mechanic not very successful units were sold. Only a few turbo-electric marine plants were still in use in the late 1960s (ss Ragne, ss Regin) while most land plants remain in use 2010.
Stator

Stator

The stator is the stationary part of a rotor system, found in an electric generator, electric motor and biological rotors.Depending on the configuration of a spinning electromotive device the stator may act as the field magnet, interacting with the armature to create motion, or it may act as the...


less turbine. Multi-stage turbines have a set of static (meaning stationary) inlet guide vanes that direct the gasflow onto the rotating rotor blades. In a statorless turbine the gasflow exiting an upstream rotor impinges onto a downstream rotor without an intermediate set of stator vanes (that rearrange the pressure/velocity energy levels of the flow) being encountered.
Ceramic

Ceramic

A ceramic is an inorganic, nonmetallic solid prepared by the action of heat and subsequent cooling. Ceramic materials may have a crystalline or partly crystalline structure, or may be amorphous...


turbine. Conventional high-pressure turbine blades (and vanes) are made from nickel based alloys and often utilise intricate internal air-cooling passages to prevent the metal from overheating. In recent years, experimental ceramic blades have been manufactured and tested in gas turbines, with a view to increasing Rotor Inlet Temperatures and/or, possibly, eliminating aircooling. Ceramic blades are more brittle than their metallic counterparts, and carry a greater risk of catastrophic blade failure. This has tended to limit their use in jet engines and gas turbines, to the stator (stationary) blades.
Shrouded

Ducted fan

A ducted fan is a propulsion arrangement whereby a fan, which is a type of propeller, is mounted within a cylindrical shroud or duct. The duct reduces losses in thrust from the tip vortices of the fan, and varying the cross-section of the duct allows the designer to advantageously affect the...


turbine. Many turbine rotor blades have shrouding at the top, which interlocks with that of adjacent blades, to increase damping and thereby reduce blade flutter. In large land-based electricity generation steam turbines, the shrouding is often complemented, especially in the long blades of a low-pressure turbine, with lacing wires. These wires pass through holes drilled in the blades at suitable distances from the blade root and are usually brazed to the blades at the point where they pass through. Lacing wires reduce blade flutter in the central part of the blades. The introduction of lacing wires substantially reduces the instances of blade failure in large or low-pressure turbines.
Other
Velocity compound "Curtis". Curtis combined the de Laval and Parsons turbine by using a set of fixed nozzles on the first stage or stator and then a rank of fixed and rotating blade rows, as in the Parsons or de Laval, typically up to ten compared with up to a hundred stages of a Parsons design. The overall efficiency of a Curtis design is less than that of either the Parsons or de Laval designs, but it can be satisfactorily operated through a much wider range of speeds, including successful operation at low speeds and at lower pressures, which made it ideal for use in ships' powerplant. In a Curtis arrangement, the entire heat drop in the steam takes place in the initial nozzle row and both the subsequent moving blade rows and stationary blade rows merely change the direction of the steam. Use of a small section of a Curtis arrangement, typically one nozzle section and two or three rows of moving blades, is usually termed a Curtis 'Wheel' and in this form, the Curtis found widespread use at sea as a 'governing stage' on many reaction and impulse turbines and turbine sets. This practice is still commonplace today in marine steam plant.
Pressure compound multistage impulse, or "Rateau". The Rateau employs simple impulse rotors separated by a nozzle diaphragm. The diaphragm is essentially a partition wall in the turbine with a series of tunnels cut into it, funnel shaped with the broad end facing the previous stage and the narrow the next they are also angled to direct the steam jets onto the impulse rotor.
Uses of turbines
Almost all electrical power on Earth is produced with a turbine of some type. Very high efficiency steam turbines harness about 40% of the thermal energy, with the rest exhausted as waste heat.
Most
jet engine
Jet engine
A jet engine is a reaction engine that discharges a fast moving jet to generate thrust by jet propulsion and in accordance with Newton's laws of motion. This broad definition of jet engines includes turbojets, turbofans, rockets, ramjets, pulse jets...
s rely on turbines to supply mechanical work from their working fluid and fuel as do all nuclear ships and power plants.
Turbines are often part of a larger machine. A
gas turbine
Gas turbine
A gas turbine, also called a combustion turbine, is a type of internal combustion engine. It has an upstream rotating compressor coupled to a downstream turbine, and a combustion chamber in-between....
, for example, may refer to an internal combustion machine that contains a turbine, ducts, compressor, combustor, heat-exchanger, fan and (in the case of one designed to produce electricity) an alternator. Combustion turbines and steam turbines may be connected to machinery such as pumps and compressors, or may be used for propulsion of ships, usually through an intermediate gearbox to reduce rotary speed.
Reciprocating piston engines such as
aircraft engine
Aircraft engine
An aircraft engine is the component of the propulsion system for an aircraft that generates mechanical power. Aircraft engines are almost always either lightweight piston engines or gas turbines...
s can use a turbine powered by their exhaust to drive an intake-air compressor, a configuration known as a
turbocharger
Turbocharger
A turbocharger, or turbo , from the Greek "τύρβη" is a centrifugal compressor powered by a turbine that is driven by an engine's exhaust gases. Its benefit lies with the compressor increasing the mass of air entering the engine , thereby resulting in greater performance...
(turbine
supercharger
Supercharger
A supercharger is an air compressor used for forced induction of an internal combustion engine.The greater mass flow-rate provides more oxygen to support combustion than would be available in a naturally aspirated engine, which allows more fuel to be burned and more work to be done per cycle,...
) or, colloquially, a "turbo".
Turbines can have very high power density (i.e. the ratio of power to weight, or power to volume). This is because of their ability to operate at very high speeds. The
Space Shuttle
Space Shuttle
The Space Shuttle was a manned orbital rocket and spacecraft system operated by NASA on 135 missions from 1981 to 2011. The system combined rocket launch, orbital spacecraft, and re-entry spaceplane with modular add-ons...
's main engines use
turbopump
Turbopump
A turbopump is a gas turbine that comprises basically two main components: a rotodynamic pump and a driving turbine, usually both mounted on the same shaft, or sometimes geared together...
s (machines consisting of a pump driven by a turbine engine) to feed the propellants (liquid oxygen and liquid hydrogen) into the engine's combustion chamber. The liquid hydrogen turbopump is slightly larger than an automobile engine (weighing approximately 700 lb) and produces nearly 70,000
hp
Horsepower
Horsepower is the name of several units of measurement of power. The most common definitions equal between 735.5 and 750 watts.Horsepower was originally defined to compare the output of steam engines with the power of draft horses in continuous operation. The unit was widely adopted to measure the...
(52.2 MW).
Turboexpander
Turboexpander
A turboexpander, also referred to as a turbo-expander or an expansion turbine, is a centrifugal or axial flow turbine through which a high pressure gas is expanded to produce work that is often used to drive a compressor....
s are widely used as sources of refrigeration in industrial processes.
Military jet engines,as branch of gas turbines, have recently been used as primary flight controller in post-stall flight using jet deflections that are also called thrust vectoring. The U.S. FAA has also conducted a study about civilizing such thrust vectoring systems to recover jetliners from catastrophes.
Shrouded tidal turbines
An emerging renewable energy technology is the shrouded tidal turbine enclosed in a
venturi
Venturi effect
The Venturi effect is the reduction in fluid pressure that results when a fluid flows through a constricted section of pipe. The Venturi effect is named after Giovanni Battista Venturi , an Italian physicist.-Background:...
shaped shroud or duct producing a sub atmosphere of low pressure behind the turbine. It is often claimed that this allows the turbine to operate at higher efficiency (than the
Betz limit
Betz' law
Betz's law is a theory about the maximum possible energy to be derived from a "hydraulic wind engine", or a wind turbine such as the Éolienne Bollée , the Eclipse Windmill , and the Aermotor...
of 59.3%) because the turbine can typically produce 3 times more power than a turbine of the same size in free stream. This, however, is something of a misconception because the area presented to the flow is that of the largest duct cross-section. If this area is used for the calculation, it shows that the turbine still cannot exceed the Betz limit. Further, due to frictional losses in the duct, it is unlikely that the turbine will produce as much power as a free-stream turbine with the same radius as the duct.
Although situating the rotor in the throat of the duct allows the blades to be supported at their tips (thus reducing bending stress from hydrodynamic thrust) the financial impact of the large amount of steel in the duct must not be omitted from any energy cost calculations.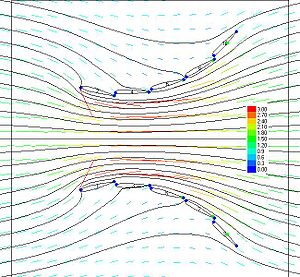 As shown in the
CFD generated figure
Computational fluid dynamics
Computational fluid dynamics, usually abbreviated as CFD, is a branch of fluid mechanics that uses numerical methods and algorithms to solve and analyze problems that involve fluid flows. Computers are used to perform the calculations required to simulate the interaction of liquids and gases with...
, it can be seen that a down stream low pressure (shown by the gradient lines) draws upstream flow into the inlet of the shroud from well outside the inlet of the shroud. This flow is drawn into the shroud and concentrated (as seen by the red coloured zone). This augmentation of flow velocity corresponds to a 3-4 times increase in energy available to the turbine. Therefore a turbine located in the throat of the shroud is then able to achieve higher efficiency, and an output 3-4 times the energy the turbine would be capable of if it were in open or free stream. However, as mentioned above, it is not correct to conclude that this circumvents the Betz limit. The figure shows only the near-field flow, which is accelerated through the duct. A far-field image would show a more complete picture of how the free-stream flow is affected by the obstruction.
Considerable commercial interest has been shown in recent times in shrouded tidal turbines as it allows a smaller turbine to be used at sites where large turbines are restricted. Arrayed across a seaway or in fast flowing rivers shrouded tidal turbines are easily cabled to a terrestrial base and connected to a grid or remote community. Alternatively the property of the shroud that produces an accelerated flow velocity across the turbine allows tidal flows formerly too slow for commercial use to be utilised for commercial energy production.
While the shroud may not be practical in wind, as a tidal turbine it is gaining more popularity and commercial use. A non-symmetrical shrouded tidal turbine (the type discussed above) is mono directional and constantly needs to face upstream to operate. It can be floated under a pontoon on a swing mooring, fixed to the seabed on a mono pile and yawed like a wind sock to continually face upstream. A shroud can also be built into a tidal fence increasing the performance of the turbines. Several companies (for example, Lunar Energy) are proposing bi-directional ducts that would not be required to turn to face the oncoming tide every six hours.
Cabled to the mainland they can be grid connected or can be scaled down to provide energy to remote communities where large civil infrastructures are not viable. Similarly to tidal stream open turbines they have little if any environmental or visual amenity impact.
See also
Archimedes screw
Balancing machine

Balancing Machine

A balancing machine is a measuring tool used for balancing rotating machine parts such as rotors for electric motors, fans, turbines, disc brakes, disc drives, propellers and pumps. The machine usually consists of two rigid pedestals, with suspension and bearings on top supporting a mounting...



RMS Lusitania

RMS Lusitania

RMS Lusitania was a British ocean liner designed by Leonard Peskett and built by John Brown and Company of Clydebank, Scotland. The ship entered passenger service with the Cunard Line on 26 August 1907 and continued on the line's heavily-traveled passenger service between Liverpool, England and New...



Rotordynamics

Rotordynamics

Rotordynamics is a specialized branch of applied mechanics concerned with the behavior and diagnosis of rotating structures. It is commonly used to analyze the behavior of structures ranging from jet engines and steam turbines to auto engines and computer disk storage...



Secondary flow in turbines
Turbo-alternator
Turbodrill

Turbodrill

A turbodrill is a tool used mostly by petrochemical companies to dig wells for crude oil and natural gas reserves.-History of turbodrilling:*In 1924 the first US Patent was issued to a company called Scharpenberg for the first multi-staged turbodrill....



Turboshaft

Turboshaft

A turboshaft engine is a form of gas turbine which is optimized to produce free turbine shaft power, rather than jet thrust...



Turboprop

Turboprop

A turboprop engine is a type of turbine engine which drives an aircraft propeller using a reduction gear.The gas turbine is designed specifically for this application, with almost all of its output being used to drive the propeller...



Turbomachinery

Turbomachinery

Turbomachinery, in mechanical engineering, describes machines that transfer energy between a rotor and a fluid, including both turbines and compressors. While a turbine transfers energy from a fluid to a rotor, a compressor transfers energy from a rotor to a fluid...



Vibration of Rotating Structures

Vibration of rotating structures

- Vibration of Rotating Structures : =M*V*\ddot sE+B*V*\dot sE+pE pU=A*V*\dot sU M,D,K classical matrices: mass matrix, damping matrix and stiffness matrix G gyroscopic matrix of vibration velocity...



Radial turbine

Radial turbine

A Radial turbine is a turbine in which the flow of the working fluid is radial to the shaft. The difference between axial and radial turbines consists in the way the air flows through the components...



External links